🌟 Hey there, Busy Bee! 🌟
Are you tired of the lunchtime roulette, gambling with cold sandwiches or the dreaded office microwave queue? Well, say goodbye to those lunchtime blues and say hello to the revolutionary ToastyBox Electric Lunch Box! Imagine having a personal chef right by your side, warming up your homemade meals to perfection, wherever you are. Yes, even in the middle of traffic or at your office desk, because let's face it, lunch waits for no one!
Now, picture this: It's a chilly day, and while everyone else is settling for cold sandwiches or braving the long lines at the nearest fast-food joint, you're nestled comfortably in your office or car, with a warm, home-cooked meal waiting just for you. No fuss, no muss, just pure foodie bliss at your fingertips. It's not just a lunch box; it's your ticket to reclaiming the joy of a hot, hearty meal amidst your hectic day.
But wait, there's more! This isn't just any electric lunch box; it's the ToastyBox, the superhero in the world of portable food warmers. With its sleek design and state-of-the-art features, it's here to revolutionize the way you do lunch. So, buckle up, food enthusiasts, because the ToastyBox is about to take your lunch experience from zero to a hundred, real quick!
No More Microwave Queues!
Imagine skipping the dreaded lunchtime microwave line at the office. With the ToastyBox's 75W power and PTC original constant temperature heating, you can enjoy a hot, home-cooked meal at your desk, saving time and avoiding the lunchtime rush. It's like having a personal chef who knows exactly when you're ready to eat!
Room for All Your Culinary Creations!
Ever feel like your lunch box just isn't big enough? The ToastyBox comes with a generous 1.8L stainless steel container, plus an additional 0.45L compartment for sides or snacks. It's like having a dining table right in your lunch box, offering a balanced and hearty meal every time.
Say Goodbye to Lunch Leaks!
We've all been there – opening your bag to find your lunch has leaked everywhere. Well, worry no more! The ToastyBox features a leak-proof design with robust side snaps and a rubber seal, ensuring a mess-free transport every time. It's like having an invisible shield guarding your lunch!
Power Up Anywhere!
Whether you're at the office, on a road trip, or enjoying a picnic, the ToastyBox has got you covered with its multi-voltage support. It's like having a portable kitchen that's ready to serve you a hot meal wherever you are!
Carry in Style!
Who said lunch boxes can't be fashionable? The ToastyBox comes with a chic insulated carrying bag, allowing you to carry your meal in style while keeping it fresh and protected from the elements. It's not just a lunch box; it's a fashion statement!
Entertainment at Lunchtime!
Lunch breaks are your time to unwind. The ToastyBox's built-in compartment not only stores your cutlery but also doubles as a phone stand, letting you enjoy a movie or catch up on your favorite series while you eat. It's like having a mini cinema right in your lunch box!
Easy-Peasy Cleanup!
Dreading the post-lunch cleanup? Fear not! The ToastyBox is designed with removable containers that are dishwasher safe, making cleanup a breeze. It's like having a self-cleaning lunch box that gives you more time to relax during your break!
Safety First!
We care about your safety, which is why the ToastyBox is not intended for use by children under 12. It's a sophisticated gadget for adults who want to enjoy hot meals safely and conveniently. It's like having a guardian angel watching over your lunchtime safety!
Hot Tips for a Hot Lunch!
To ensure you get the most out of your ToastyBox, we've included user-friendly guidelines that offer tips on optimal heating times and methods. It's like having a friendly chef whispering the best culinary secrets in your ear!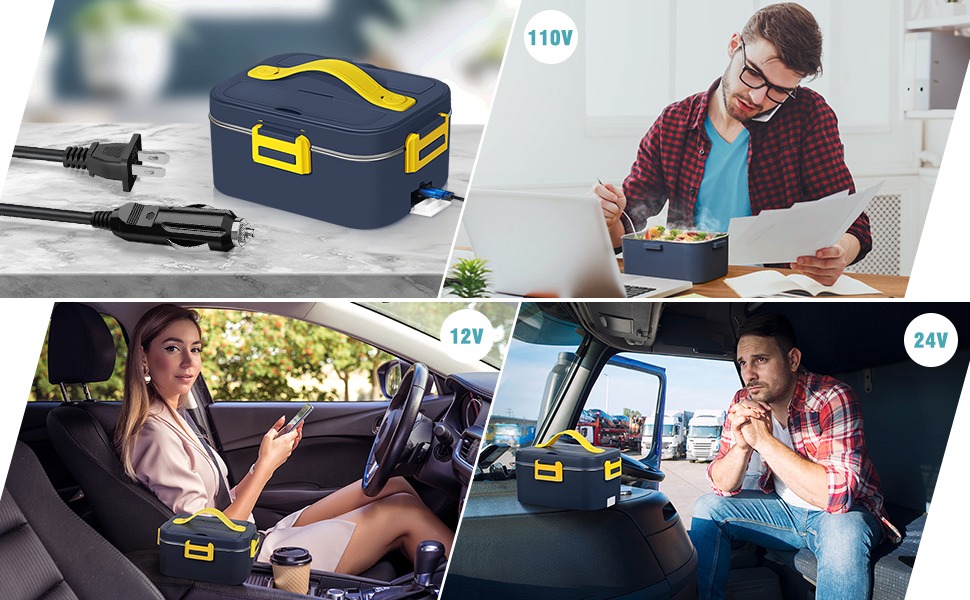 Get Ready to Revolutionize Your Lunchtime!
Hey there, savvy shopper! You've just stumbled upon the secret to a warm, hearty, and hassle-free lunch experience. But here's the thing, the ToastyBox Electric Lunch Box is not just a lunch box, it's a lifestyle, a statement, a game-changer in the world of meal prep and enjoyment. So why settle for cold sandwiches and long microwave queues when you can dine in style, comfort, and convenience?
Now, we know a gem like this won't stay on the shelves for long. So, here's our little nudge to you – grab yours now and elevate your lunchtime to a whole new level of delight. Trust us, your future self, basking in the glow of a warm, home-cooked meal in the middle of a hectic day, will thank you. Remember, with the ToastyBox, you're not just buying a lunch box; you're investing in a happier, healthier, and more relaxed you. So, go ahead, add a sprinkle of joy to your day, one warm meal at a time!
Dive into the World of ToastyBox!
Alright, tech enthusiasts, this one's for you! Let's delve deep into the heart of the ToastyBox and discover what makes it tick. Here's a quick rundown of the technical specifications that make this lunch box a must-have for every busy bee out there:
Power: 75W, ensuring a quick and efficient heating process.
Heating Element: PTC original constant temperature heating, for even and consistent warming.
Capacity: A generous 1.8L main container, coupled with a 0.45L additional compartment, offering ample space for a balanced meal.
Material: Crafted with durable 304 stainless steel and food-grade PP plastic, promising longevity and safety.
Voltage Support: Versatile with 12V, 24V, and 110V support, ready to serve you a hot meal wherever you are.
Leak-Proof Design: Featuring robust side snaps and a rubber seal to prevent any messy leaks during transport.
Extras: Comes with a chic insulated carrying bag and a built-in compartment for cutlery and phone stand, adding a touch of luxury to your mealtime.
Safety Measures: Designed with user safety in mind, not intended for use by children under 12 years of age.
User Guidelines: Includes tips for optimal heating times and methods, ensuring a perfect meal every time.
So, gear up and get ready to join the ToastyBox revolution, where technology meets convenience, and lunchtime becomes a joyous occasion once again!