This expandable retractable garden hose expands when you fill it with water and contracts when you turn the water off. 
This hose makes watering projects easier than ever. When contracted, it fits into the palm of your hand so you can carry it with you to any other part of the yard. Then just attach the brass fittings to the connectors and water faucet to start it up again. This expandable hose starts out from 25 feet when the water is turned on, the hose quickly expands up to 3 times in length (75 feet) with the water pressure (Bar) and returns in minutes to its original length when the water is out.
The hose is collapsible, making it perfect for tasks like washing your car, watering your lawn, rinsing off your pets, cleaning your rain gutters, plantings, cleaning floors and windows and so on.
It has the highest quality outer woven fabric lining and internal double-layer latex which prevents it from being ripped, something which makes it easier to prevent leaks. It will never tangle, twist or kink.
It features superior 3/4″ brass fittings and internal rubber gaskets, bidding farewell to inexpensive plastic fittings.
8 pattern hose nozzle will meet all your outdoor watering and cleaning needs. It makes your watering life much easier.
Super lightweight design makes it easy to carry or drag from one part of your yard to the next place. Just drain water from the hose when not in use, put in the bag and store out of direct sun.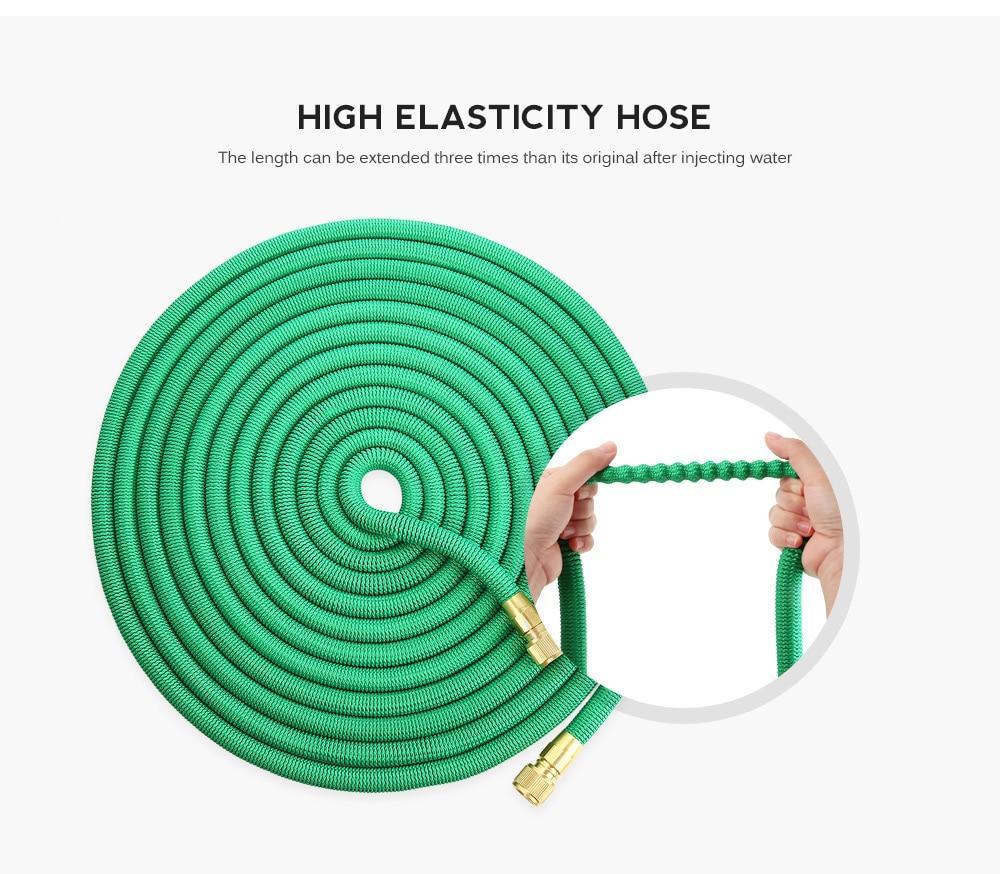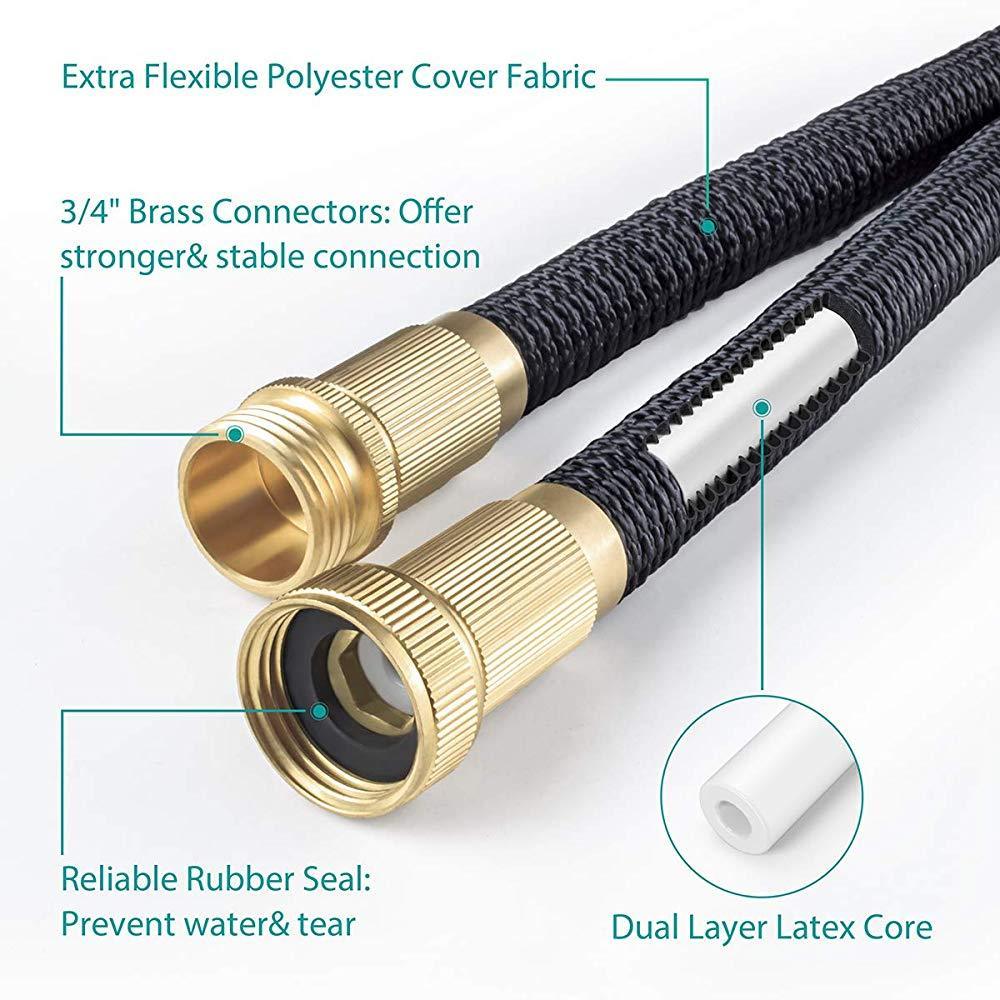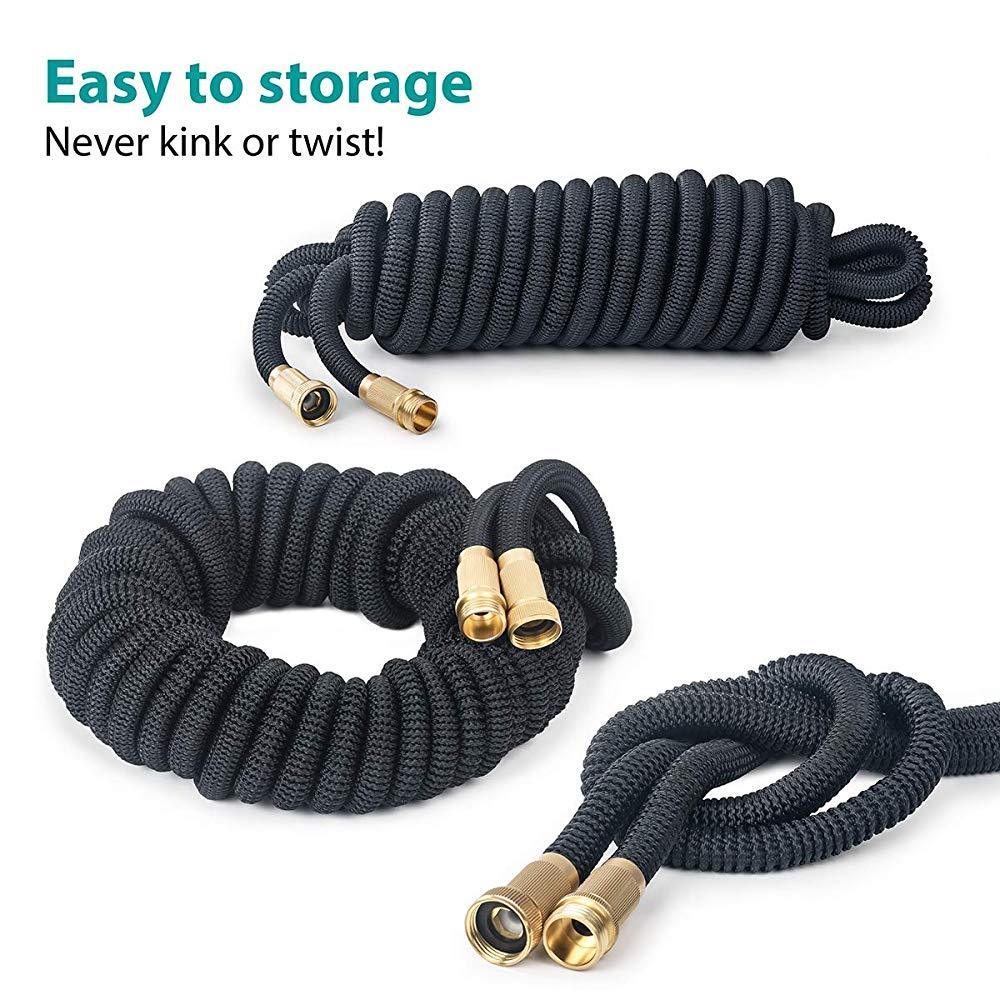 Specifications
Color: Black / Red / Blue / Green
Connector: Universal 3/4″ brass connector
Size: 25ft / 50ft / 75ft / 100ft
Material: 3750D polyester febric and double layer latex core
Package Includes
1 *Expandable Hose
1 * Universal Connector
1 *Spray Gun
Tips for longer use
Do not run hot water through the hose.
Make sure water pressure is in the normal range of 3 to 6 bars.
Drain your hose in summer when not in use.
Keep it covered or store in the shade as much as possible.
Do not walk on hose when expanded and full of water.