Grilling At Home Has Never Been This Easy Breezy With The OVENTE Electric Panini Press & Indoor Grill With Non-Stick Plates!

Why Choose The OVENTE Electric Panini Press & Indoor Grill
Turns Ordinary Dishes Into Mouthwatering Ones
This electric panini press grill will transform you into a culinary hero and help you discover that grilling appetizing dishes for family and friends at home is not as painstakingly hard as it sounds. You can make hot paninis for breakfast and delectable fish, steaks, and vegetables for dinner—all with minimal effort.
Cooks Food Evenly
You can now say goodbye to undercooked and overcooked meat because the OVENTE panini press grill features non-stick plates and thermostatic control to cook meat thoroughly and ensure that each forkful bite is savory.
Equipped With Safety Features
Whether you've been cooking for years or just starting, you can rely on this electric indoor grill to elevate your dishes. Apart from its auto shut-off feature, it also has a cool-touch handle and anti-skid feet to prevent accidents.
Modern Compact Design
Since the OVENTE grill is compact and doesn't take up much space on your countertop, it's the perfect appliance to have in your modern kitchen. You can even bring it along on vacation.
Easy to Operate
Designed to offer the highest level of ease and convenience for grilling at home. The red light indicates that the grill is preheating and the green light tells you that the grill is ready for cooking.
Keeps Your Food Healthy
You can grill appetizing dishes that are delicious and guilt-free because there's no need for cooking oil. Additionally, the excess fat and grease will drain into the drip tray while keeping the tenderness and rich flavors of the food.
Hassle-Free Cleaning
Since the grill has a drip tray that catches all the excess fat and grease, it requires little to no cleaning effort. Just wipe the plates with a sponge or cloth dampened in warm, soapy water and let them dry.



Key Features
Advanced 1000-watt heating element to toast paninis or grill meat quickly and ensure delicious, evenly cooked food every time.
Top and bottom non-stick cooking plates create aesthetically beautiful grill marks for work-of-art meals.
Thermostatically controlled that cycles on and off to maintain your desired temperature and avoid overcooking.
Indicator lights display a red light when the panini press grill is preheating and a green light illuminates when ready for use.
Its compact and slim design doesn't take up much space on your countertop and can easily be taken with you when traveling.
Innovative floating lid that is adjustable based on the thickness of the food being cooked, such as paninis, burgers, vegetables, or steaks.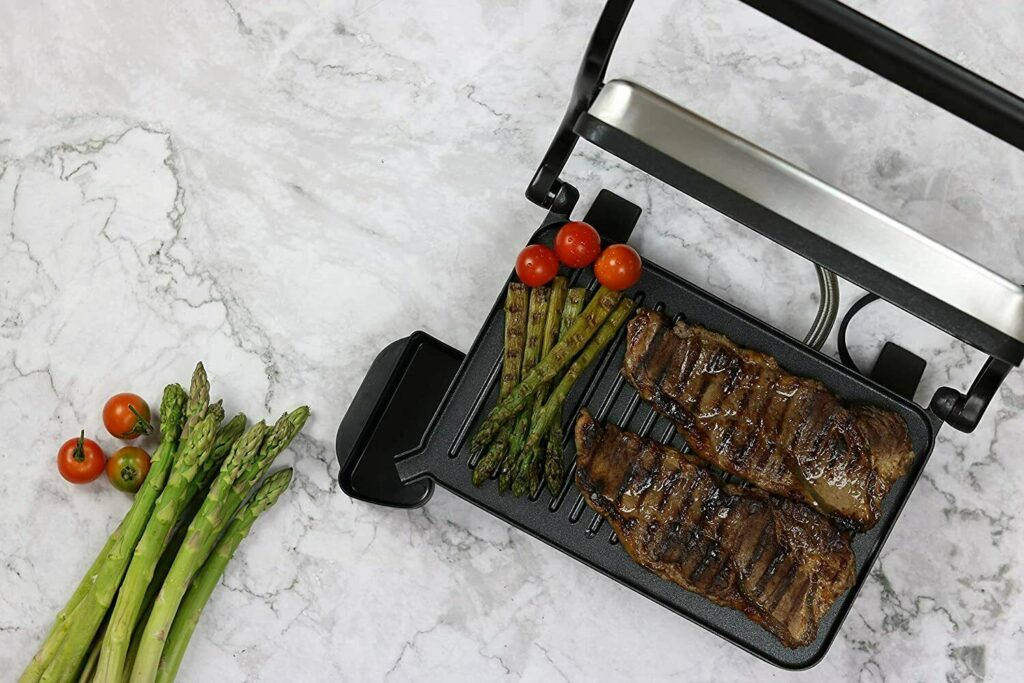 Specifications
Size: Two-sided 10.2 x 6.7-inch
Power: 1000W
Color: Black, Silver
Voltage: 120 V
Capacity: 2-Slice
Dimensions (LxHxW): 11.42 in x 4.76 in x 7.12 in
Diameter: 10 in
Weight: 4 lbs
Heating Element: Dual Plates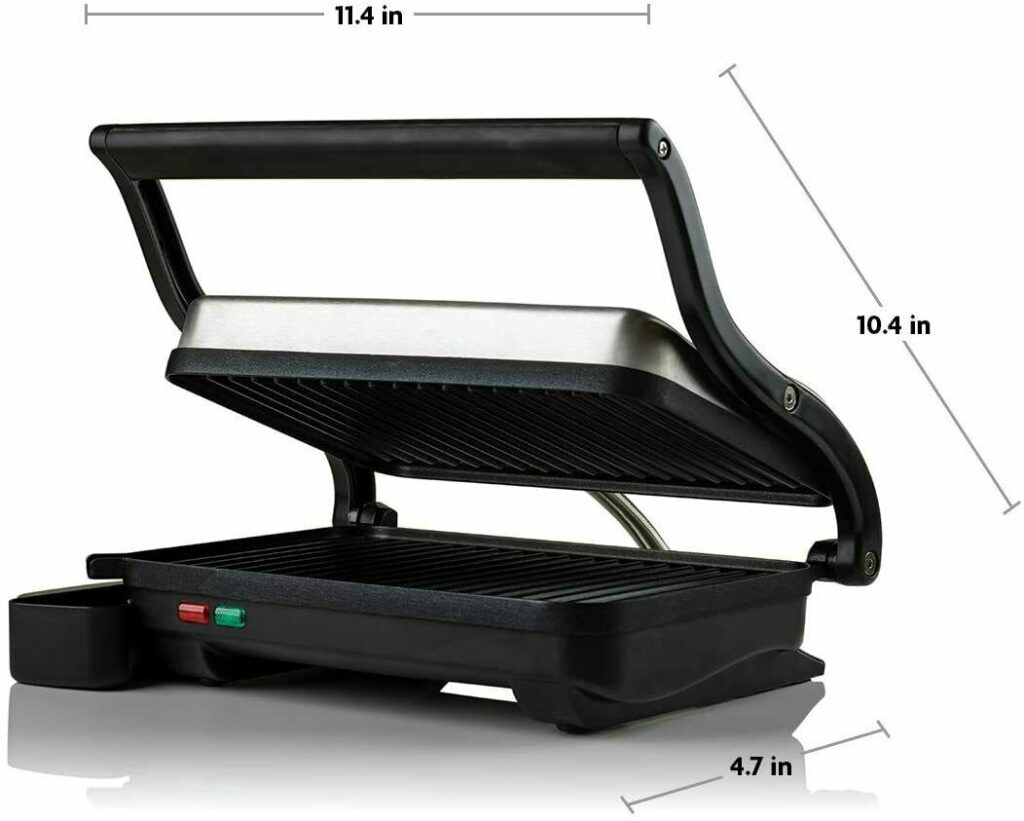 Package Inclusions