Envelope Yourself in a Fluffy, Warm Blanket That Never Leaves Your Body Even If You Move
The HuggaWarma Fleece Blanket Hoodie is The Best Pick for Those Cold Days When All You Want to Do Is Wrap Yourself in a Warm, Fuzzy, Soft, Soothing Blanket!
The HuggaWarma ultra-soft wearable blanket is made of high quality sherpa fleece on the inside and buttery-soft flannel fleece and the on the outside. This blanket hoodie is made to envelope the entire body with warmth.
The Perfect Blanket to Enjoy Those Cold, Lazy Days When All You Want to Do is Lounge, Watch Television, Read a Book or Snuggle with a Loved One
The best part? The HuggaWarma comes with a kangaroo-pouch design which ensures you keep your head, ears and neck cozy too. There is a giant kangaroo pocket for storing your phone, snacks, or hands! With the oversized sleeve design, you can enjoy movement without feeling restricted or without the blanket slipping off.

This Fleece Blanket is What You Will Need To Bundle Up Even While You're Working, Watching TV, Doing Tasks Around the House
The HuggaWarma will become your new best friend, you'll never want to take it off! Whether you are sitting on the sofa, working on your laptop or lounging in bed, the super soft, lightweight fleece is sure to keep you comfortable all day and night. Keeping you wrapped in warmth from head to toe.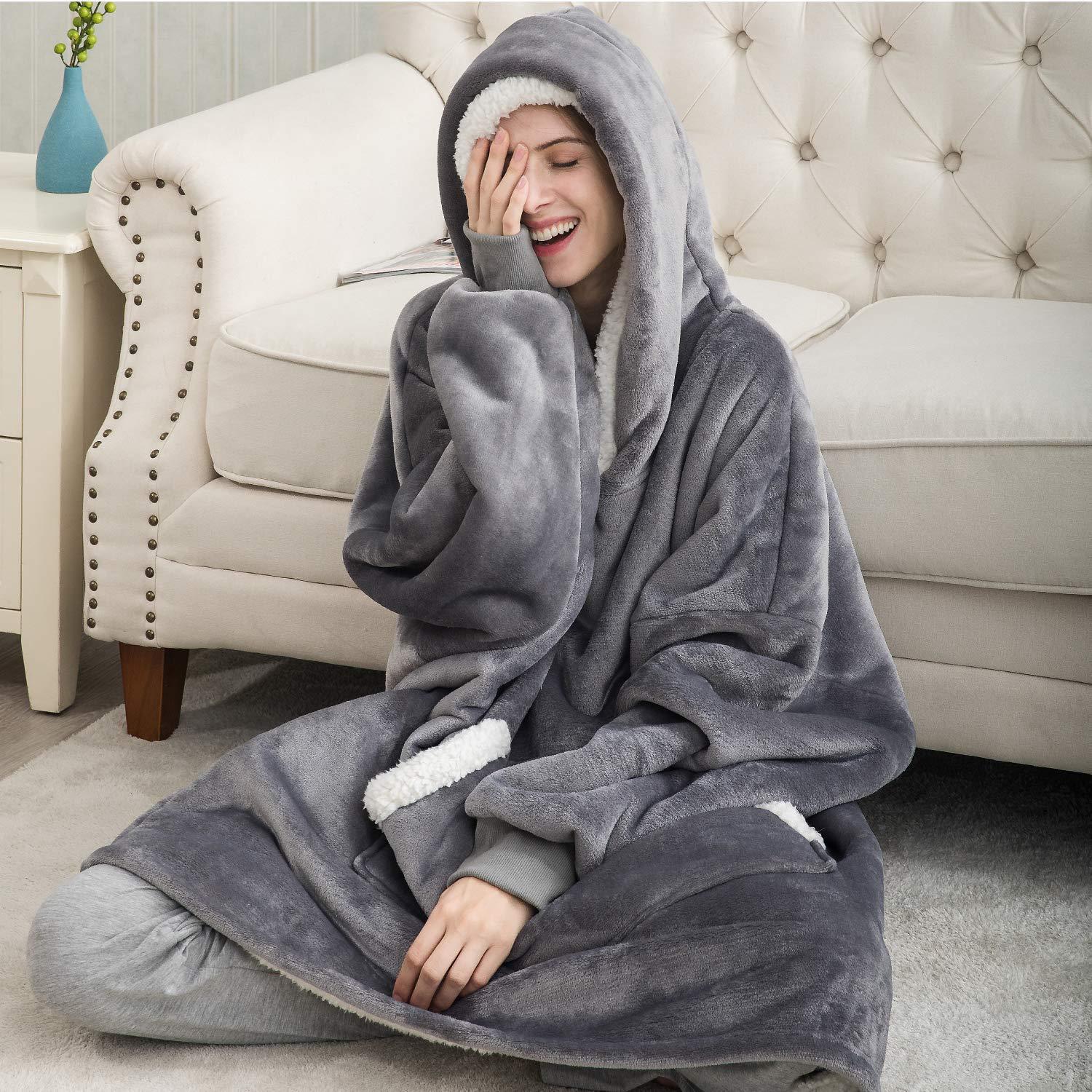 The Perfect Gift for Everyone!
It's the perfect gift for everyone- man or woman, young or old, our wearable blanket makes the perfect gift. The Hoodie Blanket comes in a variety of colors and patterns, so everyone is sure to find one that matches their personal style.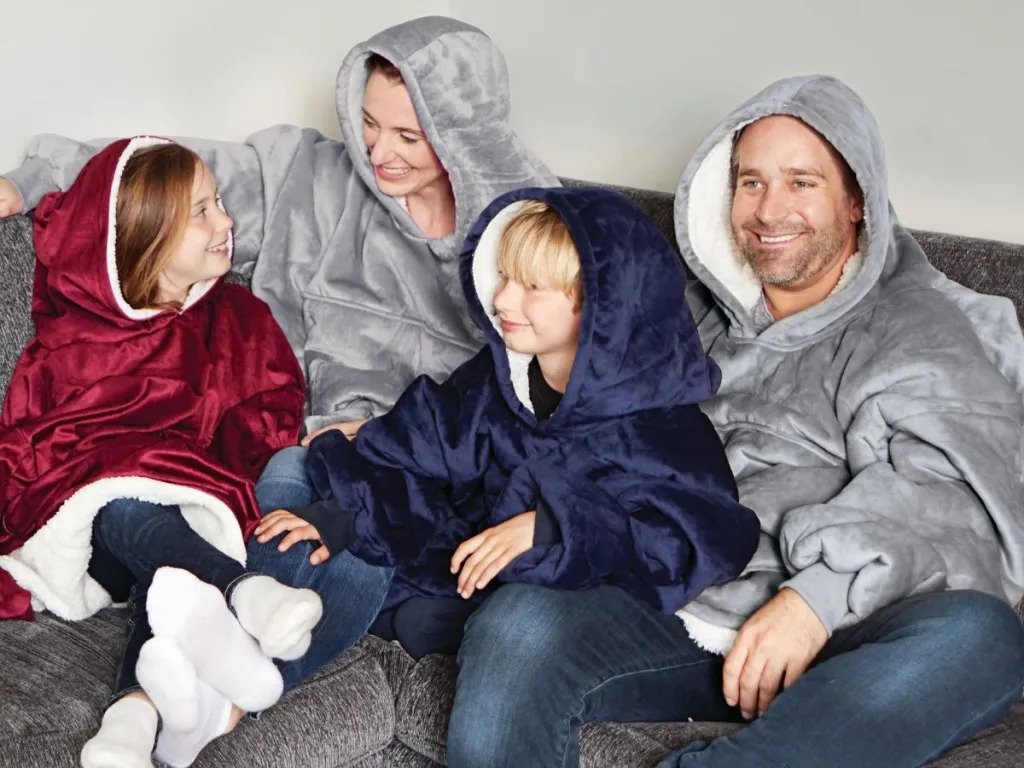 Why this HuggaWarma Hoodie Blanket Is Your Best Pick For Cold Days When You Want to Wrap Up:
🤩 Made of sherpa fleece on the outside to give you that soft, comfortable warmth. The outer layer of the HuggaWarma is made of quality fleece that prevents cold from seeping through without making you feel uncomfortable.
🤩 The inner part is breathable fleece to prevent you from feeling sweaty. Warmth is what you will feel but you won't feel hot enough that you're uncomfortably sweating.
🤩 Fits the entire body from head to toe so you will not feel cold on your feet and arms.
🤩 Stays put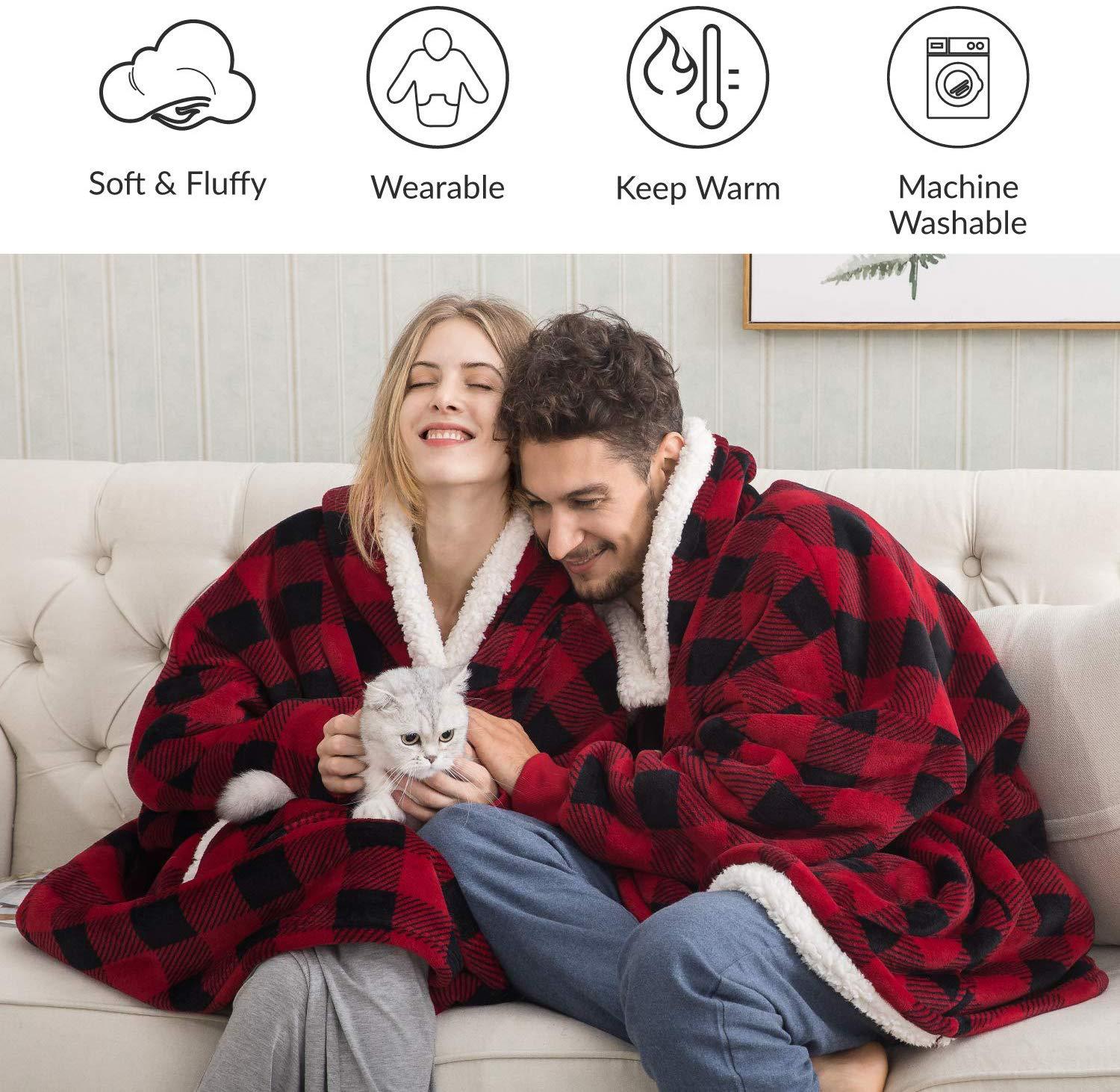 Size
Size (in)             Length              Shoulder             Chest             Waist            Sleeve
One Size            34.65                  28.35                   56.69             55.12            19.29
Package Includes