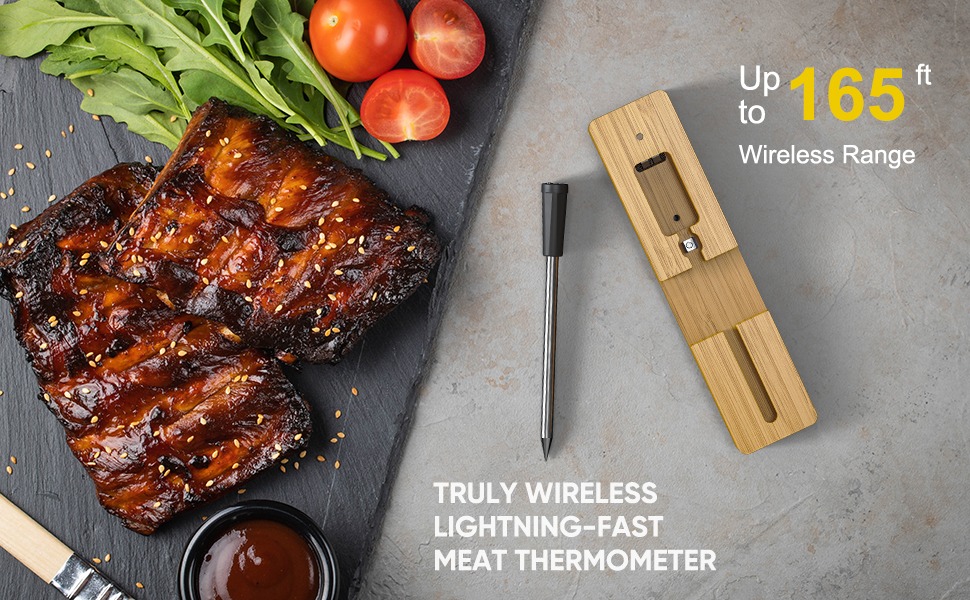 Hey there, fellow culinary adventurer! Picture this: you're in your backyard, the sun is setting, and the aroma of grilled meat wafts through the air. You've got a cold beverage in one hand, and in the other, the future of grilling perfection – the GrillGazer Smart Wireless Meat Thermometer. It's not just a thermometer, it's your new BBQ best friend, your grill guru, your sizzling sidekick in crafting the perfect feast. With a sleek design that screams sophistication, it's here to revolutionize your grilling game and elevate it to levels you never imagined.
Now, we know what you're thinking – "Another gadget to add to my collection?" But hear us out! This isn't just any gadget; it's the epitome of convenience meets modern technology. Imagine not being tethered to your grill or oven, no more constant back-and-forth to check if your meat has hit that sweet spot. With a staggering 165ft Bluetooth range, this little genius allows you to mingle, enjoy your party, or even take a quick power nap, all while keeping a vigilant eye on your cooking progress right from your smartphone. It's like having a personal chef whispering sweet nothings to your culinary senses, guiding you to achieve that perfect sear, that flawless medium-rare, without breaking a sweat.
But wait, there's more! This isn't just about freeing you from the grill's side; it's about transforming you into the maestro of meats, the sultan of smokers, the baron of BBQs. With the GrillGazer, you're not just cooking; you're crafting experiences, creating mouth-watering masterpieces that will have your guests coming back for more. So, why settle for good when you can have the best? Step into the future of grilling with GrillGazer, where every meal is a symphony of flavors, perfectly orchestrated by you, the conductor of this culinary concert.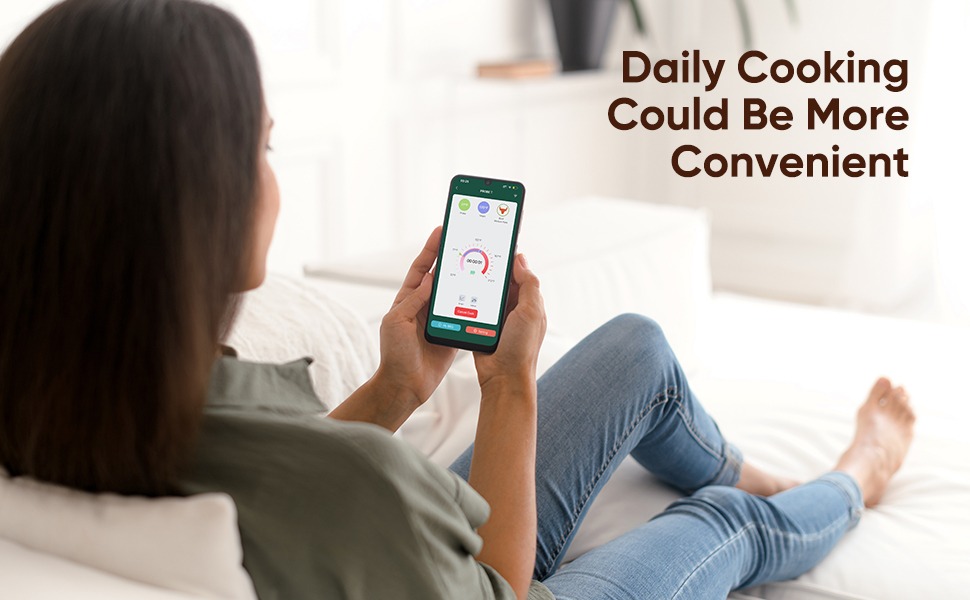 Be the Life of the Party, Not the Grill!
Imagine being the star of the party, not just the grill master. With a whopping 165ft Bluetooth range, you can now mingle, dance, and enjoy your party without having a mini heart attack every time you leave the grill unattended. It's like having a virtual assistant that whispers, "Go ahead, enjoy your party, I've got the grill covered!"
Your Personal Culinary Assistant in Your Pocket
Ever wished for a culinary assistant who's there to guide you, but not judge your cooking skills? The Smart App Control is here to be your non-judgmental culinary buddy, always ready with advice, timers, and temperature charts to make sure your meat is more masterpiece than mishap.
Charge Less, Grill More!
Say goodbye to the constant worry of battery life. With the quick-charging dock and USB-C cable, a tiny 5-minute charge keeps you going for 4 hours. It's like the sprinter of the thermometer world, ready to go the distance at a moment's notice!
Freedom from the Tyranny of Wires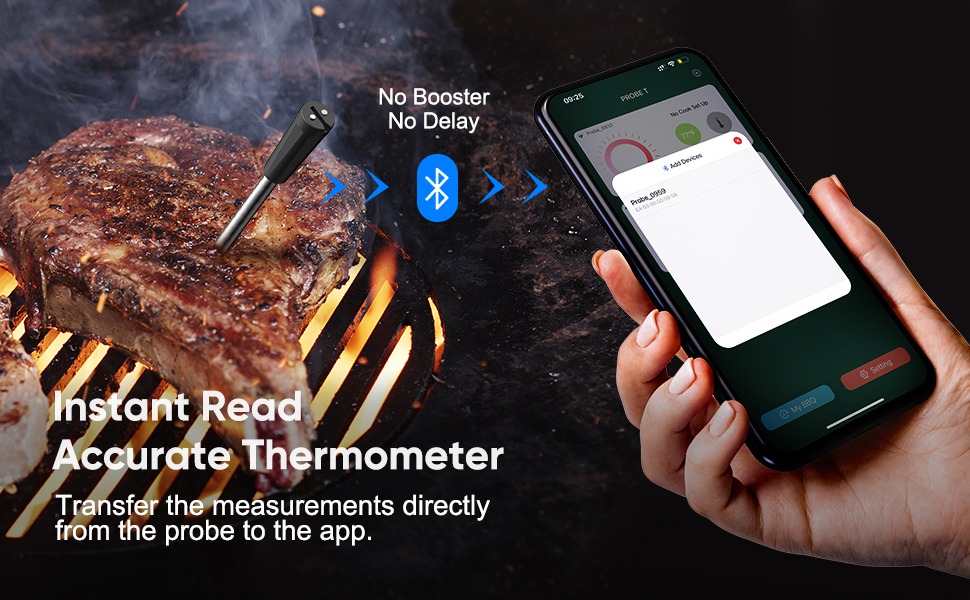 Step into a world where wires don't dictate your grilling style. Enjoy the freedom to move, the freedom to mingle, and the freedom to not be tethered to your BBQ. It's all about wireless convenience that lets you be the grill master, not a wire manager.
Safety First, But Style is a Close Second
Who said safety can't be stylish? This thermometer not only operates safely at high temperatures but does so with a flair of sophistication. It's the epitome of combining safety with style, making you the coolest chef on the block.
Boost Your Chef Confidence
Ever felt a tad insecure about your grilling skills? Fear not! This thermometer is here to boost your chef ego, guiding you to grill perfection every time. It's like having a little cheerleader by your side, chanting "You got this!"
A Versatile Virtuoso in Your Culinary Concert
Whether you're orchestrating a BBQ symphony or a sous-vide solo, this thermometer is your versatile virtuoso, ready to play any part in your culinary concert. It's not just a tool; it's an extension of your culinary creativity, adding a touch of magic to every meal.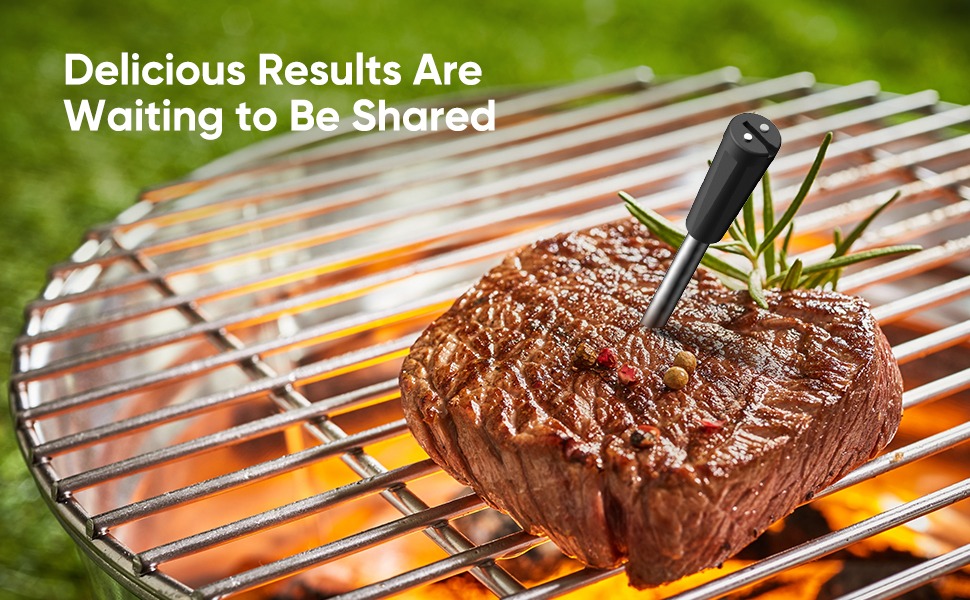 Hey there, BBQ enthusiast! We know you've been scrolling through, your interest piqued, your culinary senses tingling. Well, guess what? The universe has aligned to bring you face-to-face with the GrillGazer, the pièce de résistance of your grilling arsenal. But here's the kicker – this isn't just a purchase, it's an investment in elevating your BBQ game to legendary status. So why wait to step into a future where grilling meets glamour, where technology meets taste? The time is now, and trust us, your future self, basking in the glory of perfect grills, thanks you profusely.
But hold your horses, because we've got something that will seal the deal. Picture this: a summer evening, the laughter of friends, the clinking of glasses, and you at the helm, orchestrating a culinary concert with the grace of a maestro, thanks to your new GrillGazer. It's not just a purchase; it's an invitation to a world of culinary delights, a ticket to becoming the grill master you were always destined to be. So go ahead, click that button, and step into a world where every BBQ is a masterpiece, every meal a symphony of flavors, perfectly orchestrated by you, the conductor of this culinary concert.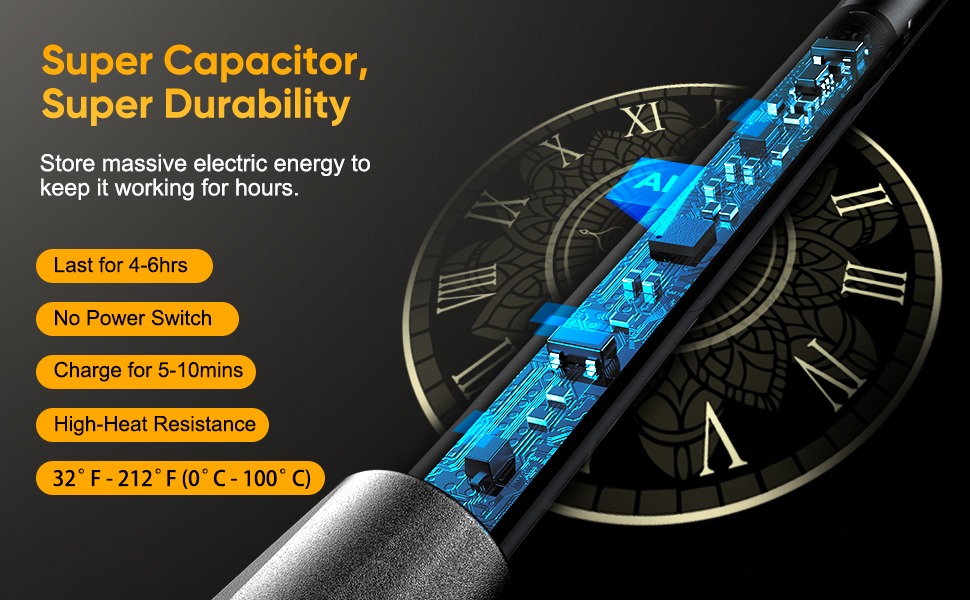 Specifications
Alright, gear up, tech enthusiasts, because we're about to dive deep into the heart of the GrillGazer, where technology meets culinary artistry. Don't worry; we won't bore you with tech jargon. Instead, we invite you on a whirlwind tour of the GrillGazer's DNA, where every feature is a testament to innovation and convenience.
Bluetooth Connectivity: Advanced 5.2 Bluetooth technology, offering a seamless connection with a range of up to 165ft. It's like giving your grill wings to communicate with you, wherever you are.
Smart App Control: A user-friendly app available on both Android and iOS, acting as your personal culinary assistant, guiding you to grilling perfection with real-time updates, temperature charts, and USDA recommended preset temperatures.
Quick Charging: A charging dock coupled with a USB-C cable ensures that your GrillGazer is always ready for action. A mere 5-minute charge grants you 4 hours of grilling mastery. It's the superhero of the grilling world, always ready to leap into action at a moment's notice.
Wireless Convenience: A truly wireless experience, freeing you from the tyranny of tangled wires and letting you focus on what truly matters – crafting culinary masterpieces.
Safety and Durability: Designed to operate safely under high temperatures, it's the sentinel guarding your grill, ensuring every meal is not just delicious but safe as well.
Versatility: Whether it's a BBQ, a smoker, an oven, or a frying pan, the GrillGazer is your versatile companion, ready to assist you in crafting a wide array of culinary delights.
So there you have it, a glimpse into the powerhouse that is the GrillGazer, ready to revolutionize your grilling experience. Are you ready to embrace the future of grilling? The GrillGazer awaits!