Long 230mm Stainless Steel Probe, Made From 100% Food-Grade Materials, Accurate & Quick Temperature Reading!
Our digital meat thermometer includes a 304 stainless steel wired probe that takes the guesswork out of cooking. Expect fast and precise temperature readings every time.
Choose from our pre-programmed temperature settings for 8 types of meat recommended by the USDA to get the perfect doneness and monitor remotely through the wireless transmitter. Use it to cook thick pieces of meat, roast a turkey in the oven, or make candy!
Stress-free and accurate cooking!
Insert the 304 stainless steel probe into the meat.
Input desired cooking temperature and time.
Leave it and monitor remotely on the transmitter.
Enjoy!
Product Features
Durable & Accurate Wired Probe. Our wired metal probe is equipped with food-grade standard construction to safely read temperature more precisely and transmit quicker than wireless probes.
Safe & Suitable For All Cooking Methods. With a 230mm long probe with a 1m long wire, you can conveniently and safely use it when cooking, grilling, or baking.
USDA Preset Temperature Settings. From medium to well done, set to your desired doneness and have perfectly cooked meat every time. No more undercooking or overcooking.
User-Friendly With Large LCD Display. Both current and preset temperatures and timers will be displayed with the backlight making it clear to read even in low light conditions.
Countdown Timer Function. To help you master the art of cooking meat better, we included a countdown function to make the cooking time as accurate as possible.
Set It & Forget It. The wireless transmitter allows you to leave temporarily and remotely monitor your food from up to 60m away. The timer will alert you once it has reached the desired temperature or when the cooking time is over.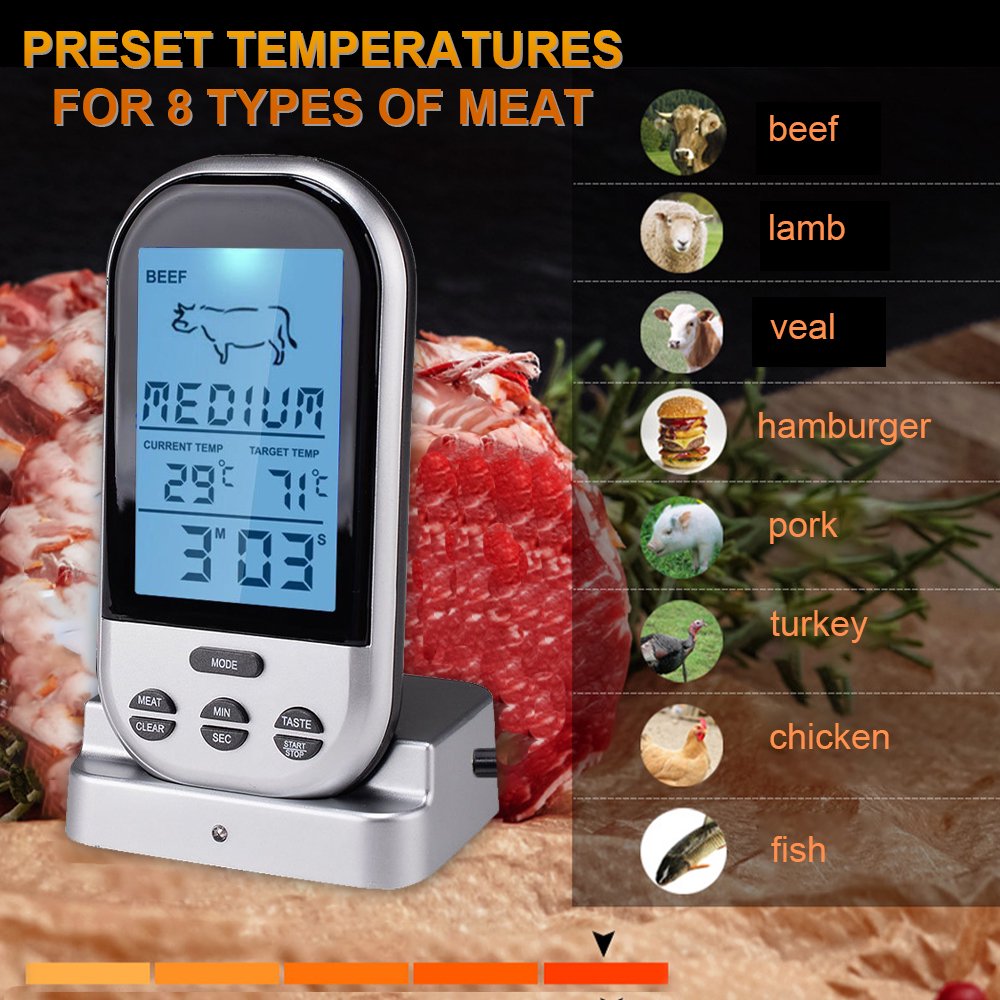 Product Specifications
Probe
Material: ABS+304 Stainless Steel Probe
Length of Probe: 230mm
Cooking Thermometer
Color: Grey, Black
Size: 119 x 60 x 28mm/46.8 x 23.6 x 11in
Temperature Unit: ℃/℉
Temperature Resolution: 1℃ (2℉)
Temperature : 0-250℃ (32-482℉)
Timer : 99min :59sec
Signal Frequency: 433MHz
Power: 2 x AAA Batteries (not included)
Transmitter
Material: Plastics & Electronic Material
Size: 75 x 55 x 25 mm/29.5 x 21.6 x 9.8in
Transmission : 30-60m unobstructed
Power: 2 x AAA Batteries (not included)
Length of Wire: approx. 1m
Note
There could be a few deviations from manual measurement or slight color differences due to photographing conditions. Thank you for your understanding.
Package Inclusions
1 x Thermometer
1 x Transmitter
1 x Probe with Wire
1 x USB Manual