The Fuzzy Heated Throw Blanket That Feels Like a Warm, Comforting Hug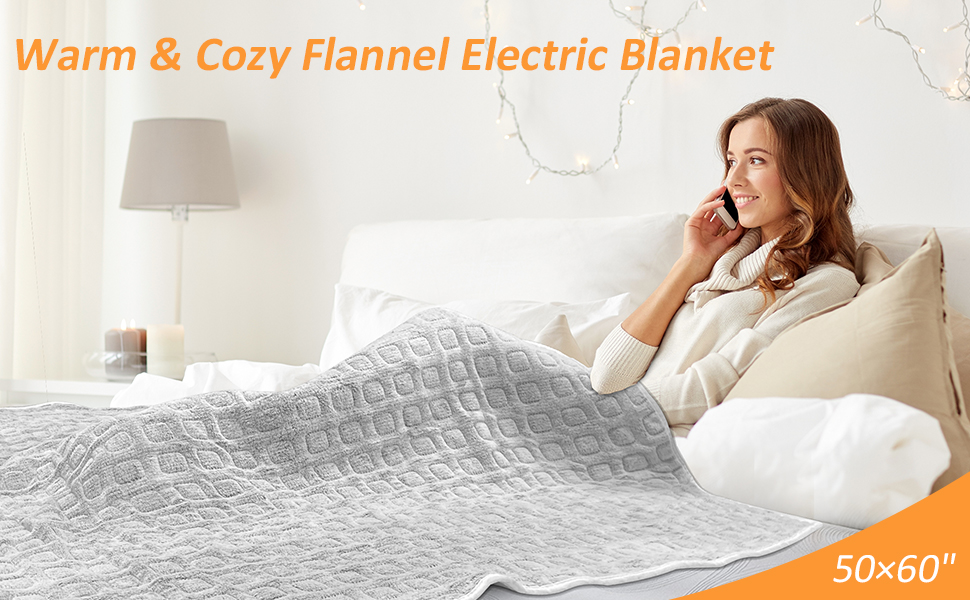 What's better than to be covered in a soothing, comforting heat when days are cold and chilly? Imagine going inside your house after all day battling the snow and cold and being welcomed by a warm blanket that seems to say, "It's time for you to relax." 
If bundling up with layers and layers of blankets isn't doing the trick for you anymore, it's time to make the switch to the CuzzyFuzzy heated throw blanket!
The CuzzyFuzzy Difference
Why go for the CuzzyFuzzy instead of just traditional blankets?
The answer? This flannel blanket saves you the hassle of bundling up in layers of uncomfortable blankets. With this throw blanket alone, you can bundle up and immediately feel the cold-busting heat. No need for tons of blankets – one CuzzyFuzzy is enough!
CuzzyFuzzy Features
The electric heated throw blanket is made of the most ideal materials for winter. The CuzzyFuzzy is made of worsted yarn – a soft and comfortable fabric that makes you feel like you're enveloped in a warm, comforting hug. 
The expansive size of the CuzzyFuzzy can help you bundle up. The CuzzyFuzzy comes at 50″ x 60″ and can gently wrap you on cold days. The size is great if you're using the blanket while reading, watching TV, lounging, or catching a quick nap. 
The CuzzyFuzzy comes with a three-level heating setting. The warmth in the blanket can heat up to 140-degrees Fahrenheit. The design of wires inside also allows an even and quick distribution of heat. 
The timing features of the CuzzyFuzzy prevent potential hazards! The CuzzyFuzzy comes with an automatic timer that shuts the heat function after 2 hours, avoiding potential safety hazards. However, if you prefer longer hours, you can do so. There are 4,6,8 hour-settings that can come in handy. 
A machine-washable blanket that's easy to maintain! The CuzzyFuzzy is a machine-washable heated throw blanket. Simply remove the controller inside and wash the blanket on low.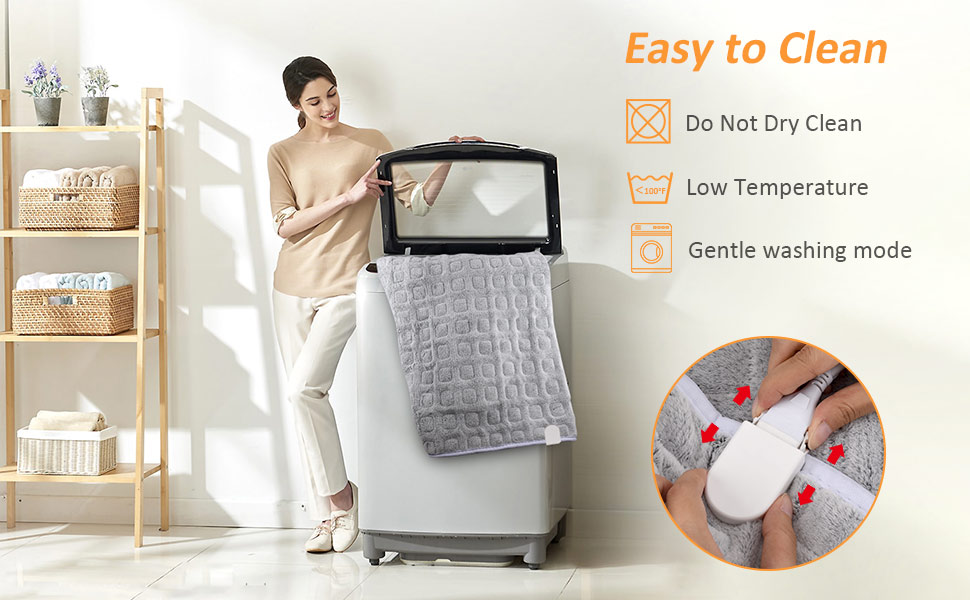 One of the safest heated throw blankets in the market. The heated blanket throw has passed FCC / UL / ETL certification, with a firm plug and reliable Overheat protection automatic power-off system. A 6.6 ft long power cord easily helps you reach nearby outlets, allowing for long-distance and versatility in use.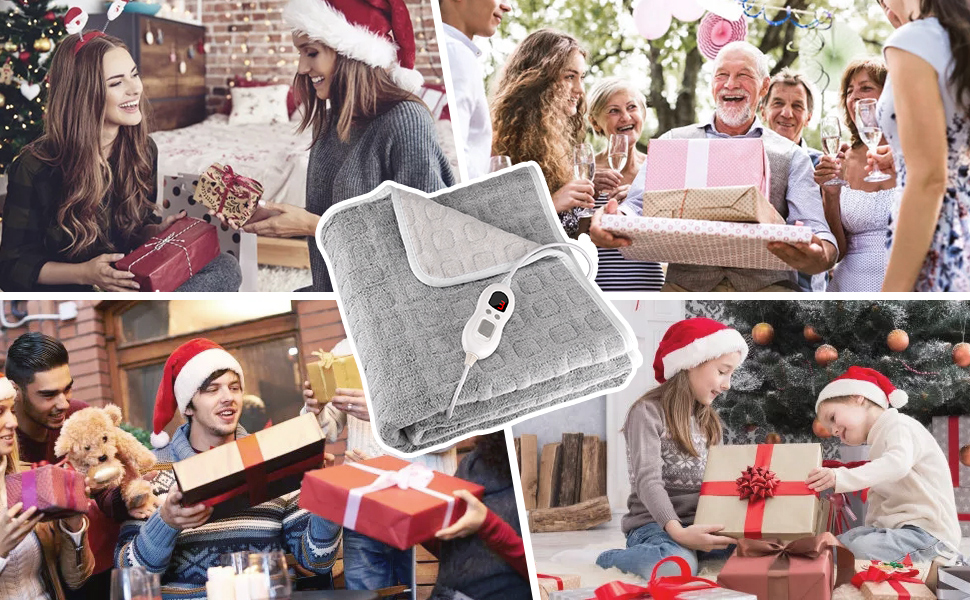 3 Heating Levels:
H: 131℉ ~ 140℉ (55℃ ~ 60℃)
M: 113℉ ~ 122℉ (45℃ ~ 50℃)
L: 95℉ ~ 104℉ (35℃ ~ 40℃)
Specifications:
Size: 50*60in
Color: Grey
Heat Area: Full Body
Heating Levels: 3 levels
Timer: 2h 4h 6h 8h
Auto-off Timing: 2h
Power Cord Length: 6.6ft
Rated Voltage: 110-230V AC/60Hz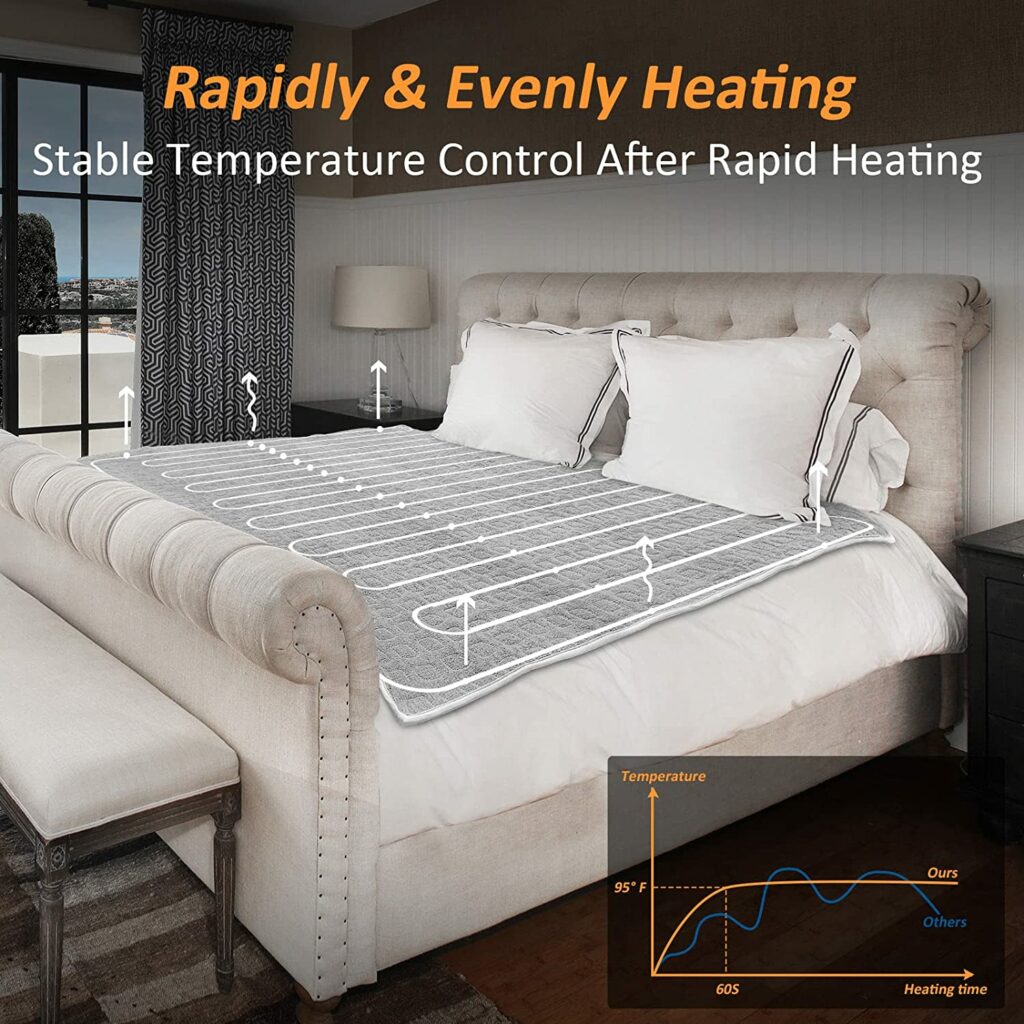 Package Includes:
1 x Heated Throw Blanket

1 x Controller

1 x User manual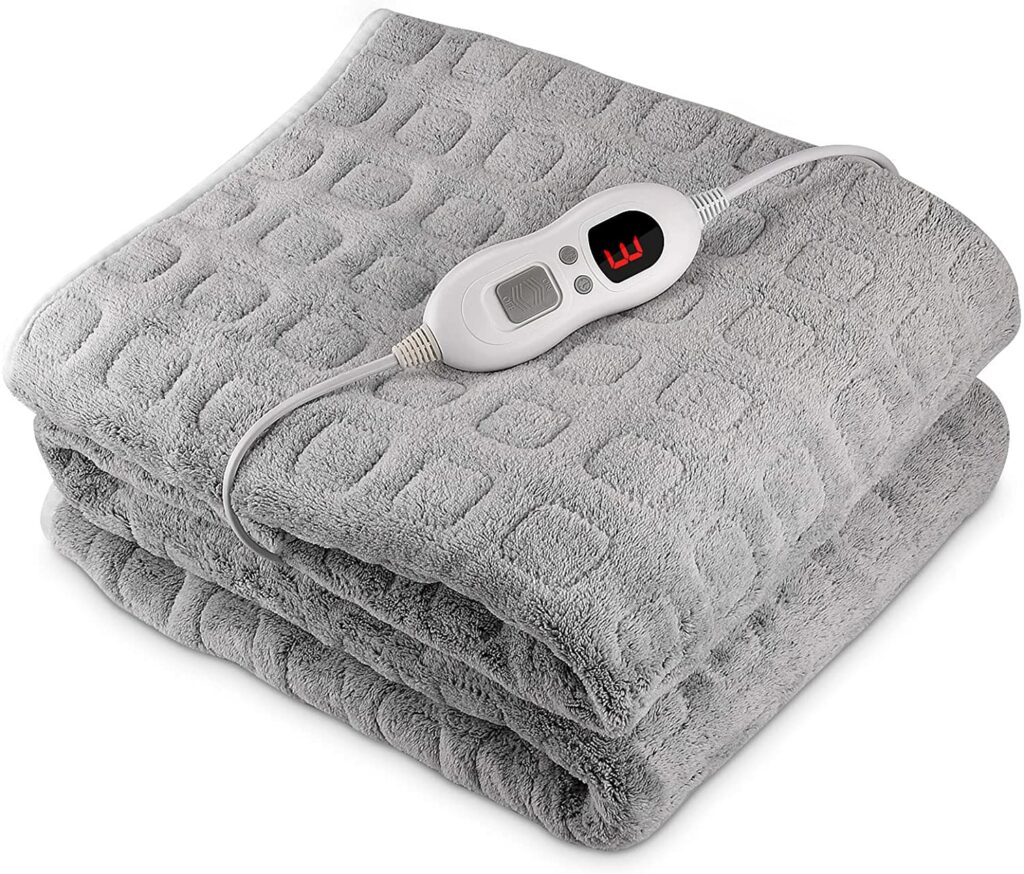 Tip for Washing:
Before cleaning, detach the controller first.
Machine & Hand washable – Recommended temperature (≤100℉).

Not recommended dry in a dryer, for high temperature might damage the heating wires, and causing malfunction.