Experience the Best Kind of Ice every time!
Have you experienced a new type of bullet ice cube? The Cold Element's newly designed bullet-type countertop ice maker machine brings you a brand new ice cube experience. This ice machine can produce about 26 lbs of ice per day, so you'll never run out of the good stuff for your favorite everyday drinks!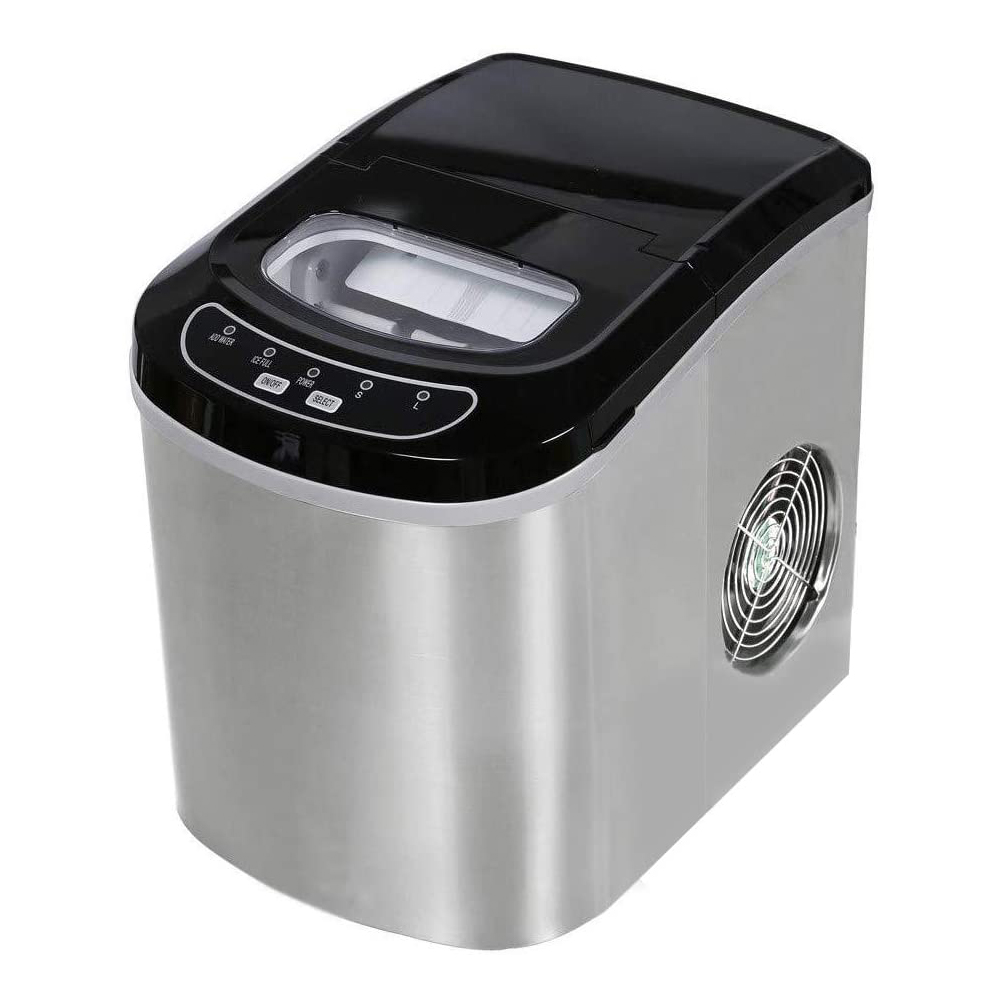 It only takes 6-13 minutes to produce 9 pcs of delicious ice cubes so that you can do it anytime you want. Chewable ice cubes are perfect for Drinks/Food/Seafood,/Smoothies.
Compact & Portable
Measuring only 9.5 * 14.1 * 12.9 inches, this ice maker can go anywhere. It does not require water hookup; the Cold Element is ideal for barbeques, outdoor parties, or basement bars. It's flexible, light, and easy to store—a portable and cute nugget ice maker, indeed! The Cold Element is the PERFECT gift for your bros, wife, husband, or anyone that can't live without their favorite iced beverage.
Quiet & Energy Efficient
Our Electric Ice Maker is designed to be quiet and runs on 110 watts with a silent cooling function. Its 2.2-liter water reservoir sits below the ice basket, allowing you to reuse water from the melted ice to make new ice.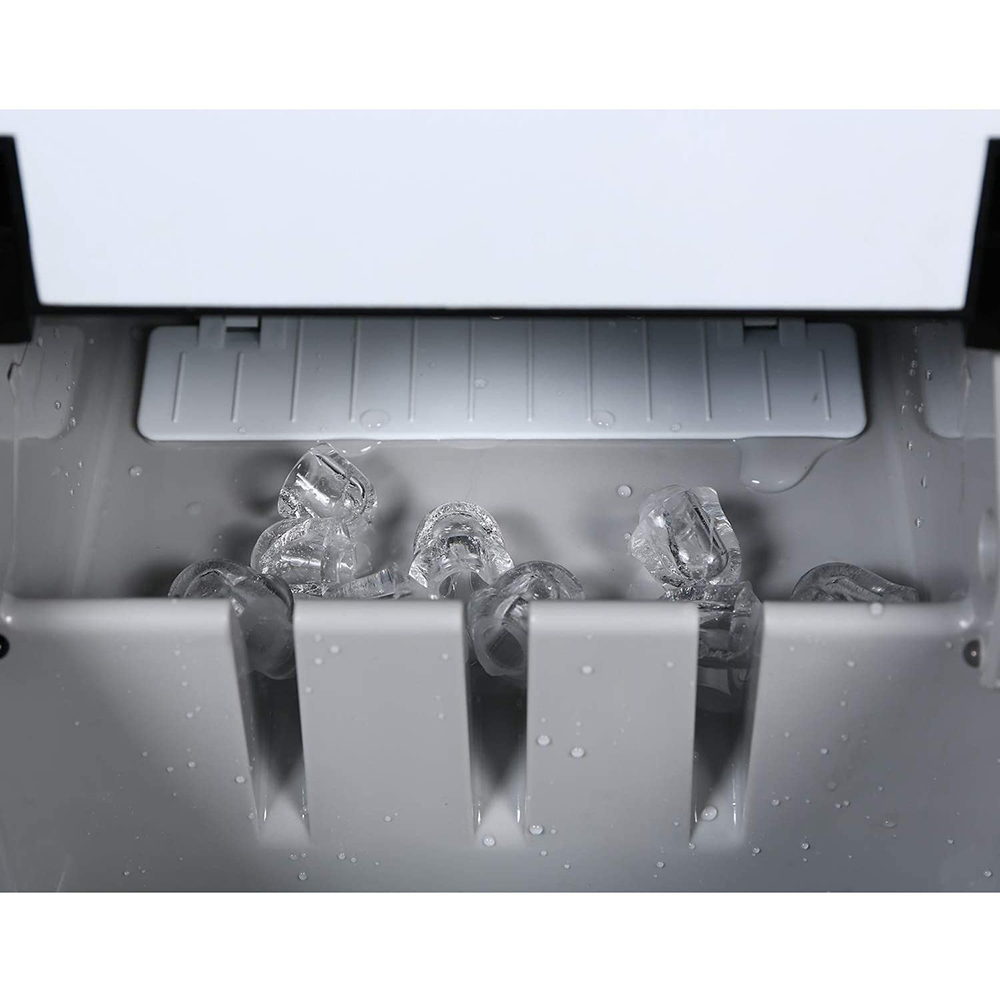 Comes With Basket And Ice Scoop
The Cold Element comes with a removable ice bucket and a plastic scoop to give you everything you need for any adventure. Modern and durable stainless steel finish fits perfectly on any bar, kitchen counter, or tabletop. Use or store your ice after making it for later use! Our Ice Maker is perfect for your mini bar at home.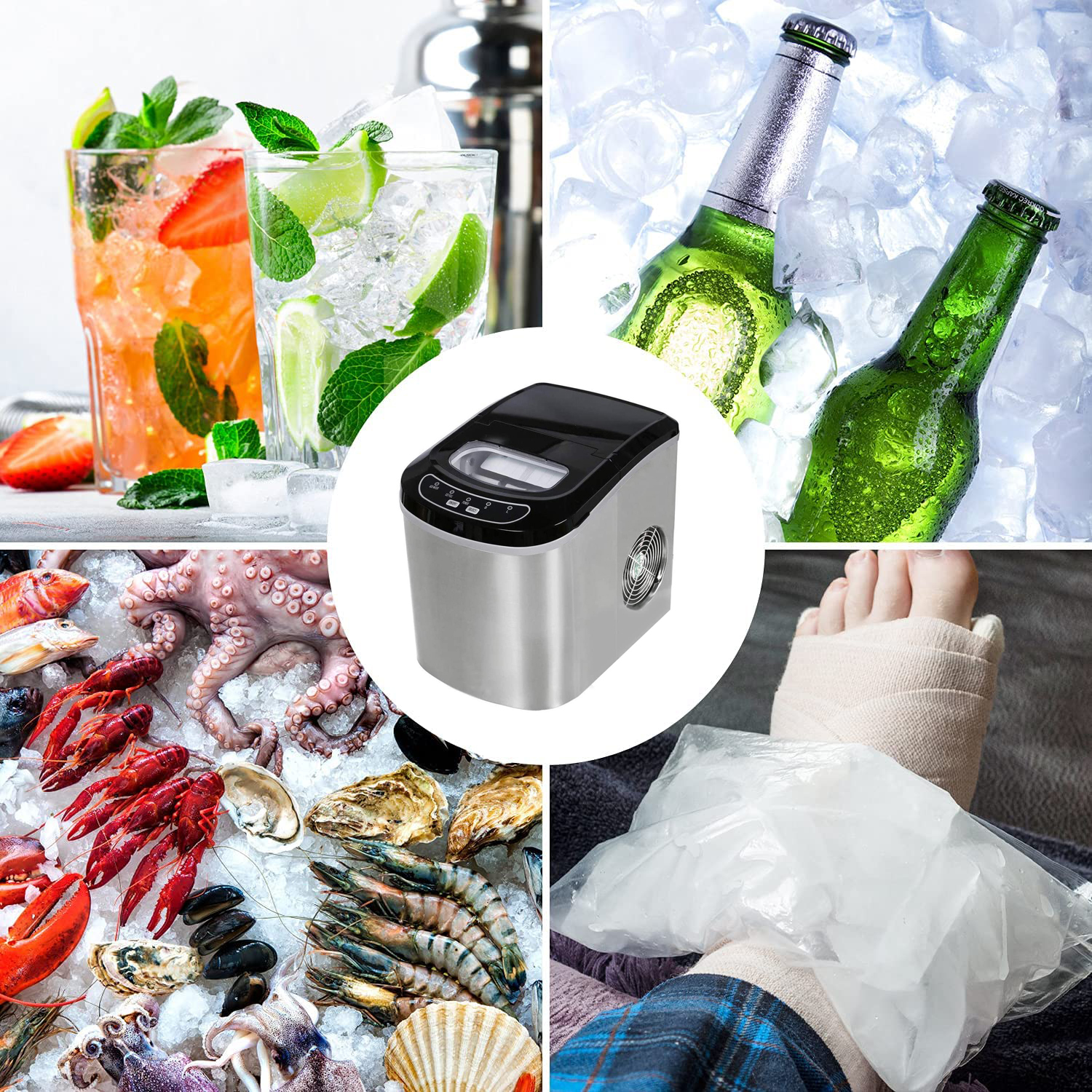 Super Ice-making Capacity
The Cold Element Ice Maker Machine is equipped with a highly efficient compressor, which is excellent in refrigeration and does not make too much noise during the ice-making process. All of these fantastic features allow you to enjoy ice cubes and drinks in a quiet environment. Not only do the characteristics of the ice cube machine compressor make the ice maker consume little energy, but the tabletop ice maker machine has a recirculating water tank, which will not cause water waste.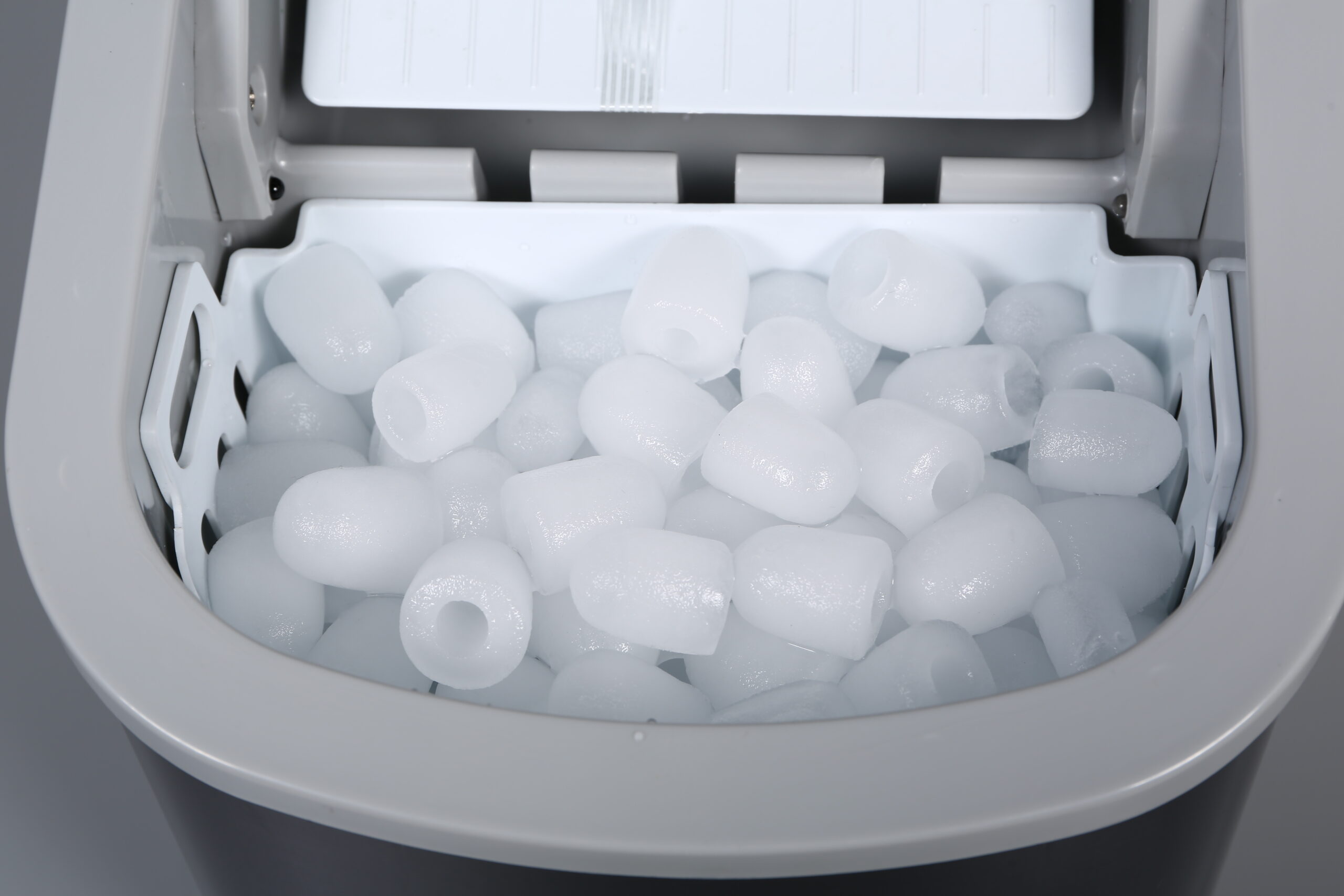 Everything Is To Make It Easier For You
We've designed the Cold Element Ice Maker to be user-friendly so that you don't have to go through the stressful process of installation. The silver stainless steel surface is very pleasing to the eyes and reinforces an easy-to-clean surface. Our Ice Maker Countertop prime clearance is equipped with a removable ice basket and ice scoop, so you can move to serve refreshing beverages very easily. You can place the portable ice maker countertop top-rated prime anywhere! It's perfect for any Countertop/Kitchen/Living Room/Bedroom/Office/Party.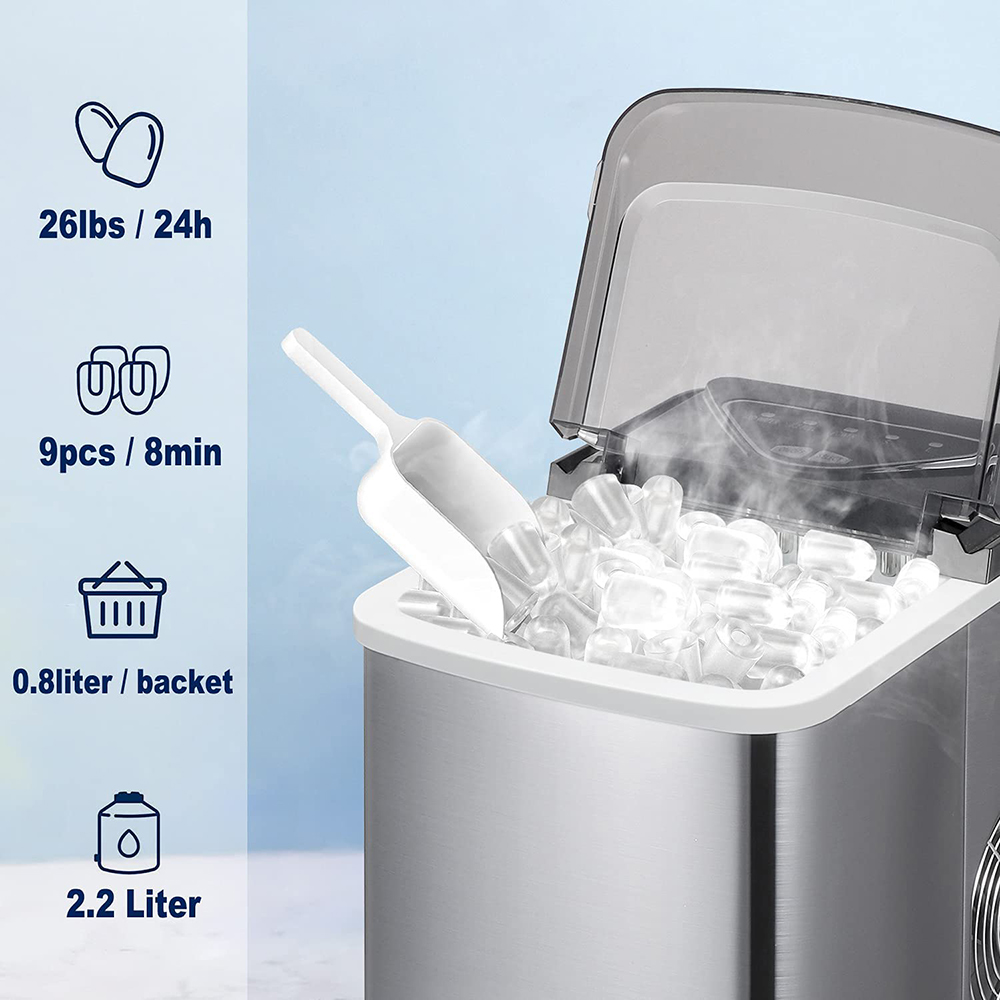 Control Panel
We got two ice cube size buttons that you can choose from to deliver the perfect ice-making partner in your everyday cold drinks. The small ice machine has the most advanced infrared sensor technology. When the ice basket is full, the home ice maker will halt the ice-making process to prevent overflowing. You can view the ice-making process through the transparent window for ease. When the water level in the water tank is insufficient, the indicator light will remind you to refill the water in time.
Everything We Do Is To Satisfy You
Whether you are a single-tenant, college student, family member, you all need to live an exquisite life. The Cold Element Ice Maker is here to make everyday cold drinks accessible, so you can easily beat the quench every time.

Product Specifications:
Size: 9.5 * 14.1 * 12.9 inches
Net Weight: 17.2 pounds/20.3 pounds
Ice Capacity: 26lb/24h
Water Tank Capacity: 2.2L
Ice Bucket Capacity: 0.7kg
Rated Current: 1.7A
Voltage/Frequency: 115V / 60Hz, 1ph
Refrigerant: R600A 0.81oz/23g
2 Different Ice Sizes: Small, Large
6-13 minutes to make ice cubes
Ice Shape: Bullet-shaped ice size
Number of Ice Cubes per Cycle: 9
Weight of One Ice Cube: 0.25-0.32 ounces
Water Supply: Manual
Cleaning Method: Manual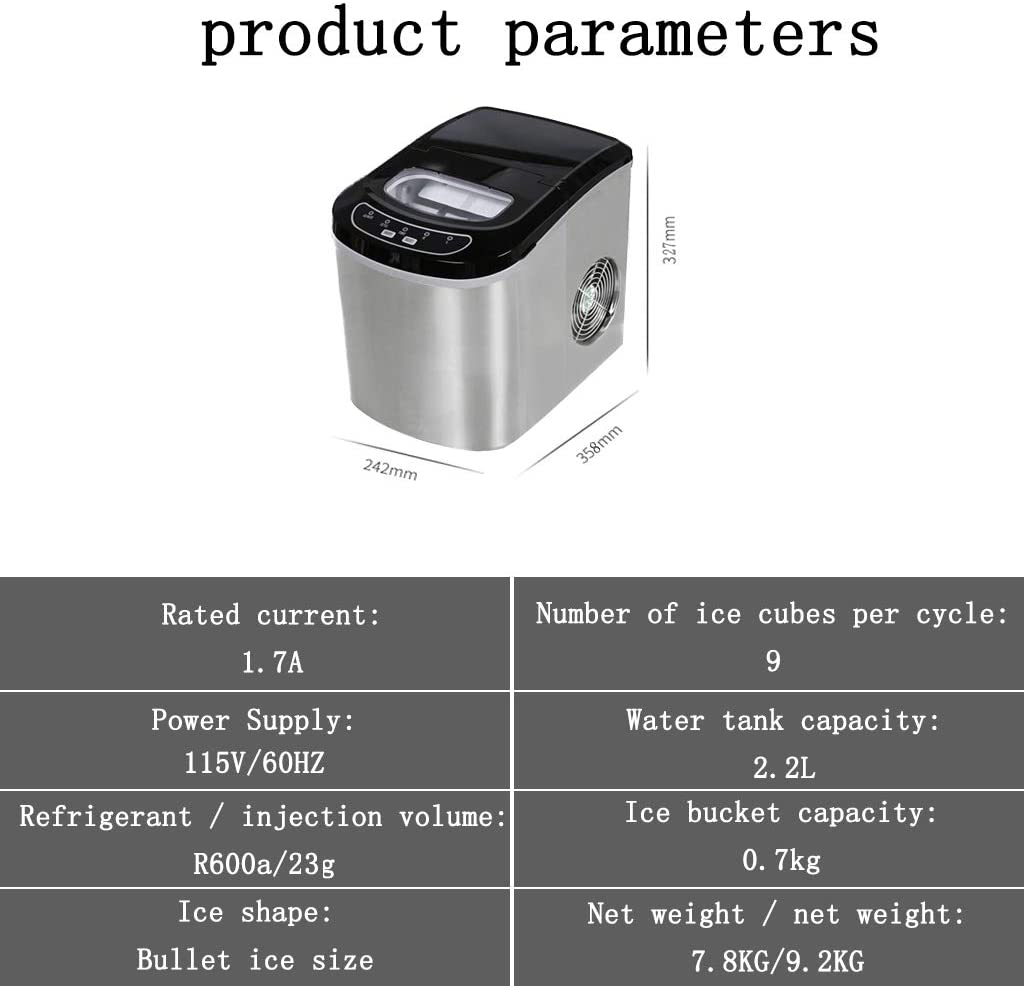 Package Includes:
1* Ice Machine
1 * Ice Spoon
1* Manual