Relax And Unwind Like Never Before With The HomeSpa Experience Black Bamboo Bathtub Tray!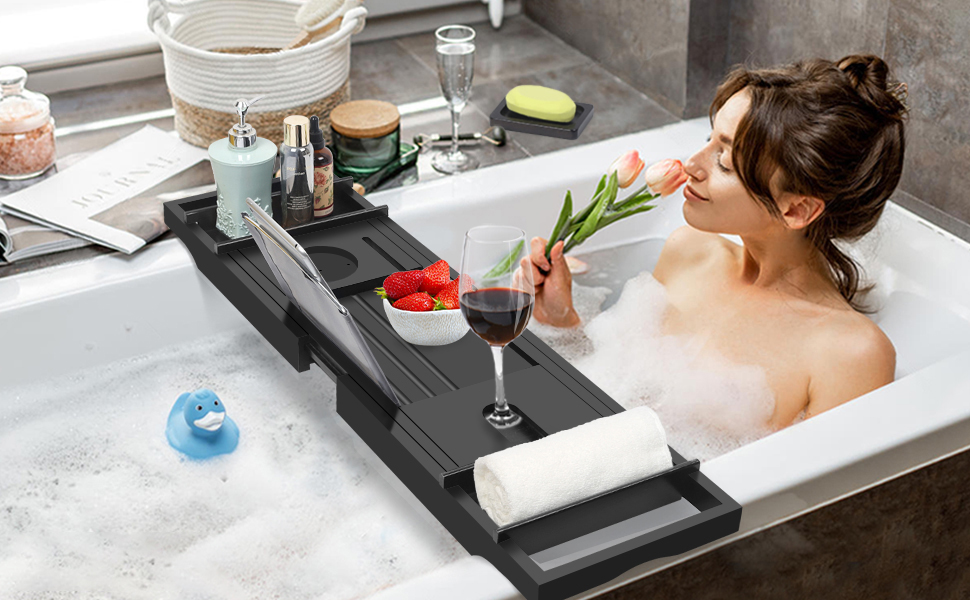 After a long workday, you'll need to unwind with a relaxing bath. Immerse yourself in your favorite movie, catch up on your reading with a book, indulge in a glass of wine and a scented candle without overcrowding your tub with The HomeSpa Experience Black Bamboo Bathtub Tray.
This adjustable and sleek bathtub tray makes it easy for you to have all of your bath essentials and more. It's made from natural bamboo material and comes in this luxurious black color, perfect for the modern individual and interior space.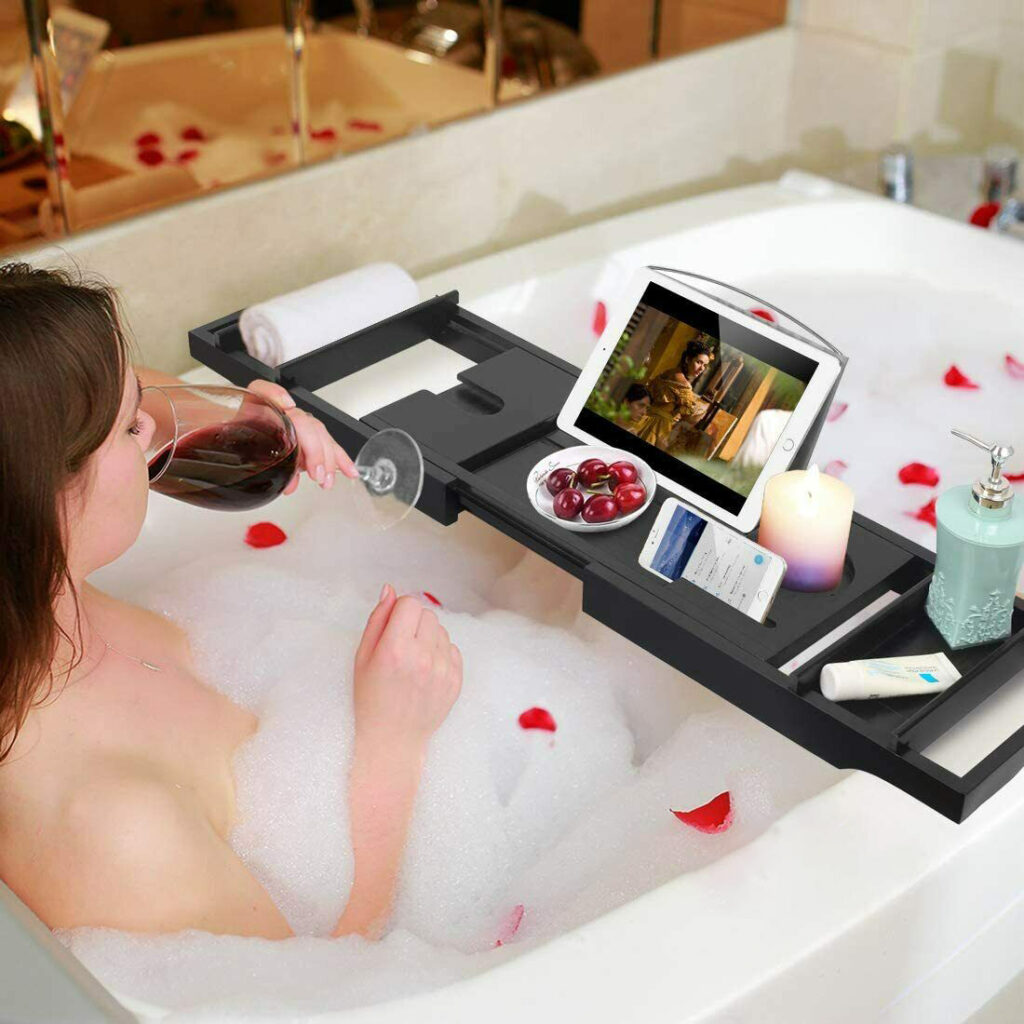 Features
Give Yourself The Break You Deserve. Spoil yourself with a luxurious bath experience and free your mind from your daily stresses with everything you love in the black bamboo bathtub tray.
Multi-functional Slots For Easy Reach. With the many compartments in our bathtub tray, you won't need to keep stepping out of the tub to grab your soap, shampoo, etc.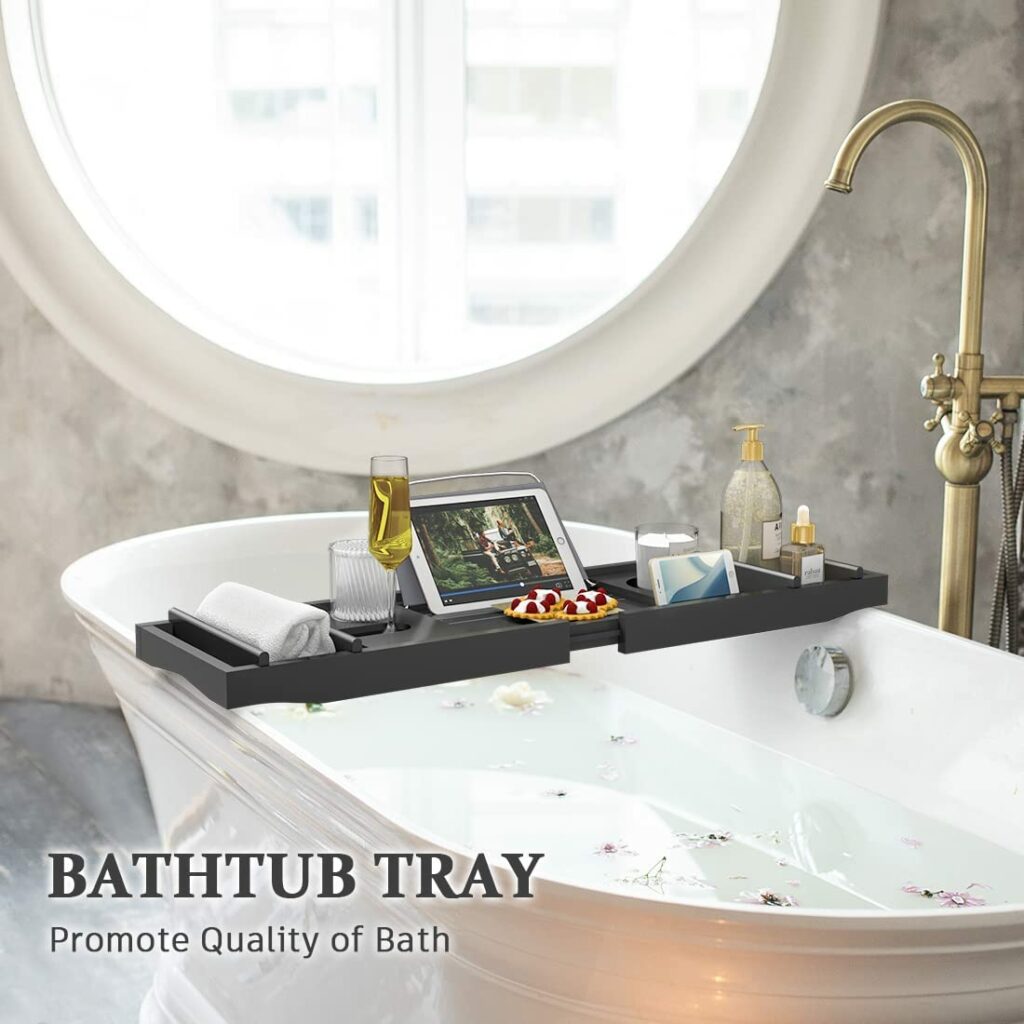 Expandable To Adjust To Your Bathtub. This natural bamboo bathtub tray can expand from approximately 28 inches to 42 inches to fits all standard roman bathtubs.
Brings Romance Into Everyday Life. This will make the perfect gift choice for family and friends for their birthday, Valentine's Day, Mother's Day, Thanksgiving, or any special occasion.
Specifications
Brand: NewHome
Product Type: Bathtub Caddy Tray
Materials: Natural Bamboo, Polyester
Color: Black
Width Extendable: 72cm-109cm/28.34in-42.91in
Tablet PC Slot Size: 23×0.7cm/9.05×0.27in
Wine Glass Slot Size: 7.2×3.6×1.5cm/2.83×1.42×0.59in
Wine Glass Slot Thickness: 0.5cm/0.2in
Diameter of Round Area: 9cm/3.54in
Phone Slot Width: 10×1.1x1cm/3.93×0.43×0.4in
Rectangular Size: 24×17.1cm/9.44×6.73in
Book Pad Prop Cloth: 23.5×14.5cm/9.25×5.71in
Per Drawer Size: 10×22.5×3.2cm/3.93×8.85×1.26in
Extendable Size: 22.5x109x16cm/8.85×42.91×6.3in
Item Weight: 1846g/4.07lbs
Package Size: 23×75.5×5.5cm/9.06×29.72×2.17in
Package Weight: 1995.5g/4.4lbs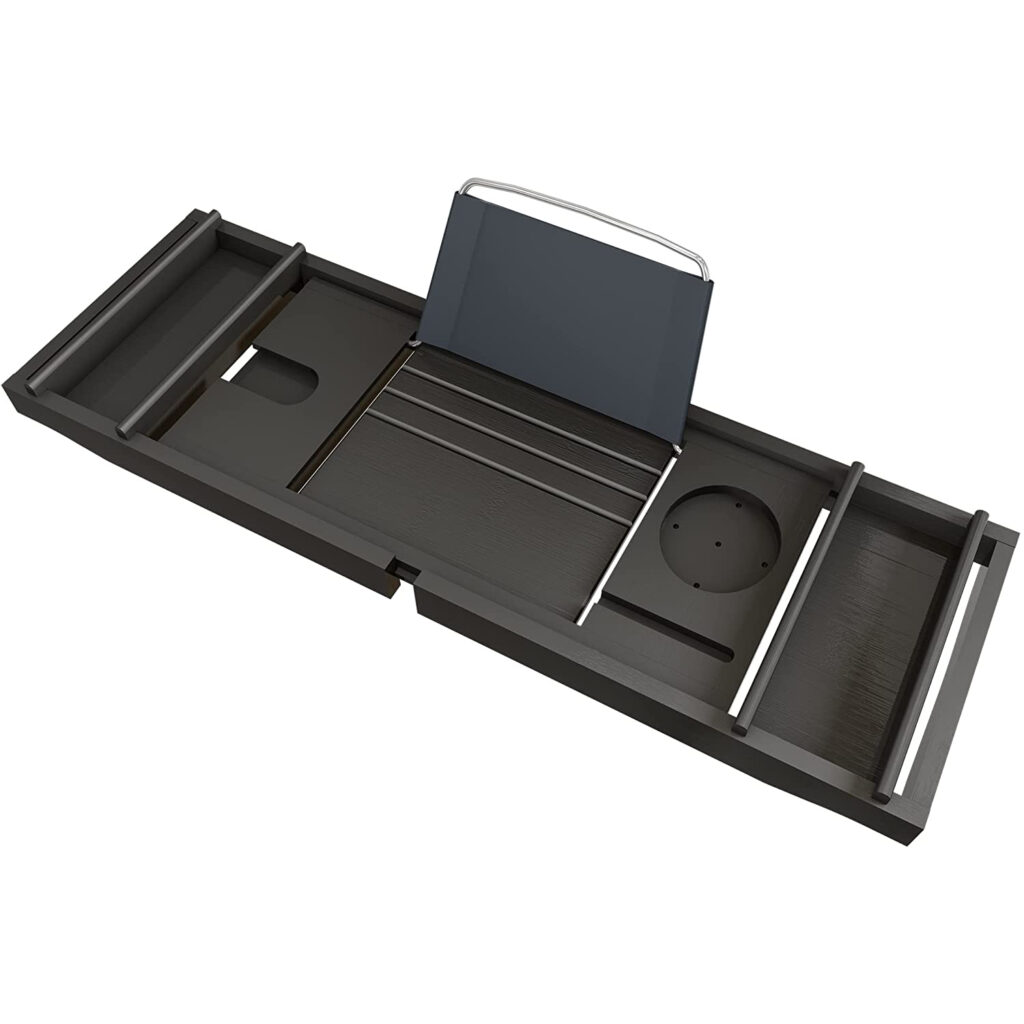 Package Inclusions