Give Clothes A Rejuvenated Quality With The Innovative TextileTECH Fabric Shaver!
Whether you want to feel soft and cuddly, or fabulously fashionable, a good wool jacket or sweater could do the trick to up your style game. Yet on unfortunate occasions, you may find your favorite sweatshirt looking lumpier than usual, making it a no-go for when you're heading out of the house. In this fashion crisis, we've got the right innovation to transform your wardrobe into what you've loved about it before. For that good as new look, get yourself the TextileTECH Fabric Shaver, engineered to rejuvenate your beloved fashion items with its sharp yet safe blade technology.
FEATURES
6 EFFICIENT BLADES TO REMOVE PILLING AND LINT: Think you've got no time to remove the pilling from your clothes? Let the TextileTECH Fabric Shaver handle it, with its 6 stainless steel blades and 9000 RPM speed that shaves away any fabric residue in no time.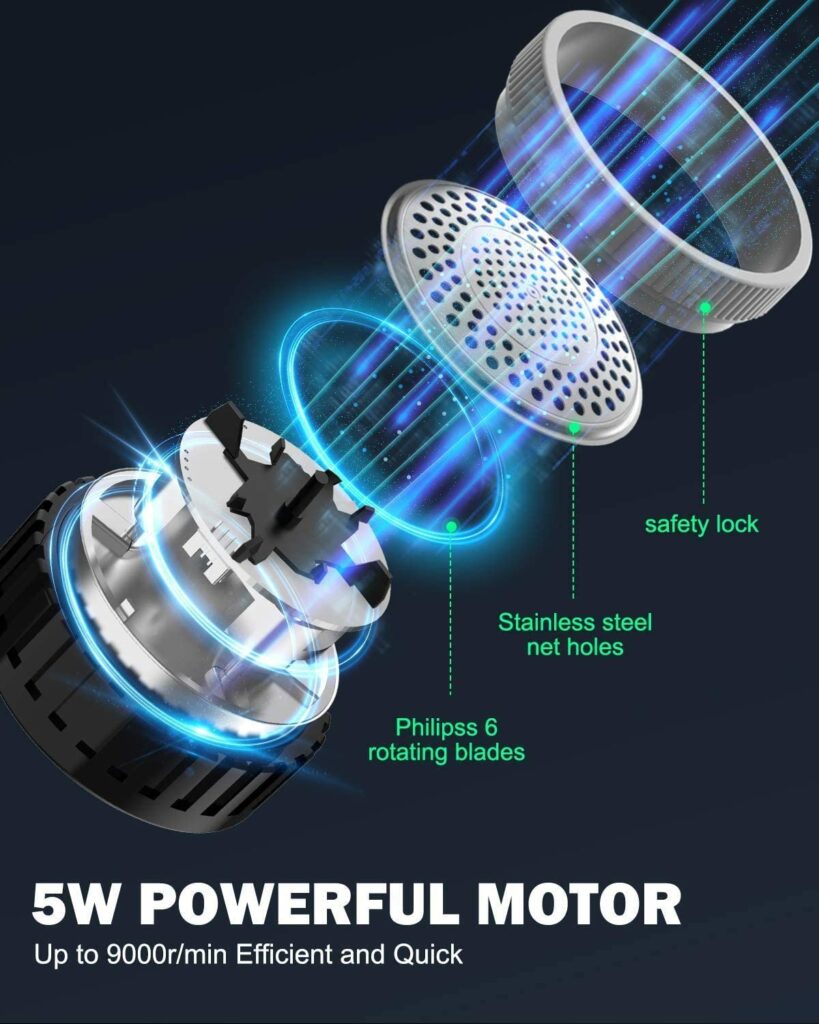 GREAT FOR ALMOST EVERY FABRIC: Featuring a 65mm honeycomb mesh, this fabric shaver removes pilling more precisely, suctioning even the smallest of lints with ease, and without any accidental cuts to your fashion items. From wool coats, to cotton skirts, to sweater, and even household items like sofas, curtains, drapery, blankets, and duvets, you've got a high-tech garment care tool you can use for almost every surface. Once you're done, you can dispose of the lint from the shaver from its built-in compartment.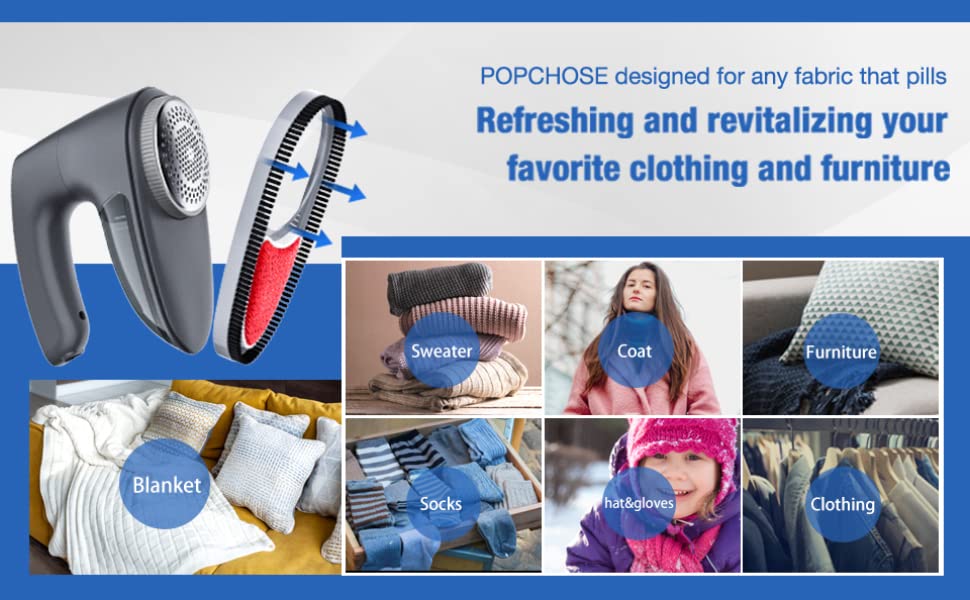 MULTIPLE AUTO-SAFETY MECHANISMS: To prevent any potential hazards, the fabric shaver is designed to be non-flammable thanks to its IC Safe Chip, and will automatically turn off when the protective head is removed. Meanwhile, its precise blades work to avoid cutting out the parts of your garment that you don't want removed. Moreover, it's also equipped with a non-deforming stainless steel mesh, to eliminate friction that may damage your clothes.
PLUG IT IN TO CHARGE, OR GO WIRELESS: A 2 hour charge can provide 60 minutes of high-tech fabric shaving. Plug it in if you've got more clothes to take care of.  Just refer to the indicator lights to see its battery level. (RED LIGHT = Charging ; GREEN LIGHT = Full charged ; BLUE LIGHT = In Use)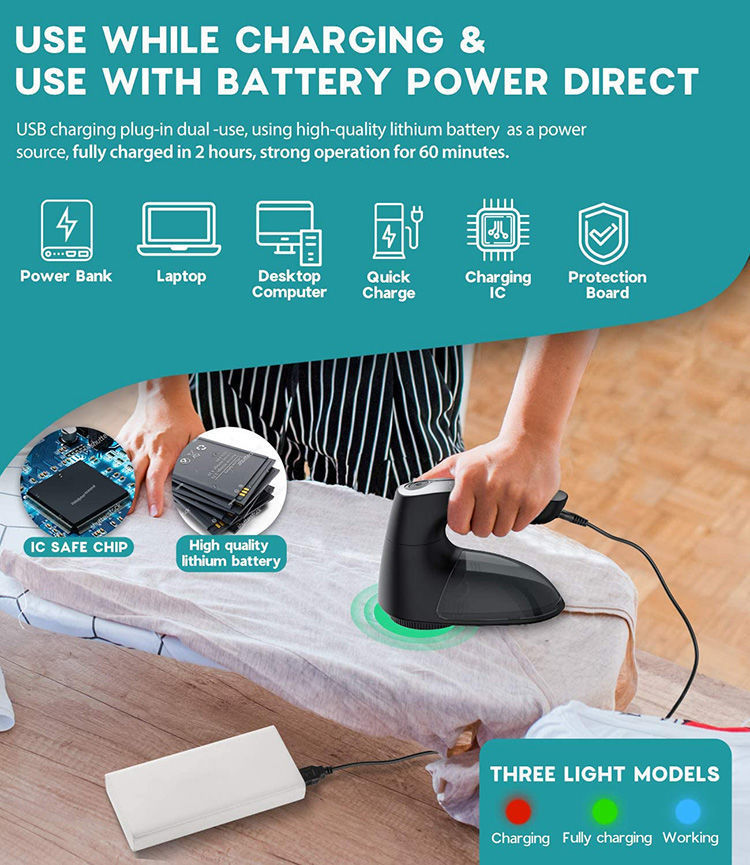 ROTATABLE AT 180°: Easily maneuver the fabric shaver with its 180º rotatable grip handle, and capture lint from those tricky corners of your clothes.
WITH A SPACIOUS BIN TO PREVENT CLOGGING: With a large-capacity bin and efficient suctioning system, our fabric shaver can catch lint while also prevent clogging in its blades. In just one press, you can also remove the catcher to dispose of its residue.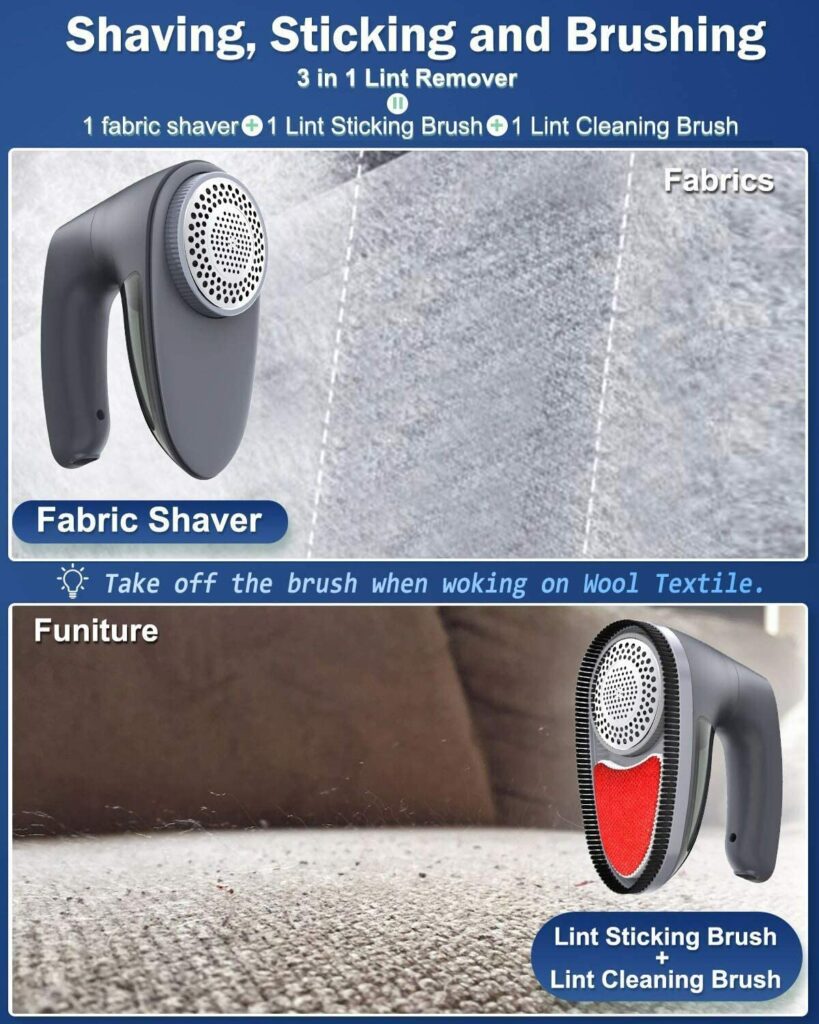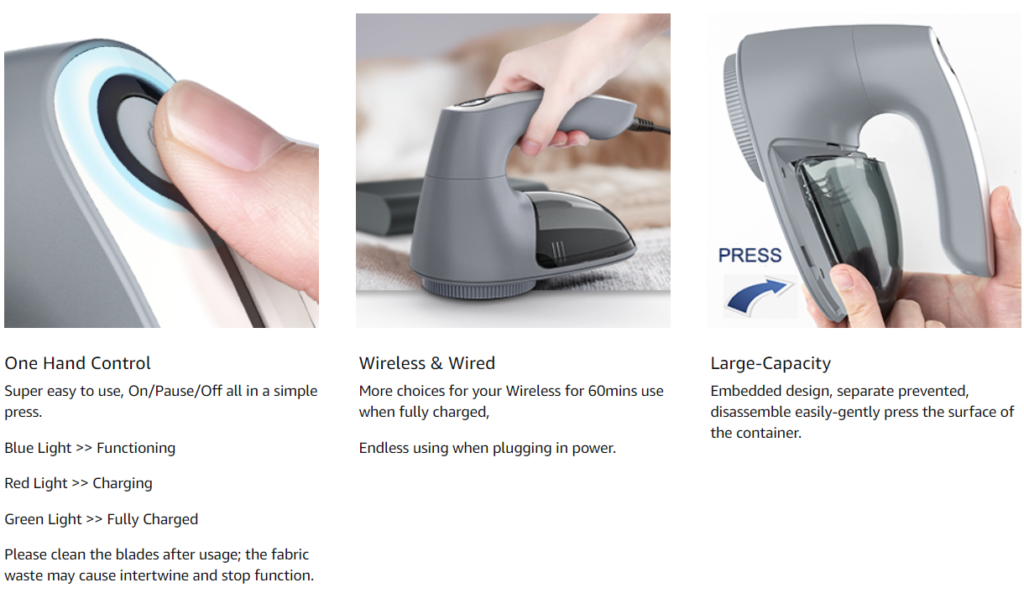 Specification
Color: Gray
Size: 15.5*12cm(6.1*4.7in)
Charging Method: USB Charging
Charging Time: 2 Hours
Battery Life: 60-90 Minutes
Rated Voltage: 5V
Package Included:
1x Fabric Shaver
2x Original Replaceable Spare Blades
1x USB cable
1x Instruction Manual