Your Most Ideal Picnic and Outdoor Blanket
Are food-stained, ultra-wet picnic blankets a cause for your frustration? Do you feel like some blankets take forever to clean because they're not just meant to be used outdoors? Perhaps, there truly is a better choice when it comes to finding a blanket for a picnic and outdoor activities. The designers of StegSpread picnic blankets made sure they efficiently and seamlessly fuse comfort, practicality, and style in one blanket.
StegSpread is not just a regular blanket – it's made of suede, a highly water-resistant stylish fabric that is easy to clean and disinfect. The StegSpread's beautiful suede material makes it a perfect choice for outdoor activities. The material can be easily cleaned from leaves, grass, and sand. The fabric is also comfortable enough to allow you to lie down and relish your outdoor trips. This picnic blanket is a crowd favorite – because it accommodates crowds during outdoor get-togethers.
Features of the Blanket
𝐀𝐭𝐭𝐫𝐚𝐜𝐭𝐢𝐯𝐞 𝐃𝐞𝐬𝐢𝐠𝐧: Our sophisticated and attractive outdoor blanket is tartan & the creative stripe design is fashion-forward and sure to impress family & friends as you have lunch at a picnic.

𝐃𝐮𝐫𝐚𝐛𝐥𝐞 & 𝐖𝐚𝐭𝐞𝐫𝐩𝐫𝐨𝐨𝐟 𝐏𝐢𝐜𝐧𝐢𝐜 𝐁𝐥𝐚𝐧𝐤𝐞𝐭: This picnic blanket is constructed with a waterproof PEVA backing in order to keep out moisture, for comfortable seating and easy clean-up

𝐔𝐬𝐞 𝐀𝐬 𝐚 𝐁𝐞𝐚𝐜𝐡 𝐁𝐥𝐚𝐧𝐤𝐞𝐭: Simply fold up this picnic mat and use its handy strap to conveniently carry it over your shoulder and transport it to and from your destination. You can use this outdoor picnic blanket at the beach or at the park as well

𝐌𝐮𝐥𝐭𝐢𝐩𝐥𝐞 𝐔𝐬𝐞𝐬: There are endless uses for this beach mat, including lounging in any setting that has casual seating, like the beach, park, and outdoor concerts.

𝐄𝐚𝐬𝐲 𝐓𝐨 𝐂𝐥𝐞𝐚𝐧: This picnic blanket is super easy to clean due to its durable and waterproof backing. Easily shake & wipe off dirt, mud, wet grass, and beach sand.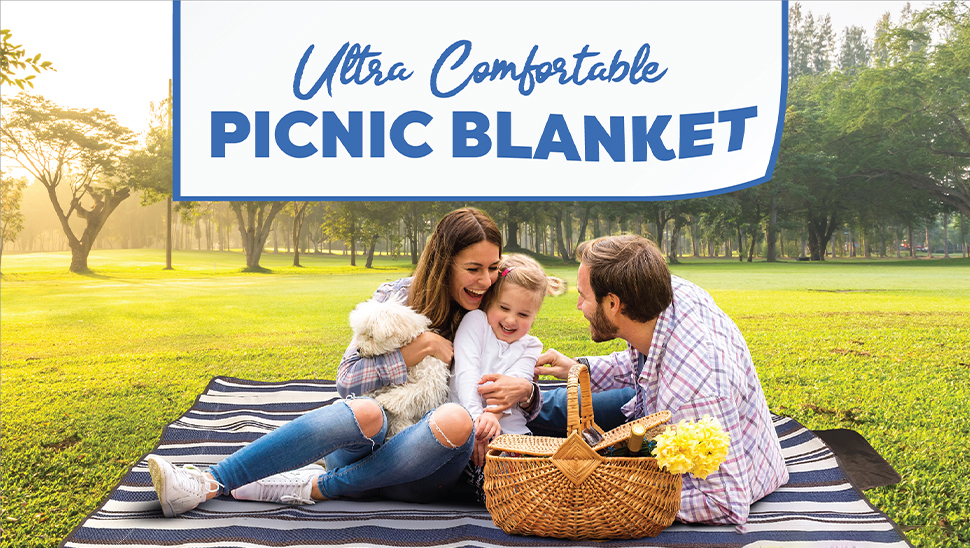 Be comfortable where ever you are!
This blanket features super soft, waterproof material so you can stay dry and cozy anywhere. Enjoy the beach, trip to the park, camping, sports event, your yard after the rain, and more! You can easily fold it into a small tote, so it can always be on hand. Maintaining it is easy, and it is perfectly sized for four adults or a small family.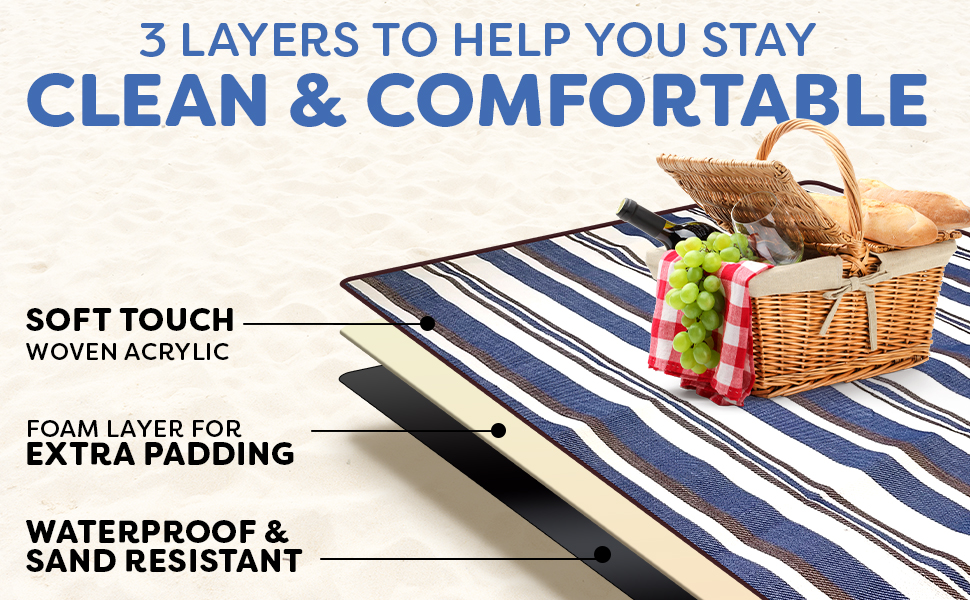 Enjoy a blanket that is waterproof, sand resistant, strong, and lightweight. This blanket is easy to maintain. Just shake the sand right off and spot clean any spills after each use. It is quick to dry and will stay cool to the touch even on hot summer days.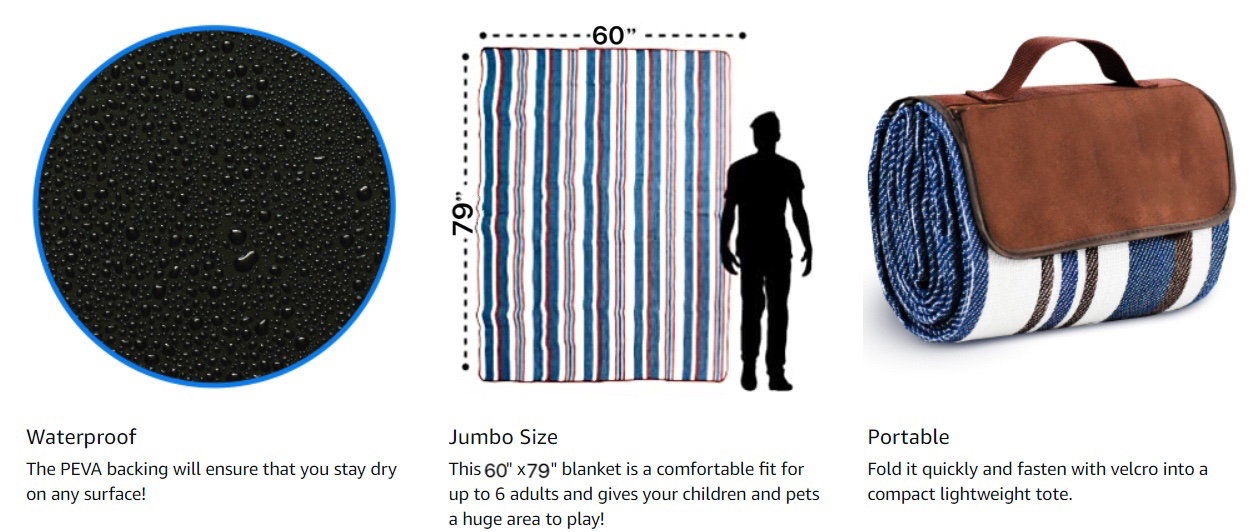 Size information
150*200cm/60*79inch;
200*200cm/79*79inch;