The Water Conserving Multipurpose Sprinkler and Splash Pad With a More Durable PVC Build, Anti Leak Nozzles, and a Design that Prevents Muddy Puddles from Getting in the Way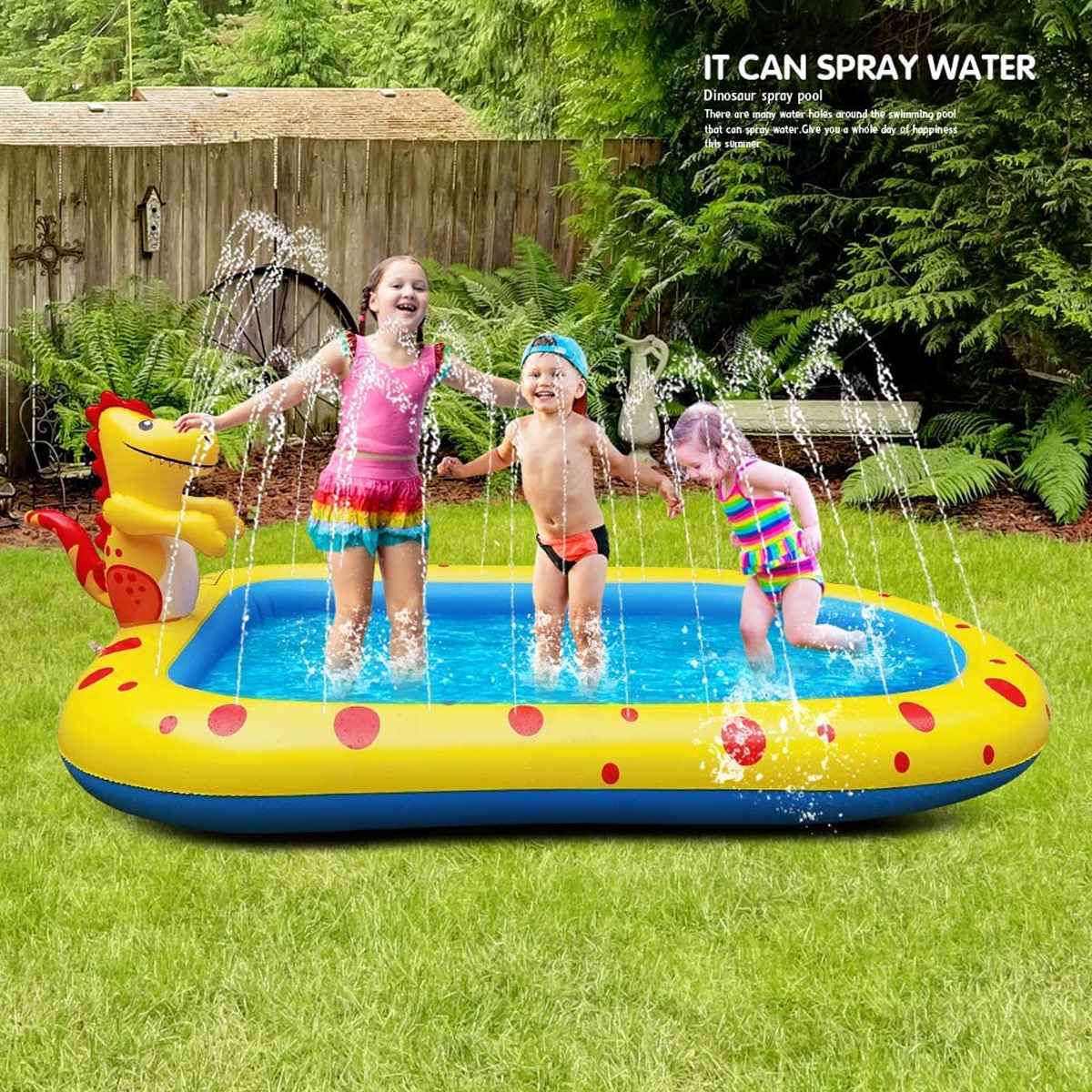 Are Muddy Puddles and Flimsy, Leaky Splash Pads Already Making You Frustrated?
Kids love water. Bring the pool or splash pads out and they will run to the yard in no time. But some things do get in the way of their splash pad fun.
First, there's the flimsy build. After just one use, the splash pad gets tears and breaks.
Next, leaky nozzles. It is like kids can't have fun unless you waste water and create muddy puddles around (another safety hazard!)
Lastly, kids can't totally have fun because the size is so small.
Don't let these pains get in the way of your outdoor fun. The ShwiggyBub splash pad is a highly recommended product that boasts an incredible, uber-durable PVC material, a design that allows kids to also soak in the water, an anti-leak nozzle for bye bye muddy puddles, and a multipurpose design that can also be converted into a sand box, a ball pit, or even a fishing pond!
The ShwiggyBub Is For You If… 
🐠 You're all about durability. The PVC material of the ShwiggyBub is thick. It's also wear-and-tear resistant, elastic, and tested for puncture susceptibility. This splash pad can take even the most active kids!
🐠 You want your kids to be safe while playing. Bumps and slips are part of the play, but you wish to minimize this possibility for your kids. The ShwiggyBub comes with inflated sides to prevent any bumps from causing too much pain. The base of the pool is also non-slip and semi-cushioned so your kids won't have serious injuries from playing.
🐠 You want an upgraded splash pad that also feels like a pool. Unlike regular splash pads, the ShwiggyBub comes with a hollow design that transforms the splash pad into an actual mini pool!
🐠 You hate leaky nozzles and muddy puddles. The ShwiggyBub features a new and improved nozzle design that allows all types of hoses to bring in water without the leak.
🐠 You want value for money. This splash pad can also be made as a kids fish pond, a sand box, or a ball pit.
🐠 You are not a fan of the chemical smell of pools and splash pads. We guarantee that the splash pad is free from any toxic, chemical smell that might be bad for kids.
🐠 You are looking for a splash pad with a decent size. The ShwiggyBub can fit up to 3 kids inside!
ShwiggyBub Features
Durability is guaranteed with better PVC quality. The inflatable swimming pool is made of 0.25mm sturdy and safe PVC material, with soft edges, durability, wear resistance, high elasticity, effective prevention of puncture, and long service life.
Safe for kids to use! Designed in line with the international children's toy safety standards (CPSIA, CPC and ASTM Certificates), it is safe for children and eliminates fall or slip hazards that come with splash pads.
Non-toxic and BPA free – material is 100% safe for kids. The ShwiggyBub comes with non-toxic materials so you won't have to endure those chemical smell so common in plastic products.
New and improved anti-leak nozzles. The firm grip nozzle now also comes with adjustable design to accommodate all types of hoses.
Comes in a size that accommodates up to 3 kids at the same time. -The size of the inflatable pool is 66.9×40.5×25.5 inches (170 * 103 * 65cm). The inflatable pool is spacious enough and designed with super cute dinosaur patterns, making children fall in love with swimming and being in the water.
Super fun sprinklers that works well all the time. There are water jets on the nose of the dinosaur and the edge of the pool, which can spray water into the pool, bringing more sprinkling fun and coolness to you and your family in summer
Travel-friendly splash pad that you can bring anywhere. The folding swimming pool has an area of 9.8 × 9.8 × 2 inches, which is easy to store. Only 0.65 pounds, lighter than any other swimming pool, you can take it with you, and this water level is suitable for 2-4 children to play in it (over 3 years old), perfect outdoor toys for children
Best splash pad for outdoor use.  Just find a flat lawn surface. Then place, unfold and inspect the swimming pool. Use an electric pump (not included) to inflate within 3-4 minutes, and then connect the garden hose, which is very convenient and worry-free. The higher the water pressure, the greater the amount of water sprayed. The drain valve at the bottom of the pool can quickly drain the pool. Note: Please stay away from sharp objects on the lawn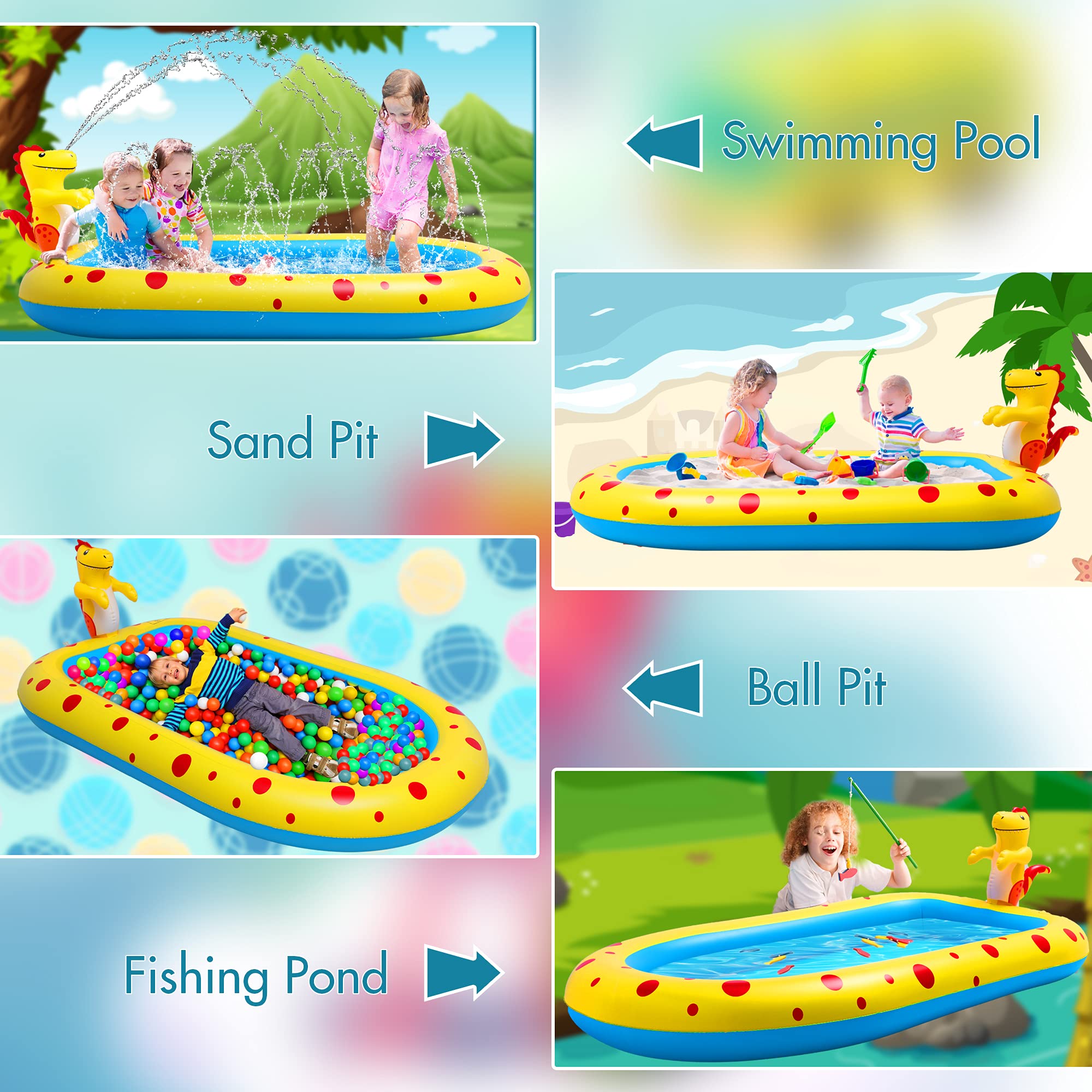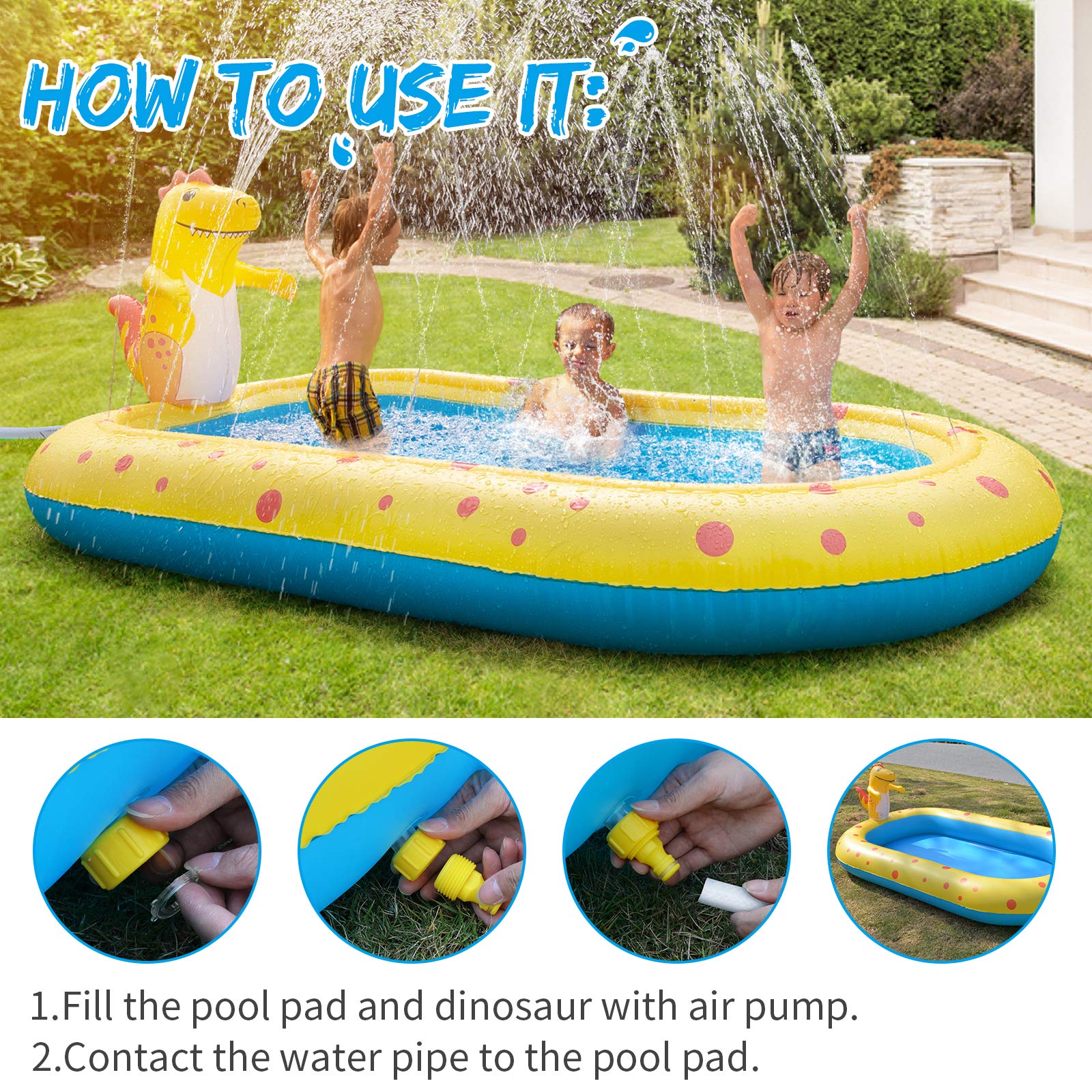 Package included: