This Golden Flatware Set is a Classic Choice That Will Leave Your Guests Amazed!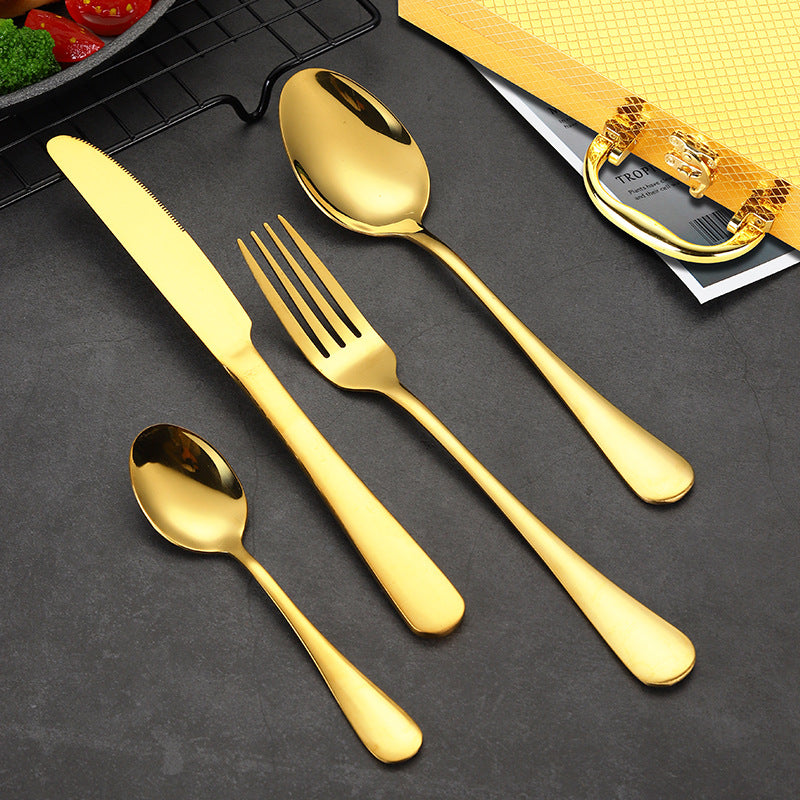 Present a Golden Wonder in Your Dining Table with the Shiny Golden Flatware Set That Will Provide The Sophisticated Accents To Your Dining Presentation
Are you looking for a beautiful accent to your dining table that will merit "oohs" and "aahs" from your guests?
The ShimmerTips is a gorgeous flatware set that can add that touch of luxury to your dining table arrangements. This sleek, gold flatware set is also made from 100% rust-resistant stainless steel, which means you can use your special spoons, knives, and forks for a long, long time.
If you want to always add a touch of sophistication to your dining experiences, the ShimmerTips is for you.
WHY YOU'LL LOVE  IT:
Durable Stainless Steel, will not bend – Strong Anti Rust, Designed to provide good grip for adults and children.
High Quality Titanium Gold Coating, It enhanced surface hardness, avoid the scrath on the flatware when using.
Timeless elegant design makes this silverware appropriate for formal events or everyday meals
Food Safe : Adopting high quality food safety material,poisonless and tasteless
Elegant design: High quality elegant design, Well-balanced to fit securely in your hand.
Durable : Durable strong construction that will last for years.
Heat-Resistant: Heat-resistant, durable construction won't bend
Occasions : Suitable for everyday use or special occasions, the stainless-steel flatware offers eye-catching good looks, whether setting a table for brunch or dinner with friends.
Dishwasher Safe :  The flatware set ensures timesaving convenience when it comes to cleaning. Simply rinse and place in the dishwasher, and it's good to go.

Package Includeds:
6pcs knife
6pcs spoons
6pcs dinner forks
6pcs coffee spoons