Practice Fire Safety at Home with PrestiSense!
PrestiSense is an intelligent voice carbon monoxide gas detector that uses micro-processing control and a built-in voice chip to display carbon monoxide gas concentration via electrochemical sensors. Our design provides high stability, low power consumption, small sensitivity drift, and other characteristics for better fire prevention and planning at home. It is mainly used in places where carbon monoxide gas leakage may occur, to detect whether carbon monoxide gas is leaking and ensuring the safety of human life.
Specifications:
Colors: White
Power: 3 x AAA Batteries
Sensor Type: Electrochemical CO-sensor Temperature:0~122F
Relative Humidity: 10%~95%
Detecting Level Range: 000~999PPM
Sensitive Level: 5PPM
Error: +/-10%
Normal Working Status: OOOPPM
Alarm Concentration: 030-999PPM
Battery Status: Low Battery Warning
Size: 3.9x 3.9x 1 in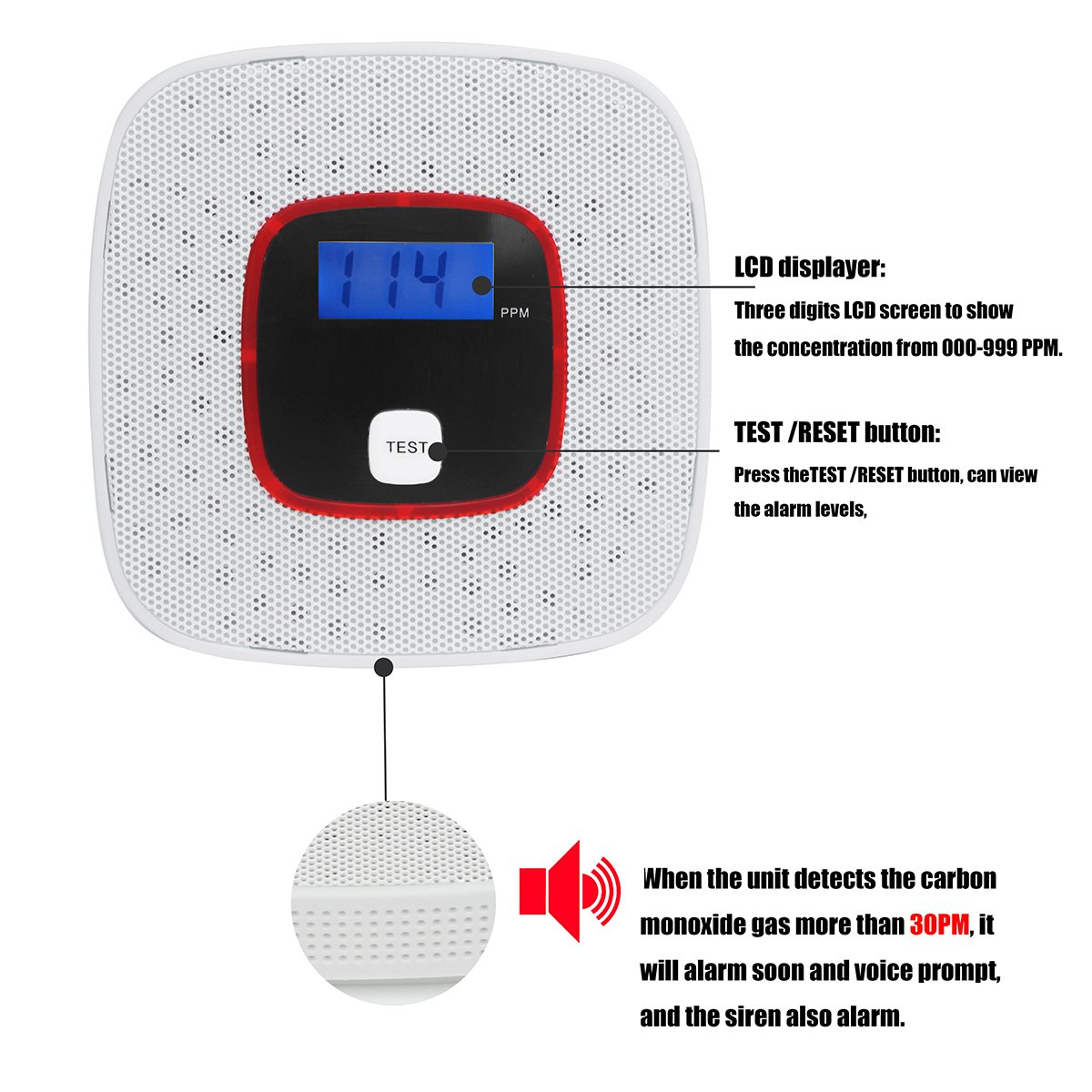 Features:
[High Sensitive & Quick Responsive] Build-in smart Carbon Monoxide Detector Chip and the Electrochemical Sensor, which is enough to detect smoke and odorless, invisible, and deadly carbon monoxide in the air. It comes with a quick reaction to save your life when a fire hazard occurs.
[Component Advantage] It comes with all the essential components you need to protect your home against fire and carbon monoxide hazards.

Human Voice Notification Prompt
Reliable Electrochemical Sensor
Carbon Monoxide Concentration Displaying (PPM)
Low Current Consumption
Ultra-long Standby Time
Alarm Memory Function
Low Battery Prompt
and Auto Detect Sensor Failure

[LCD Digital Display] The CO Detector offers Voice Notification and a digital readout of the CO concentration. [Detecting level range: 0-999PPM. Alarm concentration: 30-999PPM.] It can display both current reading and a peak reading on memory to display the highest level measured over a period of time.
[Easy Installation & Widely Used] Coming with mounting bracket, screws, anchor plugs, drill holes in appropriate positions, and done; The PrestiSense can be used for each bedroom sleeping area, kitchen, living room, or any rooms with an increased risk of fire danger.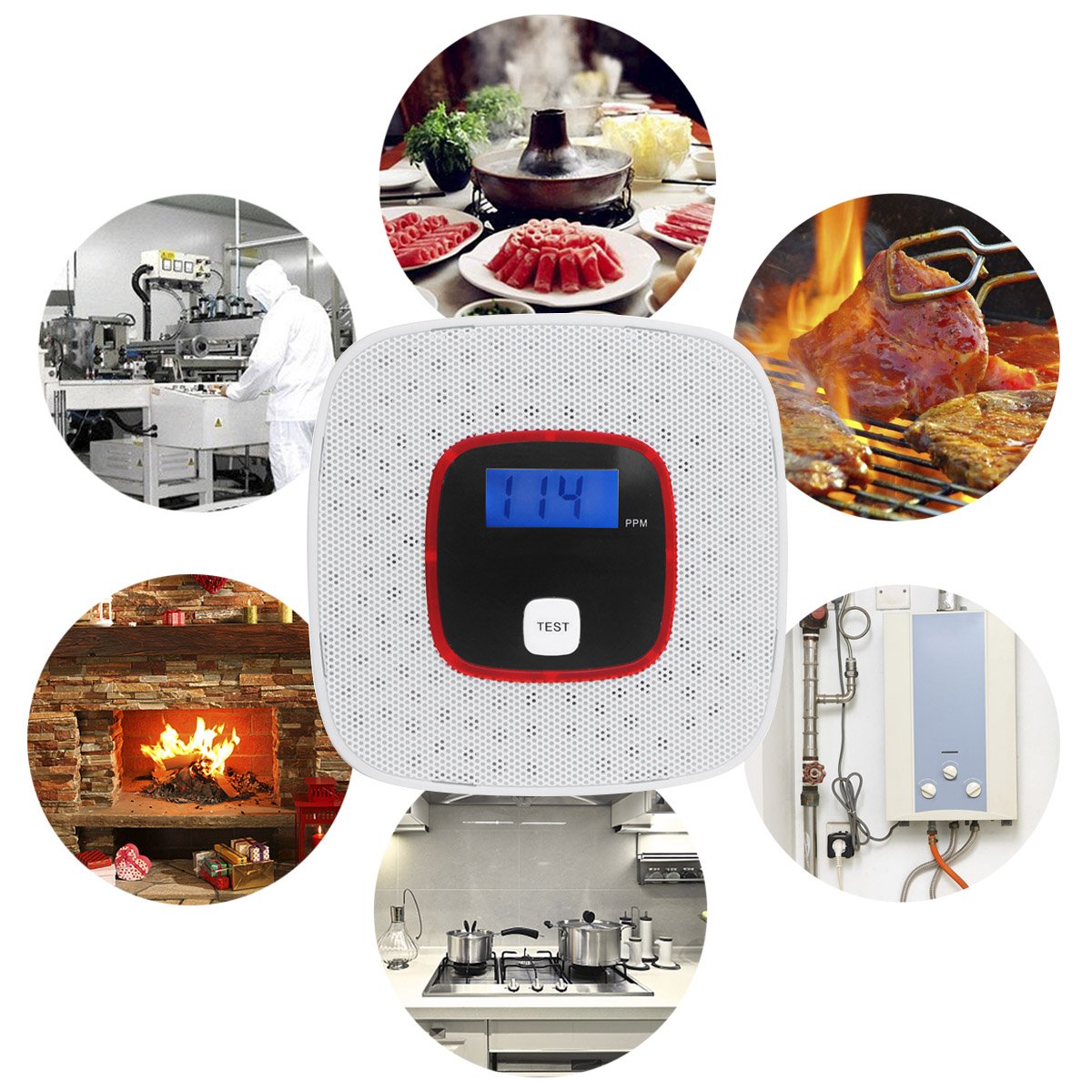 Operation Instruction:
Put on the 3*1.5V AAA battery; there will be a voice prompt saying: "Welcome. To use our voice Carbon Monoxide Detector, please wait 2 minutes for preheating."
It will display "2 minutes counting" when the detector is in starting-up.
Press the Test/RESET button. The LCD screen will show "0" ppm, the red light flashes, and the detector sounds a continuous alarm at the same time.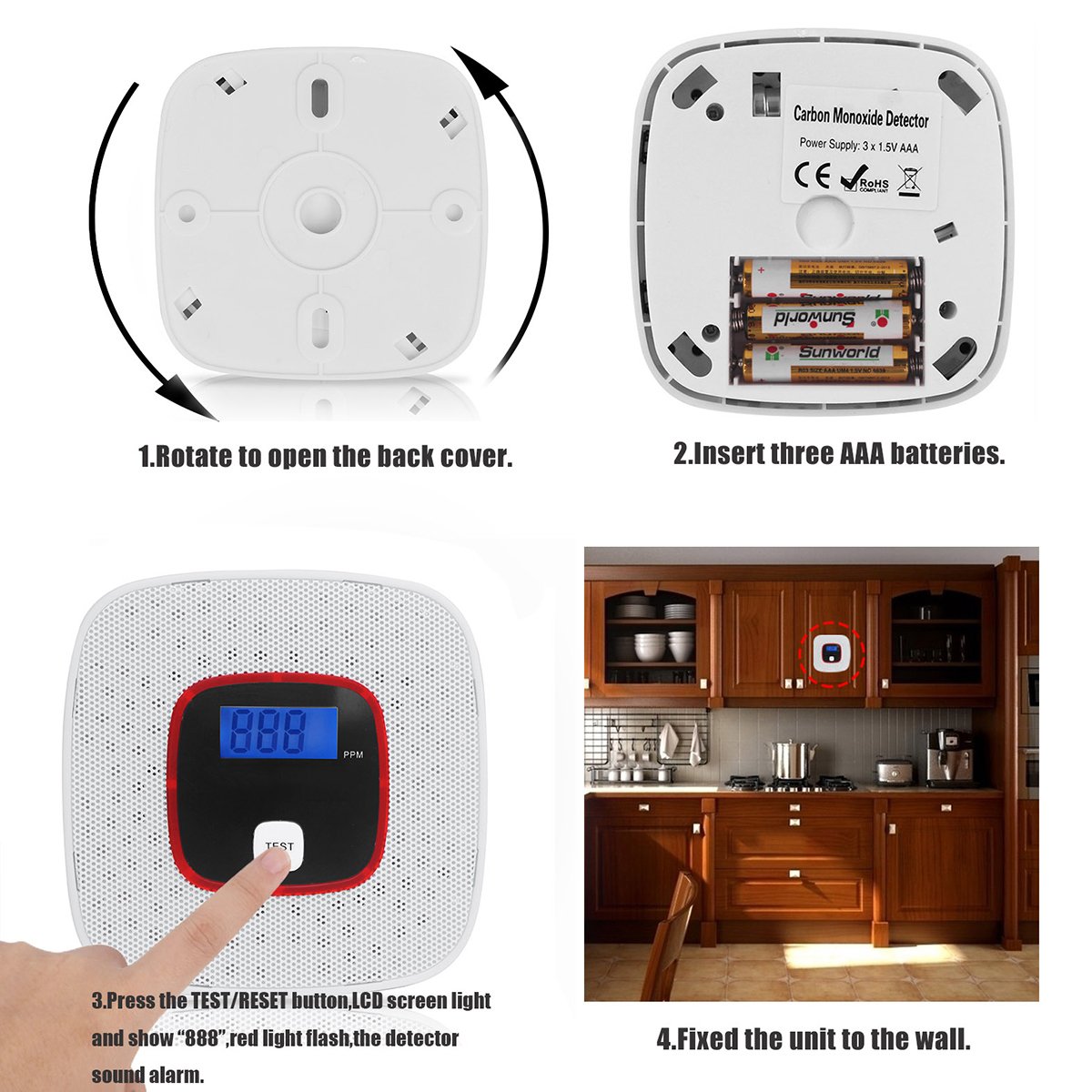 Package Includes:
1x Carbon Monoxide Detector
1x Mounting Accessories
1x User's Manual