Grow Strong, Happy, and Thriving Plants Indoor
Plantasia offers a complete range of red, blue, white, infrared, and ultraviolet LED chips for optimal performance for all kinds of plants, flowers, and vegetables at all stages of growth.
Suitable for Indoor Plants/House Plants, Greenhouse, Horticulture, Microgreens, Seedlings, Succulents, Medicinal plants, and Grow Tents.

 Indoor growers have developed Plantasia Grow Lights over many years of careful experimentation and testing.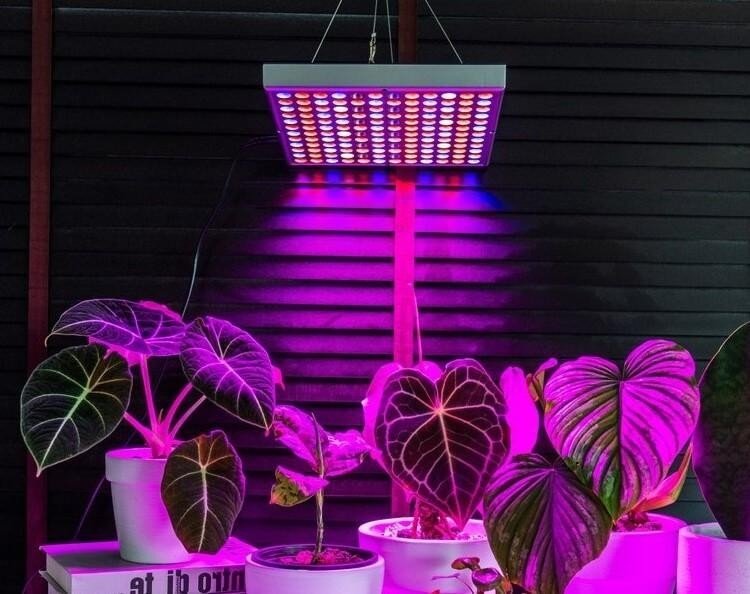 Maximize the photosynthesis of your plants. Our advanced LED's and microchip design ensure that your plants receive maximum light absorbency without wasting energy.
Our 'Targeted Spectrum Technology" ensures optimal light spectrum emission without emitting an unnecessary amount of light that the plant cannot absorb (or wasted energy).

Why Get Plantasia?
Full-spectrum light provides plants in the Veg and Flower stages with everything they require for optimal growth and flower production.
Hybrid led grow lights utilize COB technology ensures deep canopy penetration and maximum light absorption.
The right balance between blue light for plants' growth and red light for photosynthesis
No more leggy plants, brown spots, and leaf burns
Easy to set, extremely compact, lightweight, and quiet. Ideal for small growing areas where space is an issue
A proven workhorse in the professional grow light industry

Applications :
1. Suitable for Indoor Plants / House Plants, Hydroponics, Horticulture, Microgreens, Medicinal plants, and Grow tents. 
2. Suitable for seedlings, growing, and flowering
3. Lighting time setup: Vegetative Stage: 10-12 hours on; Buds/Flowering Stage: 8-10 hours on.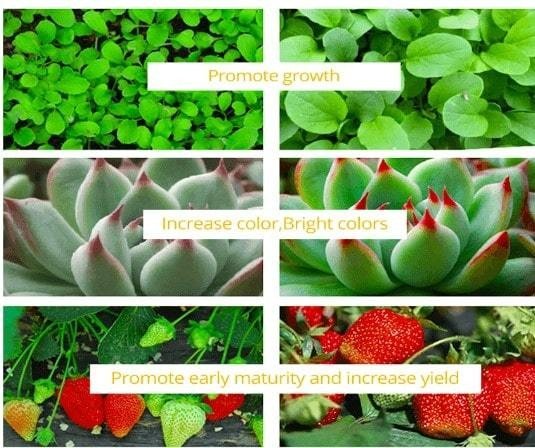 Features:
🌹[Classical Full Spectrum] Compact grow light that puts out the needed light includes 163pcs (620-660nm) +58pcs blue LEDs (450-460nm) +4pcs white LEDs (6500k), which is ideal for all kinds of indoor plants seeding growing, and flowering at all growth stages.
🌹[Easy Set-up] These LED grow lights are lightweight and very easy to use. With the upgraded hanging brackets, the system can be built in perfect sturdy condition within one minute. The built-in 59'' power cord could stand another two feet in length to make your plants extra happy.
🌹[Low Heat] Plantasia's ABS plastic material molding hydroponic grow lights panel offers excellent heat control and runs cool and quiet, with zero harm to your plants. The square shape design maximizes the beam to cover 3ft by 3ft area of plants, recommended to hang at around 6-10 inches for the seedling.
🌹[High Efficiency] Plants grow fuller with much stronger and straight stems with these LED grow lights. Most of the seeds are germinated and sprouting in 2 weeks. Low power consumption saves your electric bill; 2 pack designs are valued for the dollar.
Package Includes:
1* SensoGro LED Grow Light

1* Hanging Kit

1* Power Cord

1* User Manual
Specifications & Dimensions:
LED Chips Ratio: 
– 25W: 47 Red / 19 Blue / 3 White / 3 IR / 3 UV
– 45W: 90 Red / 36 Blue / 6 White / 6 IR / 6 UV
Note:  The Ultra Violet (UV) lights and Infra-Red (IR) LEDs are particularly dim because our human eyes cannot perceive their wavelength, but they are perfectly effective for plants' growth.
| | | |
| --- | --- | --- |
| Grow Light | 25 Watts | 45 Watts |
| Dimensions |  12″ 5″ / 31x12cm |  10″ 10″ / 25x25cm |
| Shape: | Rectangle | Square |
| LED Chips | 75 LED | 144 LED |
| Input Voltage: | AC 85-265 V | AC 85-265 V |
| Lifetime: | 50,000 hours | 70,000 hours |
| Warranty: | 1 year | 1 year |
| Weight: | 1.1 lb / 500g | 1.6 lb / 720g |
| | | |
| | | |
| | | |
| | | |
| | | |
| | | |
| | | |
| | | |
| | | |
Frequently Asked Questions
Can I leave my grow light on 24/7?
In general, you should not leave grow lights on 24/7. Plants need a light-dark cycle to develop properly. It's believed that they truly do "rest" during periods of darkness and probably use this time to move nutrients into their extremities while taking a break from growing. A maximum of 14 hours a day is more than enough light for any plant.
What is the difference between Red and Blue grow lights?
The effect of blue light on plants is directly related to chlorophyll production. Plants that receive plenty of blue light will have strong, healthy stems and leaves. Red light is responsible for making plants flower and produce fruits.
What is the difference between LED lights and LED grow lights?
Not all LED lights are equal. Standard LED lights only provide illumination, while LED grow lights have a wider spectrum of light that promotes vegetative growth and flowering.
What is the coverage area, and how does it compare with the HPS lights?
The Square shape design maximizes the beam to cover the 6 ft² / 1.5m² area of plants. The light beam goes up to 21ft² / 2m², but the effect is weaker further from the source.
SensoGro panels are low heat and low power consumption with high luminous efficiency, save 75% of energy compared to HPS/HID.
Our LED grow lights can rival the production of HPS lights that use nearly twice the wattage, which adds up to great savings on the power bill. LED grow lights run much cooler than HPS resulting in an obvious set of benefits for the indoor grower.
How many Lumens do I really need?
It really depends on a lot of different factors. You have to consider how big your room is, what type of plant you're growing. There may be no ideal amount, but, generally, somewhere between 300 and 800 lumens per square foot, your plants should prosper quite nicely. SensoGro light panels emit 1000 lumen for the 25W panel and 1500 lumen for the 45W.
Keep in mind that a high lumen value does not necessarily mean that the light has the optimum color spectrum for growing plants. What is important to look out for is the color spectrum of the grow lights.
How many Grow Lights do I need for a small greenhouse?
We recommend not to decide how many grow lights are needed based on the dimensions of the grow room itself. What you should be measuring is the footprint of your plant canopy.
If your greenhouse is 6×8 and you plan to have a plant canopy of about 2/3 of it (to leave some room for movements), you should aim for 6 Square shaped grow lights.
Do grow lights use a lot of electricity?
Grow lights don't use as much electricity as you may think. However, since most grow lights are so energy efficient, you get huge amounts of light (and growing power) for your money! SensoGro is also recognized to be the most energy-efficient light in the market. Running the square-shaped grow light 10″ x 10″ for 12 hours a day every day will cost you approximately $11 per year or about $0.86 per month.