Welcome the Mornings with Fine, Freshly-Ground Coffee Everyday with the PerfectGrind Coffee Grinder 
Maximize the flavor of your Arabica, Robusto, Liberica, or Excelsa beans with a PerfectGrind coffee grinder. 
With conical burr grinders that allow you to grind the exact amount of beans needed for a single cup or pot, you can enjoy well-preserved, fresh, flavorful coffee oils whenever you need a cup. 
The PerfectGrind comes with 6 adjustable settings that makes it possible to grind whatever type of coffee beans you have. 
This hand-crank coffee grinder is portable and comes with a compact size that makes it easy to bring anywhere. 
Treat yourself to a cup of delicious, fresh, authentic coffee made from home – or from anywhere – with the PerfectGrind portable coffee grinder. 
🌟🌟🌟🌟🌟
"I'm a big coffee fan, and I want nothing but freshly ground coffee to really satisfy my cravings. I found the PerfectGrind and I'm never going back. Even if it's hand-cranked, it still produces super fine coffee which makes each drink smooth. I bring this to the office, too. The coffee grinder can grind enough amount of coffee beans for one cup of coffee." – Sasha, Customer Advocate, MS
Why Choose PerfectGrind Coffee Grinder
MAKES YOUR COFFEE MORE FLAVORFUL. Grinding beans as needed with our hand coffee grinder ensures maximum freshness, aroma and sipping satisfaction.
COMES WITH 6 COARSENESS SETTINGS FOR DIFFERENT TYPES OF BEANS. This coffee grinder with ceramic burr lets you choose the size of your grounds. This versatile hand grinder for coffee is ideal for Turkish coffee, pour-over, cold and immersion brewing.
HIGH-QUALITY CERAMIC BURR THAT DOES NOT DULL. It is harder than steel burrs and lasts up to twice as long. With more surfaces for bean crushing.
GIVES YOU EVENLY-GROUNDED COFFEE. This Coffee and Espresso Grinder produces even and consistent grinds that will prevent you from getting coarse, less-flavored coffee.
DURABLY CONSTRUCTED. The PerfectGrind comes with rustproof stainless steel, ceramic and glass. This coffee burr grinder is enduring and easy to maintain. Its elegant brush finish makes it a lovely addition to your coffee bar.
PORTABLE AND EASY TO USE at home or on-the-go, you can enjoy a fresh batch of pure coffee.
HAND-CRANKED COFFEE GRINDER THAT REQUIRES NO ELECTRICITY. Wake up with robust coffee from beans ground on-demand with our hand crank coffee grinder.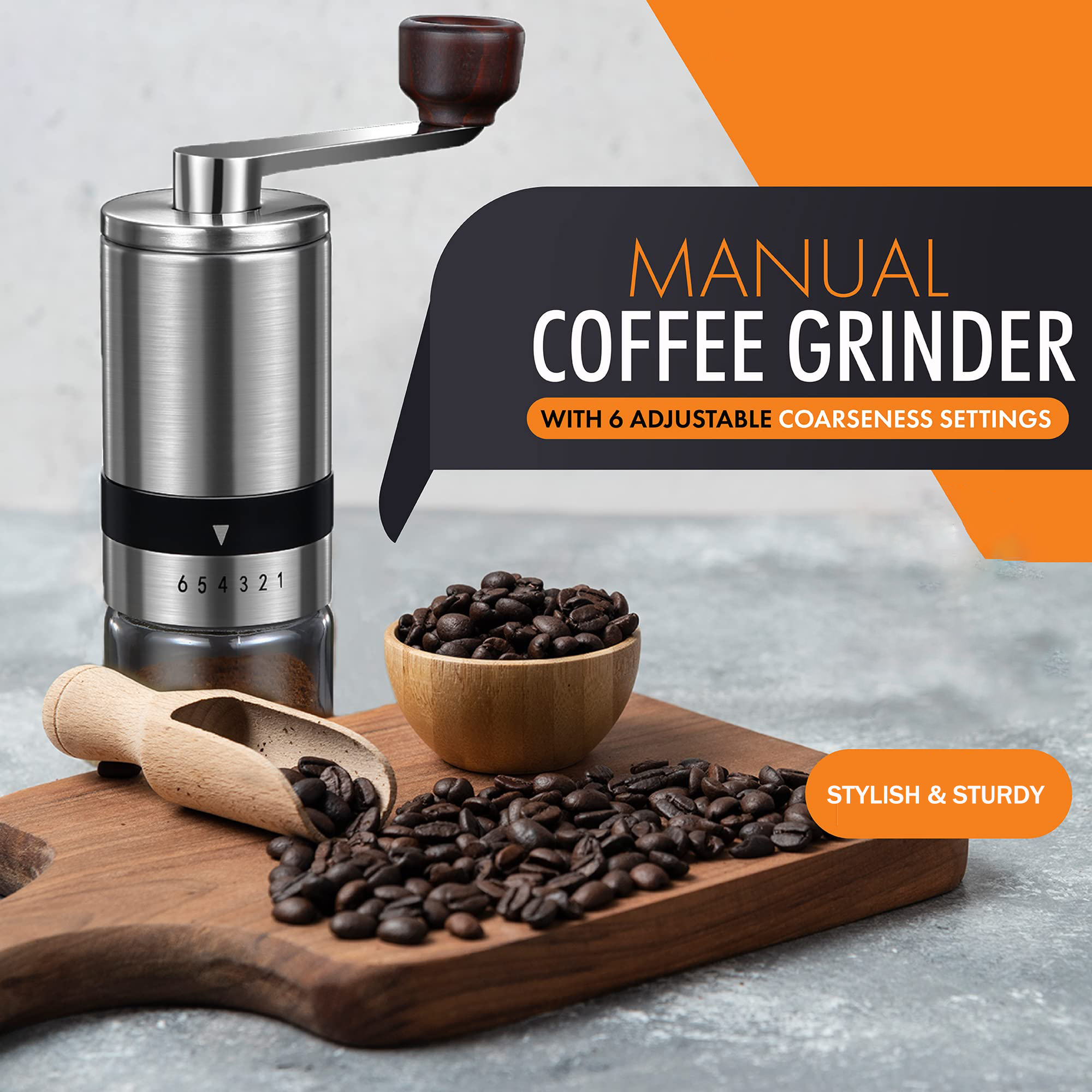 Achieve Brewing Perfection
The most satisfying cup of coffee starts with the right grounds. PerfectGrind Manual Coffee Grinders let you tailor the coarseness of your beans to your coffee-making style, wherever you are. Our hand-crank coffee bean grinders have adjustable settings so you can create ultra-fine grounds, medium grounds and very coarse grounds to suit Turkish coffee, espresso, pour-over and more.
Manual grinders can be used at home & for travel
Easily adjust coarseness for customized grinding
Grinding beans as needed ensures freshest flavor
Sharp ceramic grinding burr resists dulling
Sleek SS housing is rustproof & long-lasting
Glass grounds catcher is dishwasher-safe
Hand-crank with wooden knob turns smoothly
Compact & portable for home, vacation & camping

Coffee To Go
PerfectGrind Manual Burr Grinders for coffee beans fit in the palm of your hand. They occupy little space on your coffee station, and they can easily slip into a kitchen drawer or even a travel bag for freshly-ground coffee in hotels or in the great outdoors. Treat house guests, work colleagues or fellow campers to eye-opening espressos, light roasts and satisfying decafs.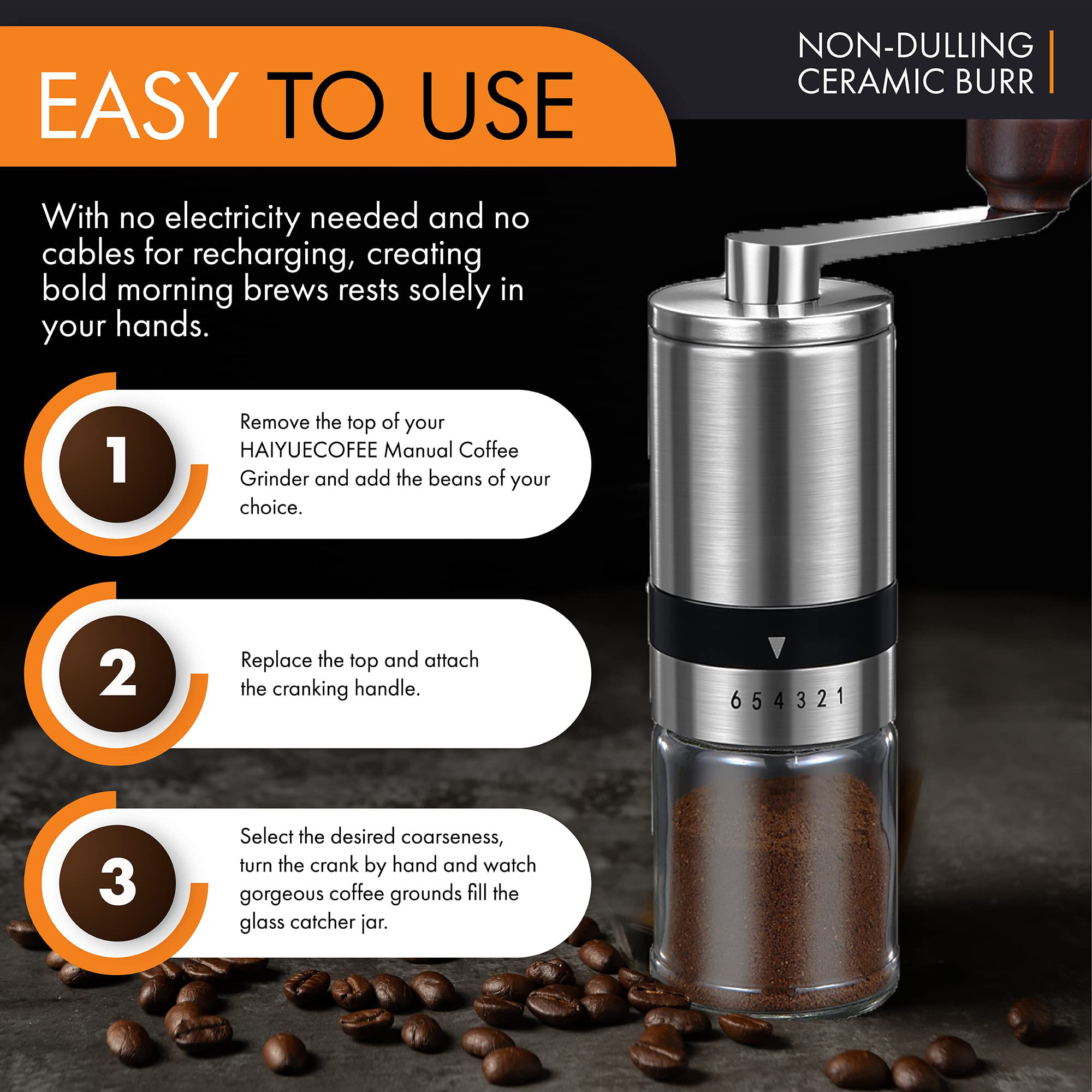 Share Your Secret
End their search for the perfect cup of coffee when you bestow HAIYUECOFEE Hand Coffee Grinders as Mother's Day gifts, Christmas gifts or birthday gifts. With their sleek designs and tasteful packaging, they are destined to impress all who receive them. These efficient handheld coffee grinders also make thoughtful housewarming gifts or wedding gifts for couples.
Select Your Grind
HAIYUECOFEE Manual Coffee Bean Grinders are available with your choice of 6  adjustability levels. A simple turn of the adjustment ring sets the burr to the coarseness you desire. Create an extra-fine grind similar to the size and feel of sugar, which is ideal for Turkish coffee. Medium and coarse grinds suit automatic coffee makers, French press and cold brew.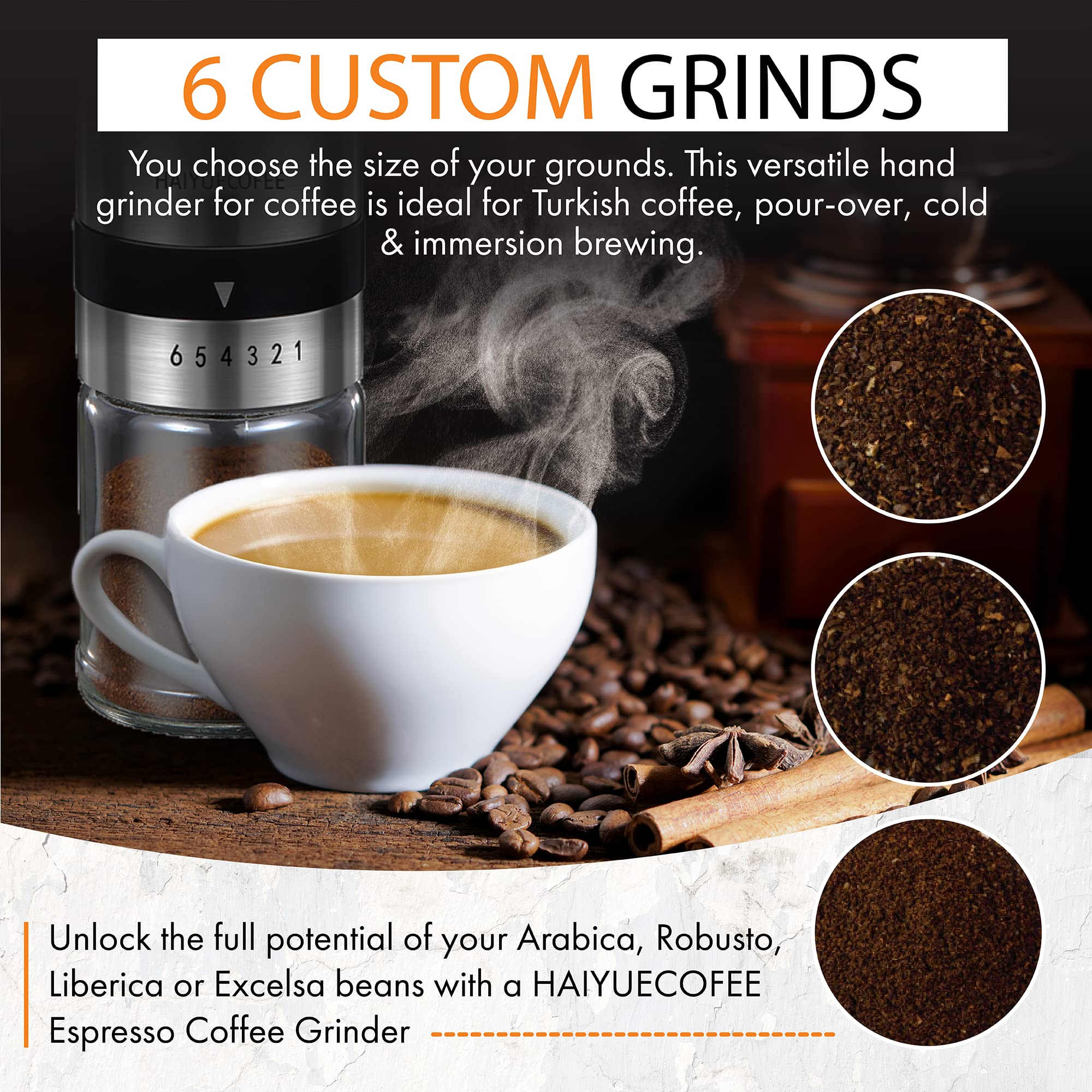 Stylish and Sturdy
Our portable coffee grinder mills are built to be impressive and enduring components of your espresso accessories. The hardwearing premium ceramic burr is ensconced in a rustproof 304 stainless steel housing. The cranking handle is also stainless steel, outfitted with a beautiful natural wood knob. Grounds are collected in a clear glass catch jar for easy dispensing.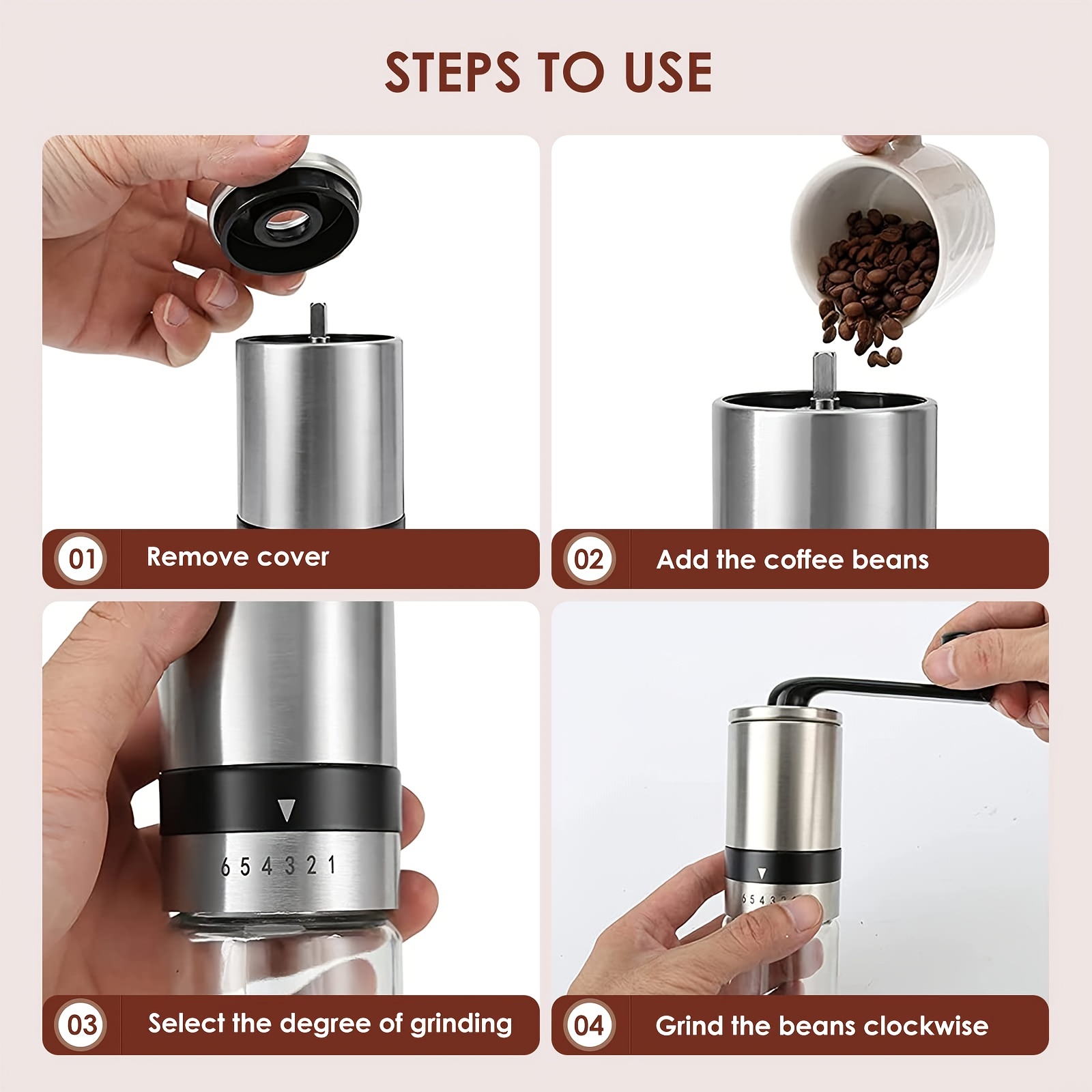 Package  Include