The Perfect Picnic Blanket for the Whole Family!
Summer season is here again! How great it is to spend a day on the beach or park and have a picnic together with your family and friends under the sun. But everything will be extra memorable if you are relaxing in a picnic blanket that is so comfortable, like what Overlei has to offer. A perfect picnic blanket for camping, picnics, hiking, or any outdoor activities!
Overlei is a foldable picnic blanket made from high-quality materials with a large size design that can perfectly fit 3-5 adults or your small family. It is entirely waterproof, so you don't have to worry even if the grass is damp and the sand is wet. It will also ultimately keep you and your kid's skin safe from any wetness, rubs, and scratches. Lastly, its foldable design is so portable; you can bring and use it anywhere you go!
Features
PORTABLE MAT: This foldable outside blanket is more convenient to carry. It measures 57 "x80 "(145cmX200cm) Overlei picnic blanket is a large size design, with a folding size of 30x20x3cm. It can comfortably fit up to 3-5 adults making it suitable for the whole family.
SAND PROOF & WATERPROOF PICNIC MAT: The thick Oxford fabric makes the Overlei camping blankets waterproof and sand-proof. It can protect both you and your baby's skin from scratch or rub, perfect beach blanket.
EASY TO CLEAN: You can easily wipe the waterproof backing with a towel or tissue and shake off the grass, sand, or dirt mud on the surface. or hand wash it when activities are finishing. (Do not machine wash or dry, dry clean, or iron)
HANDBAG DESIGN PICNIC BLANKET: The foldable picnic mat is designed with a high-quality and compact handle. After quality testing, it is durable, easy to fold and carry. It is also environment friendly and would be perfect for camping, picnics, hiking. At the same time, it could be as an outdoor baby mat and dog waterproof blanket.
MULTIPLE USES BEACH MAT: Four functions suitable for different environments, waterproof outdoor blanket + sand proof beach mats + dampproof park blanket + Scratchproof Outdoor camping mat. This extra-large picnic blanket is perfect for picnic, beach, camping, hiking, fishing, car driving travel, outdoor concert, music festival, leisure time in the backyard, and so on.
Bring Your Families More Convenience
A worthy accessory to carry around for families outdoor activities, happy time on the go, easy to fold and carry, perfect for all your outdoor activities, whether at the beach, picnic, barbecue, grass, park, camping, hiking, fishing, or your own backyard, bring it, more convenient.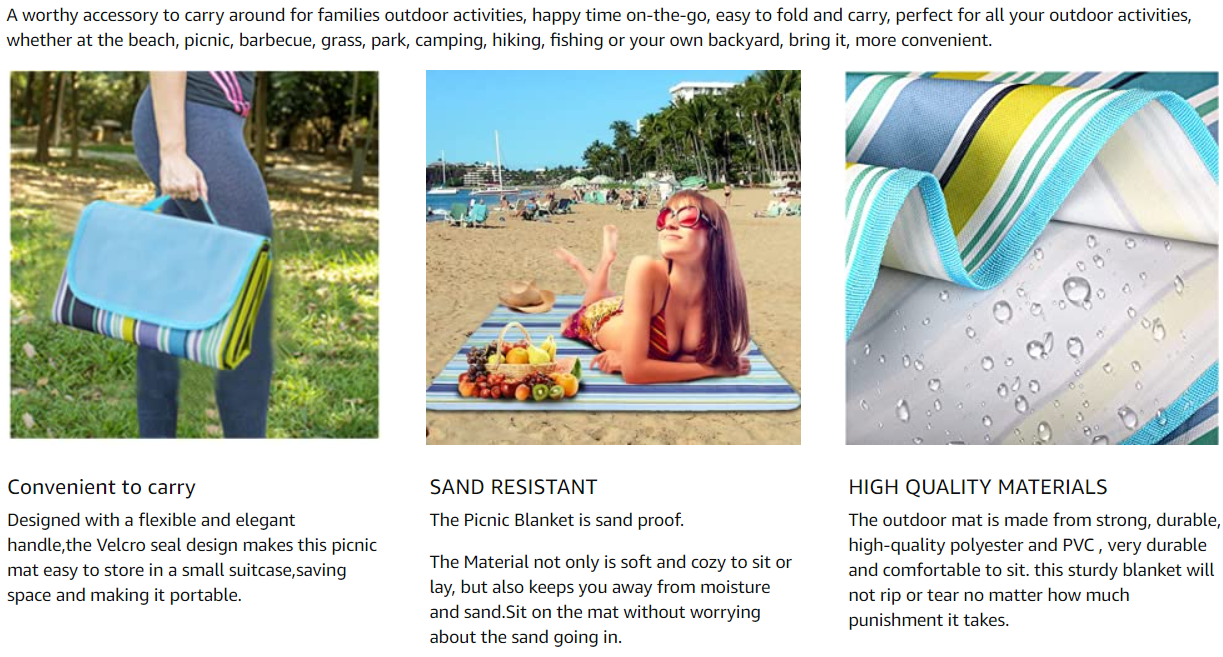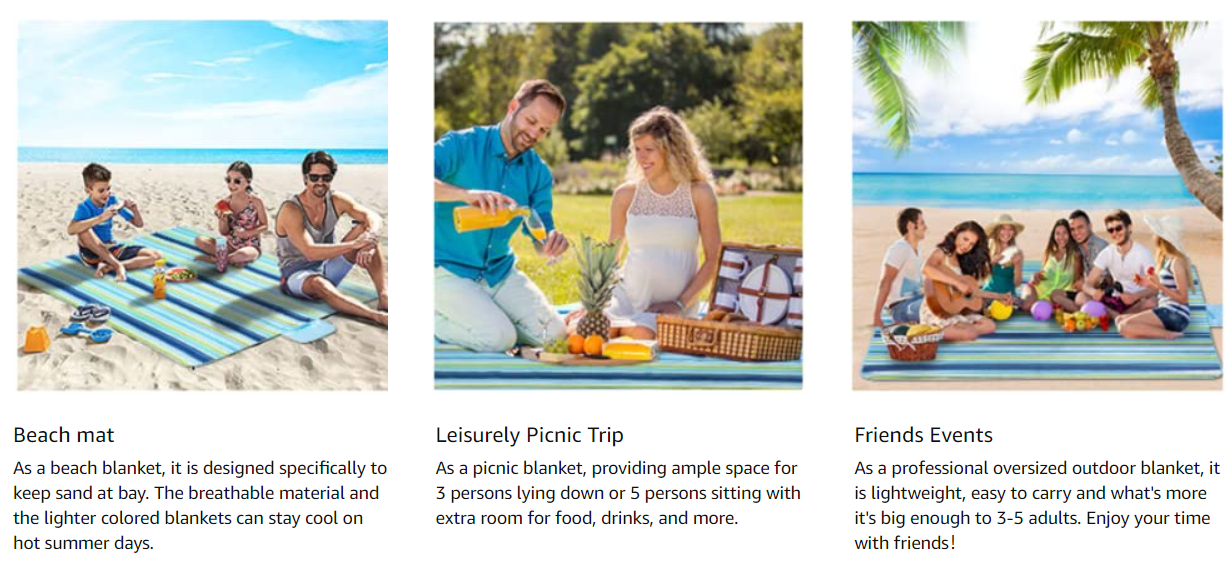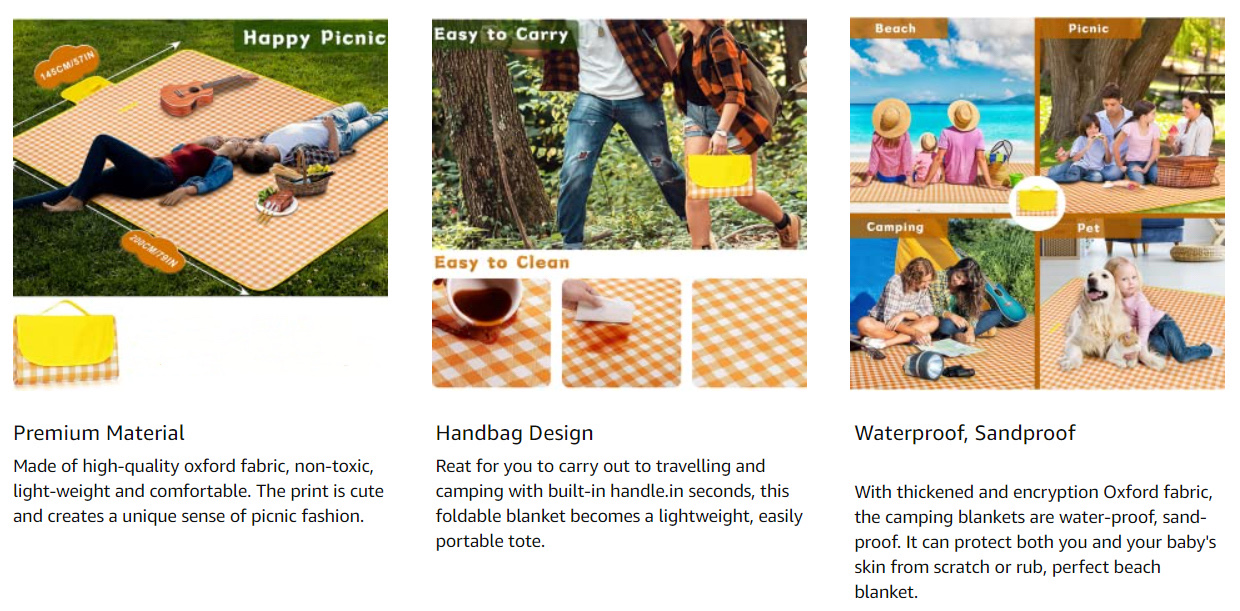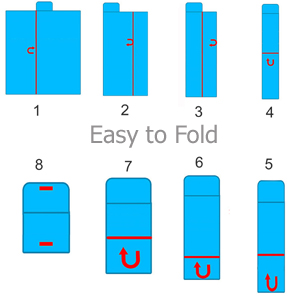 Large Enough & Easy Fold to carry.
At 57"x80" (145cmX200cm), our blanket seats 3-5 adults comfortably.
Also, it easily folds into a compact for transport and storage.
No additional bag or carry case is needed;
the outdoor blanket folds right up into itself and secures with attached Velcro!
Waterproof & Sandproof
This blanket is completely waterproof and sand proof perfect for beach activities and picnics. At the same time, you can clean it off very easily by shaking sands or dirt on its surface, it's easier to wash with soap or a towel.
(NOT  Machine wash)