Grab Your Energy Food and Easily Blend them with NutriSense
Everyone wants to live healthily and eat cleanly, but not everyone has time to do so. Some are just chasing time to get to work that preparing the giant blender, organizing the fruits, and cleaning all of it afterward will be such a hassle. So to make your life easier, we introduce NutriSense, a portable blender that you can use anytime and anywhere! 
Traditional blenders are so convenient when you're in your home and relaxing at the moment, but if you are someone on the go, you need something smaller portable, but it gives the same result. That is why NutriSense is the right one for you. Its unique design can easily fit in a backpack, and its rechargeable battery lets you blend wherever you may be—making it the best blender for travelers, campers, office workers, and gym enthusiasts. 
Features
【NutriSense comes with 6 upgraded blades】This portable blender is designed with 6 PCS 304 stainless steel blades, a robust power system, a pure copper motor, and a quick speed that is ideal for long-term use. It can effortlessly make fruits and vegetables into smoothie within 1 minute. Making a tremendously easy-to-go drink.
【Created with materials that prioritize the user's safety】It is composed of eco-friendly, food-grade, non-toxic PCTG material, BPA free, and a silicone bottom that is non-slip and has shock absorption. This personal blender is designed with safe magnetic induction, which will stop blending when the cup part and the base are not tight and correctly assembled.
【Comes with rechargeable batteries, and a USB port】NutriSense is equipped with 4000mAh high-quality rechargeable batteries that you can charge in various ways. It is compatible with a power bank, AC Adapter, and computer. Its charging duration is 3-5 hours and, when fully charged, can produce 10-15 cups of juice.
【A multifunctional blender】This blender is excellent for making nutritious single-portion smoothies, juice blends, mixed fruits and vegetables, coffee, milk powder, protein shake, and baby food. Aside from being a blender, the owner can use it as a regular drinking bottle: a perfect kitchen, office, and outdoor essential.
【Saves time and cleans effortlessly】Simply pour some water into the blender and double click the ON/OFF button to start automatic cleaning.
【One of the best gifts for your loved ones 】This portable juicer is also a suitable gift for juice and travel enthusiasts, ideal for indoor and outdoor activities.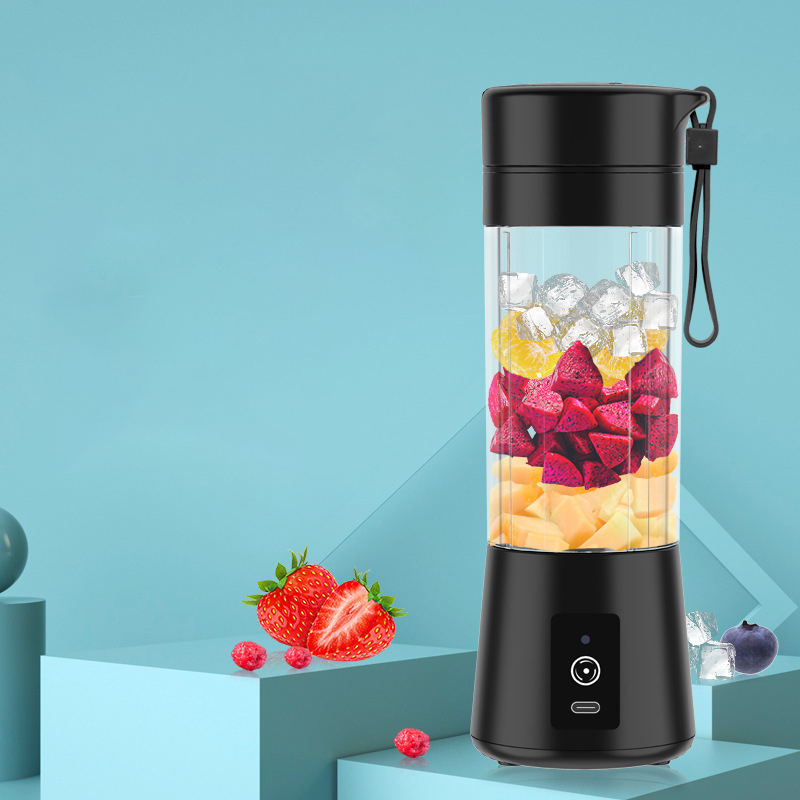 Fast and Powerful Blending
With 6pcs super-sharp 304 stainless steel blades and a powerful motor system that drives the blades at a rotating speed of 22000 rpm, it enables you to crush through ice and frozen fruit within 40 seconds!
Blending 15 cups of juice
NutriSense has a built-in 4000mAh large capacity battery that lets you blend about 15 cups of juice after a single charge.
Easy to Clean
It has a built-in self-cleaning mode. You just add some water into the blender and double-click the button to start the washing process, and no dead corner left.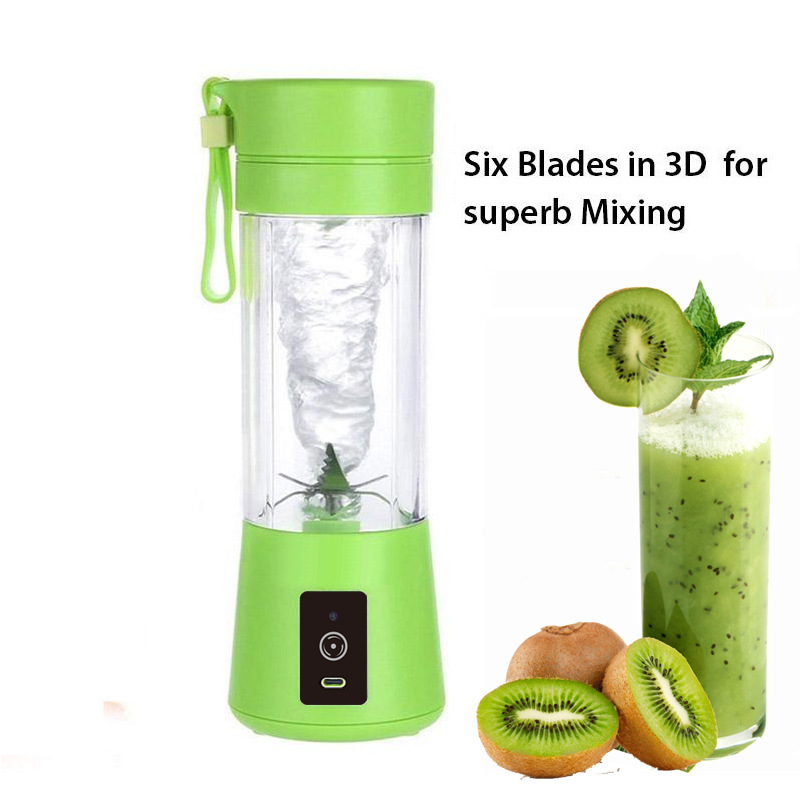 How to Use
Cut fruit into small pieces
Add water or milk, fill around 80%
Tilt down the blender to 45 degrees, and when shaking the blender back and forth 5-8 times
Enjoy fresh juice within 45s
Specification
Blender Size: 7.5*7.5*23 cm
Cup Material: BPA Free PCTG food grade
Blade Material: 6 blades 304 stainless steel
Bottle Capacity: 380ML
Battery Capacity: 4000mAh (support about 15 cups)
Charging time: 3-5 Hours
Working Voltage: DC 7.4V
Rotation Speed: 22000 rpm±15%
Temperature: Below 194℉
What's in the package :
1X Portable Blender
1X Type-C USB Cable
1X Instruction manual
1X Smoothies Recipe Guide