Experience A Magical Soothing Ambience Every Night With The Moonchild 3D Mushroom LED Night Lamp!
This fanciful lamp adds a touch of nostalgic surrealism to any environment while providing a light source, ideal for studying or chilling out after a long day. It's not your old boring bedside light, but unique and fancy. You and even your young ones will enjoy its creativity and elegance every time you turn it on.
You don't need to keep it plugged! This great lamp features a powerful USB-rechargeable internal battery that can power it up for up to 6-8 hours with a full charge. You can enjoy its soft and relaxing light wherever you like. No need to keep it near the plug.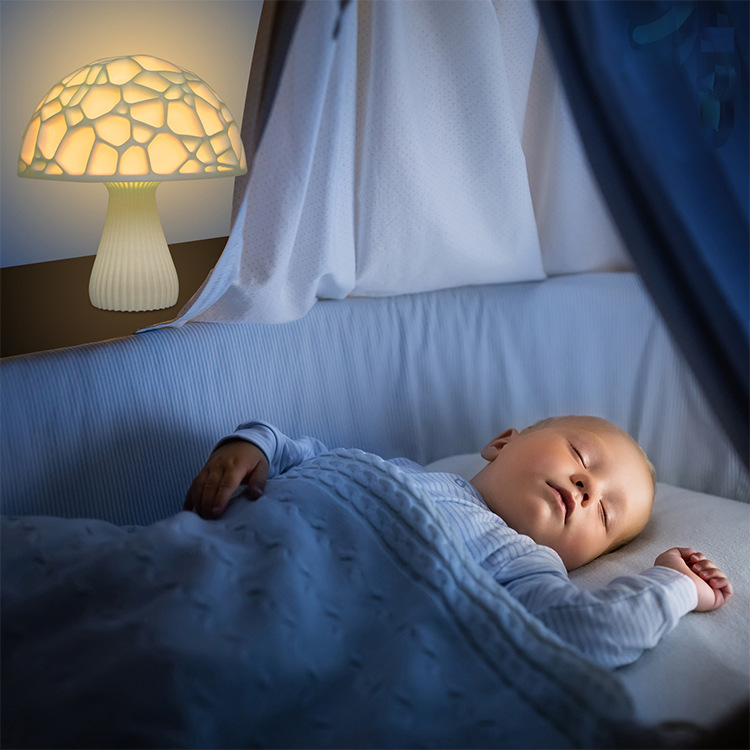 Why You'll Love The Moonchild 3D Mushroom LED Night Lamp
Emits 16 soft and soothing colors to match your mood.
Had a tough day and feeling a little down? Light up your Mushroom Lamp to cast a warm yellow light that will brighten your mood and increase your energy.
Feeling stressed? Turn on its soothing blue light and let it wash your stress away. Feeling romantic? Set your Mushroom Lamp on an energetic and romantic red light and let it fill your room with romance.
You can also choose the automatic color-changing mode to fill your room with a joyful atmosphere.
Features
√ Creatively Brightens Up Your Room. With its minimalistic and creative design, this beautiful mushroom lamp will instantly take your room decor to the next level.
√ Dimmable and Fully Customizable. Includes brightness control and 16 LED color options, it will always provide the right ambient lightening that won't overpower your room.
√ No Need To Always Keep It Plugged In. This lamp is USB rechargeable with a high-capacity internal USB battery that can light up your room for 6 to 8 hours.
√ Safe and Environment-Friendly. Made of PLA material extracted from corn stalks, it's safe to use in your bedroom and your kid's room because it's non-toxic, odorless, environmentally friendly.
√ Will Be Your New Favorite Night Light. Crafted with advanced 3D printing technology, it's super durable and long-lasting so you can enjoy its beauty for a long time.
√ Looks Super Fancy and Enchanting. This eye-catching mushroom lamp is designed with details and 3d printed layer by layer to resemble the real appearance of a mushroom.
√ A Great Addition To Your Child's Bedroom. Your kids will love the magical look of this bedside lamp and its soft dreamy light. The light source is LED so it won't get hot when it's turned on for a long time.
√ A Memorable and Touching Gift. Express your love by gifting this enchanting mushroom lamp to your loved ones and shower them with warmth every night, even when you're not around.

How to Enjoy The Moonchild 3D Mushroom LED Night Lamp
Take your mushroom lamp out of the box and remove the protective cover.
Touch the metal ring on the lamp to turn it on.
Long press the metal ring to adjust the brightness. Alternatively, you can use the remote control to adjust the brightness.
Touch the metal ring again or press a light color on the remote to change the light color.
When the battery is low, insert the DC connector into the metal ring at the bottom of the mushroom lamp to charge. The red light will stay on during the charging.
The red light will automatically turn off when fully charged.
Please note: The white light will not shine when power is low.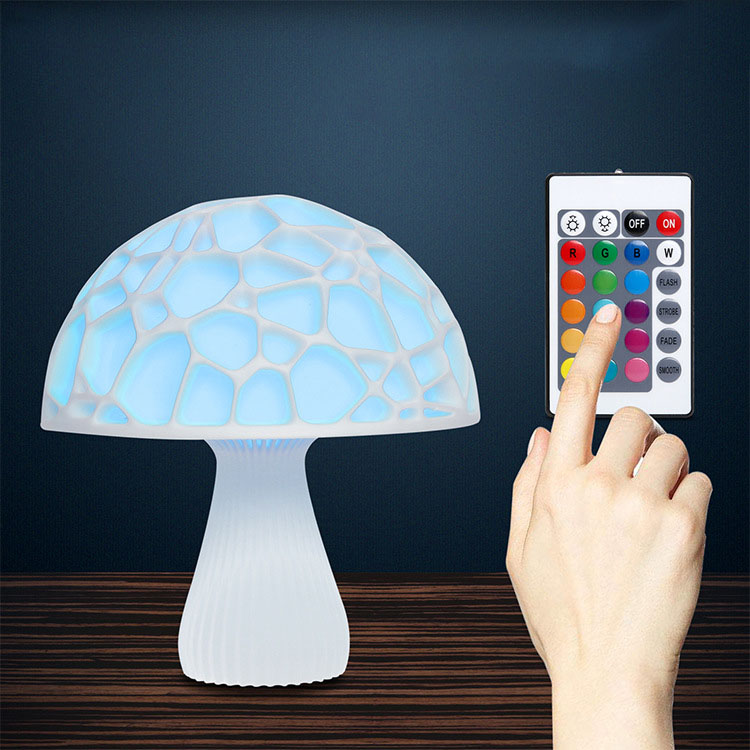 Product Specifications
Material: Eco-Friendly PLA
Light Source: LED Light
Working Time: 6 – 8 Hours (depending on brightness)
Battery: 1 x 300mAh Built-in Lithium-Ion Battery
Power Supply: USB DC 5V
Emitting Colors: Various – 16 Colors
Color Temperature: 3000K/6000K
Available Size: 15 cm/6 in; 20 cm/8 in
Product Inclusions
1 x Multicolor LED Mushroom Lamp
1 x USB Charging Cable
1 x Remote Control