Dine in Style and Sophistication with a Cutlery and Flatware Set That Can Last Decades!
This Luxurious Flatware Set with Black Matte Finish Is What You Need If You Want to Make Dining Occasions More Special!
What our Customers Say: 
Mary ⭐⭐⭐⭐⭐
"Been waiting for a cutlery set this classy and classic at the same time! The black finish really did it for me as I'm a big fan of fine black finish on steel. Super smooth to the touch and doesn't scratch off easily. My co workers asked where I got these from and of course, I led them here! I told them 'thank me later', and they did lol! Bang for my buck 10/10!"
Phil ⭐⭐⭐⭐⭐
"Other black flatwares either chip off after some time but this one just won't scrape off! Everyday use for me too and hasn't failed me. Looks so stunning too. The black finish really is a show-stealer! Worth my money 100%."
Kate ⭐⭐⭐⭐⭐
"Didn't think twice when I saw this and purchased it right away! To say the least, I made the right decision. All my friends have been asking me where I got these. Definitely a stunner."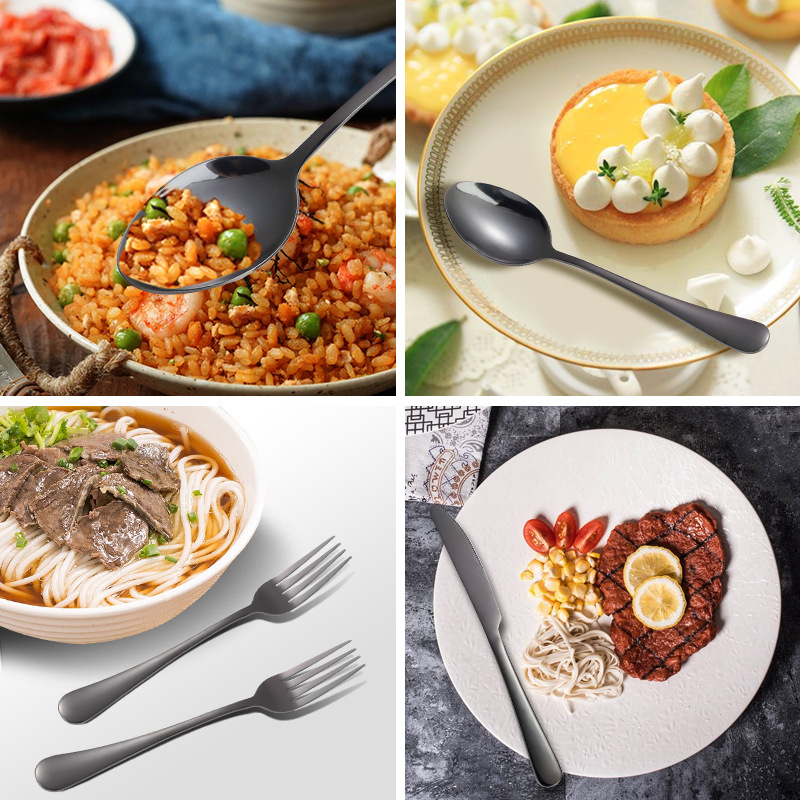 This Luxurious Flatware Set with Black Matte Finish Is What You Need If You Want to Make Dining Occasions More Special!
When the visitors come in, and you want to make an impression, all you need to do is bring out this gorgeous LuxoSlize flatware set!
Defined by its elegant and sophisticated black matte finish, this cutlery collection will surely impress your guests with its beauty, and its durability.
Made with the finest stainless steel, the LuxoSlize can last for years! It's something you can also keep as a potential gift for future kids and grandkids!
If you want meal times to feel and look sophisticated, the LuxoSlize is for you.
About LuxoSlize Flatware Set – Best Features
SOPHISTICATED DESIGN:

Luxury right at the familiarity of your home, this cutlery set is nothing short of distinguished and elegant. From parties to simple dinners at home, our premium flatware definitely turns even the most mundane of events into a special occasion. Exciting isn't it? 

TIMELESS STYLE:

Bold and strikingly elegant items never go out of style. That's why we made sure to create this product for you who enjoy the modern way of life without compromising that good old vintage feel! When they say "steel is real", it's true! We only made it a better experience for you. No to boring stuff! 

DURABILITY:

Throw this in the dishwasher on cold wash setting or hand wash it, doesn't matter. We can assure you 100% that the black finish will not fade. Its stainless steel material also makes it rust-free.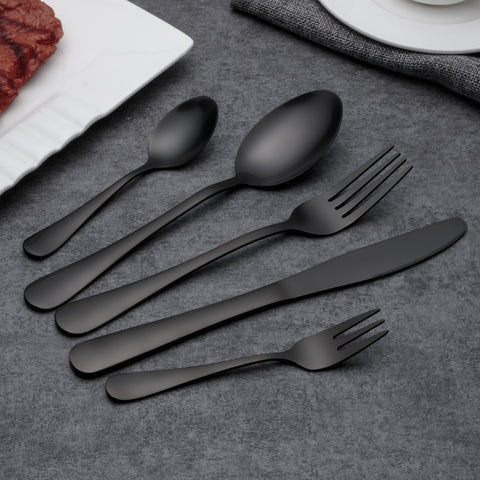 MAKE EVERYDAY SPECIAL WITH OUR LUXOSLICE BLACK CUTLERY SET!
This style of cutlery is classic. Dining at home doesn't have to be dull! 
This unique set will make you feel like you are in a fine dining restaurant without the steep cost.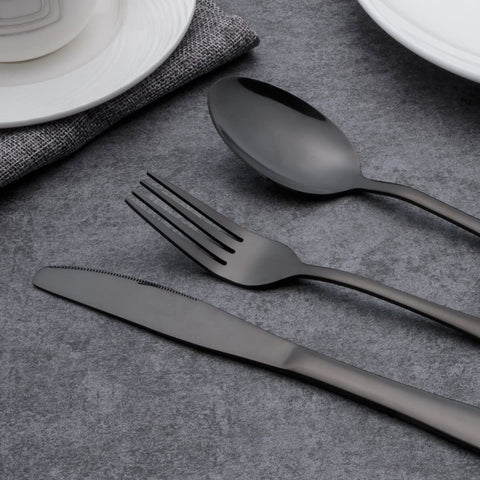 Specifications
Rust-resistant
The black finish does not fade
Whilst the cutlery is cold only dishwasher safe, we recommend warm hand wash with a mild detergent to preserve the flatware. Thereafter, dry with a soft towel to prevent watermarks, discoloration, and film buildup.
Do not use an abrasive scrub.
Package
1x Dinner Forks
1x Salad Forks
1x Knives
1x Coffee Spoons
1x Soup Spoons