Super Bright, Easy to Install, Wide Coverage Outdoor Motion Sensor Light for Your Home's Increased Security
Lighting up those dark areas around your home doesn't have to mean expensive installation. You need a LUMiTrax Motion Sensor Light to boost your home's security and enjoy some peace of mind.
Our design takes your worries away from paying a hefty price for a trustworthy outdoor light. With quick and easy installation and bright illumination that outshines most motion sensor lights on the market, LUMiTrax is the perfect automatic night lighting for all your concerns.
✅ Up to 538 FT² Sensing Distance
✅ Waterproof and Built to Last
✅ Up to 220° Wide Lighting Angle
✅ Solar-powered and Rechargeable
✅ Suitable for all outdoor areas, such as your garden, porch, patio, driveway, deck, walkway, yard, side of the house, fences, etc.
What Our Customers Say About LUMiTrax:
Bruce⭐️⭐️⭐️⭐️⭐️ – "These lights were perfect!"

"Works like a champ! Great light and bright when it goes to full brightness. I was using it as a yard light but it worked so well I moved it to my front door, now I don't use my porch light any more and save $ on power bill. I am one who likes to leave the porch light on all night and now I don"t have to remember to turn it on anymore, this little light handles that for me. Works all night, even in winter with only a few hours of daylight to charge. Love it!"
Here's Why Our LUMiTrax is The Better Choice!

Equipped with 100 LED Super Bright Solar Lights — Better Lighting Angle, Impressive Sensing Distance
We've designed the LUMiTrax to give you excellent illumination to prop up your home's security, especially if you're living in dark or rural areas. With 100 super-bright LEDs, a comprehensive lighting angle of up to 220°, and a sensing distance of up to 538 FT² — you'll clearly see who's knocking before opening the door.
Upgraded 120° Detection Range — nothing will be left unnoticed!
Our built-in PIR motion sensor can detect subjects within a 120° range with high sensitivity, which is an excellent feat in a security light. The LUMiTrax will automatically turn on at night and off at sunrise and lights up when a subject is detected within its range.
The LUMiTrax is best used for:
Pathway and Spotlight Lighting
Flood Lights
Anti-Theft Lights

Impressive Motion Sensor & Light Sensor Working Mode
The LUMiTrax uses a 2200mAH Li-ion battery that lasts longer than standard batteries used in outdoor security lights. Plus, it's solar-powered, so you don't have to worry about having your electric bill running every time. After fully charged, it will turn on automatically and last around 30 seconds when motion is detected in the dark.
Unique Two-sided Illumination
No blindspot once a subject is detected. Our design features a two-sided, wider range of illumination to clearly see who's knocking or roaming around your private property. Both lights are LED, so enough lighting is provided to ensure your security.
IP65 Weatherproof — Suitable for All Emergencies!
Our LUMiTrax wall light slash motion sensor light is made of high-strength ABS, IP65 waterproof. This design can withstand the forces of nature, giving you the extra security you need in times of flood and other emergencies. Once installed, you don't have to worry about rain, dust, or snow ruining its operation. It's weatherproofed for your 24/7 security!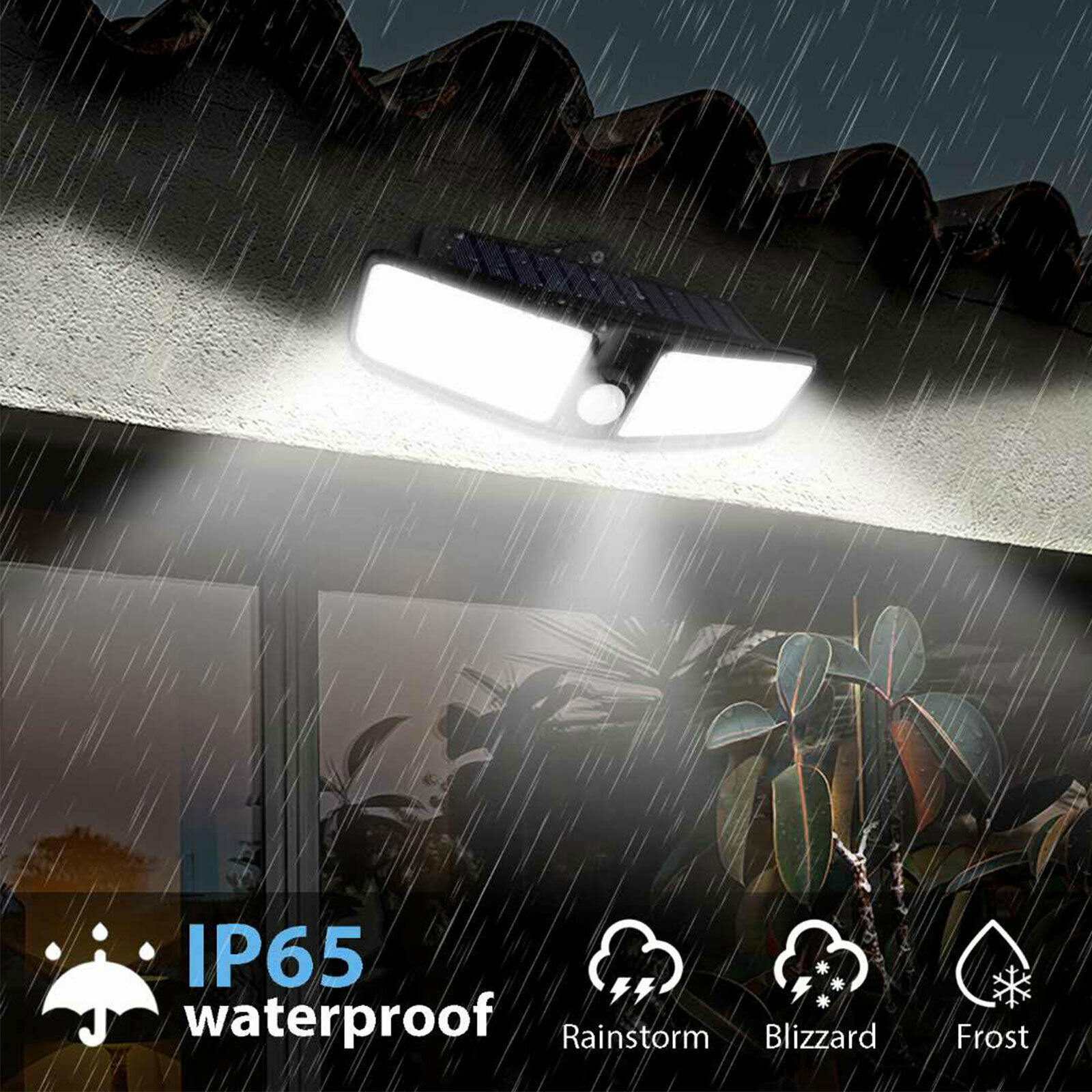 Easy to Install — Lasts Longer Than Adhesive
Unlike motion sensor lights that use adhesive to stick them to the wall, our LUMiTrax comes in a compact design with two (2) included screws to mount. It is more practical than adhesives that only last for a few weeks.  Perfect for all-year-round security of your home. No wiring is needed!
Wide Application
Perfect for outdoor lighting and can be used as yard light, suitable for lawns, patios, or viewing decks.

Specification
Material: ABS
Light Color: Cool White
Shell Color: Black
LED:100LED
Solar Panel:0.9W, 5.5V
Li-ion Battery:3.7V 2200mAh
Waterproof Rate: IP65
Sensor Angle:120°
Lighting Angle:220°
Switch: ON/OFF
Size :228*70mm/9*2.8in
Sensing Distance:3~8m/10~26ft
Power: Solar Energy
Sensor Mode:Motion Sensor + Light Sensor
Lighting Modes: Bright Light. Once the subject is detected, the bright light will be automatically turned on for 30 seconds—auto-off in the daytime.
Package Included
1 x Solar Motion Sensor Light
1 x Mounting Accessories kits
1 x User Manual