Your "Changing Nappies" Essential, All-in-One
How convenient could it be to have all your baby's nappies essential put into one? Like a portable changing pad with specialized mesh compartments to store your baby's diapers and other essentials? Well, look no further because LittleWiggles Portable Changing Pad made it possible for you!
At LittleWiggles, our goal is to help parents eliminate all the hassle that comes with changing nappies. We know it could be stressful sometimes, so we have developed an easy and smart solution to this problem. The LittleWiggles is both a changing pad and pocket storage for baby's essentials, all-in-one. It comes with waterproof mesh pockets to store your baby's diapers and a smooth, hypoallergenic pad that fits almost all baby stations at malls and other public places.
The beauty of having LittleWiggles as your changing nappies assistant is putting everything you need into one foldable, portable, and lightweight bag. With LittleWiggles, you can now say no to heavy and bulky diaper bags and say yes to stress-free and convenient nappy change.
Produce Details:
SAFE and EXTREMELY PRACTICAL – Portable, high-quality diaper change station that comes with a detachable padded changing mat (25.2 inches long and 22 inches wide). It's wipeable, easy to clean, waterproof, and keeps your infant away from dirty surfaces.
LIGHTWEIGHT but SPACIOUS and WELL-ORGANIZED – LittleWiggles Portable Changing Pad makes diapering very easy and hassle-free. The large mesh and zippered pockets are designed to have everything handy and to hold diapers, wipes, creams, baby oil, or small toys for the little one.
NO MORE HEAVY BAGS – Have everything you need in a small, lightweight, and convenient diaper clutch. Yes, with LittleWiggles, there's no need to bring those heavy and bulky diaper bags that cause a lot of stress to your shoulders. Plus, the exterior zippered pocket can hold essentials like your phone, keys, or napkins, and the buckle strap can be used to clip it to your wrist or stroller for easy handling.
DIAPERING ON THE GO? – Nothing SIMPLER! Compact and lightweight when folded, this essential traveling changing station unfolds to 40.95 inches to fully protect your baby and offer maneuvering space.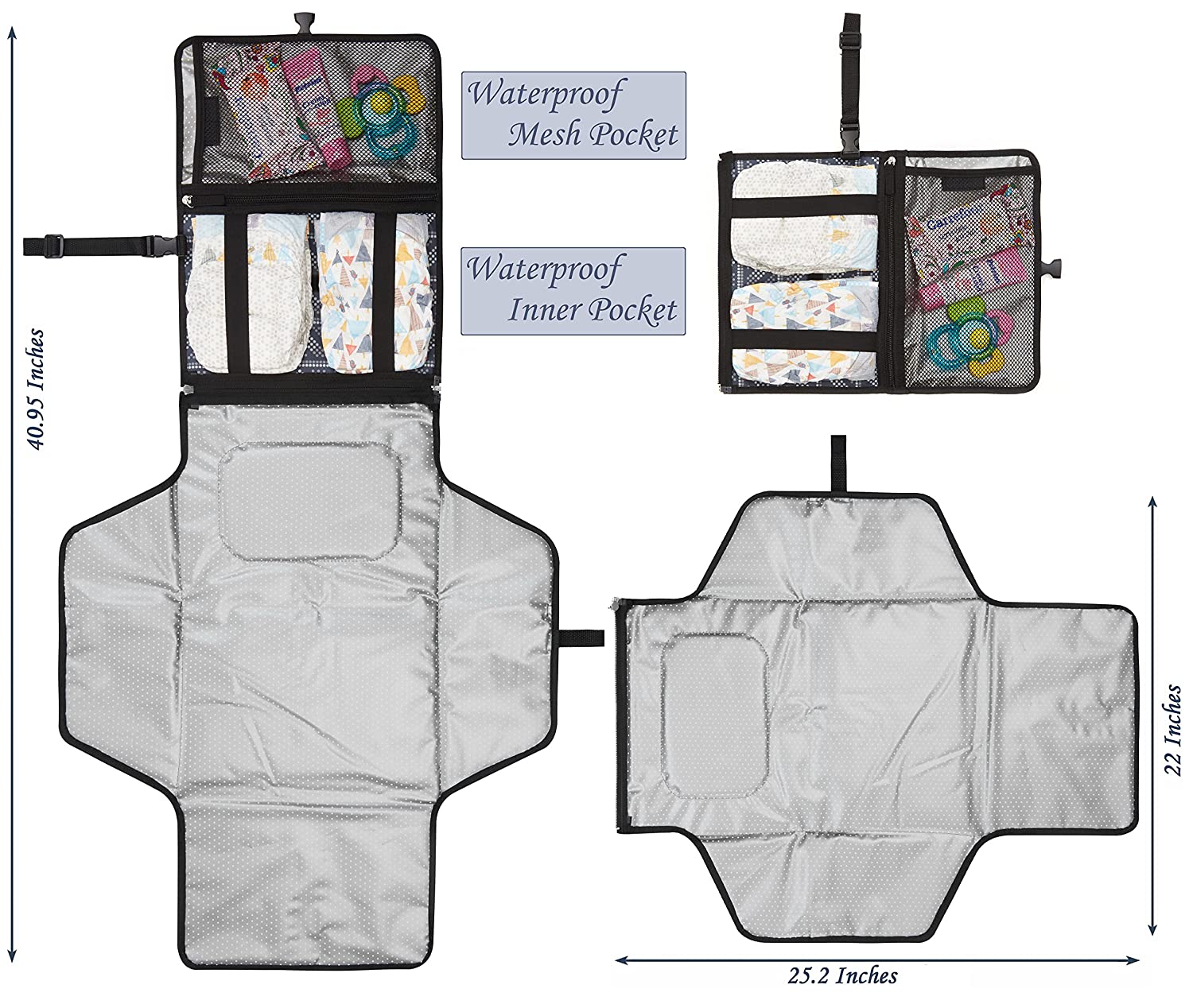 More About LittleWiggles
Color: Gray Dots Portable Travel Changing Pad
❓ Is changing your baby diapers on the go always difficult?
❓ Are you sick of carrying a heavy bag on your shoulder, even when you are just visiting family or friends?
❓ Do you want to keep your baby safely away from dirty surfaces when diapering in a mall's restroom?
The solution is LittleWiggles.
Changing diapers doesn't have to be a drag. Based on our own experience, we designed what we believe to be the absolute best travel changing diaper pad! You can put everything you need to make diapering as stress-free and convenient as possible.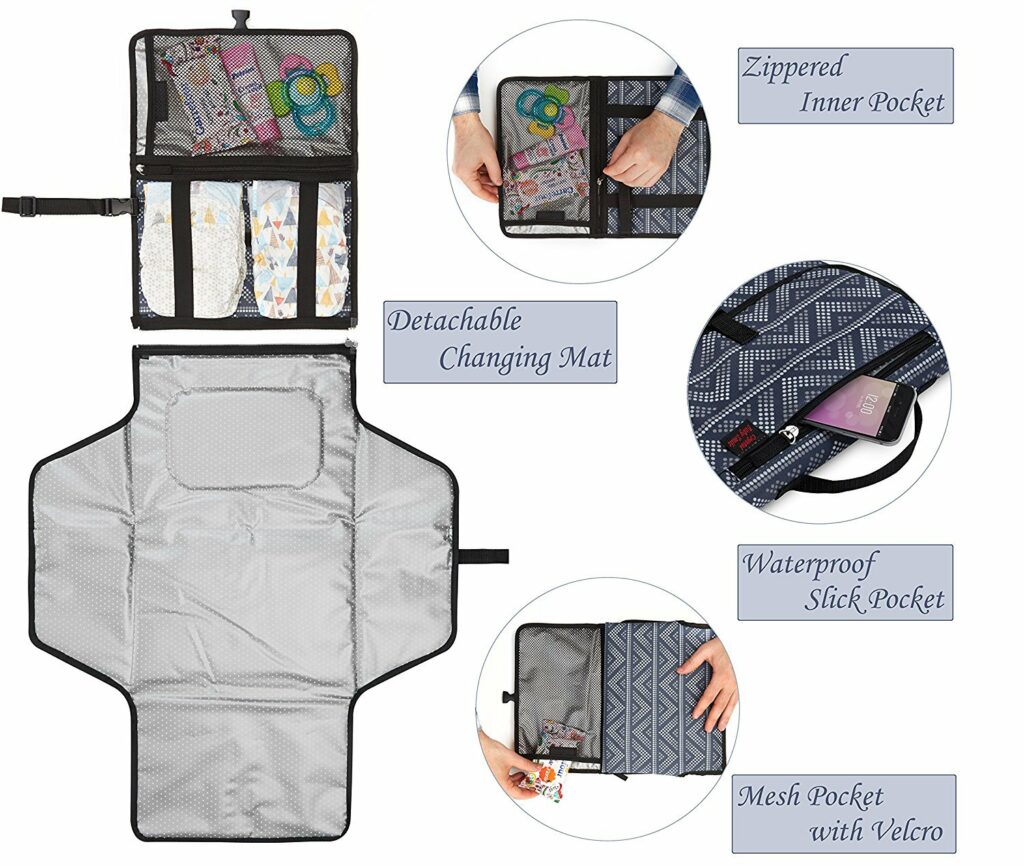 Made by Moms for Moms
✔ BETTER ORGANIZED! – This special diaper clutch is a lifesaver when you are on the go!
✔ SO SPACIOUS! – We know how many things you need to carry every time you need to change diapers. Therefore, we've designed the LittleWiggles to handle everything you need into one simple, compact, and portable changing pad!
✔ Designed with YOUR NEEDS in Mind! – We added a slick front pocket ideal for your personal things like keys, telephone, or napkins!
✔ SUPERIOR QUALITY! – You can take pride in your new baby changing pad and feel completely at ease with offering it as a gift. With superior stitching and odorless high-quality materials, it's built to aid you perfectly in your task as a caring mommy or daddy!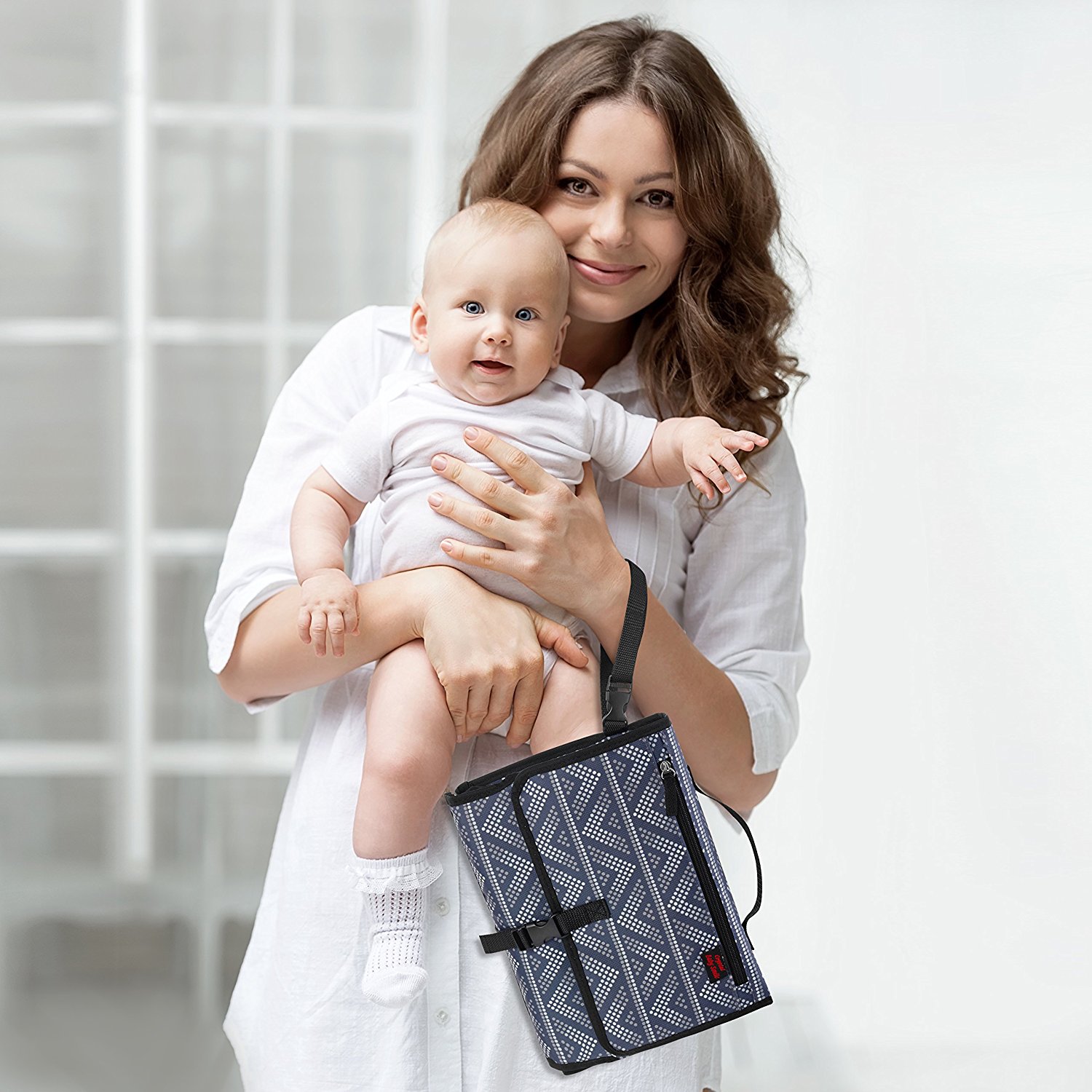 MOMS all over Europe love this padded changing mat. It provides perfect protection from dirty surfaces, so you can literally change your baby's diapers anywhere. The high-quality changing mat is waterproof, wipeable, and easy to clean and the extra padded head cushion protects the child's head, giving you an extra set of peace of mind while diapering.
Package Includes: