Level up your home security with Lexbon Carbon Monoxide Detector!
Keep your family's safety a top priority. The Lexbon Carbon Monoxide + Smoke Detector is the best easy-to-install device to detect the presence of smoke and CO to prevent the risks of house fires, poisoning, and other hazards associated with smoke and CO,
Designed with Precision for Better Safety
Our high-precision electrochemical sensor smoke and CO detector instantly alert you when there are risks of carbon monoxide from burning appliances that you might fail to notice. It also comes with a photoelectric sensor to accurately detect smoke while minimizing false alarms. This design ensures you and your family is safe from potential hazards.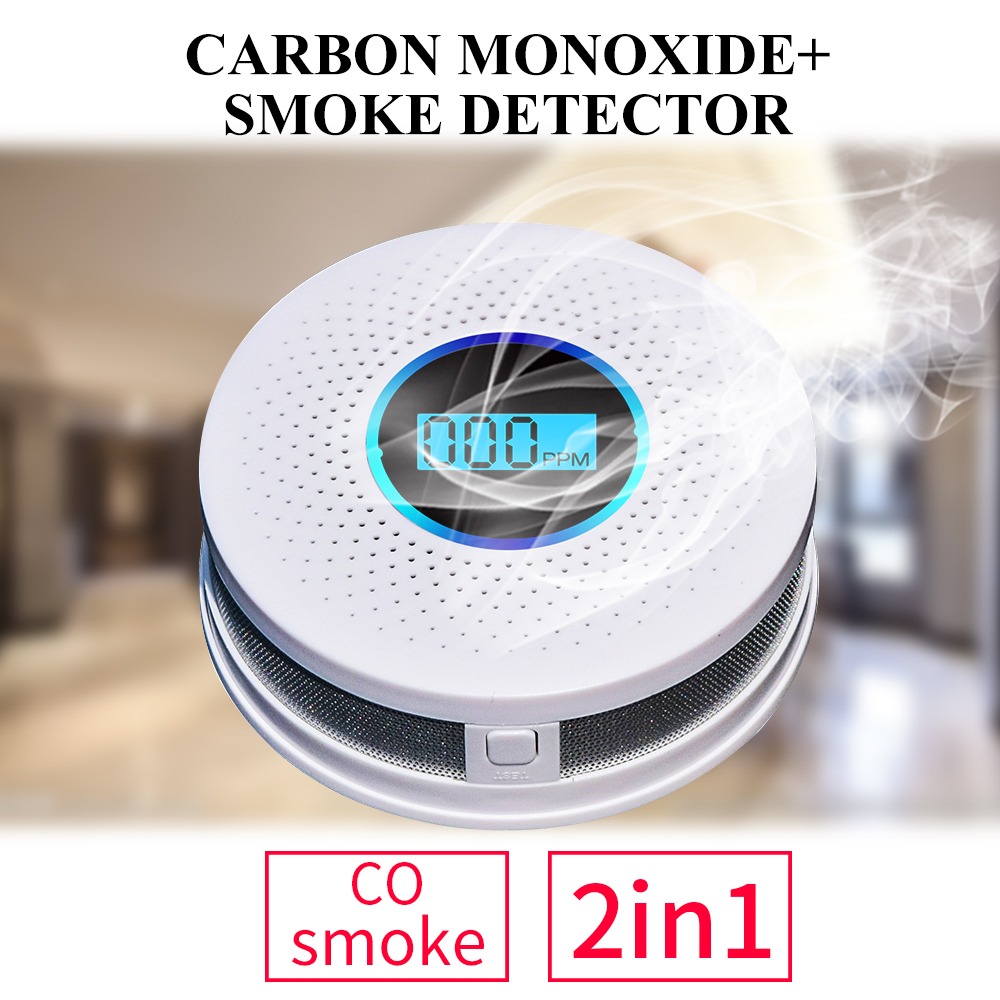 2-in-1 Detection
With our smoke and carbon monoxide detection features, no potential property threats will be left unnoticed. A single unit can take your home's fire prevention up a notch, in return saving you tons of money from home space installation. It's a 2-in-1 device to make home safety accessible for all families.
Digital Display for Quick and Easy Reading
When the alarm detects smoke, fire, or concentration of carbon monoxide and exceeds the standard value, the LCD will display the current gas value. This feature enables you better understand the current status and act accordingly.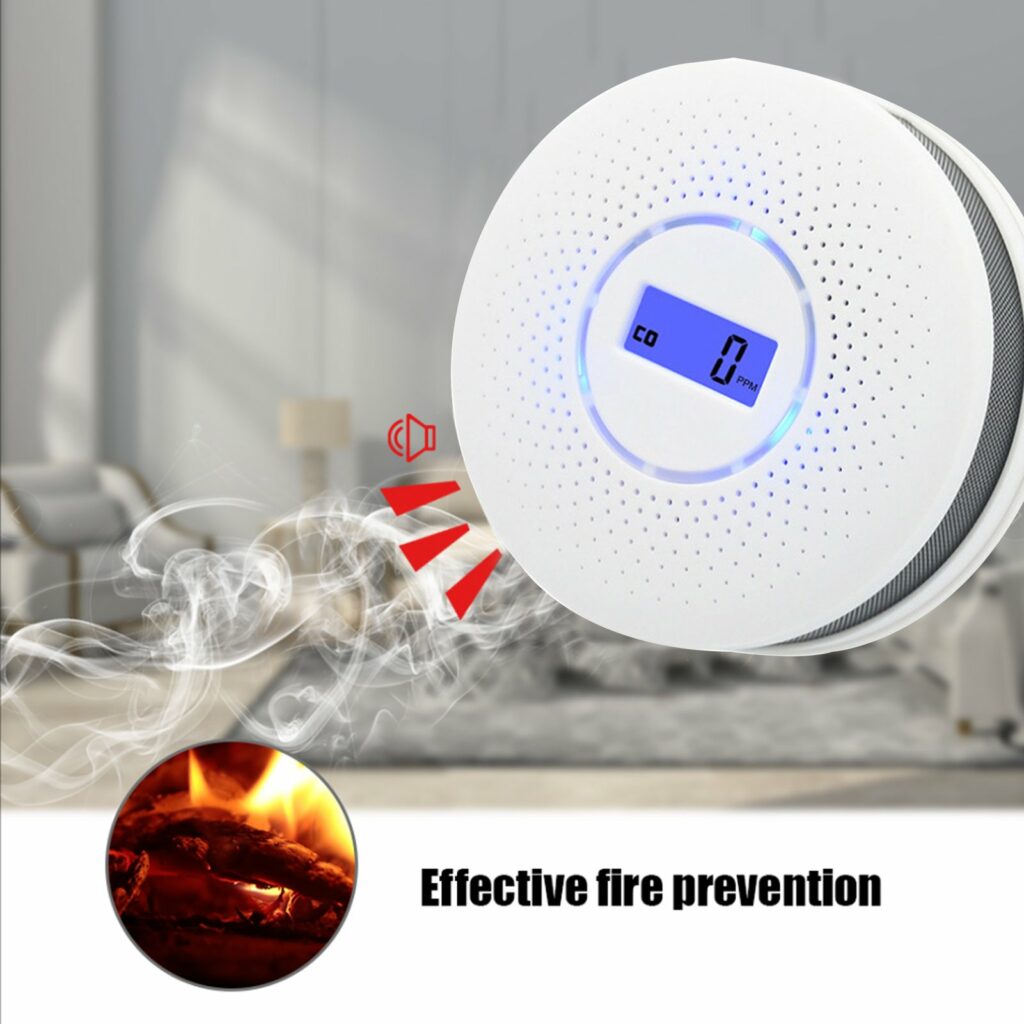 Perfect to Install Anywhere
Our carbon monoxide detector is suitable for all places, especially areas with appliances that produce CO, such as your home kitchen, bedroom, bathroom, and even hotel rooms. It is also useful during barbecue gatherings, using charcoal to warm yourself, or a parking garage.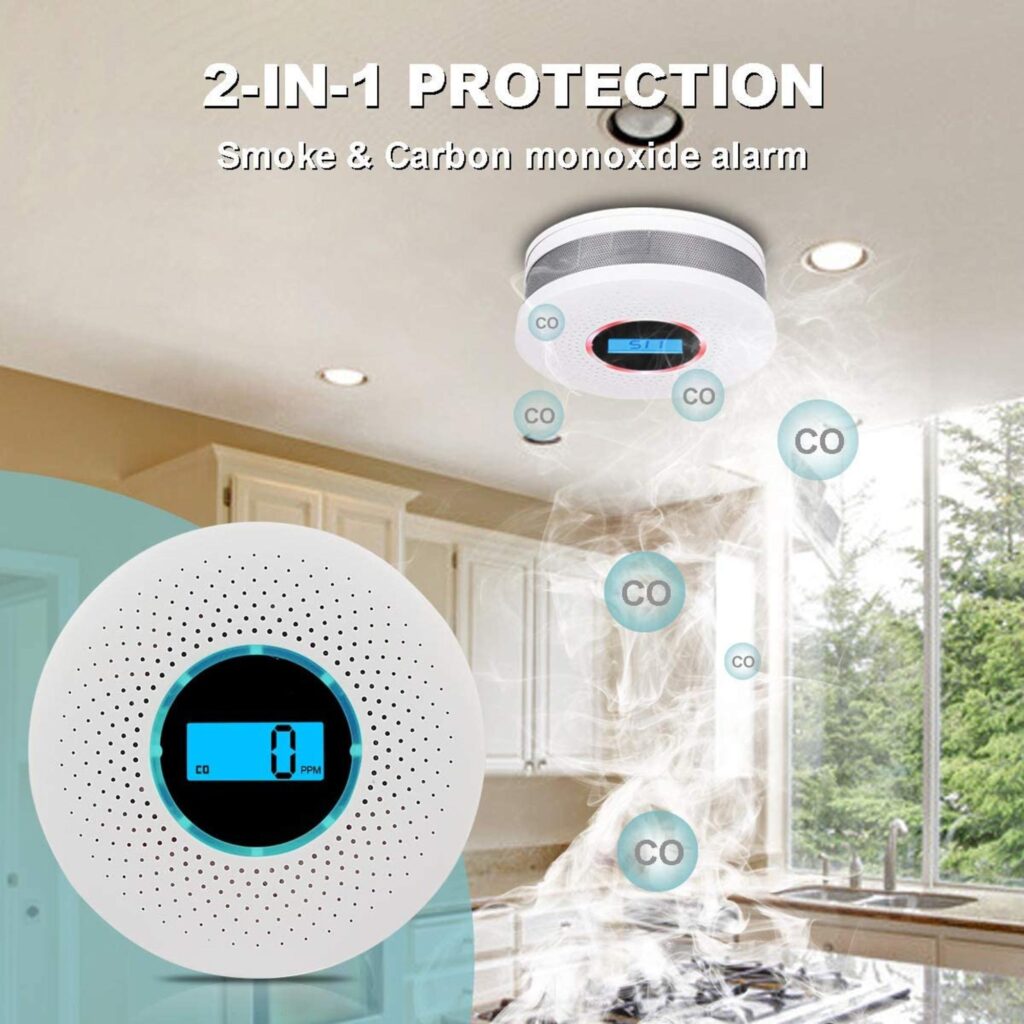 Features:
High accurate electrochemical sensor and infrared
Photoelectric sensor
LCD concentration PPM
3*1.5V AA battery supply(not included)
Ultra-long standby time, low current consumption
Low-battery warning
Alarm memory function
Alarm pause (Hush Mode)
Sound & Flash Alarm & LED indicating Alarm
SMT manufacture technology, reliable stability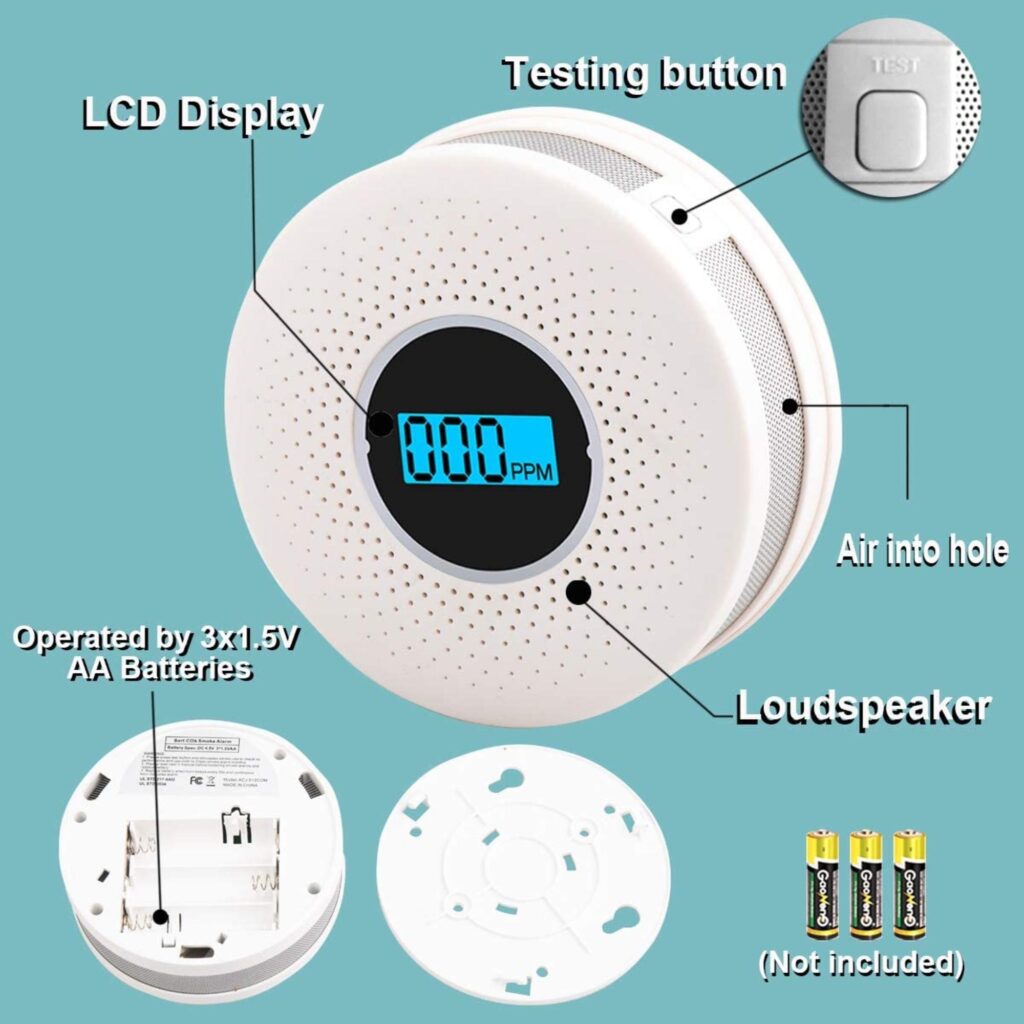 Instructions
FIRST START: Insert 3 pieces of 1.5V AA battery into the detector. The

buzzer will make a "di" sound to notify that it's buffering and preheating. Afterward,

it will display a 2-minute counting to advise that the device is starting up.

BUTTON: To check if the device is working, press the "TEST" button (LCD will display "CO 0ppm" and smoke "0.00db/m"). The LED will flicker and the detector will sound a continuous alarm, which tells you it's working properly.
PEAK RECORD: Press the "TEST " button to check the alarm concentration registered. To clean up, you can long press the "TEST" button for more than 10 seconds.
INDICATION LIGHT: Under the normal standby situation, the green light flashes one time every 35 seconds.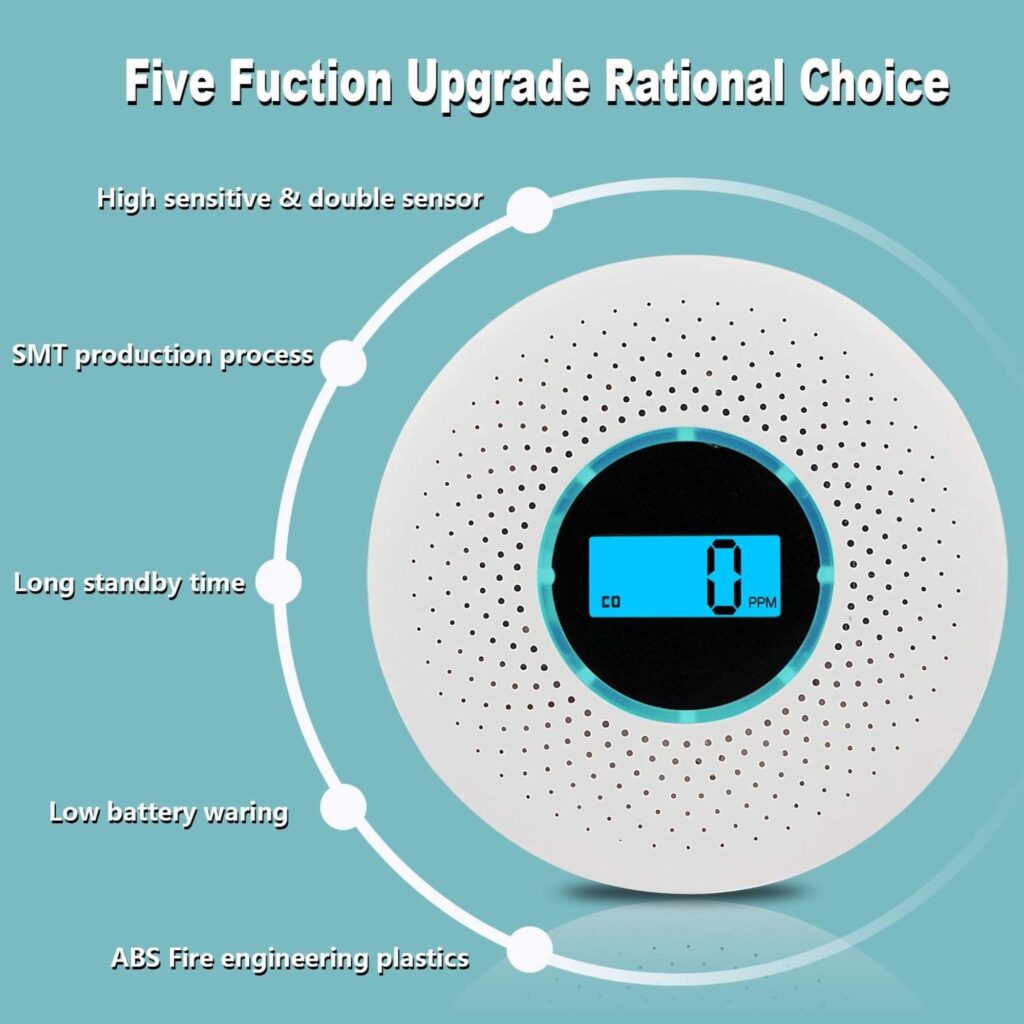 Installation Instructions:
For maximum protection, we suggest that the alarm must be installed on each level of a multilevel home including every bedroom, hallway, finished attics, and basements or in the car.
Put the alarm at both ends of the bedroom, hallway, or any large room if the size of the area is more than 30ft. (9.1m) long.
If you have only one alarm, ensure it is placed in the hallway, outside of the main sleeping area, or in the main bedroom. Make sure that the alarm can be heard in all sleeping areas.
Since the carbon monoxide gas is lighter than the air, choosing the suitable position for installation is
0.3-1.0m height from floor.
Avoid installing the detector close to the following sources of interference: direct airflow from vents, exhaust fans, doors, windows, sources of steam, oil vapor, etc
Areas not suitable for installation:
The places always have stagnating smoke;
The places with greater than 95% humidity;
The places with heavy dust, heavy water mist, heavy oil mist;
The places with high wind speed. (>5m/s)
Easy Installation:
Choose the right surface and fix the base of the detector with screws
Insert 3 AA batteries into the battery box following the indication of positive and negative poles.
Place smoke & CO alarm host on the base and screw it tight to the right.
Installation complete
Specification
Power supply: 3*1.5v AA battery
Static current: <20uA
Alarm current: <50mA
Sensor: electrochemical carbon monoxide sensor and Infrared photoelectric sensor
Temperature: 0℃-50℃
Relative Humidity: 10-95%
Carbon monoxide sensor detect concentration: 000-999 PPM
Smoke sensor sensitive: 0.1%db/m-9.9%db/m
Alarm indication: LCD, Light/sound prompt
Battery capacity: low battery alarm
Size: 4.09*1.53in
Color: White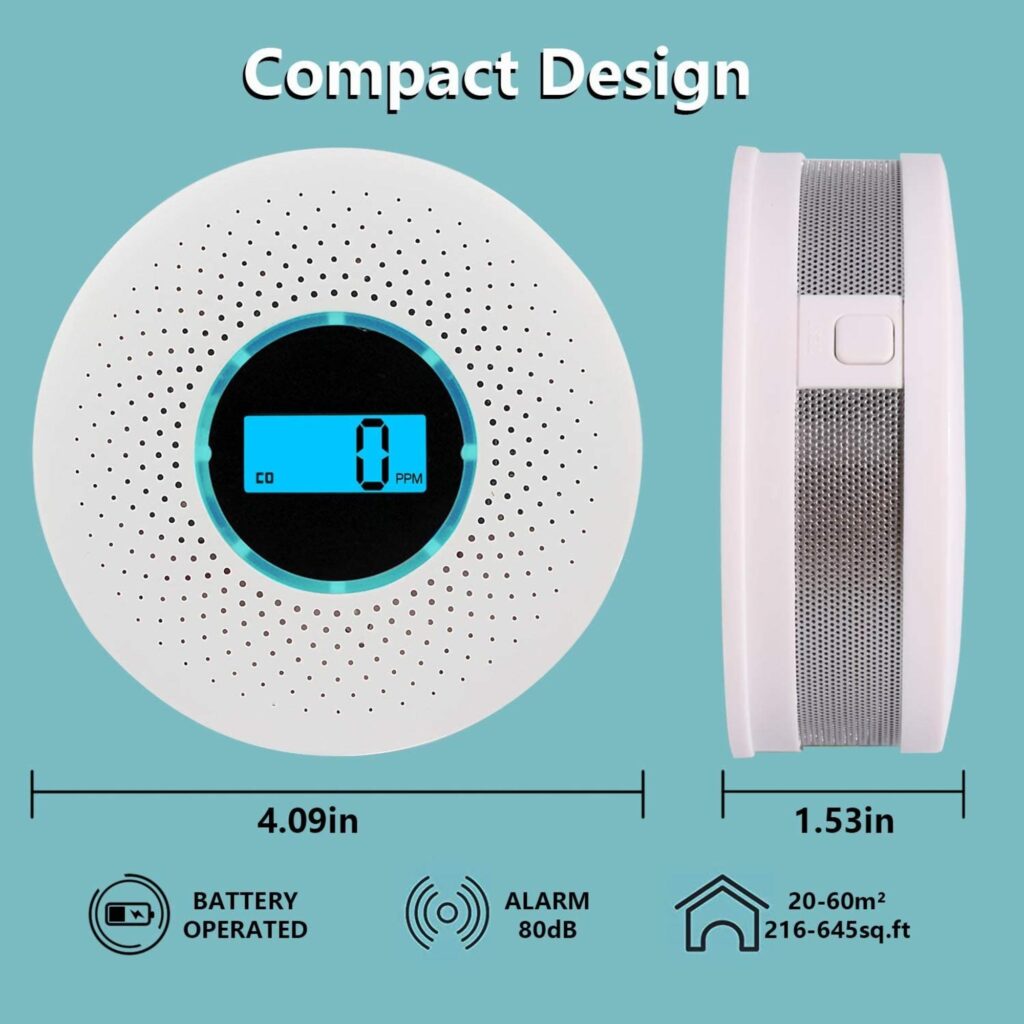 Package Contents:
1 × Carbon Monoxide Detector
1 × User Manual
1 × Screw Pack