Award-winning Design, Top Rated Performance
Are your knives slowly losing their luster and sharpness? Do you wish to bring back the quality you enjoyed when you just bought them? Now, you won't have to deal with sloppy knives that will give you a classic headache in the kitchen. If you want to have sharp knives you can trust when dealing with all sorts of ingredients, getting the KutKrizz is one of the best investments you can make.

3-Steps Sharpening System
With our incredible 3-slots system, we are revolutionizing the art of knife sharpening! The first diamond sharpening rod repairs and straightens damaged blades before the 2nd slot sharpens to restore its V-shape. Finally, the 3rd slot fine tunes for a clean polish.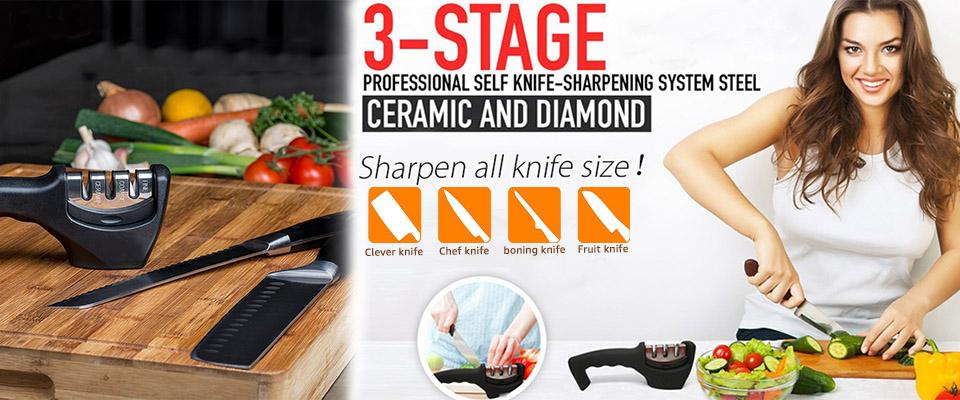 Suitable For All Types Of Knives
No matter which type of knife you need to sharpen, our knife sharpener can give you an efficient effect. This knife sharpener is suitable for different types of knives, such as kitchen knife, chef knife, boning knife, fruit knife, sushi knife, steak knives, butcher knife, ect. Keep your knives sharp enough to slice through tomatoes and steak like butter, our professional knife sharpener is your best choice.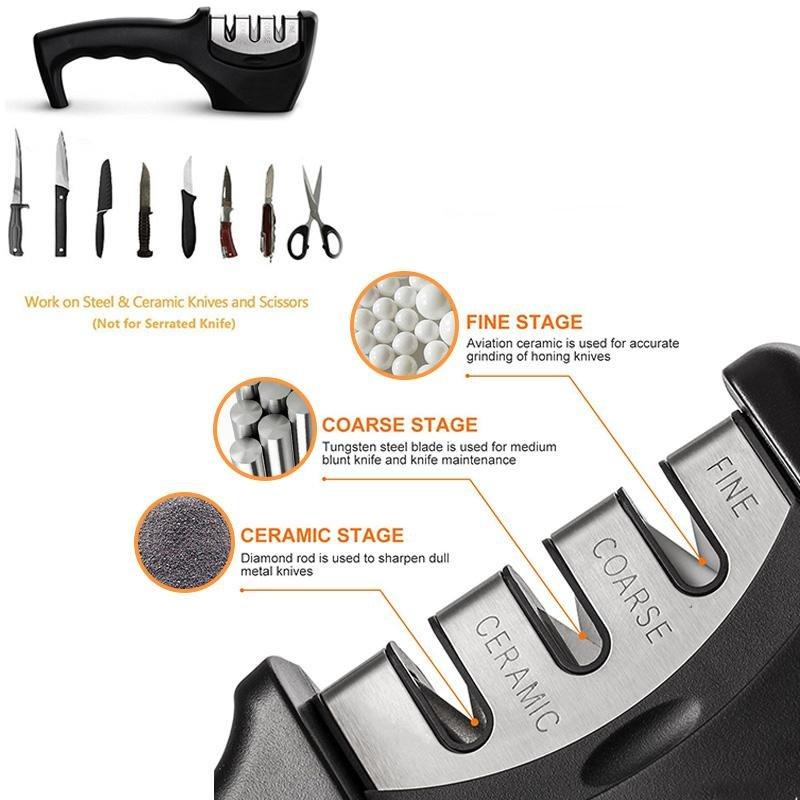 Compact & Efficient
With its compact dimensions, The knife sharpener will find its place in every kitchen. Always within reach, always have your knives ready to use at their maximal efficiency.
Put the knife sharpener in the drawer or counter until you need it. The grinder head is composed of diamond rod, tungsten steel blade and ceramic rod. Simply insert the blade into the slot and gently pull the blade through a few times to sharpen it quickly and effectively. Do not pull the knife back and forth. You can remove the sharpening grinder head by pressing and pulling the small groove and then clean with water.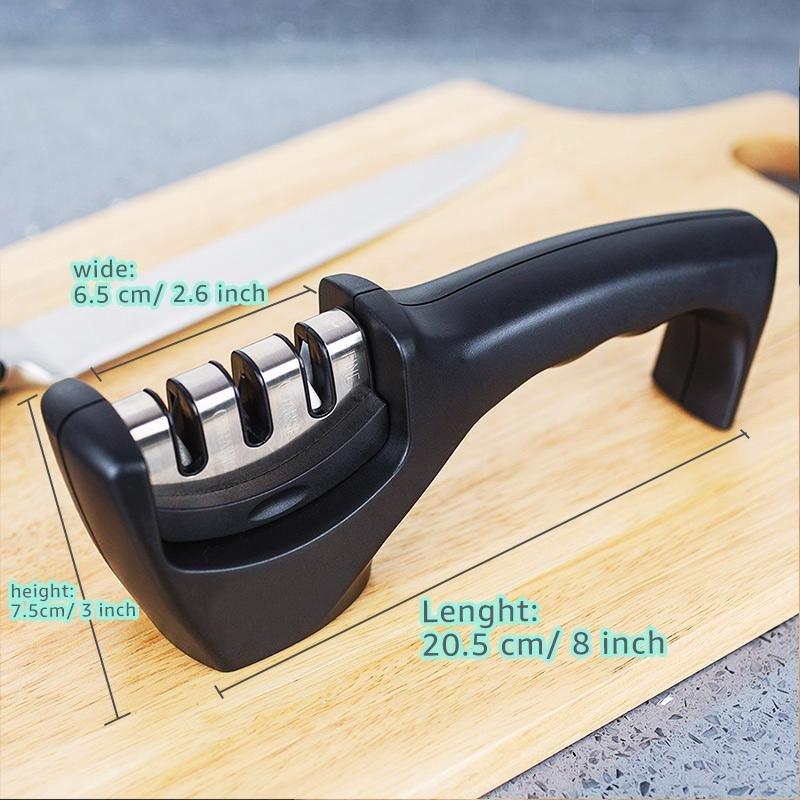 Ease Of Use & Resilient
With durability and ergonomy in mind when desiging our knife sharpener, we chose the best material to reach both goals at the same time. The result is a streamlined, easy to use and highly resilient product.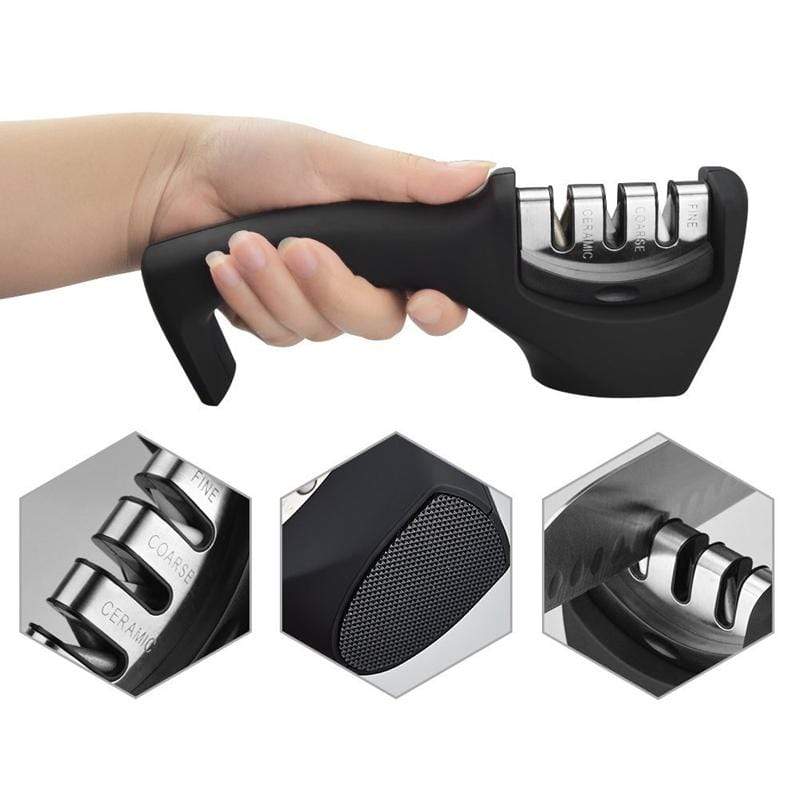 Premium Quality
With the kitchen knife sharpener, you don't have to be a chef to cook like one! Crafted from solid ABS plastic, it's strong, durable and designed to last a lifetime. Made with high quality materials, knives will work like new.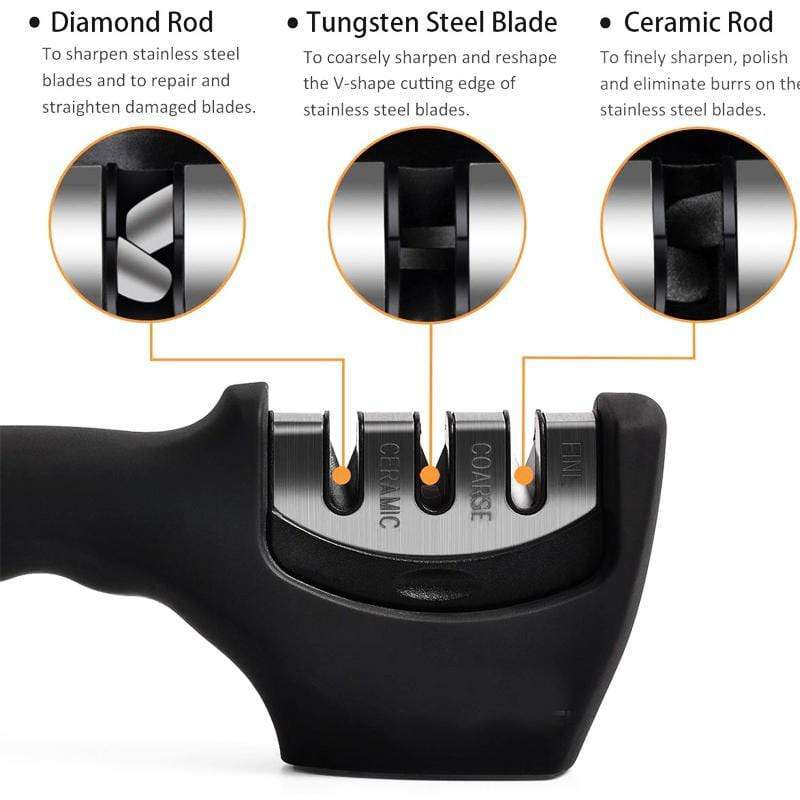 How To Use
Step 1:  "CERAMIC" stage (preparation): For repairing damaged blades and straightening blades before sharpening.
Step 2: "COARSE" stage (sharpen): Sharpens the blade and restores the cutting edge to a "V" shape.
Step 3:  "FINE" stage (fine tune): Polishes the blade and equalizes any surface irregularities that may have been caused.