Beautify Your Home Aromatherapy With The JadeRiver Incense Waterfall!
With the JadeRiver Incense Waterfall, aromatherapy never looked so beautiful. Thais sculpture is a creative vision crafted for your ultimate wellness, taking a typically scenic waterscape from Guilin, China, and transforming it into a rejuvenating work of art that adds a little more depth and fragrance to your home ambience. Simply put, thanks to its stunning waterfall effect, the JadeRiver Incense Waterfall is fragrant poetry in motion.
Features
Traditional Chinese-Style Ceramic Design: Like a scene from a painting, the JadeRiver Incense Waterfall is made with rural Chinese-style ceramic, making for a fantastic table decoration or centerpiece. It's inspired by the rock formations of Guilin, which is one of the most visited sights in all of China.
A Calming Addition To Your Wellness Routine: When you simply want to unwind, this incense waterfall can be your idyllic companion, helping boost your relaxation thanks to its fragrant smell and eye-catching cascade effect.
Waterfall Incense/Smoke Effect: Insert the incense pod, light it up, and see how its smoke will simply flow down like water.
Take Note: There is no fishing rod included. We recommend getting another stick of incense, and place it on the fisherman's hand to portray a complete picture of Guilin-inspired scenery.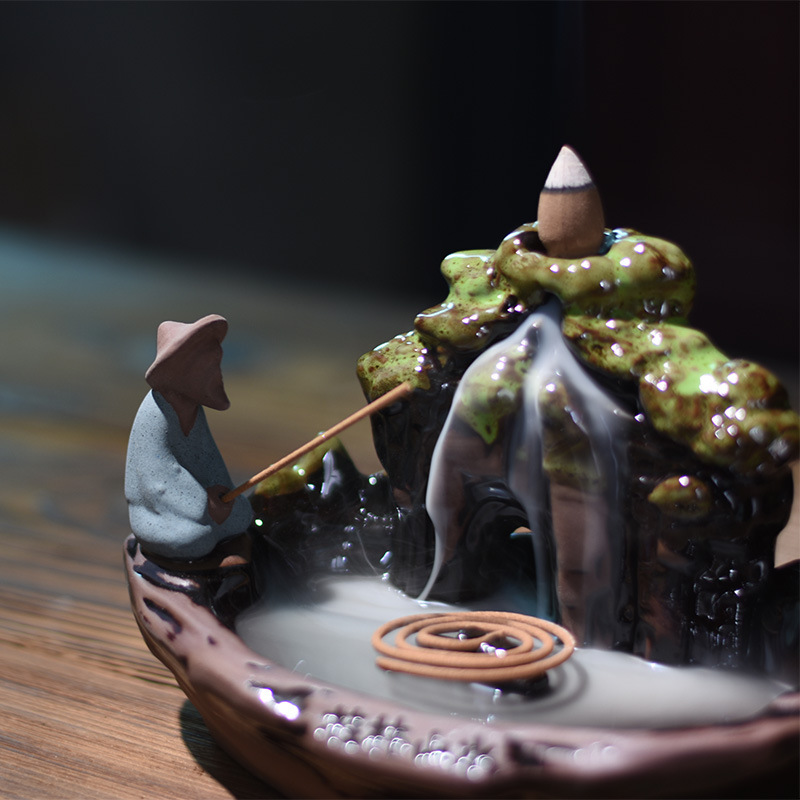 How to Use the JadeRiver Incense Waterfall:
 Place the incense waterfall in a vacant room.
Light up an incense cone and put it on a stand. Watch how the smoke it produces simply flows down like water.
 The backflow incense cone you've used will leave some residue after burning, but it's very easy to clean. Just wipe and throw it away.
For the Best Effect:As with other waterfall incense burners, the JadeRiver Incense Waterfall is very sensitive to air flow. For the optimum waterfall effect, place it near any blowing wind source.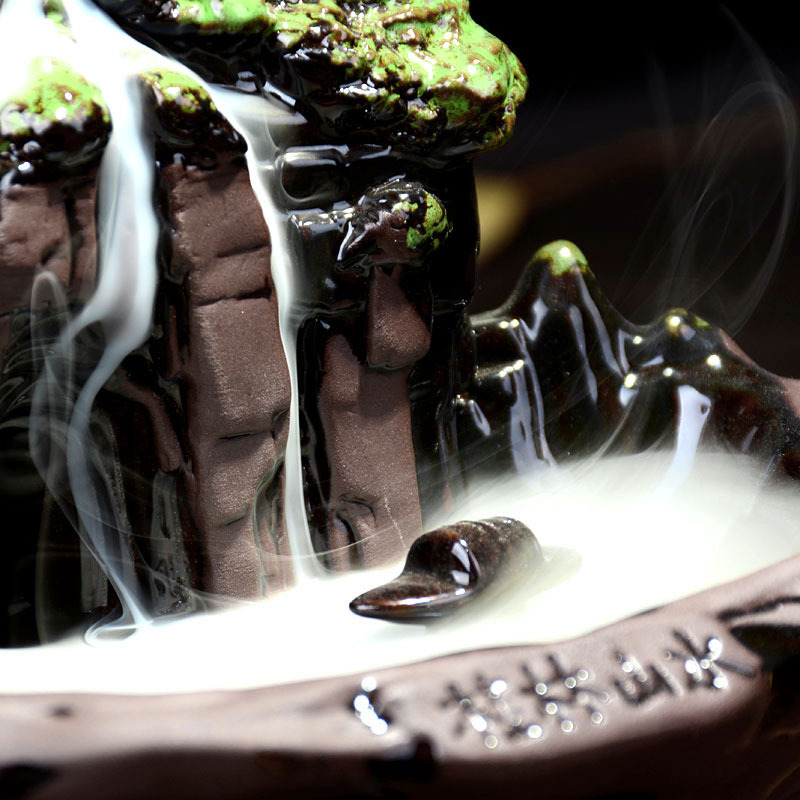 Specifications
Material: Ceramic
Size: 7.5*4.3*4.7in
Time: An incense cone will generally last 10 minutes.
This Package Includes
1*incense waterfall
20*incense cones