Sous Vide is a well-kept secret of how professional chefs serve gourmet meals with perfectly cooked meat every time. Now, you can get the same restaurant-quality results at home effortlessly with the HomeGourmet Low Noise Sous Vide Immersion Circulator.
This user-friendly tool helps you maintain the consistent water temperature required for the sous vide cooking method. Control the temperature and time through the LCD screen with just a few clicks and minimum noise. It also includes a built-in mounting clip that will stay securely fastened on the side of the pot for fuss-free sous vide cooking.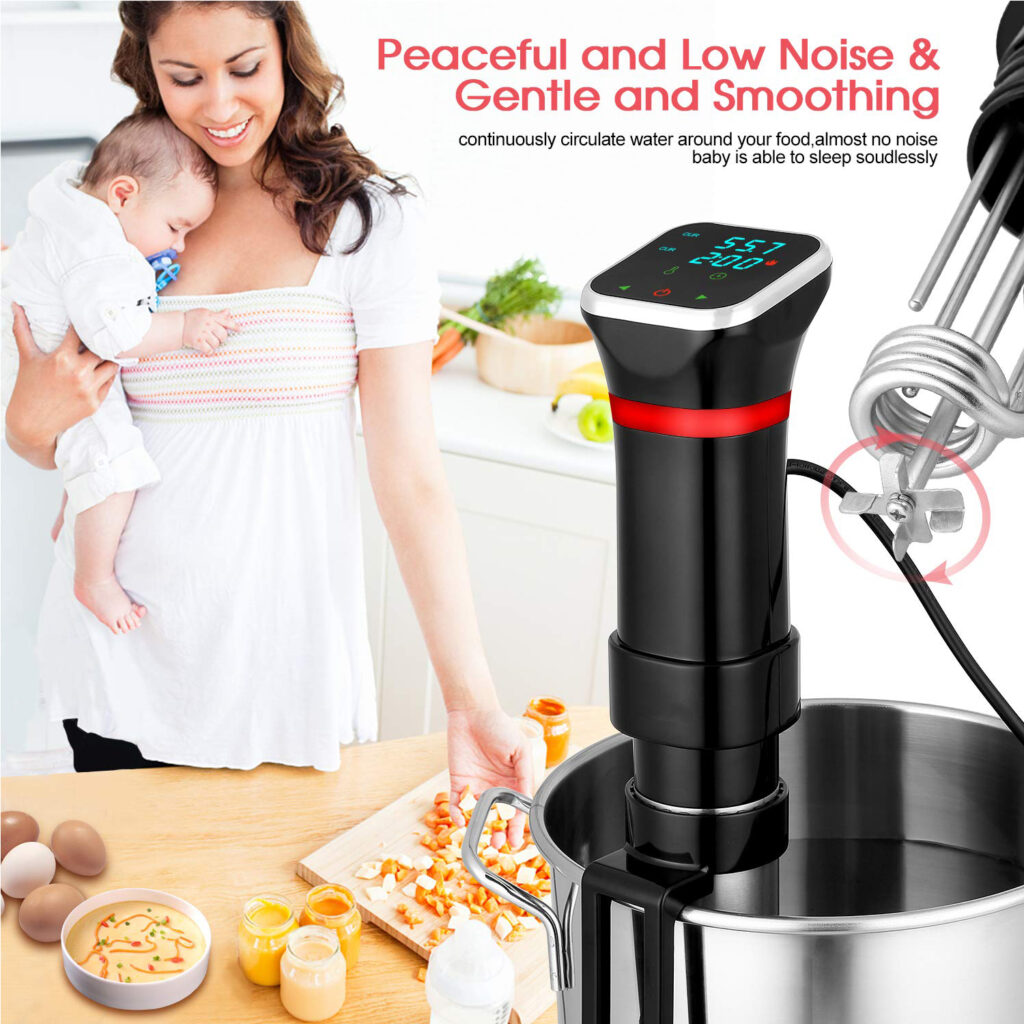 Enjoy deliciously cooked meat with all its mouth-watering juices, nutrients, and flavors locked in any time at home.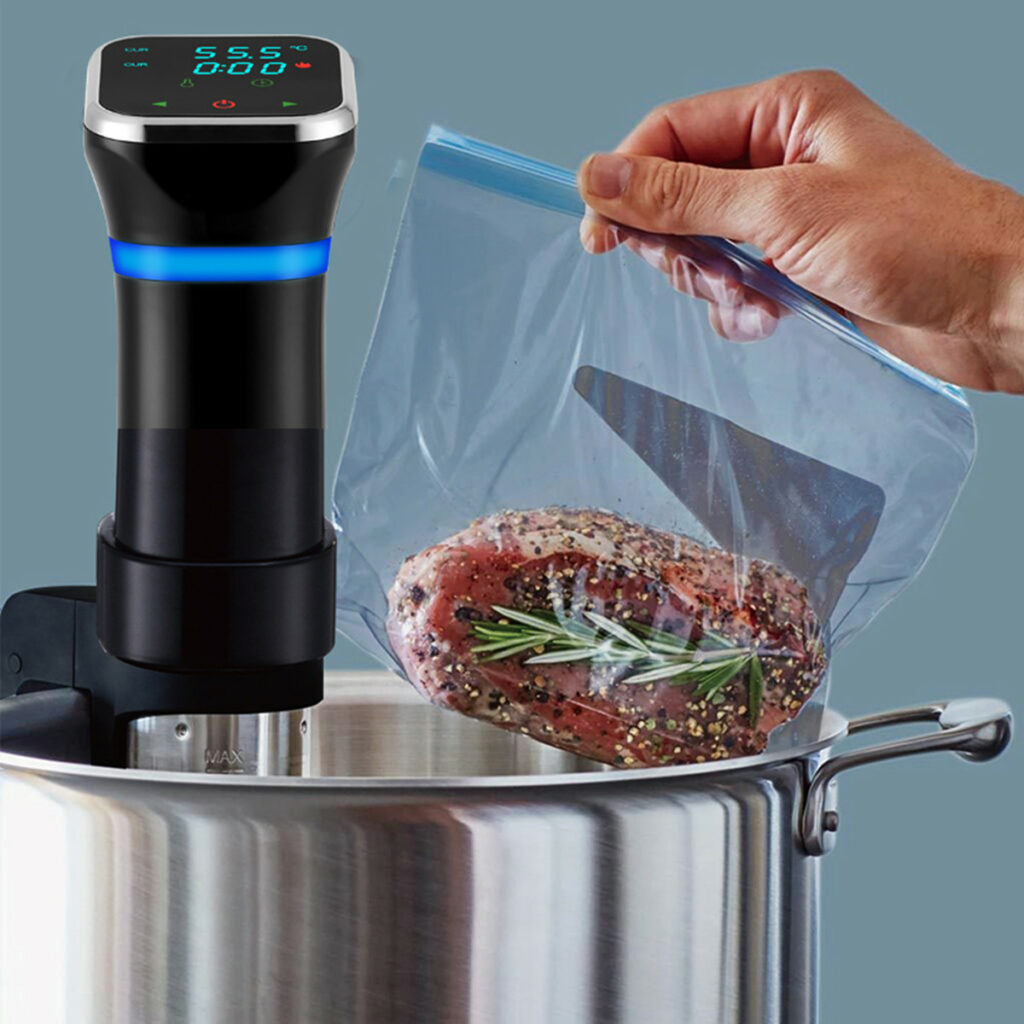 Features
High Temperature and Time Control. This device can simultaneously heat, circulate, and regulate the water. The built-in timer with a countdown function helps you keep track of your food.
Designed for Beginners, Pro Chefs, and Food Lovers. A simple control interface with a bright LCD screen makes it easy to use at home and helps you achieve perfectly cooked meat every time.
Powerful Sous Vide Cooking. With a 1100w powerful heating element, this device can rapidly warm a large volume of water and continuously keep it warm as your food cooks.
All at The Push of A Button. The digital touchscreen has everything you need to successfully cook sous vide steaks and meats at home. It doesn't require an app or Bluetooth connection.
Quick Check with Three Light Colors. The device features 3 lights to help you get a quick check on your food. Blue is when it has reached the set time, green for temperature, and red for when it's heating.
50db Low-Noise Cooking. The brushless DC motor provides a quieter and more peaceful cooking experience that won't disturb your sleeping infant, family, or guests.
Energy-Efficient and Modern Design. The sleek silhouette and streamlined design make this device easy to store, convenient to reach for, and a perfect fit in your stylish kitchen.
Safe and Consistent Cooking. This device has a secure locking clip that can be attached to any pot and a premium stainless steel tube that safely circulates water at the right temperature.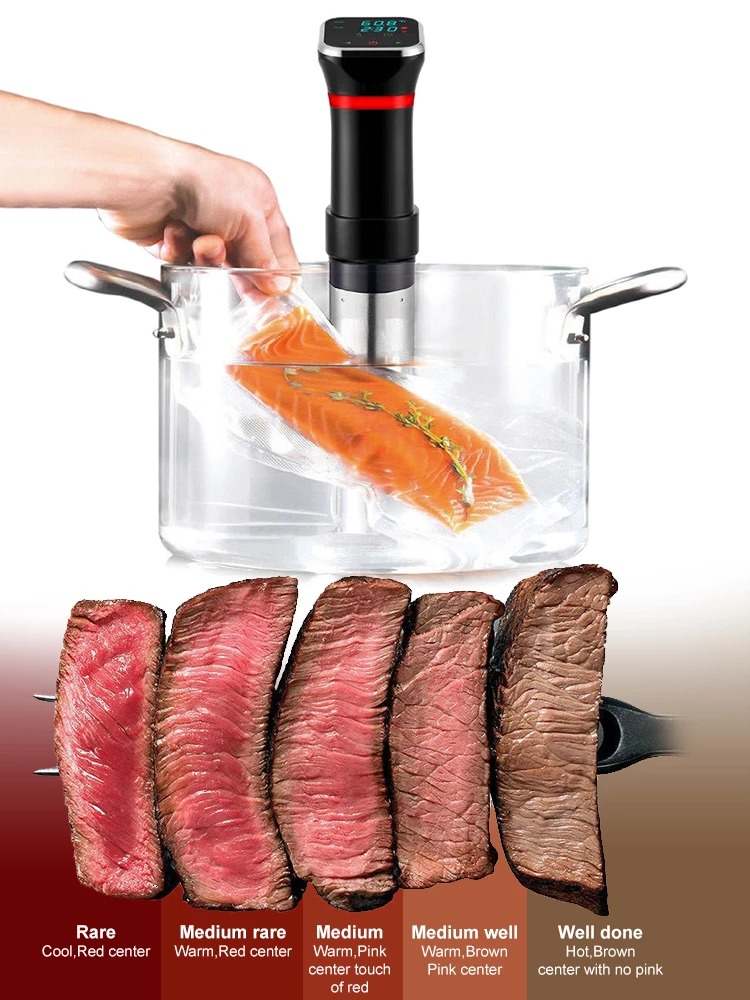 How to Use
Attach to any of your existing pots at home.
Add water to reach between the maximum or minimum line.
Set the temperature and time on the LCD touch screen.
Put your food in a vacuum-sealed bag and drop it in the pot.
Let the device cook your food at a precise and consistent temperature.
When the timer rings, take out your tender and moist meat.
Finish off by searing or grilling to add a crispy, golden exterior layer.
Enjoy your gourmet meal at home with your family and friends!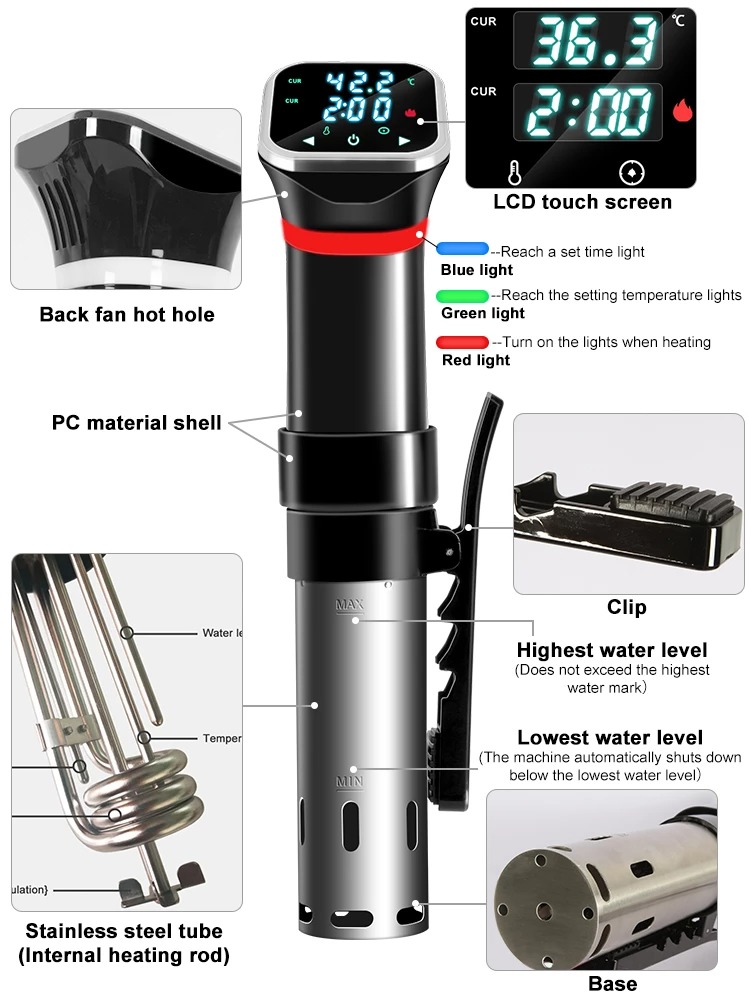 Product Specifications
Materials: Stainless steel tube
Input Power: AC110 to 130V
Power: 1100W, 50/60Hz
Temperature range: 32℉ to 203℉
Timer: Up to 99hours
Package Inclusions
1 x Sous Vide Machine
1 x Manual
1 x Recipe