Easy to Follow, Smart Kitchen Scale for You!
A good and reliable kitchen scale is your secret weapon to precise cooking all the time. Simply "eyeballing" the number of ingredients to use is a recipe for disaster, especially if you're not an expert or learning how to cook a specific recipe. The Frocela Digital Kitchen Scale is the perfect investment to consistently acing your meals at home. Regardless of whether you'll use it for cooking entrees, baking cookies, or mixing your favorite drinks, the Frocela will provide you with precise measurements to avoid mistakes.
Experience Our Upgraded Kitchen Scale for 2021!
With more and more people eating smart and becoming health-conscious, kitchen scales have transformed into something more than weighing food ingredients and calculate nutritional intake to achieve good health. Our upgraded Frocela Digital Kitchen Scale comes with all the right features to ensure precise cooking/baking/mixing and carbs/fats counting.
Frocela Features:
Highly Recommended Kitchen Scale: Frocela Digital Kitchen Scale comes in various units of measure, which is suitable for all types of baking, cooking, and mixing drinks.
Accurate: This kitchen scale food scale weighs up to 11 lb (5 kg) with a graduation of 0. 04oz/1g. The minimum weight recommendation is 3g-5g.
Multi-functional: The Frocela supports measurements between oz, g, ml, and lbs: oz and includes water and milk volume measurement modes.
Stainless Steel:  This digital scale is designed with a food-grade, 304 stainless-steel platform for easy cleaning and maintenance.
Easy to Use: This food weight scale features an easy Tare function, clear, backlit display, and low battery indication.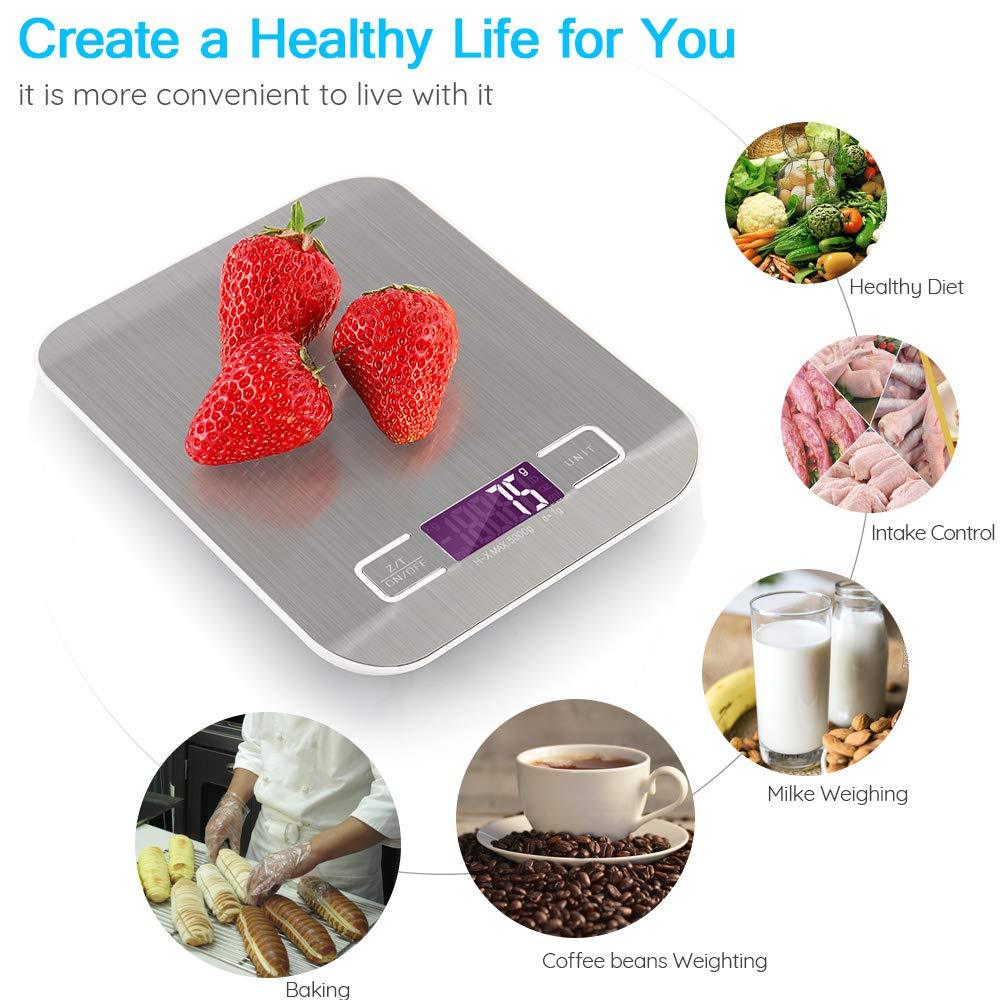 Product Description:
Lightweight and Portable Size [0.6*7.3*5.7 in]
This digital scale has endless uses for personal or commercial environments. It's great for homes, kitchens, offices, and more because of its lightweight and portable features. The scale has an easy-to-read LCD with a beautiful clear back-lit for easy cleaning and keeps the device free from dirt. With a capacity of 11lb (5kg), you can weigh various items with ease. You will be surprised at all the uses you will have for this product.
Weighing Functions
You can easily choose among measurements in oz, lb: oz, g, ml (Milk & Water). This digital scale measures in precise increments of 0.04oz (1 g) to accurately weigh your items. Power is provided by 2 AAA batteries (included), making the scale portable and ensuring that you can easily acquire replacement batteries.
Tare Function
The Tare function allows the user to deduct the weight of a container from the total weight to determine the net weight of the contents, excluding the weight of the container which holds them. This is incredibly helpful in ensuring you're on point with different ingredient measurements. For some, they maximize the Tare function to see value in the products they purchase, especially powdered ones.
Clear Display and Auto-off
The Frocela Digital Kitchen Scale has an easy-to-read back-lit display that stays on for 30 seconds for easy reading. The scale also features an auto-off function to save energy, allowing the scale to turn off after 2 minutes of inactivity. NOTE: please avoid mixing new and used batteries to power the device to prevent internal damage.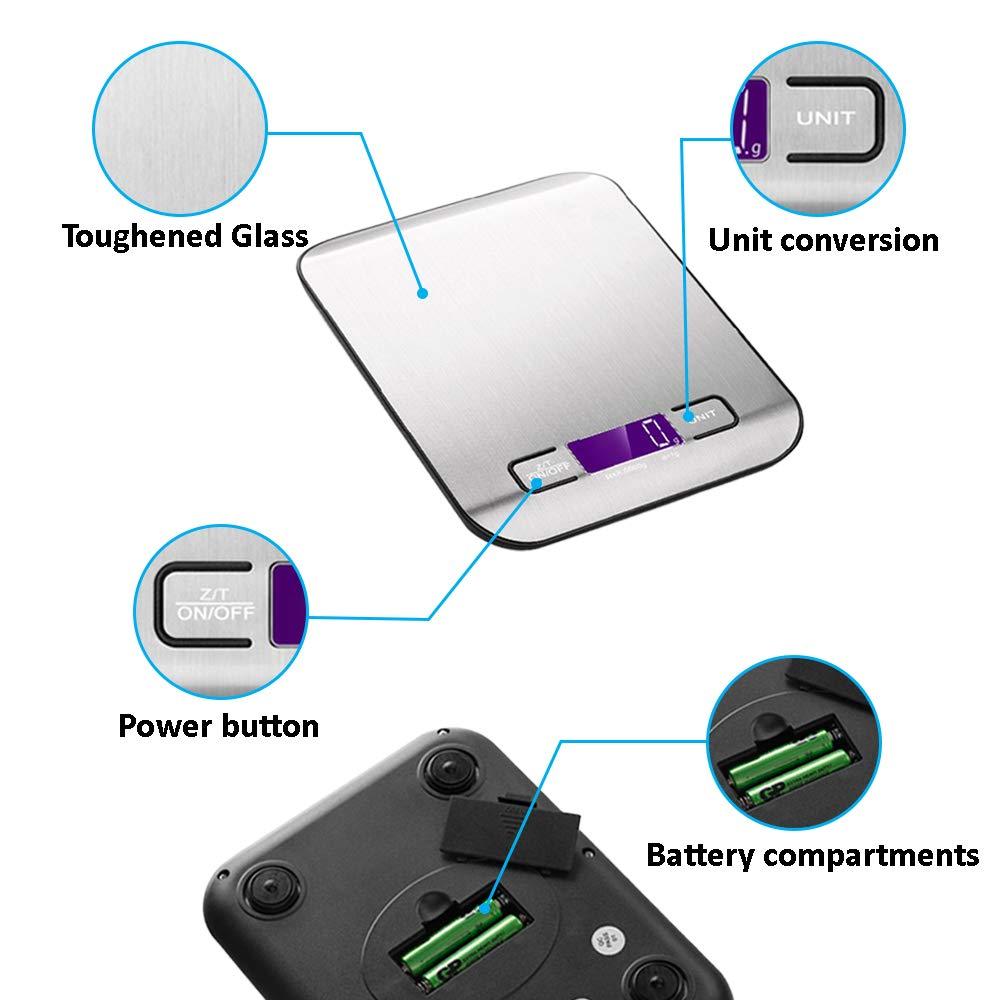 Specifications:
Weight Capacity: 176oz / 5000g / 11 lbs
Units: g / oz / lb:oz /ml (Milk & Water)
Measurement Increments: 0.04 oz / 1 g
Minimum Measurement: 3g-5g
Auto-Off: 2 Minutes
Power: 2 x AAA 1.5V DC
Dimensions: 7.32 x 5.70 x 0.67 inches
Package Contents:
1 x Digital Kitchen Scale
1 x User Manual