Excited to hatch your chicks and ducklings this hatching season? Then give your hatchlings the right care and equipment to keep them healthy throughout the incubation process, the EggsyLot way!
The EggysLot Automatic Eggs Incubator is a beautifully designed and practically made gadget to lessen the stress and anxiety faced by many hatchers. Getting rid of the traditional boundedness comes in a visible style to allow people to see and ensure that no chick or duckling is hurt throughout the incubation process. This sense of security is essential for small-time hatchers or pet parents because it enables them to oversee the incubation process and the hatchling's condition.
This device does not only meet the date demand of scientific research but also helps to cultivate kid's curiosity. It is in mini size, lightweight for easy carry and operation. Once powered on, it'll keep a stable and continuous working performance. The EggsyLot features a steady temperature to reinforce the best incubation conditions. A must-have for all hatchers.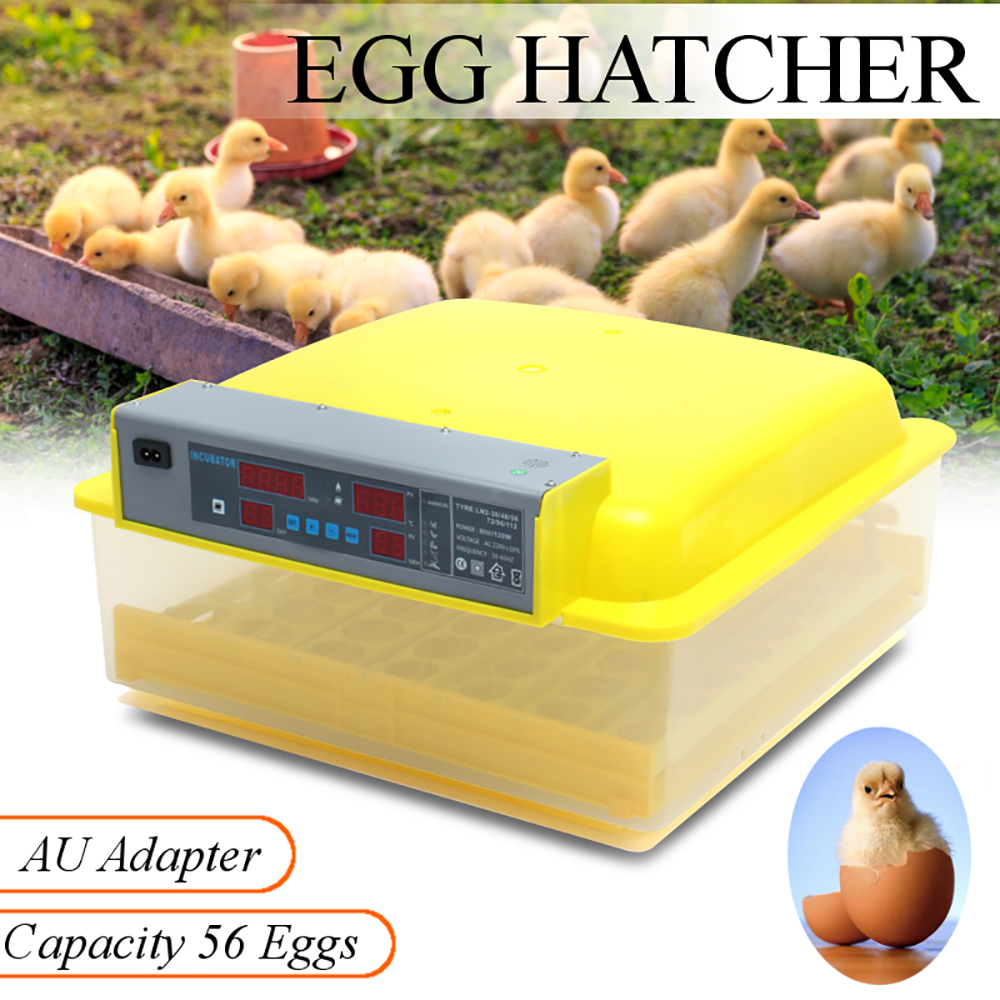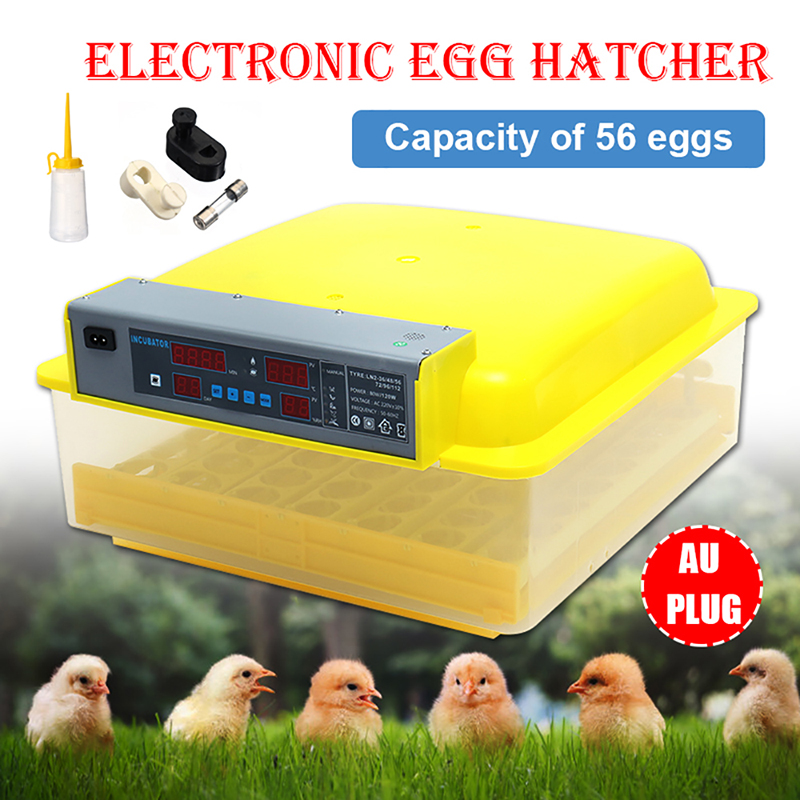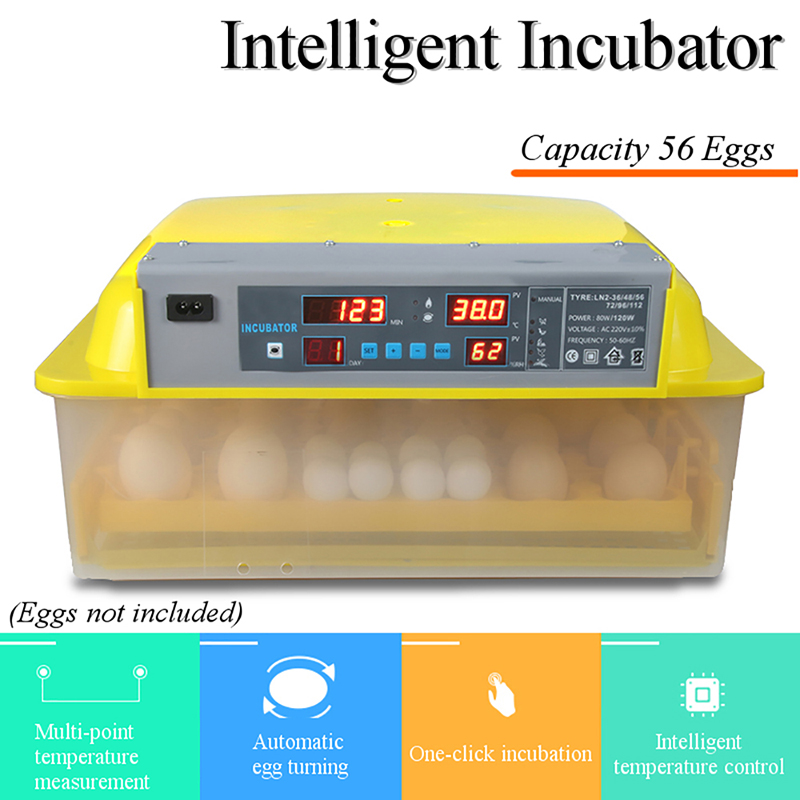 Features:
The EggsyLot offers a good combination of superior material and delicate workmanship to deliver top-notch performance.
It's safe and durable to use throughout the hatching process.
Supports 56/112 pcs—eggs incubation at a time.
This egg incubator comes with excellent heat preservation and energy-saving performance.
With a reasonable thermal cycle, this device provides optimal support for chicken and duck eggs incubation.
The EggsyLot provides convenient temperature control for instant grasp or adjustment of inner temperature.
It's 100% accurate and stable.
It comes in mini size and lightweight structure for easy operation.
The interior features one fan per floor to enable better temperature control at all sides.
There's a temperature and humidity sensor to allow you to know exactly the condition throughout the hatching process.
The EggsyLot tray comes with a secured and well-structured egg tray that ensures balance incubation.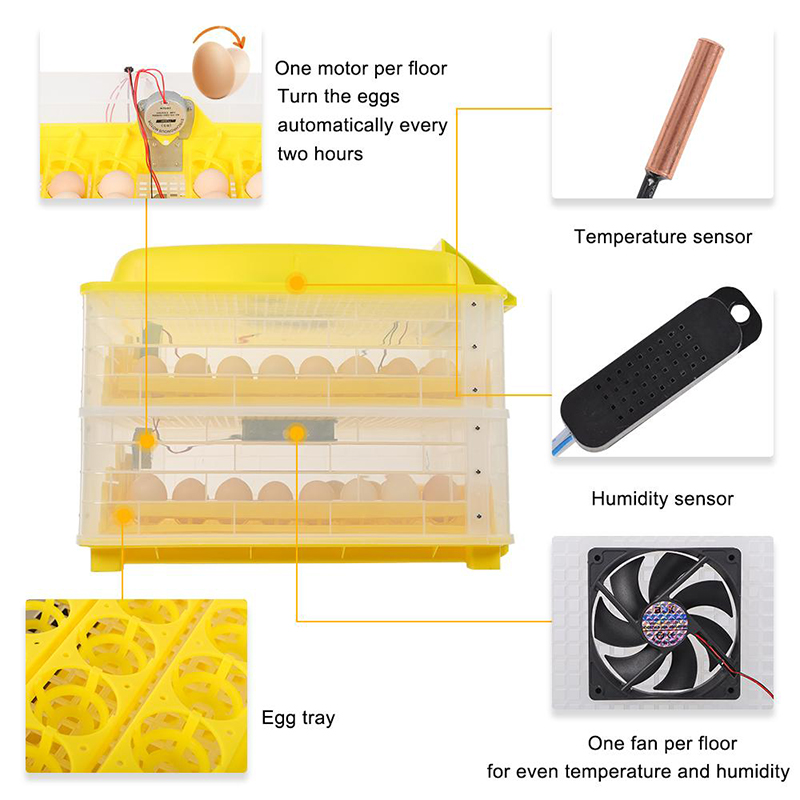 Designed to Mimic the Best Egg-Laying Condition
The EggsyLot ensures that your hatchling will stay alive and healthy throughout the process by mimicking their natural hatching condition. Every aspect of the device is well-constructed to deliver a balanced and steady temperature. Plus, it comes with indicators like humidity and temperature sensors to notify you if something is off.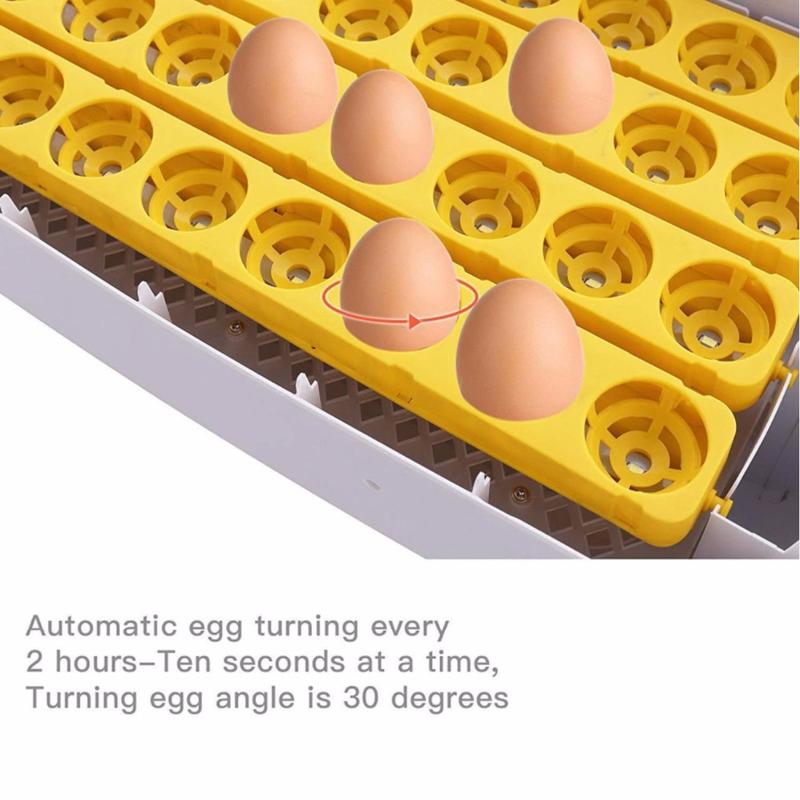 Automatic Egg Turning System
You don't have to turn the eggs with the EggysLot incubator manually. The device does this for you automatically every 2 hours to preserve the hatchling's hatchability and quality. It is fitted with two motors—one for each floor—to sustain the best condition, similar to a female bird's egg-laying practices.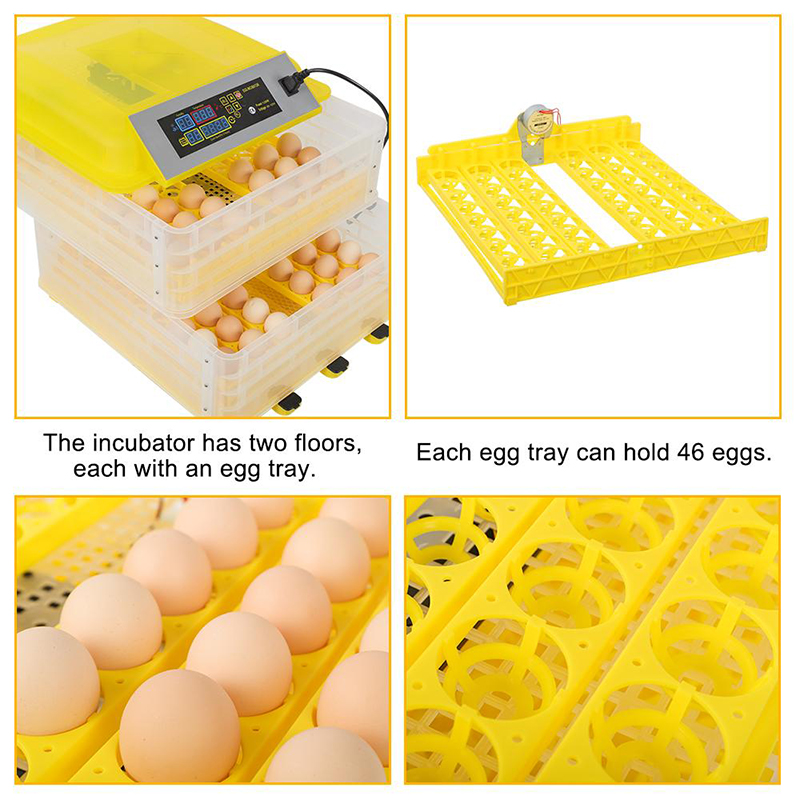 Note: After using, clean the incubator and keep it dry.
Specifications:
Color: Yellow & Transparent
Weight: 210.93oz / 5980g
Dimensions: (19.29 x 18.5 x 14.56)" / (49 x 47 x 37)cm (L x W x H)
Temperature Range: 20℃ ~ 40℃
Voltage: AC 110V
Frequency: 50Hz/60Hz
Power: 100W
Incubation Quantity: 56 /112 pcs
Plug: US Standard
Suitable for: Chickens, Ducks, Geese, and other Poultry (Quail, Parrot, Pigeons, and other Birds).
Control System: Smart PID
Number of Layers: 2 Layer
Certification: Yes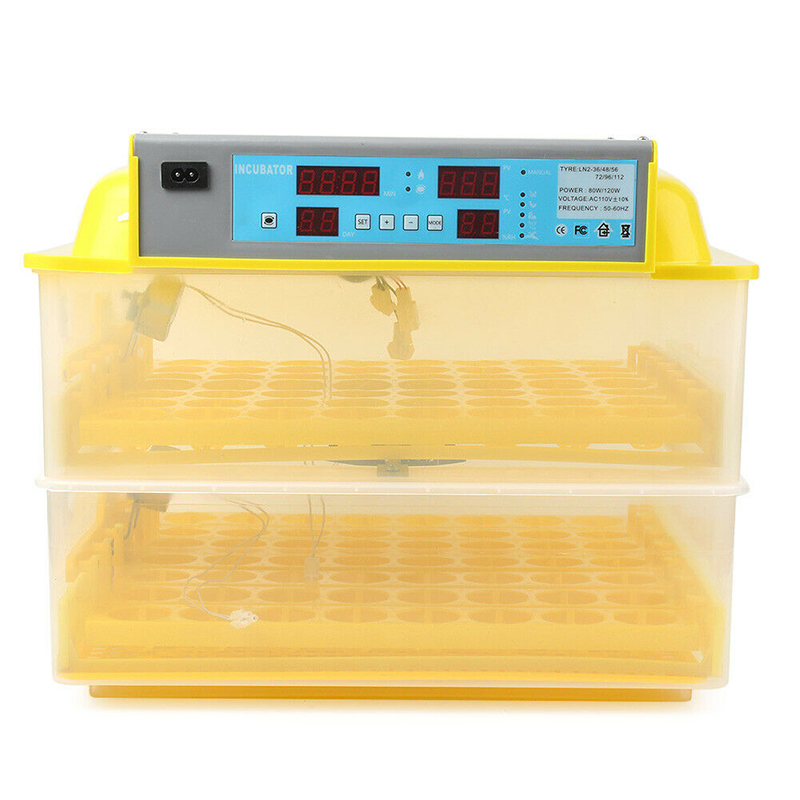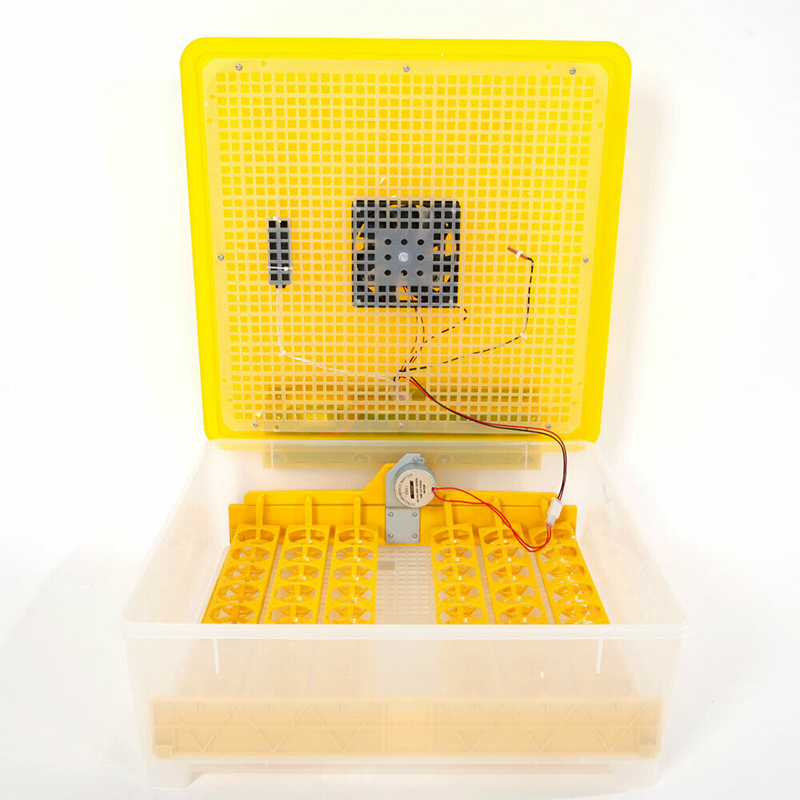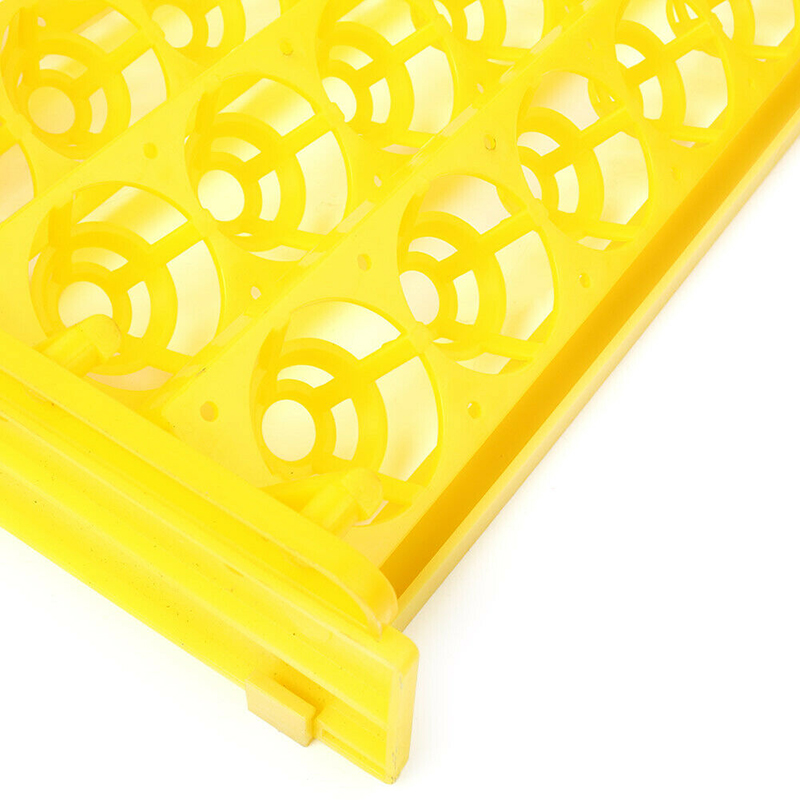 Package Includes:
1 * Incubator
1 * Power Cable
1 * Water Bottle
1 * Egg Candler
1 * User Manual
1 * Screw Accessories