Reading And Watching Is Easy With the EasyEndeavor Laptop & Book Holder.
Is your productivity at an all-time high, but your comfort at an all-time low? We've got the solution to help you ease your work woes. Get yourself the EasyEndeavor Laptop & Book Holder, a durable, adjustable stand that fits books and gadgets of almost all sizes, while helping you read, write, create, and watch at a better angle.
The days of tired arms after reading several chapters of that hardbound textbook – or streaming episode after episode of your favorite show – are over, as we've made this book holder to be more ergonomic than before. This is because our stand features a sturdy stand and hassle-free clip design that allows you to do your homework, office tasks, or quality leisure time hands-free. With the EasyEndeavor Laptop & Book Holder, turn a new page on comfort and productivity!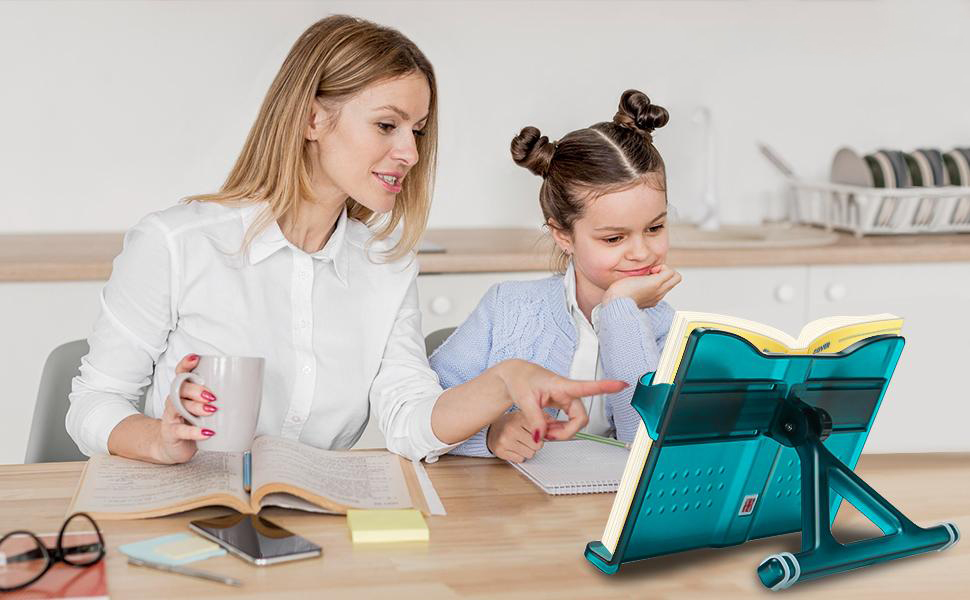 Features
ENHANCES YOUR COMFORT WHILE YOU DO YOUR SCHOOL OR OFFICE WORK. Created with a kid-friendly cat-shape design, this book stand is also ergonomic, allowing you to do your tasks on paper or onscreen more conveniently thanks to its sturdy back support and easy-to-adjust book clips. No need to look more closely as this stand puts your book or laptop at the right viewing level, without worrying that it will close!
EASY TO CARRY. Foldable and portable, you can easily pack our book holder with you on school or business trips.
GREAT FOR EVERYONE. Our EasyEndeavor Laptop and Book Holder is designed for all lifestyles, whether you're a student, office worker, creative, or book lover.
DURABLE, SLIP-PROOF DESIGN. Made of ABS material, our book holder is sturdy enough to carry even the heaviest of hardback titles. It also features a silicone anti-slip ring on the bracket to prevent it from shaking, giving you more quality and quiet time to focus on what you're doing.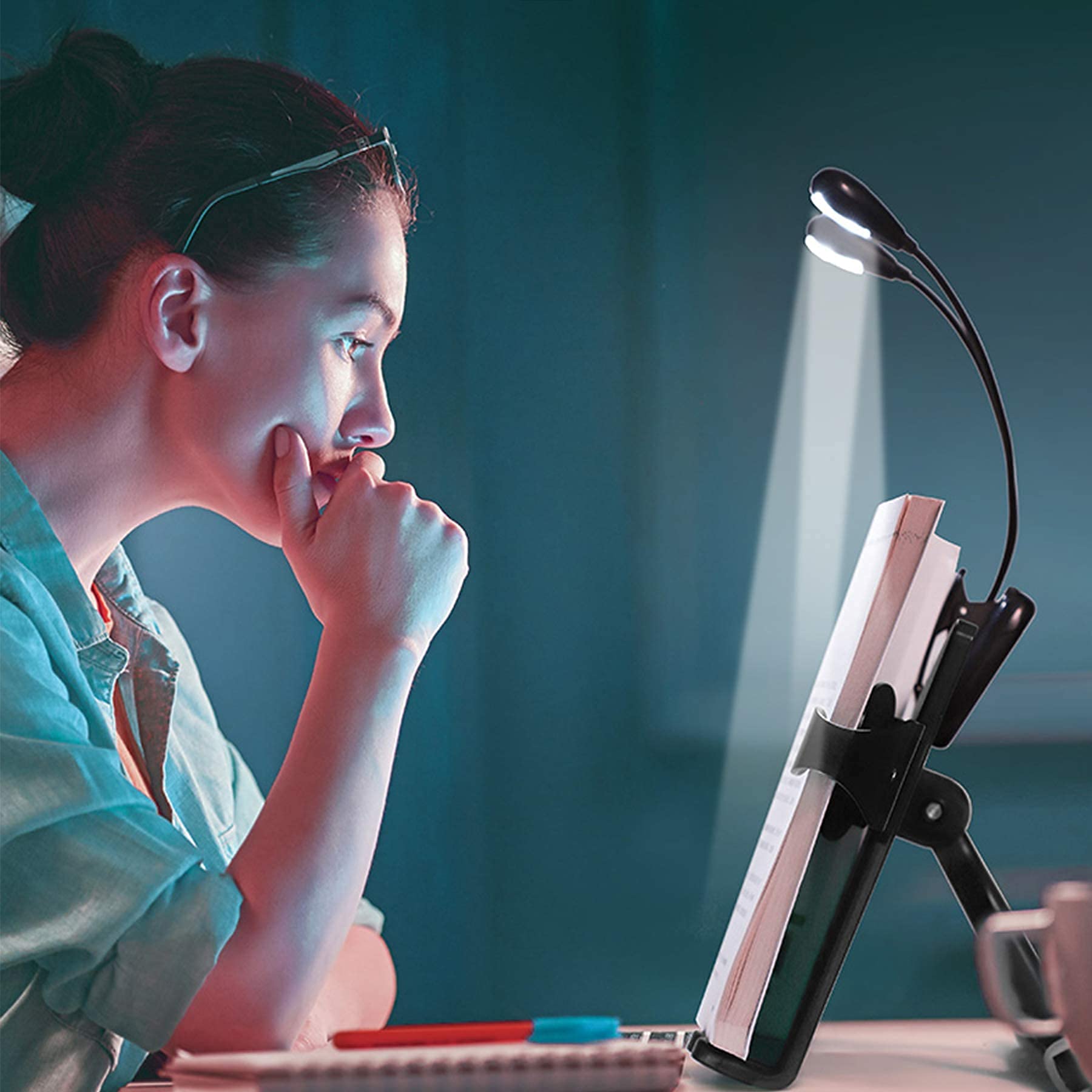 HOLDS THICKER BOOKS THAN MOST OTHER STANDS
Our stand can hold books at up to 2.8 inches thick, able to clip all kinds of items such as Bibles, textbooks, medical books, and other materials compared to most other book stands. Slide a book clip  Just pull the book clips wThe upgraded book clips with inside spring of the reading book stand can be pulled to widen, can clip 2.8in thick (can clip THICKER than most other book stands). You can even rotate its arms to avoid covering your book while you read!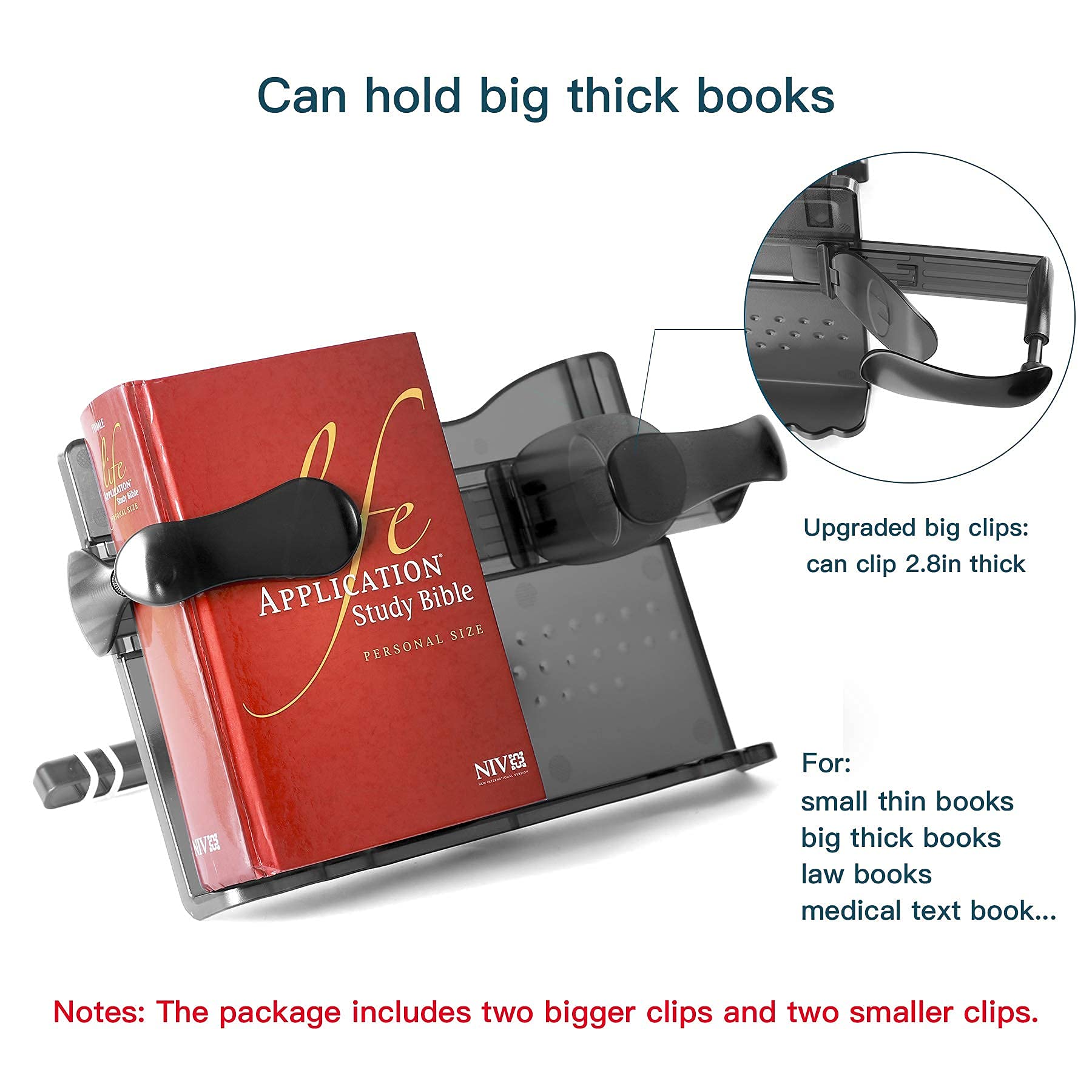 CAN ALSO HOLD TABLETS AND PHONES
Working or studying from home? Our book stand can also hold digital devices such as tablets and phones, letting you get your most important tasks done with ease. It also makes for a great companion for your study sessions in the library, or while you learn in class.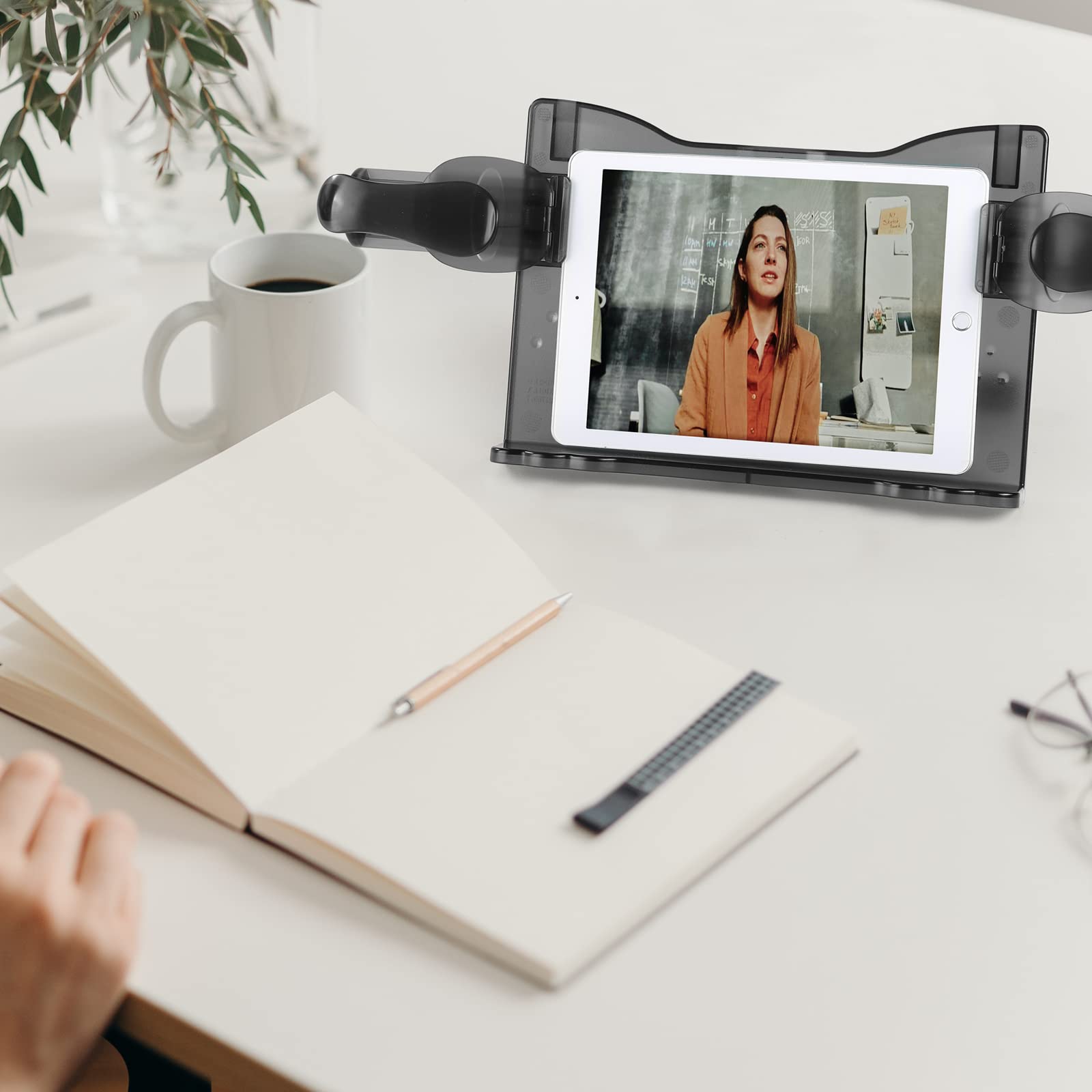 ERGONOMIC FEATURES
Helps prevent neck pain
Never strain your neck again after hours of reading, as this stand props up your book or laptop at a better height, making for better reading, while helping ease your spine and your eyesight.
Easy to carry or keep in your bag
We've designed our book stand to be foldable, so you can simply store it in your bag and carry it anywhere.
Anti-slip silicone
Our book stand is anti-slip, and also prevents scratching on your surfaces.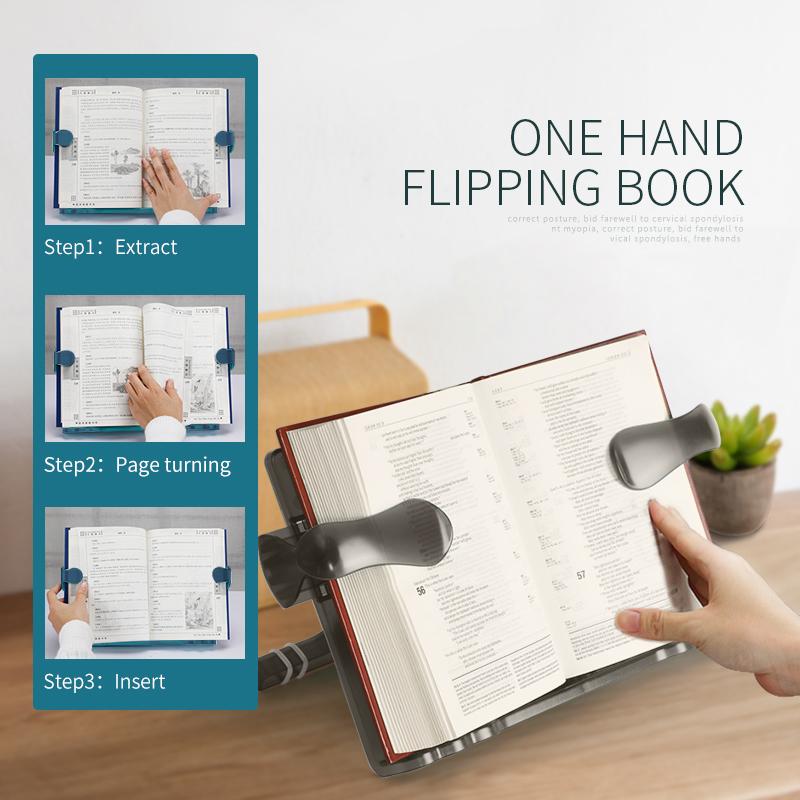 THE IDEAL GIFT FOR BOOK LOVERS AND JUST ABOUT ANYONE!
With many of us working or studying from home, or having more time to delve into our favorite books, the EasyEndeavor Laptop And Book Holder is the perfect gift for just about anyone. Surprise the student you know as they head back to school, or gift it to a bookworm friend for Christmas.
Our book stand can also delight music lovers as well, as it's also a great companion to hold their sheet music while they practice or play.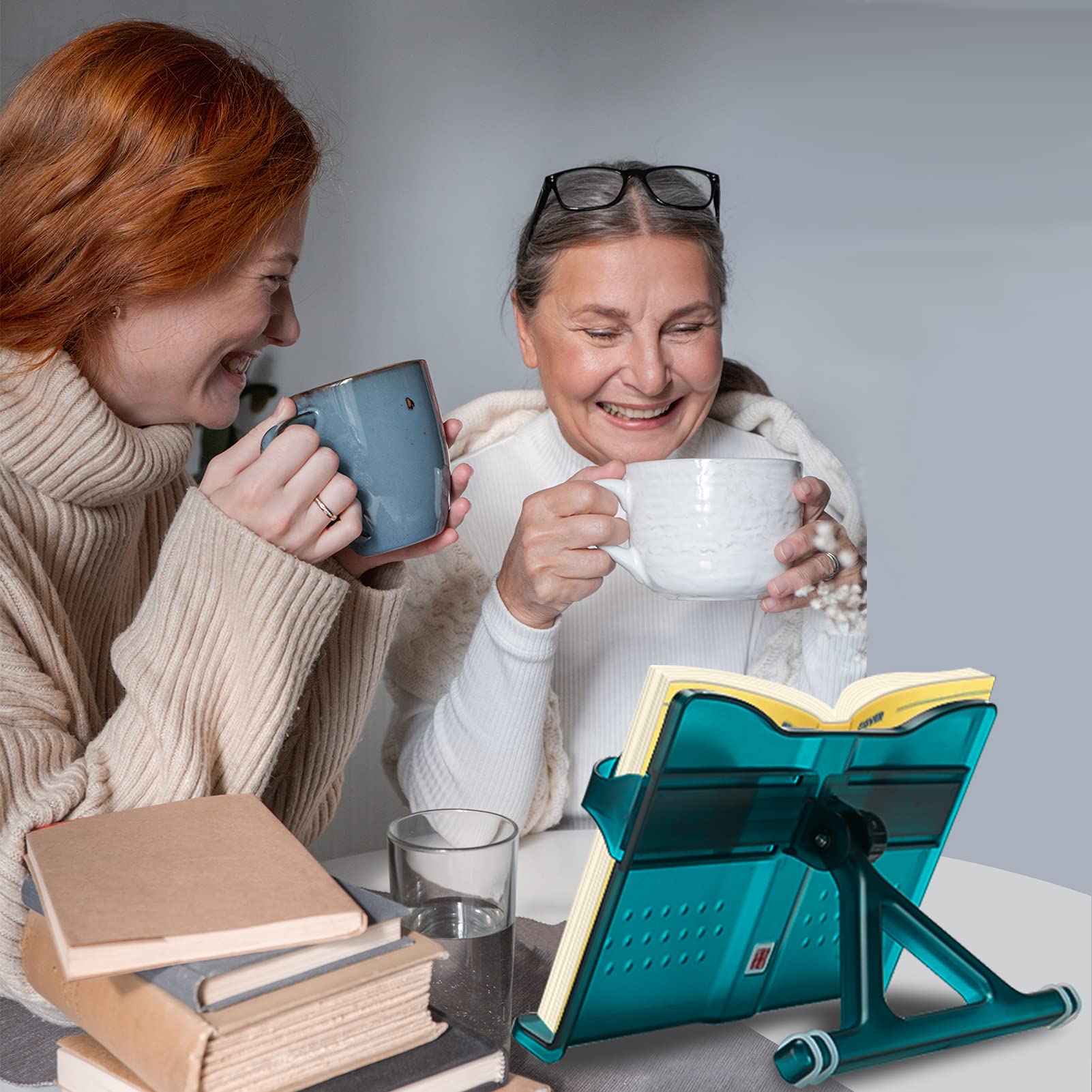 SPECIFICATIONS
Material: ABS material
Available Colors: Black, Blue, Pink, Light Blue
Size: 30cm x 22cm / 12 x 8in
PACKAGE INCLUDES
1 * book holder (Portable book light not included)