The New Way of Upgrading the Looks of Your Clothes! The EarzoSleek Portable HandHeld Clothes Steamer Includes a Humidifier and a Germ Busting Technology to Give You Clean, Sleek, Elegant Looking Clothes!
There's confidence in knowing you're wearing clean, sleek, wrinkle-free clothes. It's like you're given an extra dose of confidence that can help you present yourself better.
With great confidence comes greater opportunities.
This is why when it comes to prepping your clothes for big events, you need the EarzoSleek on your side.
With EarzoSleek, you can get wrinkle-free clothes, even while you're on the go. When you have this clothes steamer on your side, you can conquer presentations, interviews, client meetings, and making a good impression.
Features:
Upgraded version of 1600W high power
Continuous steam
It has a combination of hanging ironing and flat ironing, and can also act as a small humidifier
The handle of the host can be folded, which is more convenient to store
The 250ML water tank can be seen separately, and the mineral water bottle can replace the water tank when traveling
The host is compact, lightweight and portable
The 7 steam outlet holes are upgraded to 8
Comes with a 250ml large water tank, which can be used as a substitute for a 350ml mineral water bottle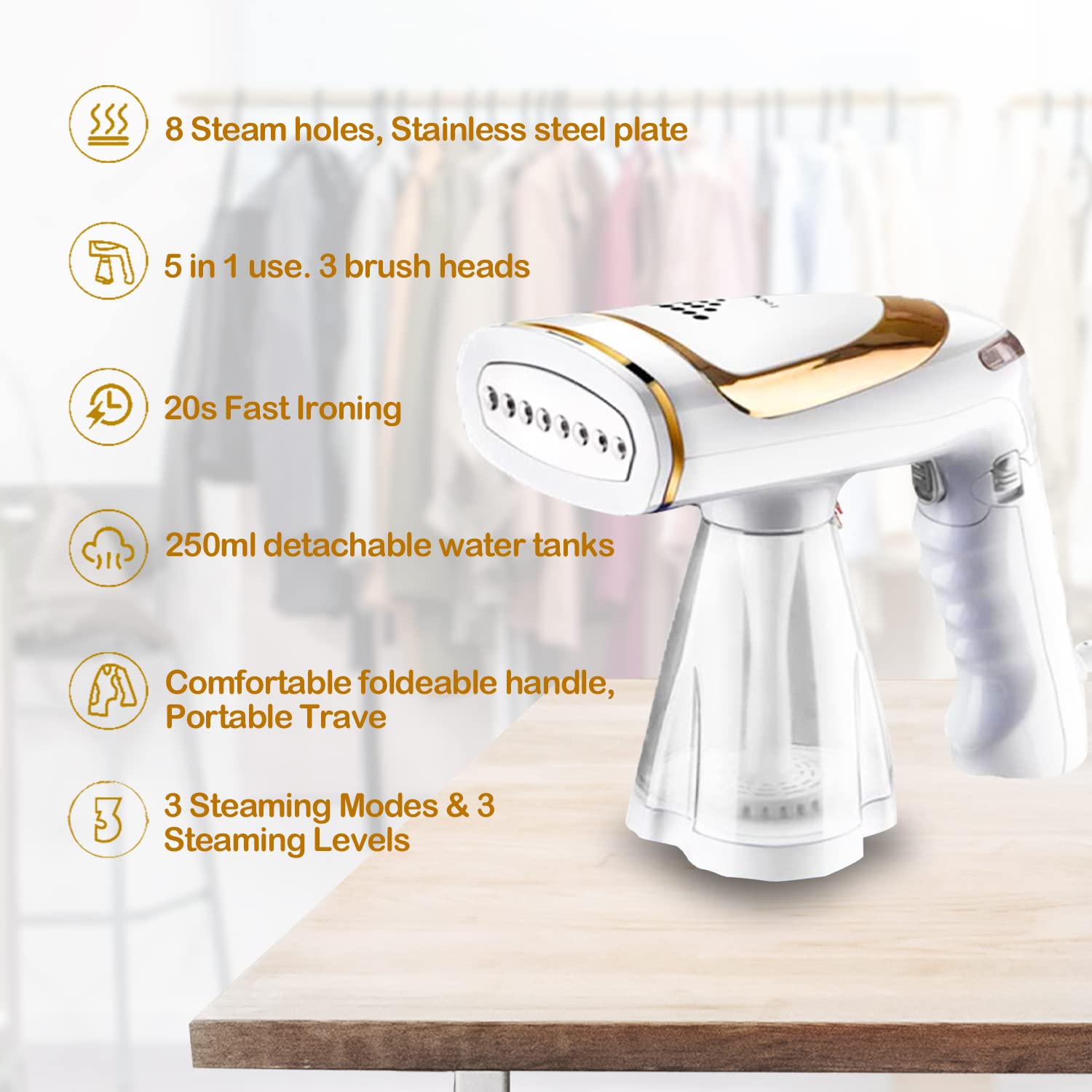 8-Hole Diversion Panel
Large 8-hole diversion panel makes ironing even, time-saving and labor-saving. The die-cast aluminum heating elements are used with 8 diversion holes, and the steam is evenly distributed, and the clothes are evenly heated, and the wrinkles are quickly removed.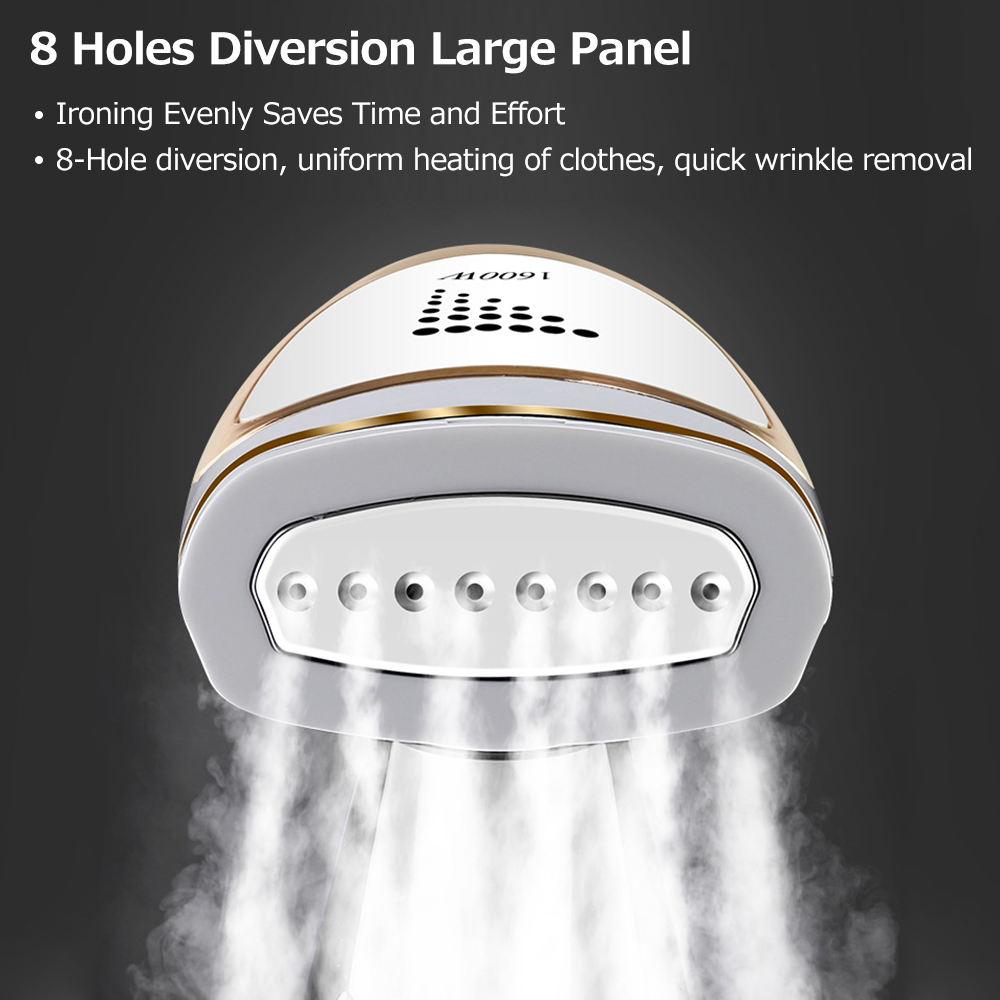 20 Second Fast Ironing
Powerful 1600W garment steamer heats up quickly and produces steam in 20 seconds. The steam head has a large area, which supports a large area of ​​ironing clothes, and can iron a piece of clothes quickly, save ironing time and make your life easier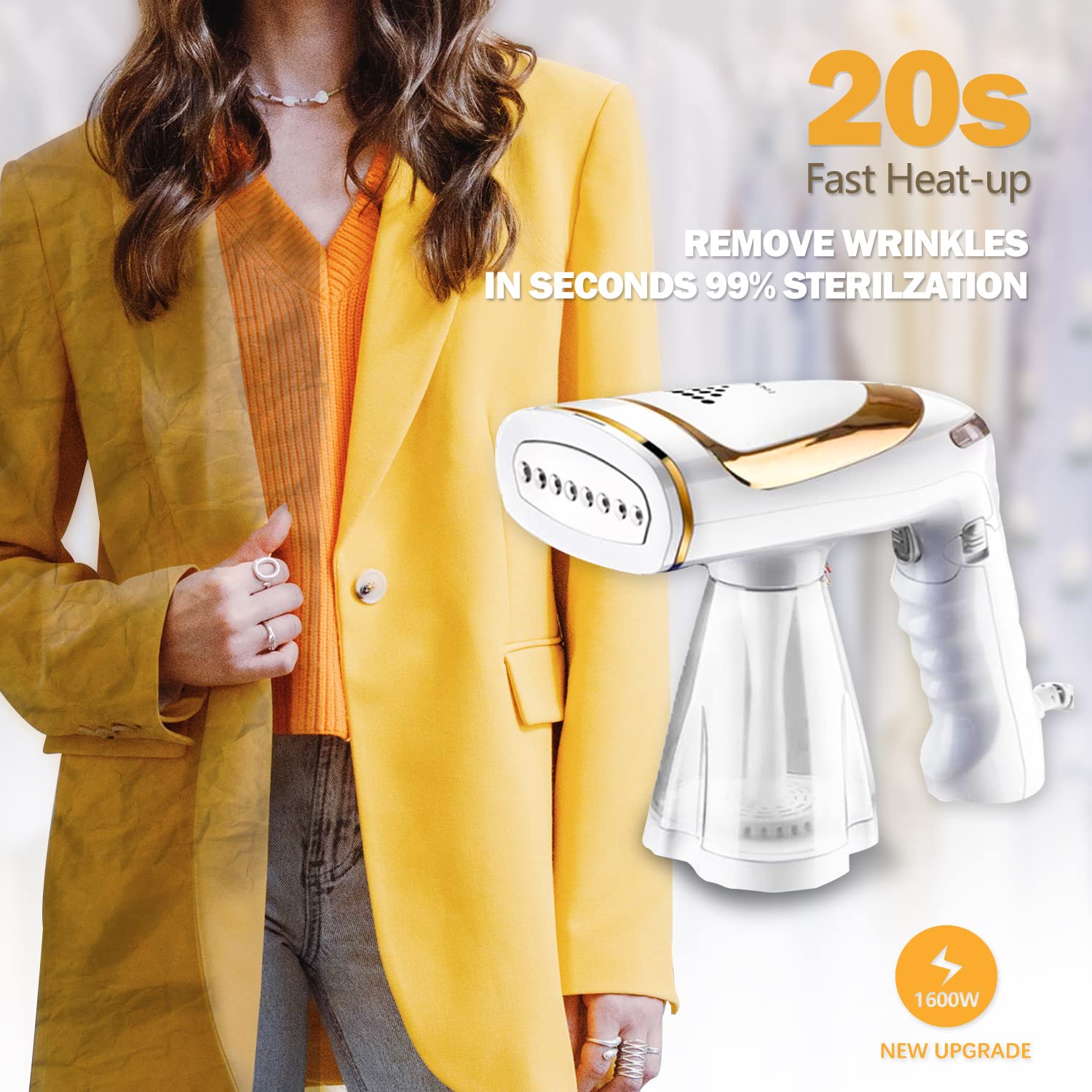 Foldable and portable
The host is foldable and easy to store. Small and portable, easy to carry. You can put it in your bag or suitcase when you travel without taking up too much space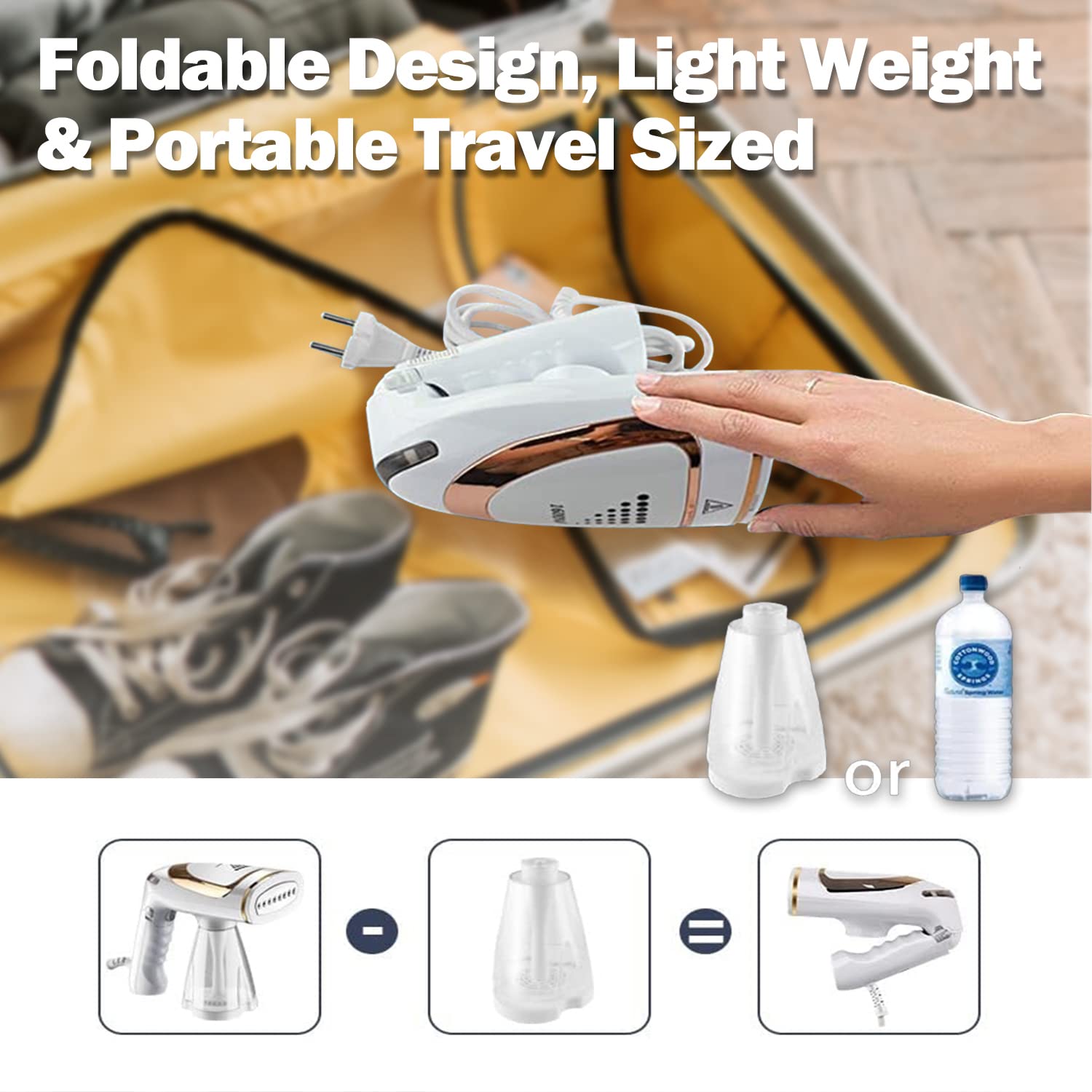 3 Steam Modes & 3 Steam Levels
The travel steamer for clothes in order to provide gentle steam and match the requirements of different fabric materials, it is designed to be suitable for three steam modes (hang up, ironing flat, clamp iron) with three steam selections (gentle, moderate, high)
Household cleaning steamer
the product is equipped with hair brush, flannel brush head, in the discharge of high temperature steam at the same time, you can rub the surface of objects, clean simply and quickly, the effect is remarkable. At the same time, high temperature and strong steam can easily dissolve and remove oil stains, surface dirt and cracks from household products to make the home maintain cleanliness.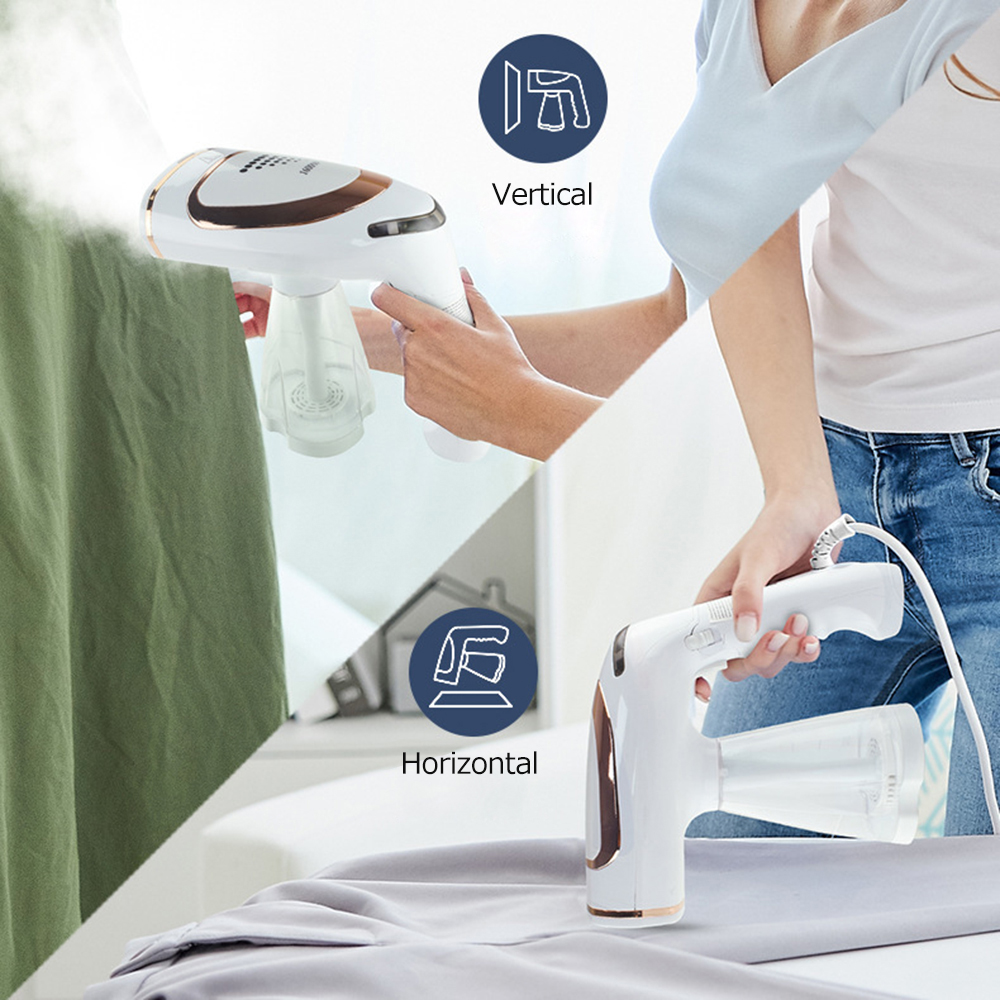 Product parameters:
Voltage: 110/220V
Frequency: 50-60HZ
Power: 1600W
Wire: 1.65m
Water tank: 250ml
One-stop steam, the handle can be folded;
The blue light flashes and the heating is completed, and the red light is always on.
What does the box contain?
1 x 1600W Garment Steamer
1 x mesh brush
1 x long hair brush
1 x measuring cup
1 x instructions