DarcSens: Keeping Your Family's Safety Every Day!
A house fire or CO leak can happen anytime. Don't let these hazards cause damages to your property or affect your family's health and safety. Prevent problems before they happen using DarSens' Home Safety Carbon Monoxide Detector.
This device alarms you as soon as it detects the presence of carbon monoxide in your surroundings. It sends a loud, 85-decibel alarm so that anyone within the property can hear and act accordingly.
With DarcSens in your home, you'll never have to worry about potential hazards left unnoticed. You can secure everyone's safety every day!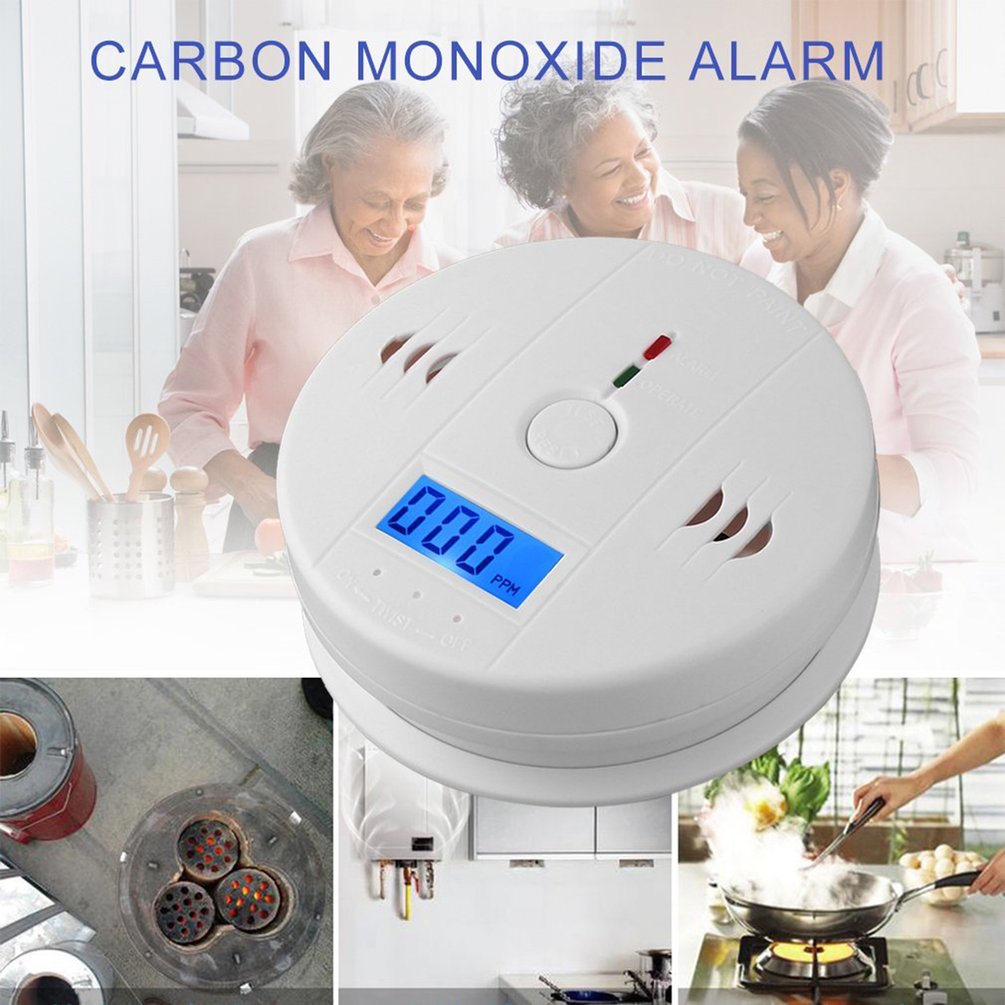 The Ultimate Carbon Monoxide Detector Fit for Every American Family
No matter how big or small your property is, the DarcSens CO Detector will guarantee the best security possible. Using the most advanced level of protection and quick-to-read digital display, you can act smart whenever a threat comes.
Designed as compact, lightweight, and user-friendly as possible, the DarcSens CO Detector is easy to install, easy to follow, and 100% easy to operate. All you need to do is mount the device on the wall, preferably in areas with lots of appliances, and let it work its magic in securing your family's safety.
When it's time to replace the batteries, the device will sound an alarm to notify you. This feature ensures that you'll never miss an opportunity in protecting your family against hazards.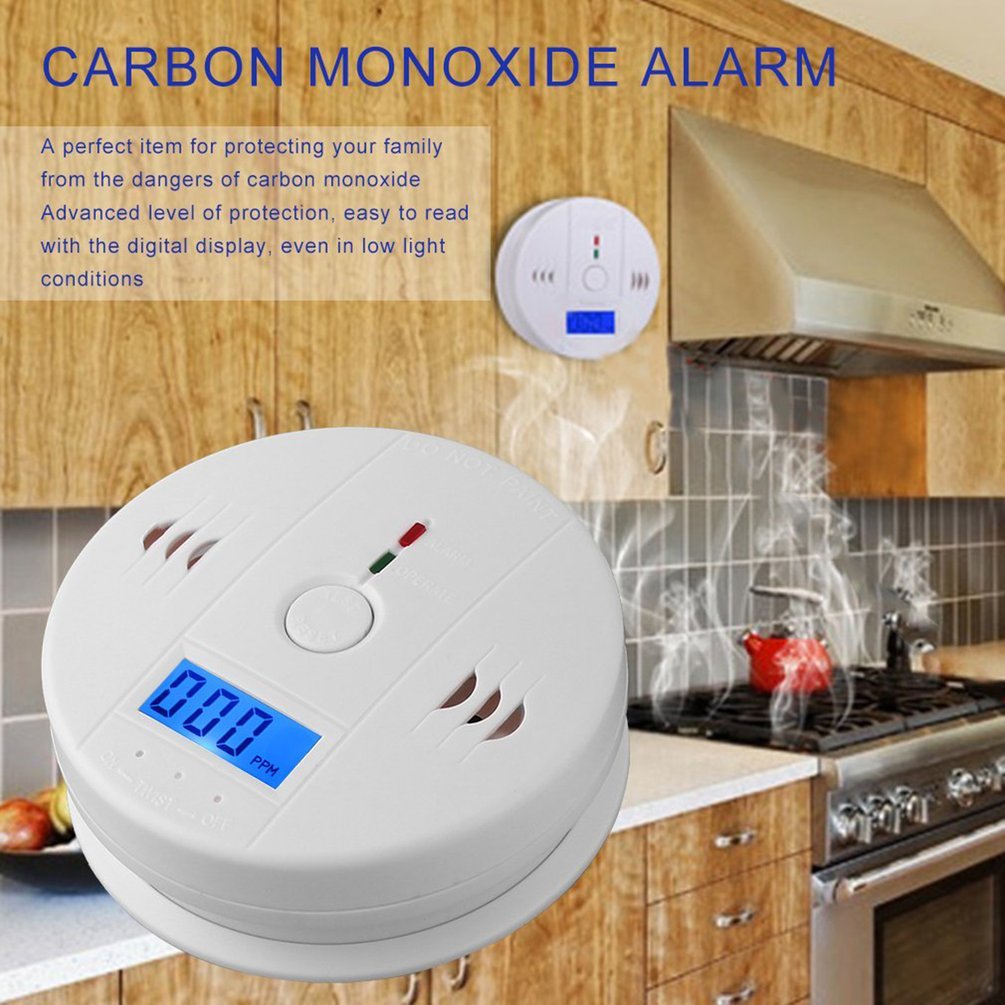 Why Choose Us?
High-quality LCD with blue background light for easy reading
Delivers a loud 85 decibel sound alarm so that everyone even at a distance can hear
Permanent carbon monoxide sensor, all-in-one device
Powered by 3 x 1.5V AA batteries (not include); 100% easy to replace
How do the DarcSens Work?
For sound alarms:
The alarm sound pattern is four short alarm beeps. The red LED will flash while in alarm mode.
One 'chirp' every 30 seconds is an indication that the battery is low (need replacement) (green LED still flashes once every 30 seconds) or the unit is malfunctioning (green LED is out.).
Alarm memory feature: if the unit ever alarms, pressing the button, green LED will flashes once every second for one minute and the peak alarm level will indicate on the LCD.
For display:
Green and red LED lights that indicate normal operation and alarm status.
3 digits LCD displayer is optional. 'Err' on the LCD indicates the unit's 'malfunctioning.
'Lb' on the LCD to indicate it low battery and need replacement.
'999ppm" on the LCD indicates CO level is over 999ppm. If the CO leakage is less than 999ppm but over 30ppm, the device will show the actual concentration.
For testing the device:
Test/Reset button to test the unit electronics and verify proper unit operation and reset the unit during CO alarm.
A blue backlight will be lighted when pressing the test button.
The unit will sound "chirp" and red LED flashes once as power-up, with "888" displayed on the LCD for 2 seconds. Then press the test button, the unit will sound 4 beeps every 5 seconds twice with red LED flashes. During the self-test mode, "O00" displays on the LCD for 3 minutes and then enters in normal operation mode.
Power saving feature: The alarm sound pattern is 4 beeps every 5 seconds for the first 4 minutes. In 4 minutes, it will change to 4 beeps every minute to save the battery.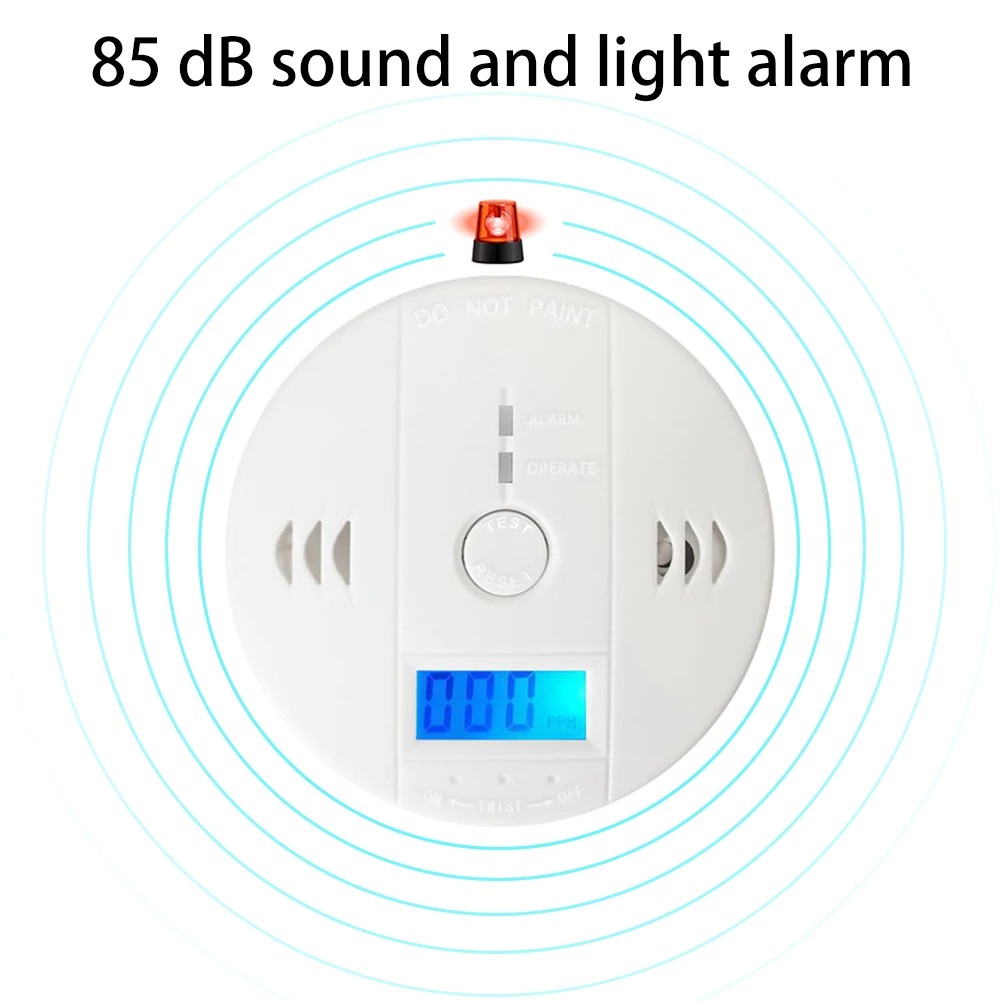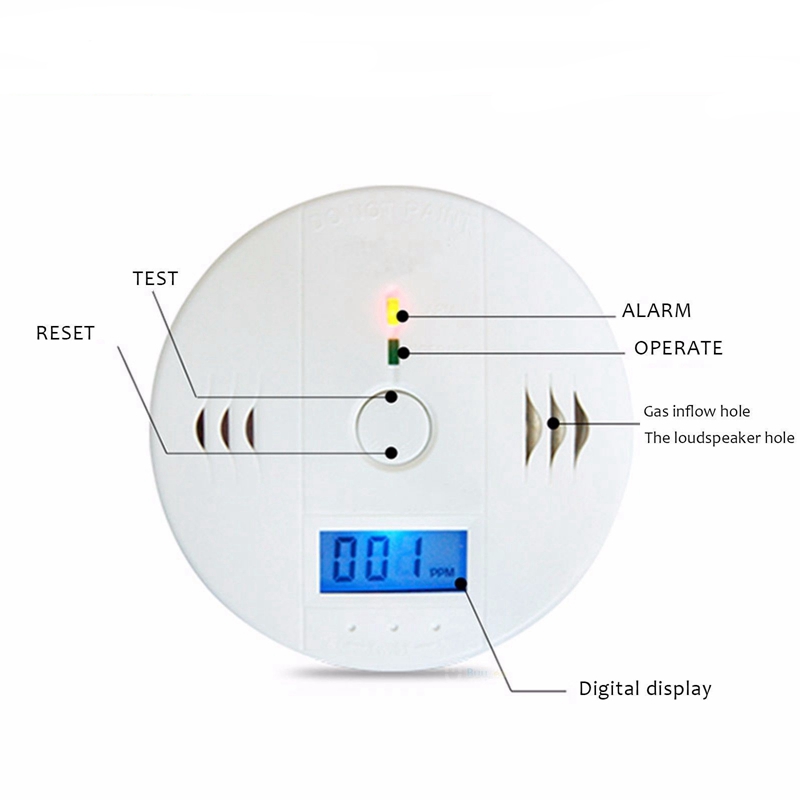 More about the lights and buttons:
Green LED: The green LED flashes every 30 seconds to indicate the unit is operating properly.
Red LED: When a dangerous level of carbon monoxide is detected, the red LED will flash and the alarm pattern will sound.
The CARBON MONOXIDE (CO) alarm monitors the air to determine if there is a presence of CO. The alarm will sound and be accompanied by the flashing red LED light when there are high levels of CO present.
CAUTION: This alarm will only indicate the presence of monoxide at the sensor.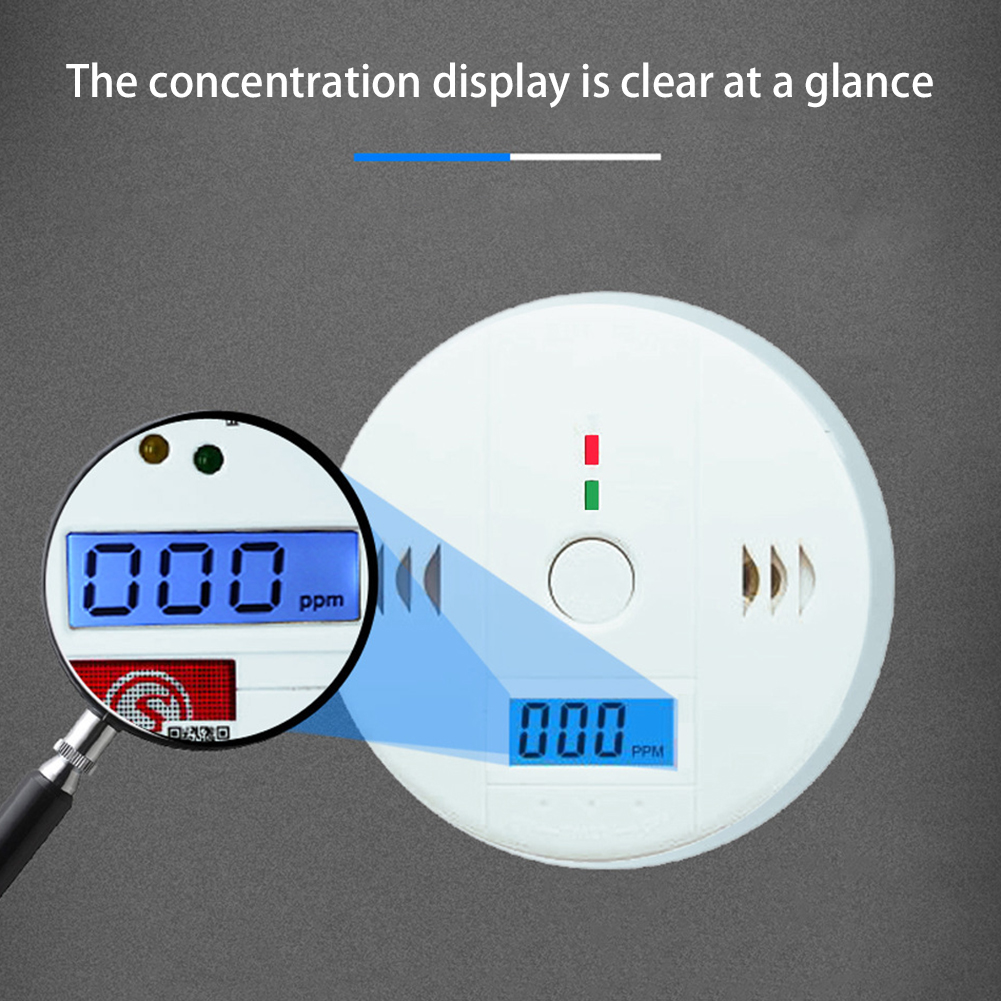 Specification:
Working voltage: 4.5(V)
Alarm current: 10 (mA)
Detection angle: 360
Quiescent current: 50 (uA)
Working temperature: -10~50 (℃)
Power Supply: 3 AA size 1.5V batteries(not include)
Sensitivity & Time: 50ppm, alarms within 60~90 minutes; 100ppm, alarms within 10~40 minutes; 300ppm, alarms within 3 minutes
Standby Current: <50Ua (without LCD);<200uA (with LCD)Alarm Current: <75mA
Operation Ambient Condition: 5~40°c, 20~90%R.H.
Package Includes:
1 x Carbon Monoxide Detector
1 x User Manual