A Must-Have For Anyone Who Loves Cooking With A Variety Of Seasonings And Creating Flavorful Dishes At Home!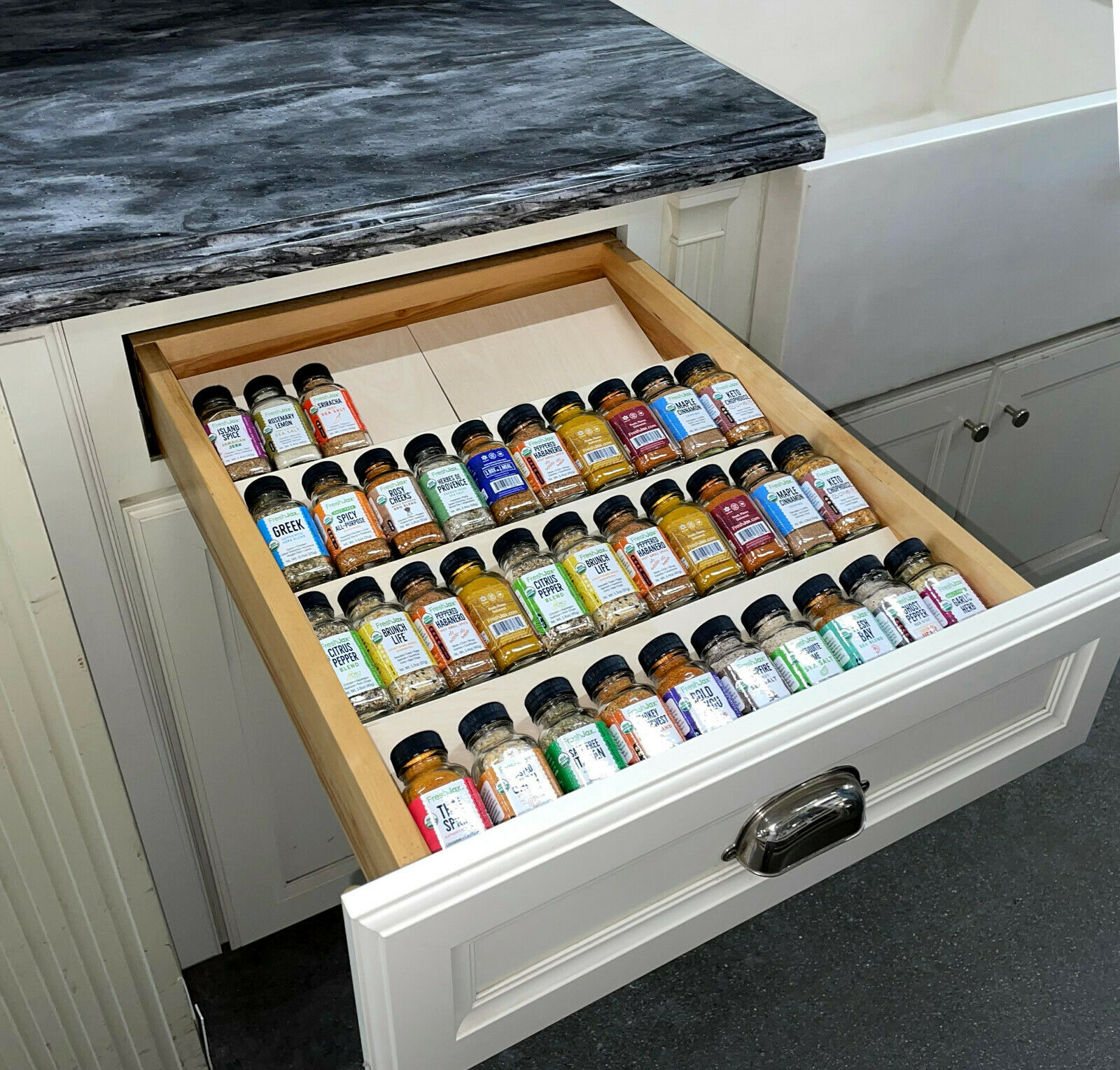 Organize Your Spices With The Crate Kitchen Natural Wood 4-Tier Spice Rack Organizer Today!
These multi-purpose racks are ideal for organizing seasoning bottles, medicine bottles, herbal medicines, and other daily-use bottles. Pop them into your kitchen drawer, cabinet, pantry, or countertop to store bottles, keeping them in plain sight and within easy reach.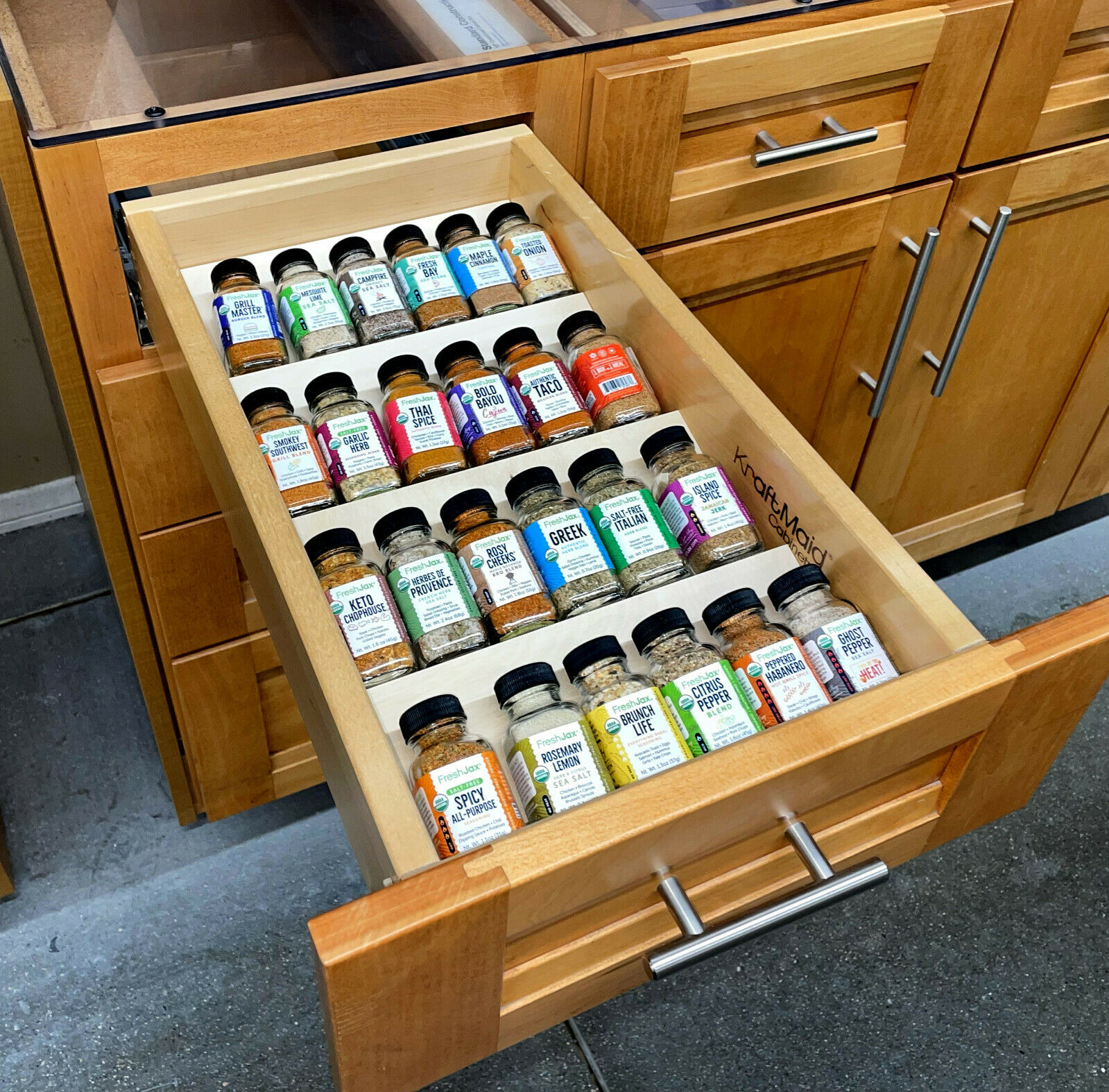 Get The Perfect Size For Your Drawer
Choose between 2 size options that will fit standard kitchen drawers.
 10″ WIDE x 19″ DEPTH DRAWER – There are 4 wood trays measuring 10″ width x 4.75″ depth x 1.5″ height each.
16″ WIDE x 19″ DEPTH DRAWER – There are 4 wood trays measuring 16″ width x 4.75″ depth x 1.5″ height each.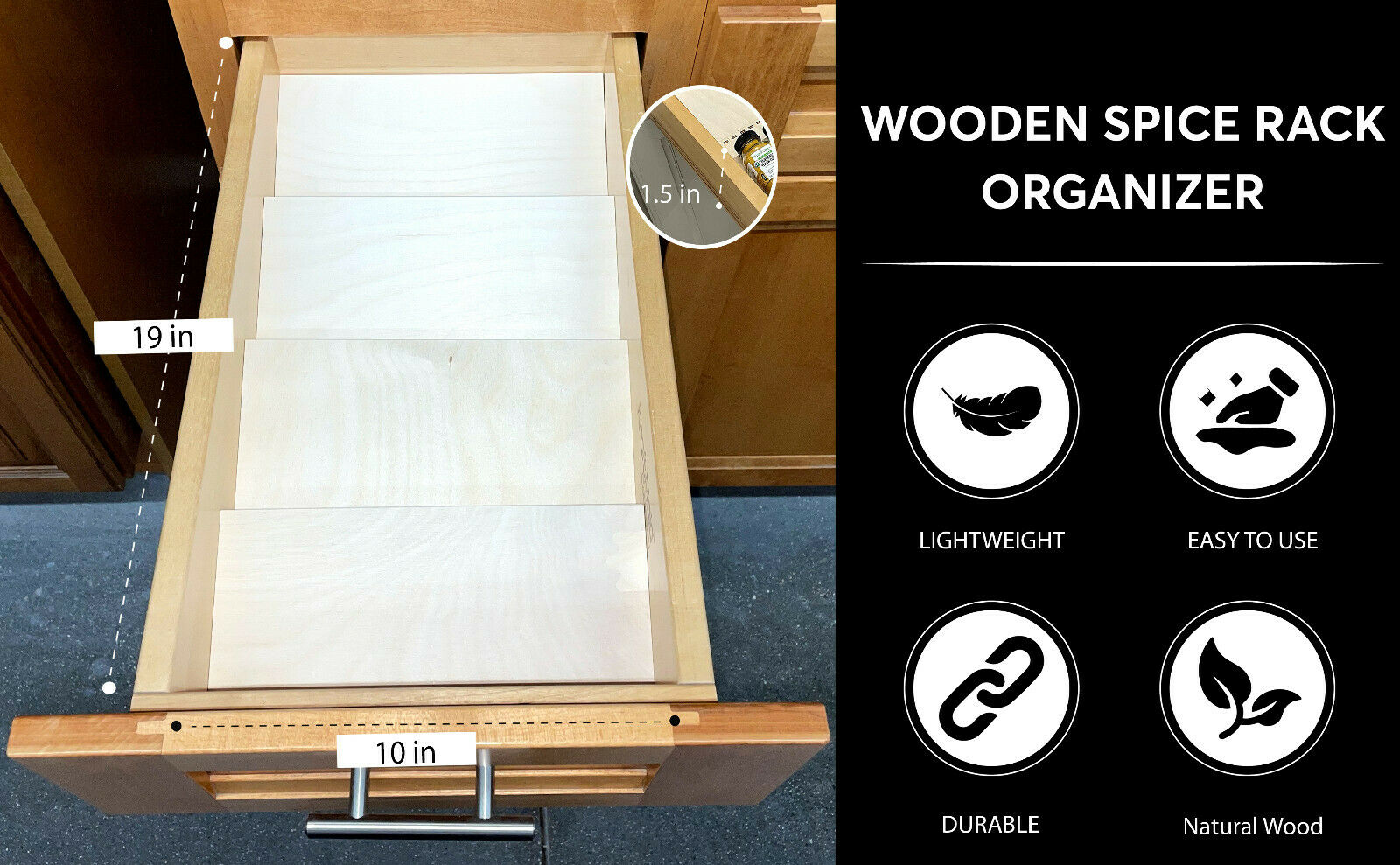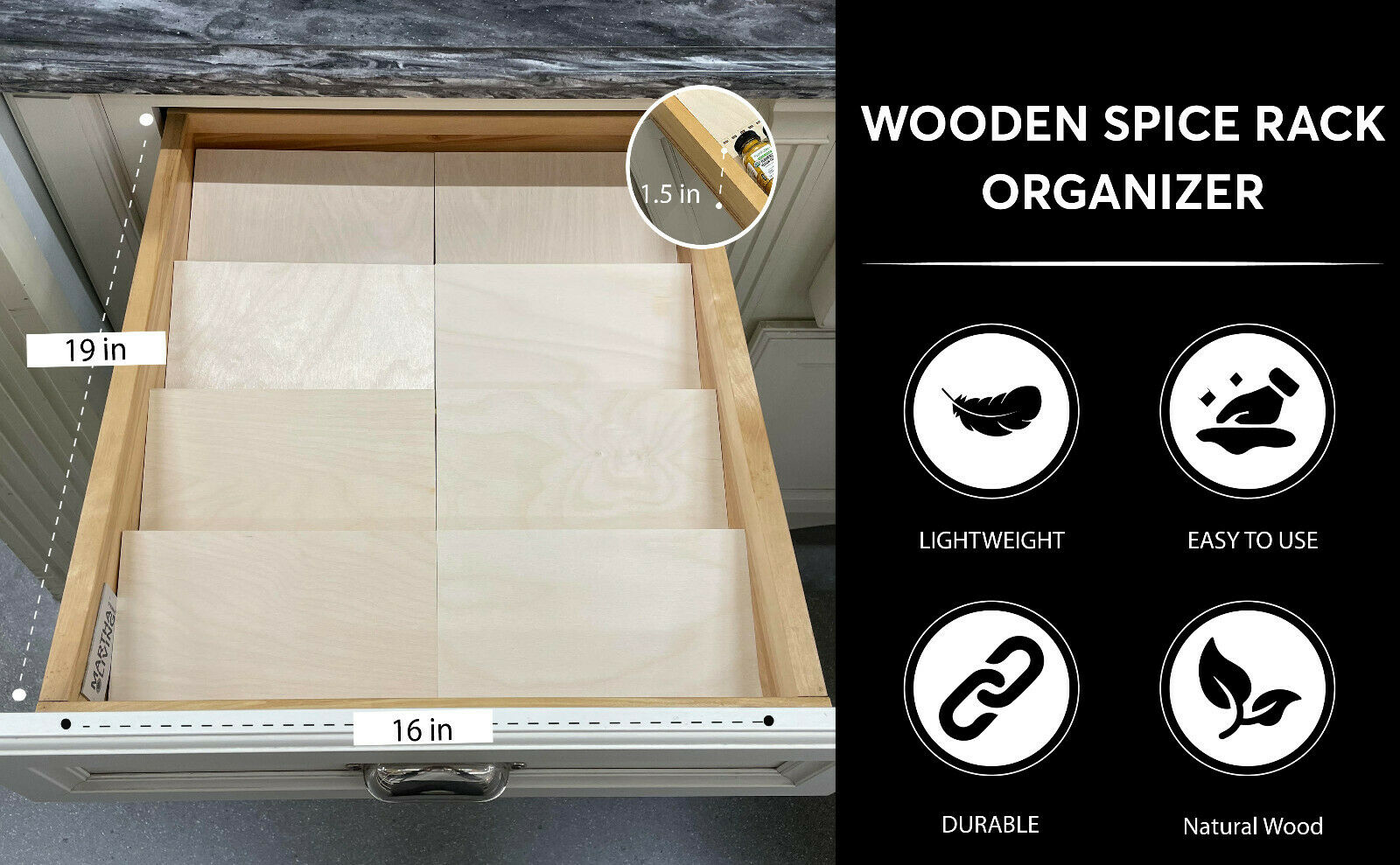 Product Features
MULTI-PURPOSE BOTTLE ORGANIZER. Choose between our 10×19″ rack for 24pcs 2oz bottles and 16×19″ rack for 40pcs 4oz bottles. Store and organize standard size spice jars, seeds, herbs, vitamins in your kitchen, or even makeup, nail polish, and perfume bottles in your vanity.

No ASSEMBLY is required.

4- TIER LARGE CAPACITY. This design provides plenty of storage space for your kitchen with slanted levels making it quick and easy to read the labels on spice bottles. Place it in kitchen drawers, pull-out cabinets, pantries, shelves, cupboards, or countertops.

HIGH-QUALITY FARMHOUSE STYLE. Simply place it into a kitchen drawer and put your favorite spice in. No ASSEMBLY is required. You can also use it anywhere else around the house as it fits most standard-size drawers.

PROUDLY MADE IN USA. Unlike acrylic plastic organizers, our spice rack is handcrafted with quality natural wood in our Los Angeles warehouse and will not easily crack, warp, or splinter. All materials are lightweight, eco-friendly, durable, and safe for food.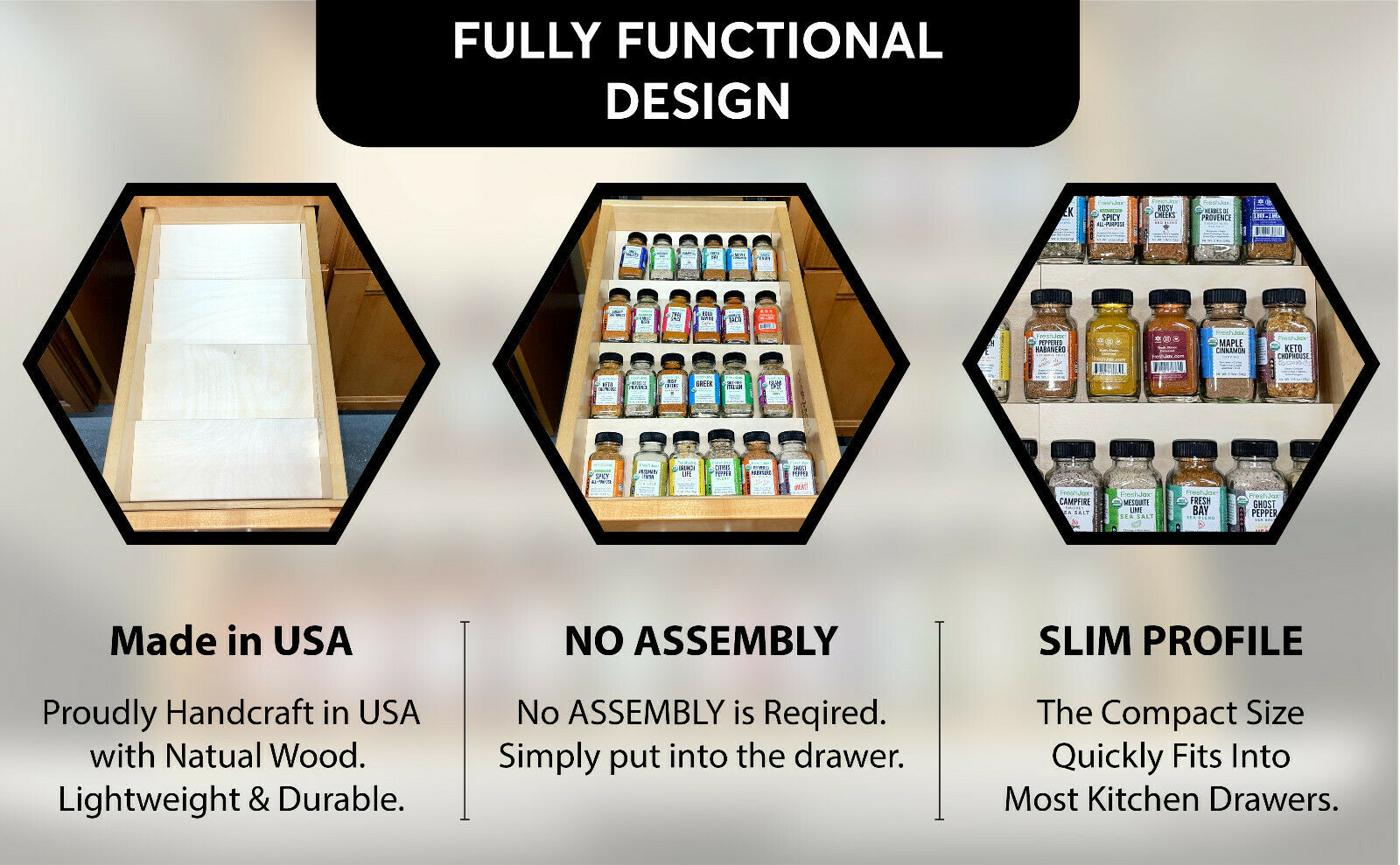 Product Specifications
Material: Wood
Number of Tiers: 4
Color: Natural
Dimensions: 10″x19.2″; 16″x19.2″