The All-in-One Baby Play Mat That Will Entertain and Educate Your Little One with its Hanging Toys, Cotton Book, Rattles, and Cotton Teething Toys!
Introducing the perfect playtime companion for your little one – the CooCharm Baby Play Gym! This baby-friendly, and expert-designed baby play mat is specially designed for newborns and infants up to 24 months old, and comes with 5 fun hanging toys and 18 colorful ocean balls to keep your baby engaged and entertained.
Made from lightweight foam, the CooCharm is easy to set up and move around, and the soft cotton base ensures your baby stays comfortable while playing. The play mat is well cushioned, making it super safe for babies to play on.
Plus, the mat is washable, making it easy to keep clean and hygienic.
With this CooCharm baby play mat and play gym, your baby will have a safe and stimulating environment to explore and develop their sensory and motor skills. Order now and give your little one the gift of playtime fun!
CooCharm Baby Play Mat Features
??Rated as one of the best baby play mats according to baby care experts! ?
Keep your little one safe and entertained with the newest version of the innovative CooCharm Baby Play Mat! Featuring a 14cm height mesh fence design, this play gym is suitable for babies of all ages, from newborns to toddlers.
??Comes with fun and educational toys that will help educate and entertain your baby in so many ways. ?
Packaged with toys including a cotton book, rattles, and teething toys. These toys are easily detachable and can be arranged to suit your baby's preferences.
??Play Mat is Padded and the Supporting Bars Are Secured — Super Safe for Your Babies! ?
This play mat is not only safe but also super soft and comfortable for your baby to lie on. The padded base has extra cotton filling and is washable for easy maintenance.?The 2 lightweight supporting bars are made of EPE foam, ensuring they won't collapse while in use. And with all materials being harmless and odorless, you can trust that your little one will be protected while using this play mat.
??The Overall Design and Package are Curated by Baby and Child Educators?
Help your baby develop their senses with the CooCharm Baby Play Mat's included toys, which are designed to promote various aesthetic and cognitive features. And with 18 colorful ocean balls also included, your baby will never run out of things to discover and play with.
??Great Gift for Parents and Caregivers Who Want a Safe Way to Entertain Babies?
This play mat is a perfect gift for any parent or caregiver looking for a safe and fun way to entertain their little one.
This play mat is suitable for babies of all ages, from newborns to 24 months old. Whether your baby is just discovering the world around them or is already climbing and grasping, this play mat will provide a safe and stimulating environment for them to play and explore.
??Perfect Play Mat to Babies Ages 0-24 Months!??
All toys are detachable and the option to change the hanging toys, you can easily adapt the play mat to your baby's evolving interests and capabilities.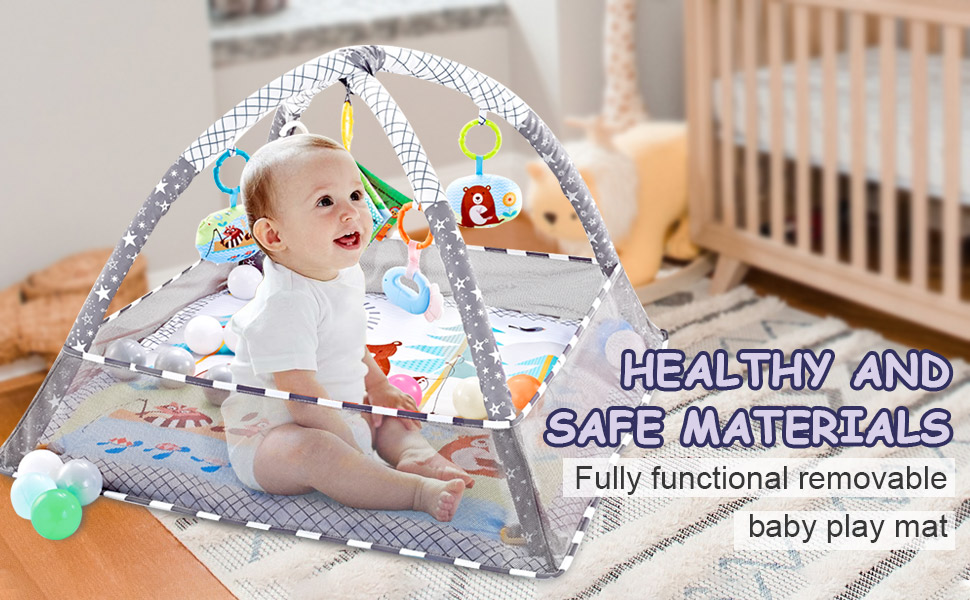 Play Mat for All Ages:
0-6 Months??Lying Down, Exercises baby's limbs through constant kicking and stretching

6-12 Months??Lying On Stomach, The attraction of toys can exercise baby's crawling ability

12-24 Months??Sitting On the Mat, Help baby's hand muscle development, arm strength and hand coordination

Specification
Color: Gray
Size: 31.5″??31.5″??21.6″
Ocen Balls: 18