Have you ever sit in front of your laptop, working for long hours, feeling pain in your neck and back? Or are you looking for a solution to get rid of the bad posture while using a laptop?
Well, no matter what your reasons are, it's time to change the way you work and experience the comfort with BusyLad. It's the perfect choice to help you maintain good posture while finishing up your assignments and tasks. Whether it's to upgrade your home office or make working conditions at home more suitable, the BusyLad is your partner. With its unique design and adjustable fixtures, you can achieve that perfect posture every time.
Now is your chance to say "NO" to annoying neck pains and boost your productivity with the BusyLad. Host a better working environment for you, so great ideas will continue to come your way.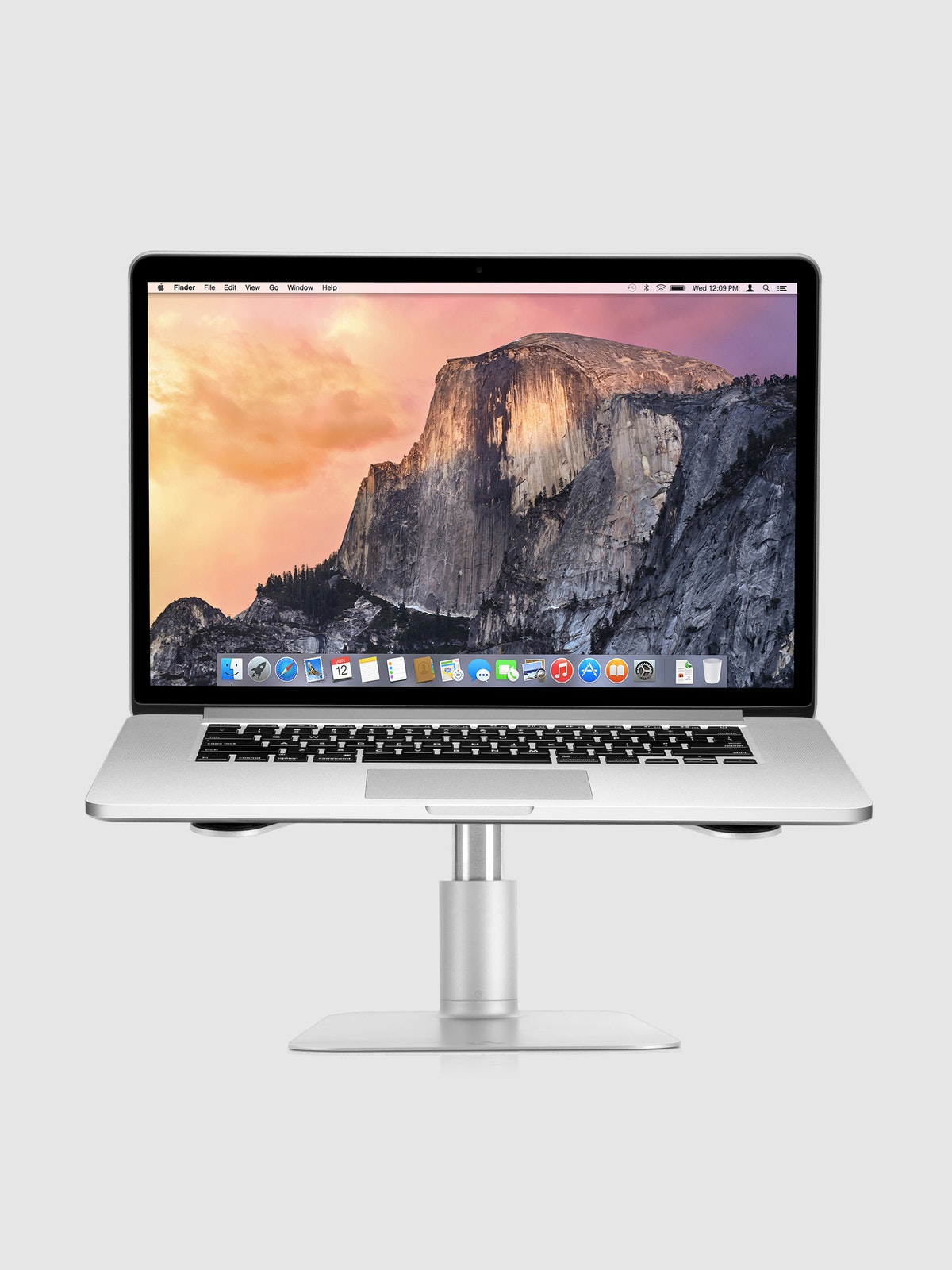 Why Choose the BusyLad?
The BusyLad is the upgraded version of your traditional laptop stand. It's made of aluminum alloy that creates a durable and stable stand and a unique and modern aesthetic. It rotates up to 360-degrees and is 100% height-adjustable to cater to every sitting or standing position at work. This ergonomically designed laptop stand will surely make every day's hustle a breeze. It's the perfect addition to your home/office setup to host a better and comfortable working condition.
Features:
Adjustable and rotatable up to 360-degrees
Anti-slip design both on the holder and bottom stand
Cylindrical stand for better durability and stability
Made with aluminum alloy for a stronger and nicer aesthetic
Ergonomically designed to cater to every sitting and standing working position
Excellent heat dissipation and cooling support to prevent overheating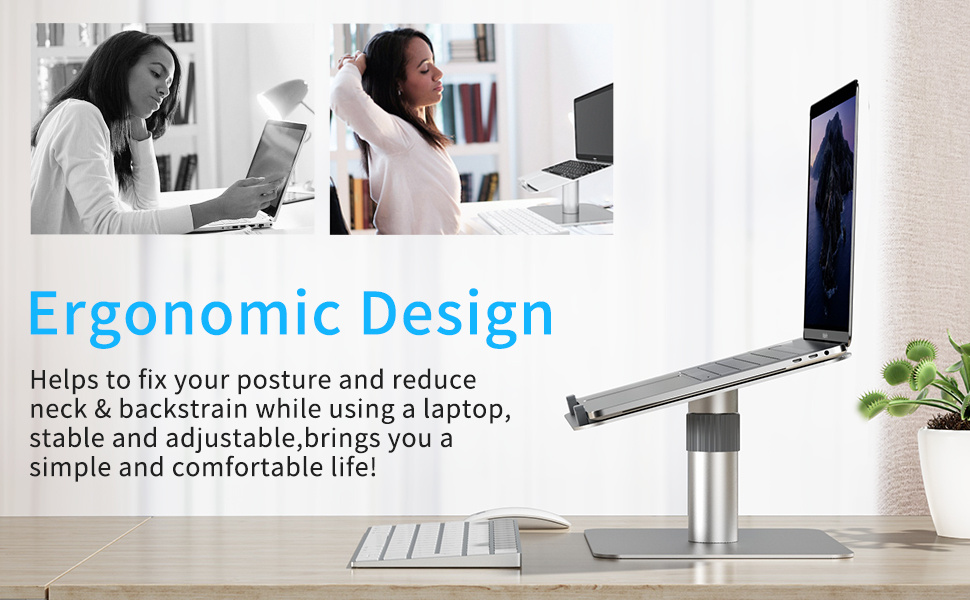 Height Adjustable & 360-Degrees Rotation
The BusyLad Upgraded and Adjustable Laptop Stand can be adjusted from 155mm/5.7inch to 205mm/8.1inch (50mm height adjustable). It offers a perfect eye-level position at a 15° fixed view angle. As mentioned, it's ergonomically designed to suit every working condition, whether standing or sitting, to reduce soreness of the back and neck and make your work more comfortable! The rod attached to the base can rotate 360-degrees to enable you to swivel the laptop to any angle you want.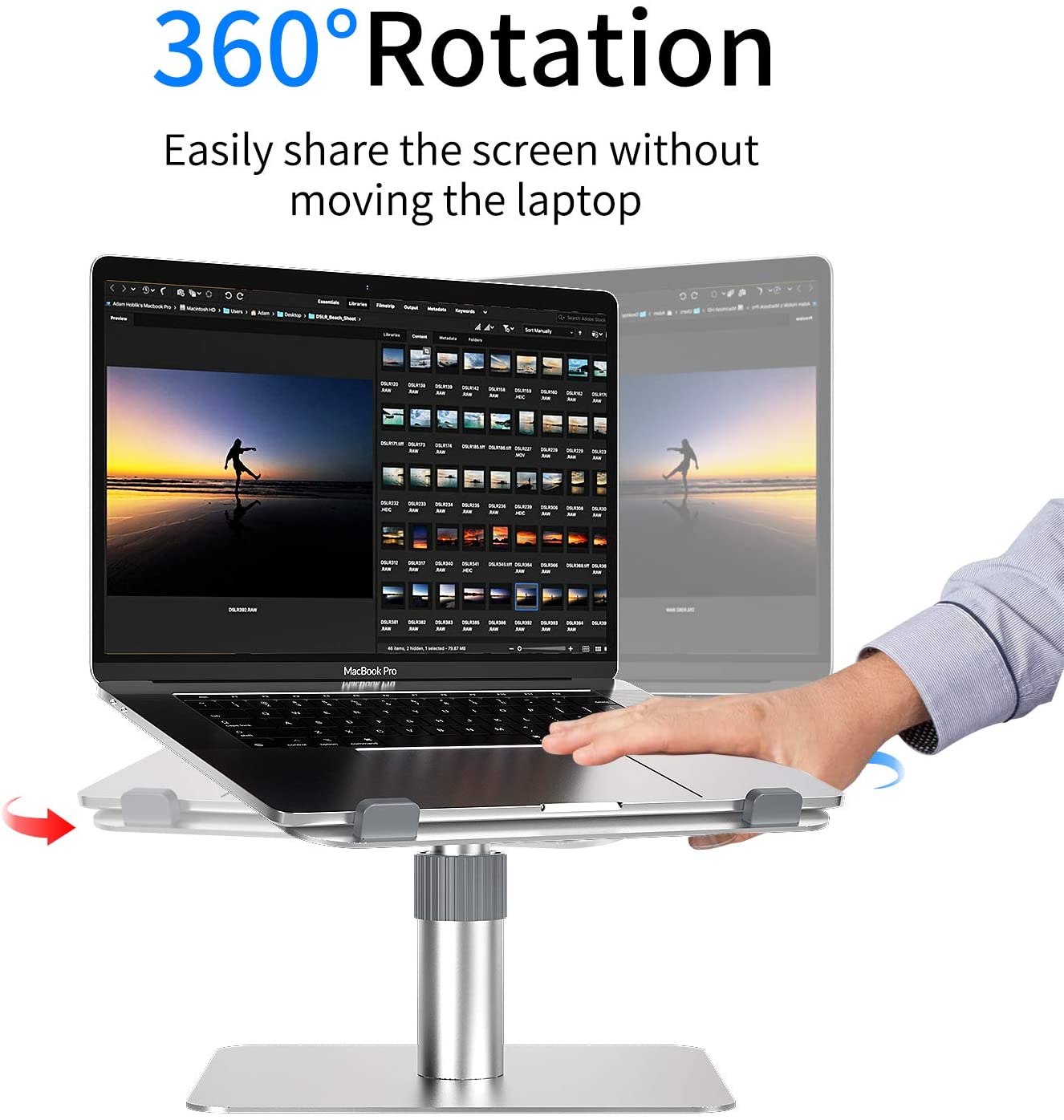 Sturdy & Protective
The BusyLad is made of premium Aluminum alloy. It is sturdy, supports up to 9.9 lbs(4.5kg), and creates a wobble-less fixture. The rubber on the holder's hands sticks tightly to ensure your laptop stays on the stand and prevents any scratches. Plus, the rubber feet come with a silicone anti-slip design that adds extra protection and sturdiness to prevent the stand from slipping on your desk.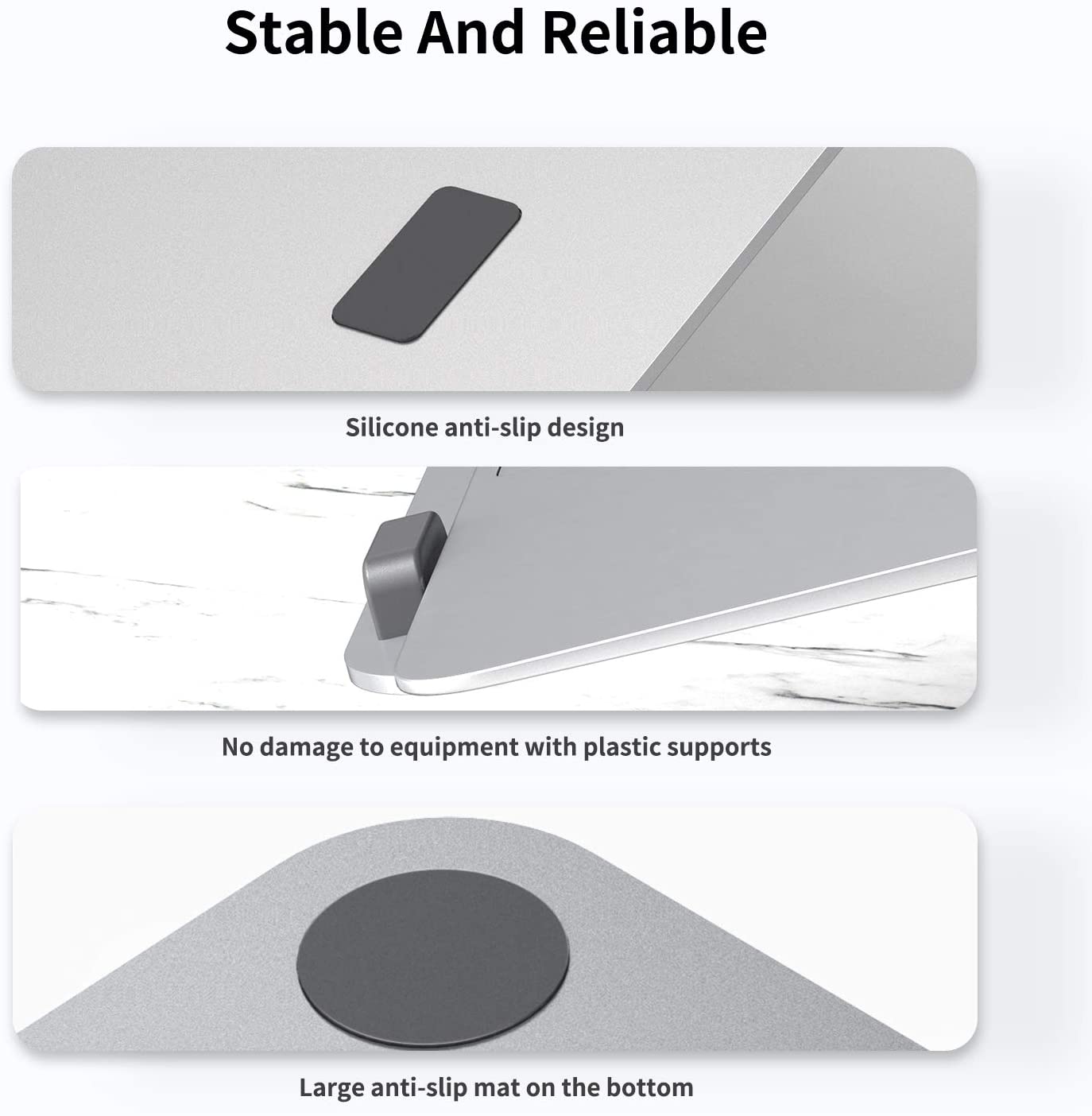 Cooling Support & Space Saving
The support plate of the BusyLad has 36 hollow holes at the bottom to reinforce a better ventilation structure to allow more space for heat dissipation. Combined with aluminum thermal conductivity, the heat dissipation effect improves your laptop's battery life and prevents it from overheating. In addition, you can organize your office items such as your keyboard and mouse under the laptop stand for a clean and neat workstation.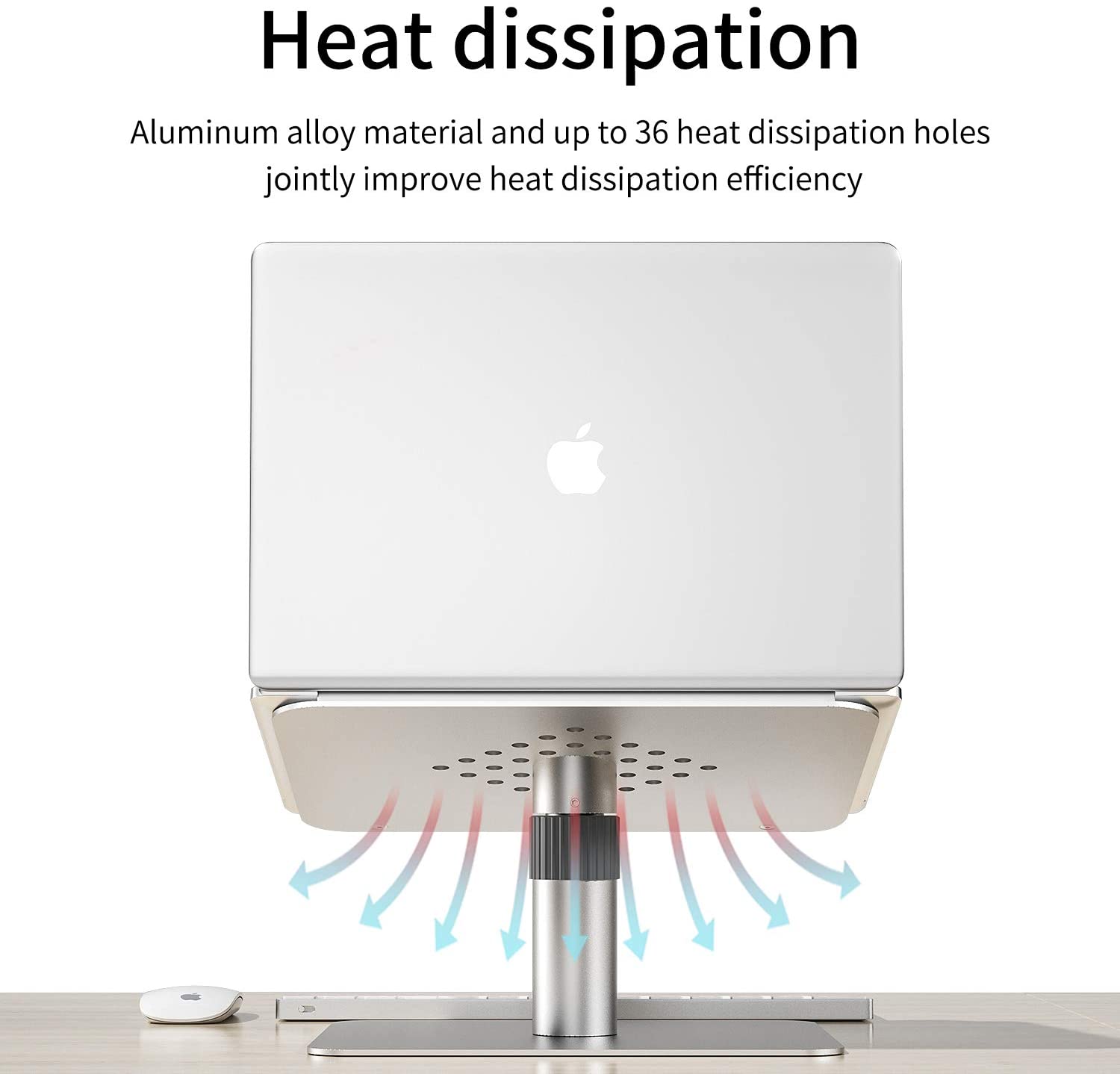 Wide Compatibility
The laptop stand holder fits all tablets and laptops up to 17'' such as Mac MacBook Air Macbook Pro, Microsoft Surface Google Pixelbook, Dell XPS HP ASUS Lenovo Acer Chromebook, and more 11inch – 17inch laptop notebooks. (Note: The height of the front stop is about 15 mm/0.5 inch, the laptop which is over than that thickness may not fit)