You Can Now Make Your Favorite Blended Goodies On-the-Go!
Are you working towards living a healthier lifestyle by improving your food choices? The BlendoBest can help!
Are you trying to take the healthier route when it comes to your food choices? Have you finally decided to make some of your favorite drinks instead of buying them from a store? Now you can make healthy food – on the go! – with the BlendoBest!
Health buffs, food lovers, and those who are big fans of convenience will love the BlendoBest portable smoothie maker. It is handy, effective, and makes reaching your healthy food goals easier.
Powered by a new and improved with high-rotation technology, the BlendoBest is your new partner to help you eat cleaner, and become healthier.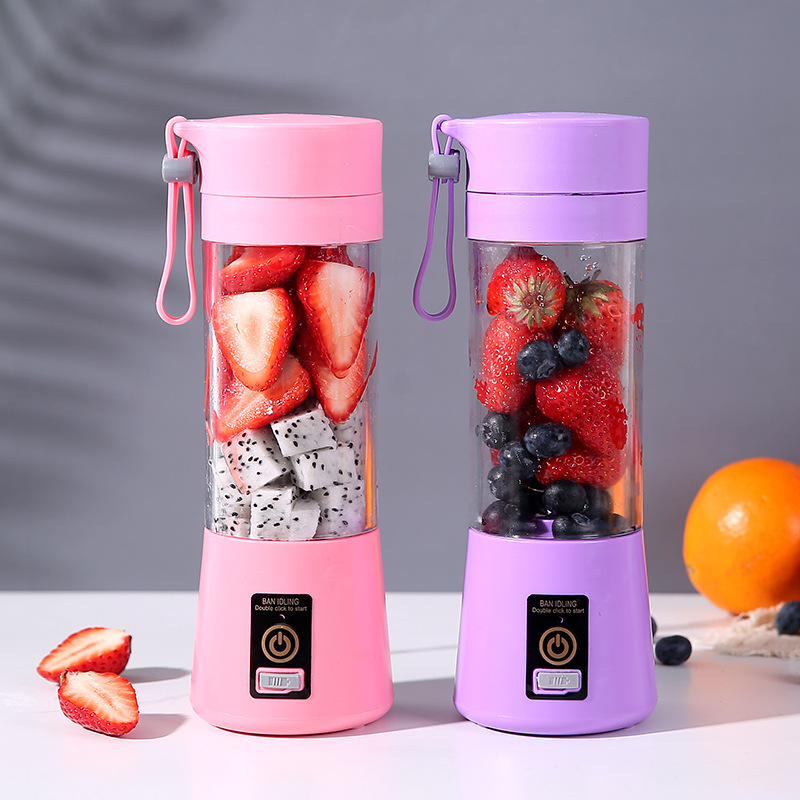 BlendoBest Features
Powered by a new and improved motor system. BlendoBest is designed to grind ingredients in just 30 seconds. This portable blender comes with a 7.5 v motor that works at 18000 rotations per minute. It only takes less than a minute to achieve the perfect consistency for your protein shakes, fruit shakes, and dairy drinks.
Includes 6 blades to help grind and blend ingredients fast.  You will get 6 blades working together to turn your ingredients into a fine drink. You can be assured you won't get any clump in your drink.
Portable design that's easy to fit in bags! The BlendoBest only weighs around 5oo grams. It is easy to place inside your office bag, gym duffle, and in your travel backpacks.
Comes with simple operations – just one touch of a button. No complicated processes involved – all you need to do is touch the power button and it will automatically do the blending.
Rechargeable portable blender with long-lasting battery. When charged fully, this blender can last for 4 hours.
Why BlendoBest?
Smoothies On The Go
Take your nutrient-rich fruit and vegetables, plus protein-filled yogurt and milk smoothie delights to the next level with our easy-to-use BlendoBest. It is constructed with a safe insurance framework that keeps the blender from operating when the body and base are separated.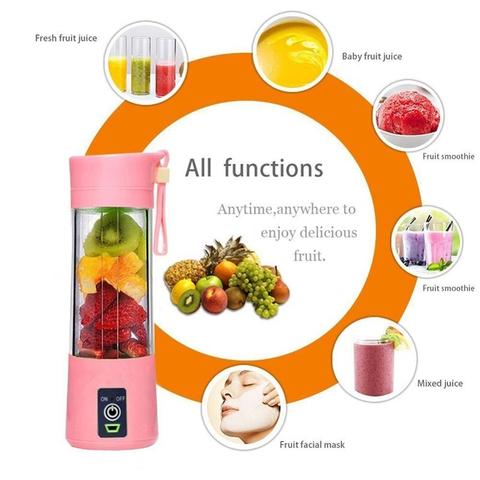 Built to be Powerful
Built with 6 blades that are made from 304 stainless steel, powered by a 2000mAh Lithium battery with a USB 5V powered DC 7.4V motor. BlendoBest can conveniently blend fresh ingredients of your healthy concoction effortlessly in less than 2 minutes as the blade rotates at 22000 rpm. Enjoy up to 10-12 cups of 13oz blended goodness when fully charged.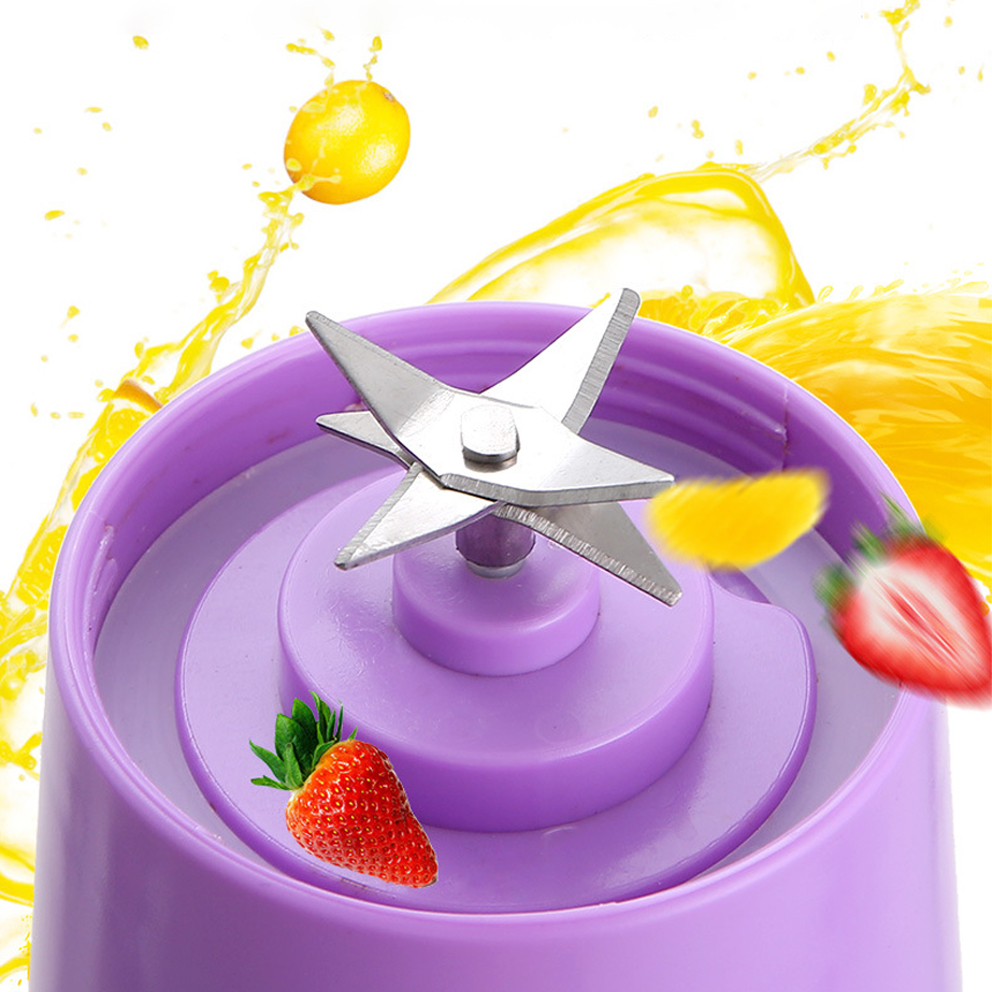 Built-in strainer
BlendoBest  also features a built-in strainer to help keep your beverages chunk free.
Convenient & Versatile
Whether at work, exercise center, trips, or any outdoor activity, you can conveniently bring this lightweight blender anytime and anywhere. Aside from utilizing BlendoBest essentially for shakes and smoothies, you can also use it for infant food, marinades, and mixed greens dressing. Note: It is recommended to cut fruits in 2 cm size before blending.
Quick & Easy Blending
BlendoBest meets all your blending needs! From whipping up some much-needed power smoothies to refreshing thirst-quenchers, your daily beverages are now made easy with a simple push of a button. The clean up is super easy thanks to its detachable design allowing you to separate the body and base for a thorough wash. Pour a cup of water inside, blend for a couple of moments, dump the remaining water then store.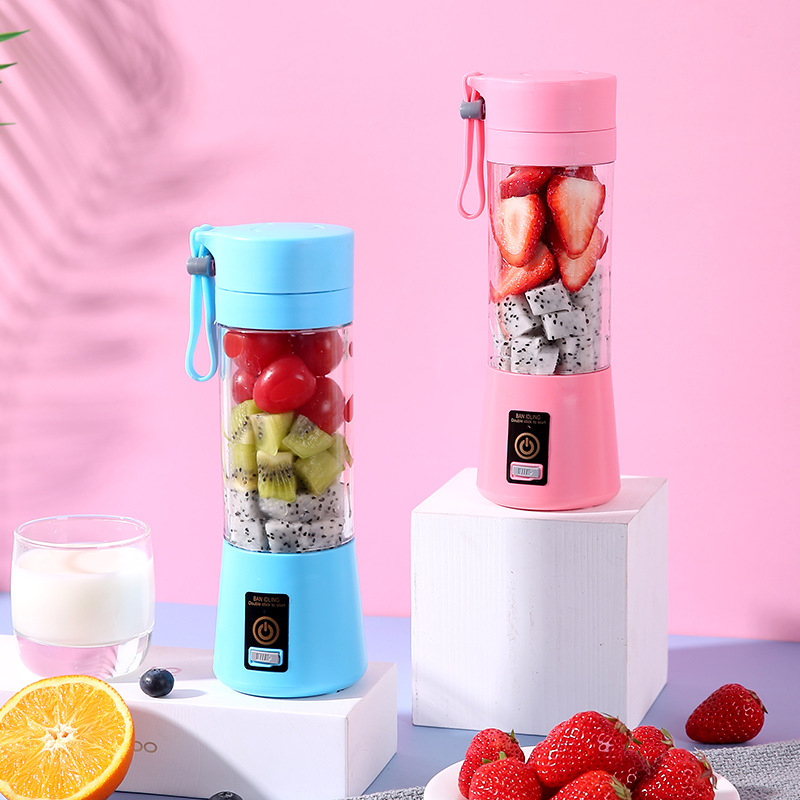 When you get your blender, please pay attention to the following tips:
Don't put your hands inside your blender or try to touch the blades.
Don't use your blender when charging or run your blender without anything inside.
Don't recommend hot liquids over 50 degree which will be easy cause damage or leakage.
Charge your blender before your first use. The lights turns red while charging and blue once full charged.
Recommend cutting your fruit or other ingredients into small chunks. Always start by adding a liquid such as water or milk.
You can blend ice. Make sure your blender with sufficient liquid inside first, and that your cubes aren't too large.
Red and blue flashing lights mean your jar isn't aligned with your base. To fix this, the arrow on the jar should line up with the switch on the base.
Red flashing lights mean your blender needs to be recharged or that your blades are blocked. Recharge or shake your blender.
Specifications:
Product capacity: 380ml
Number of blades: 6
Color: Purple / Pink / Green / Blue
Packcage Include
1*smoothie maker
1*USB cable