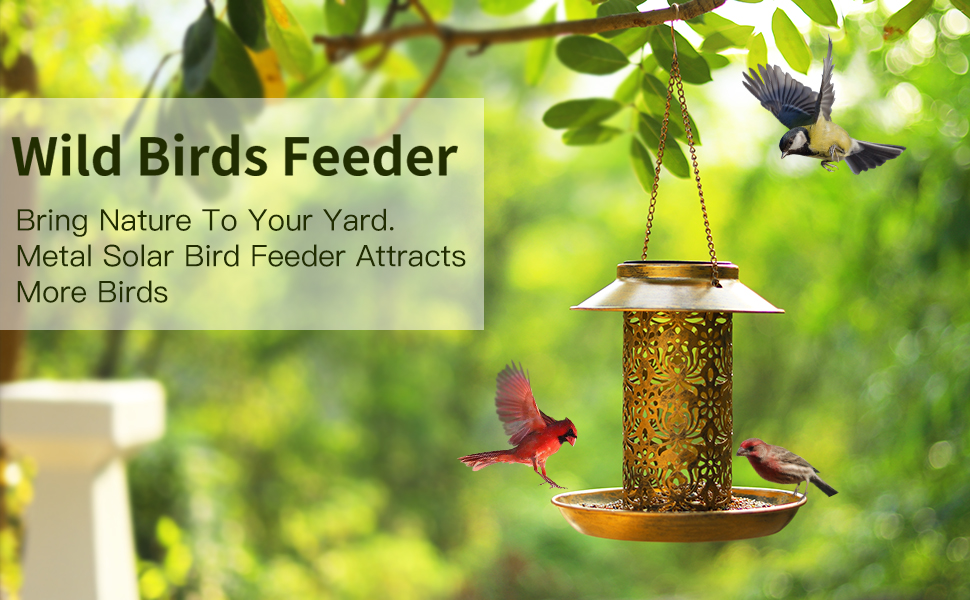 Make Wild Birds Feel at Home.
The Bixolar Outdoor Bird Feeder is designed not only to make your garden stand out but also create the best place for wild birds to hang out. With its beautiful nature patterns and solar-powered warm light, it harmlessly attract birds to play around in your outdoor landscape and create the perfect scene.
Designed to keep seeds fresh and the unit 100% bird-friendly.
The Bixolar Bird Feeder is made of heavy metal with sun, rain, and anti-rust resistance to ensure it stays in service for all birds visiting your garden regardless of whether it rains or shines. The open-type, nature-patterned tube also helps keep bird seeds fresh all the time and allows you to conveniently see if the unit needs refilling.
Perfect for outdoor with its rainwater outflow design and easy-to-hang feature.
With Bixolar Outdoor Bird Feeder, you'll never have to worry about rain damaging all the bird seeds you've prepared. The design of this bird feeder repels rainwater and protects birds and seeds from getting soaked. And at night, it comes with a solar-powered lantern that illuminates your garden with its warm and cozy light that provides warmth not only for you but also to all the wild birds hanging in your garden.
Excellent equipment to add to your birdhouse.
Our built-in hooks make this bird feeder easy to hang anywhere. You can even use the Bixolar as your birdhouse's personal light to make the night less dangerous for your bird pets. Hang this bird feeder directly near the yard or your birdhouse, open the top to fill the tube feeder with bird seeds, and watch wild birds enjoy your company. You can also easily wash and dismantle the device with water and soap to keep it hygienic for birds to use.

Not just a bird feeder but also a shelter.
The "lock" on the top prevents water from entering and keeps bird seeds, and wild birds dry all the time. The hole reserved at the bottom allows the container to dry quickly, which helps maintain the food's freshness. When it rains, birds can shelter themselves from the rain under our wild bird feeders so that they feel protected and secure all the time.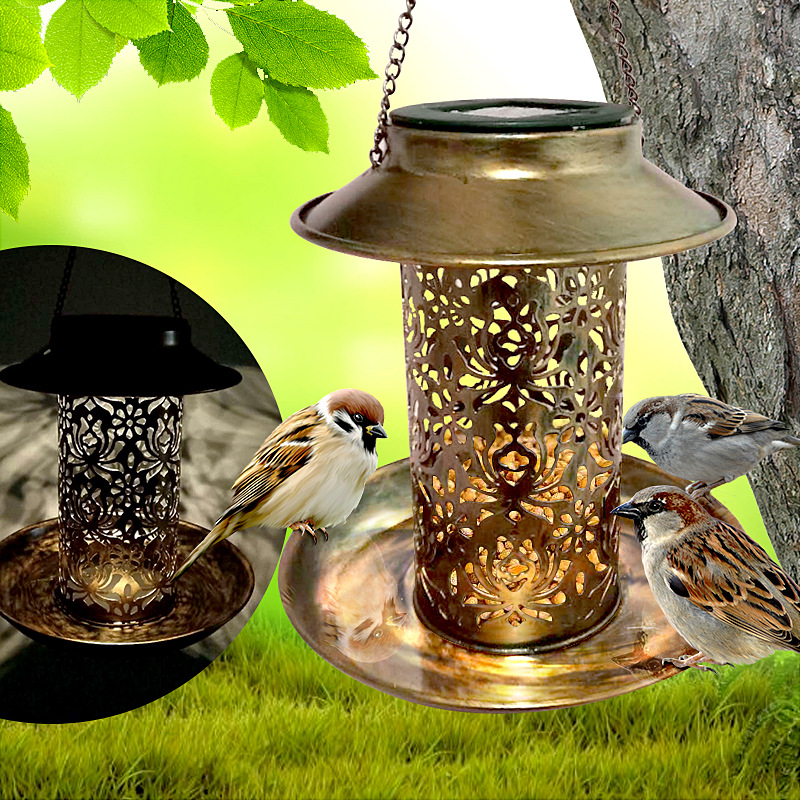 Features:
Large Bird Feeder Design (7.5 x 7.5 x 7.9 Inches)
Moisture-Proof Drainage Hole
Metal Design Durable, All-Weather Design
Great Gift For Children, Bird lovers, The Elderly, Pet Owners, And Nature Lovers
Can Hold 2 Pounds of Bird Seed
Easy to Clean Design (Washable)
Including a Top Bird House Cover to Protect Birds From Rain and Snow
Bird Feeder During the Day And a Beautiful Solar Lantern at Night

Enjoy Bixolar's built-in solar lantern
Not just a bird feeder but also an excellent garden decor. You can spice up the beauty of your garden with this bird feeder and watch as the warm and cozy light illuminate a portion of your garden with birds hanging around in the background—a perfect piece of equipment that all bird lovers will appreciate.
Notes: Please press the ON button on the top for the first time use.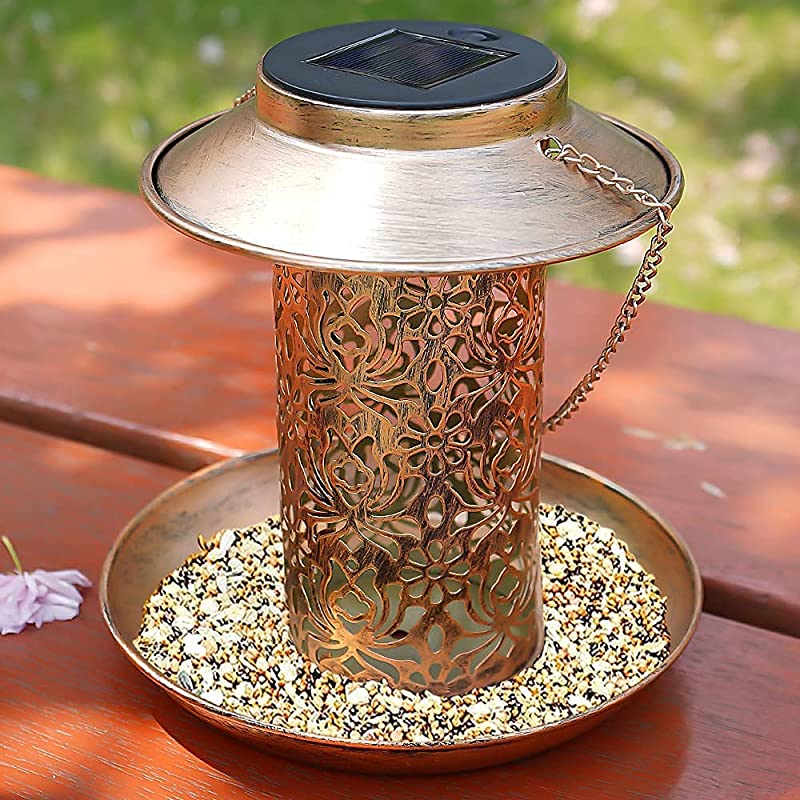 A cap on the top to protect the birds from rains and snow.

The hanging bird feeder will come with a complimentary steel cord if the iron chains break off.

Hollow-out natural patterns

With the hollow-out natural patterns, you will find that the birds are obsessed with this feeder.

Easy to add

Hold up to 2 pounds of seeds,We have a video explanation in the Q&A.