Our 8Breads Bread Maker Machine allows you to bake at home with ease and style. Yes, anyone can become a master baker! With 8Breads, enjoy your bread-making with your kids, family, or friends.
8Breads Main Function:
This bread maker machine has 25 menus including basic, french, whole-wheat, sweet, gluten-free, quick, cake, dessert, rice bread, cornbread, purple rice, brown bread, porridge, sticky rice, mix, dough, knead, rice wine, yogurt, jam, defrost, stir-fry, ferment-bake, bake, and homemade.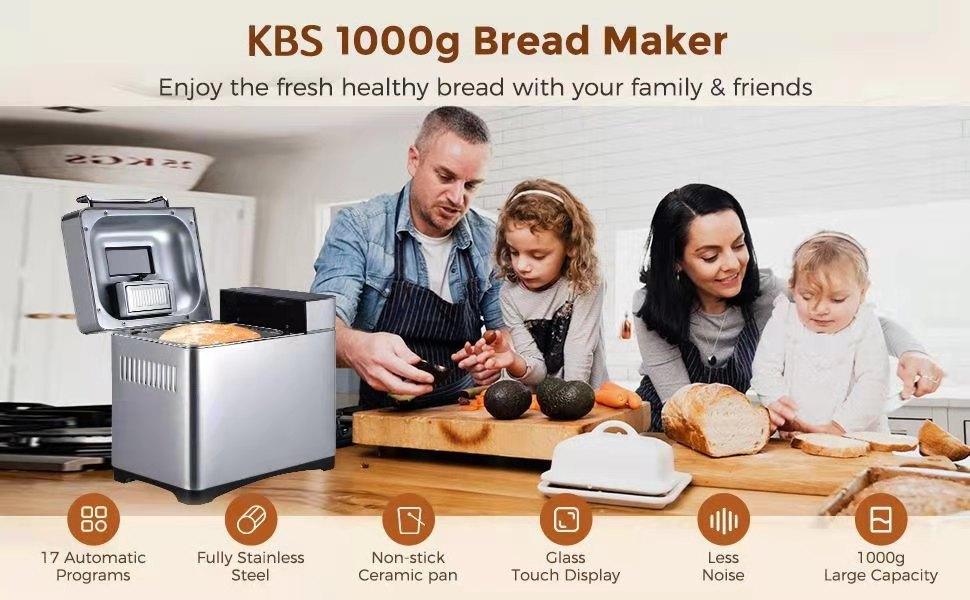 Features: 
【17 Customized Automatic Programs, 2LB Large Capacity】 The 8Breads Bread Maker has 3 crust settings: light, medium, or dark crust. It comes with different loaf capacities from 1, 1.5, and 2 lb. It also has 17 programs to choose from (QUICK BREAD, WHOLE-WHEAT, GLUTEN FREE, JAM, etc.)
【Intelligent Fruit and Nut Dispenser, Unique Non-stick Ceramic Pan】The detachable fruit nut dispenser releases the ingredients automatically at the optimum time. The Ceramic Pan is designed to evenly bake the bread and allow much healthier baking without the need for chemicals.
【Intuitive Digital Touch Panel Control, 15H Timer, 1H Automatic Warm-keeping Function】Intuitive touch-pad control is easy to use. You can choose from a 15-hour Delay Timer, 1-Hour Automatic Keep Warm, 15-minute Power Interruption Recovery to help you make fresh and delicious bread anytime.
【Sleek Stainless Steel Design for Healthy Freshly Baked Bread at Home】The attractive, sleek stainless steel design and tempered glass cover blend well with any kitchen décor. This Homemade Bread Make makes your morning or evening bread tastier and healthier (fresher & no chemicals).
【Superior Construction Design 】Our 8Breads Break Maker will make bread-making a fun activity with your kids. Its large viewing window offers you a full view of the process, and its unique, quiet AC motor-less noise delivers comfort while you prepare bread for breakfast, lunch, and dinner.
25 Multiple Menus
Our 8Breads Bread Maker comes with multifunctional support. It has 25 menus, including french, whole-wheat, sweet, gluten-free, cake, dessert, rice bread, cornbread, purple rice, brown bread, sticky rice, knead, yogurt, jam, stir-fry, ferment-bake, etc.

Timer & Delay Baking
This cheap bread maker has a 15-hour programmable that allows you to time, delay, and set accordingly. The Timer functions like how it is usually used in the kitchen—to ensure your food is perfectly cooked before serving them. The Delay feature enables you perfectly make those nice and warm loaves or other kinds of bread that require delayed baking. Meanwhile, the set function gives you the ability to serve fresh-baked bread according to your schedule. Our 8Breakds comes with a 1-hour Keep Warm and 15-minute Power Interruption Recovery that allows you to come home or wake up to the savoriness of a freshly baked loaf.
Powerful Motor Machine
The 8Breads Bread Maker Machine comes with a 600W powerful motor that is more stable, stronger, and works long. Great for your daily bread-making with your family.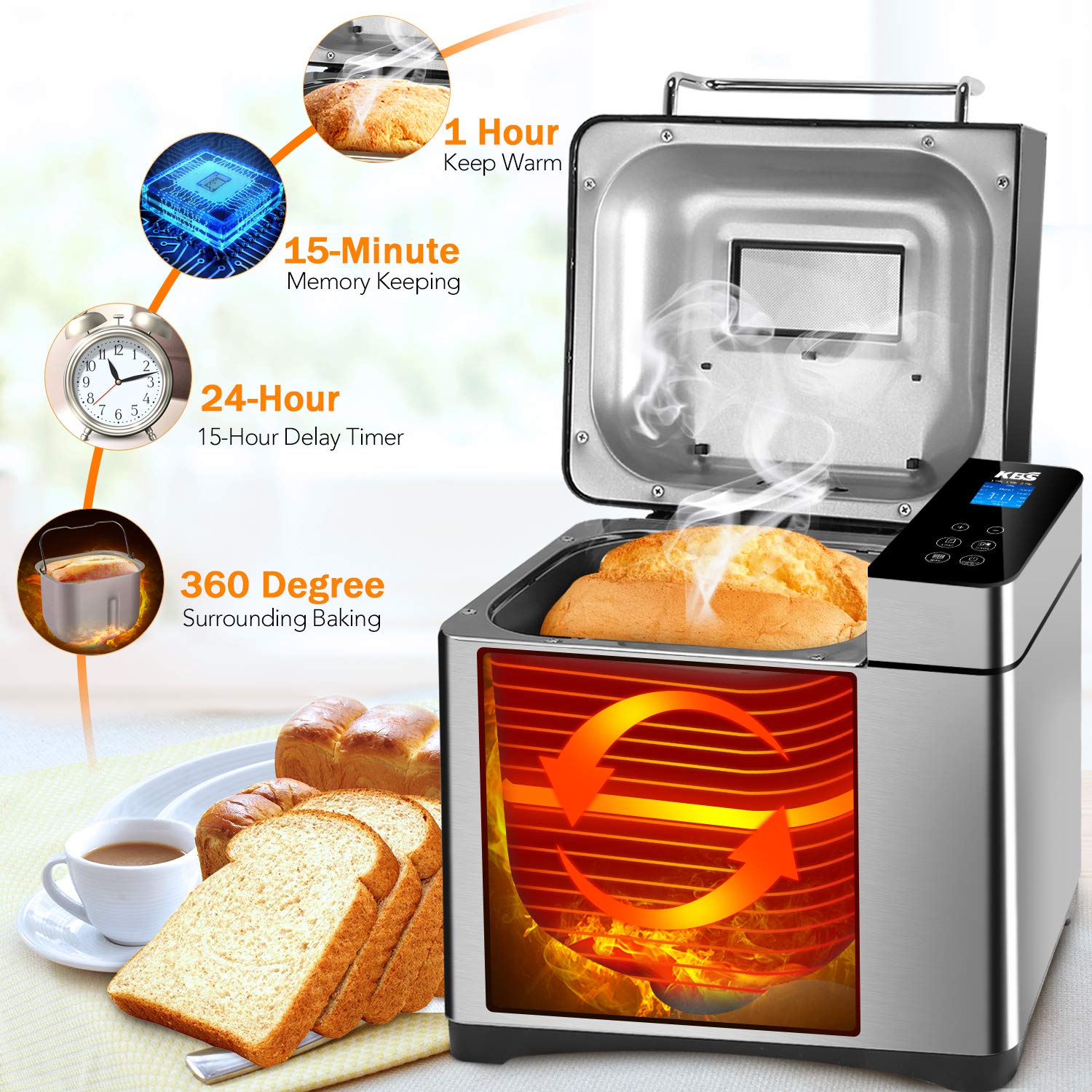 Digital Touchscreen
This bread baking machine has a sleek stainless steel design and tempered glass cover that blends well with any kitchen decor. We fitted our 8Breads with a digital touchscreen and one-touch program for easy operation.

Power Off Memory Function
Engineered with 10 minutes of power-off memory function technology. No need to reset; the 8Breads will automatically resume and ensure convenience in enjoying fresh bread every day.
Non-Stick Ceramic Inner Pan
Unlike other bread machines, the 8Breads Bread Maker Machine is equipped with a Non-stick Ceramic Pan, which is designed for baking the bread evenly inside and out. This feature also ensures that your freshly-baked bread is healthier and free from chemicals.
Bread Machine Bread-making Operation Steps:
Add the ingredients you love and select a cycle.
Press the start button
Then let our 8Breads Machine take care of the baking for you.
Material Ready→ Stir→ Raw Dough→Ferment→Dispense nut/Fruit→Bake→ Bread completed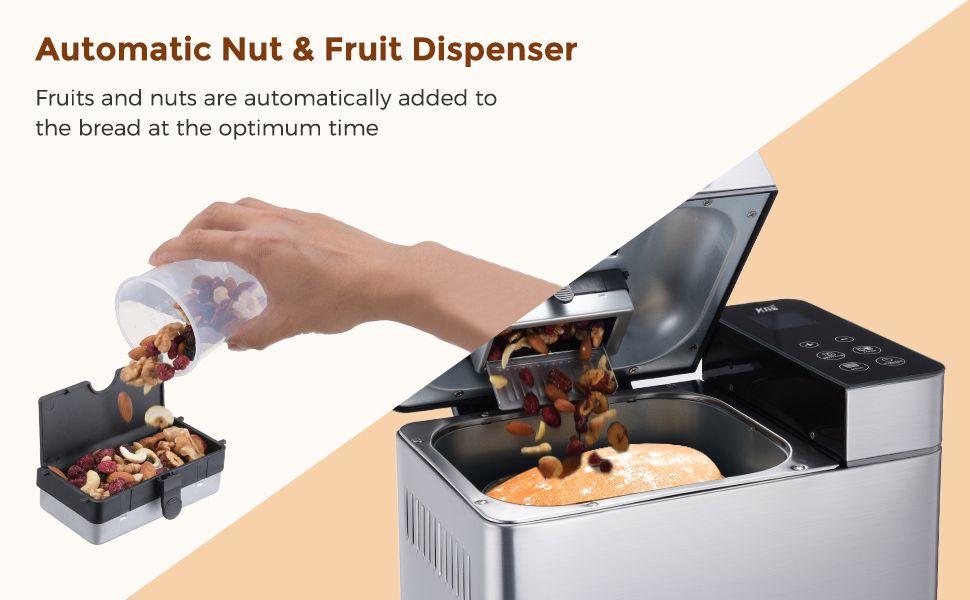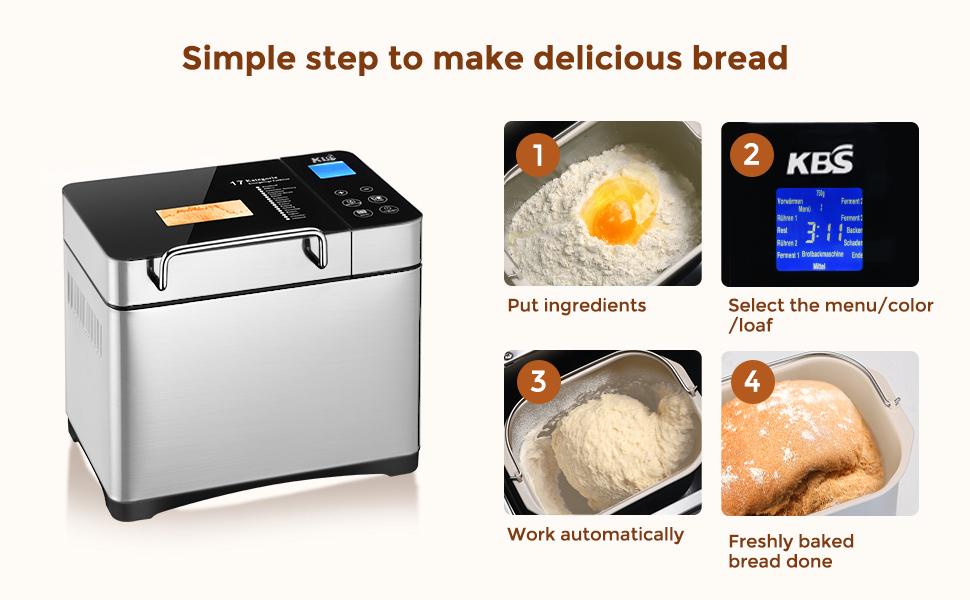 Package Include: